When it comes to social media marketing, 45% of businesses aimed to "drive conversions" as one of their top business outcomes in 2021. However, many businesses didn't achieve this target as they struggled to build a result-driven social media marketing strategy that includes creating compelling content and reaching their target audience on the right social channel.
Social media marketing plays a pivotal role across all the stages of the marketing funnel: top, middle, and bottom. In this guide, we will walk you through all aspects of social media marketing: what is social media marketing, its benefits, its importance, and how to build your social media marketing strategy. Keep reading to kickstart.
What is Social Media Marketing?
Social media marketing is the process of targeting social media platforms like Facebook, Twitter, Instagram, YouTube, Pinterest, LinkedIn, Snapchat to attract, engage, and convert your target audience and build your brand to boost awareness and drive sales.
Social media marketing is one of those types of marketing that is constantly evolving and demands consistent publishing of personalized and engaging content, listening to target consumers, measuring results, and running social media campaigns.
While social media marketing, part of social media management, is an extremely valuable way to grow your business, it all depends on the social media marketing strategy (you will go through this in the following sections) that you build for your business, which will define the success or failure of your marketing initiative.
Read the ultimate guide about Snapchat Marketing here
What is the Importance of Social Media Marketing?
73% of marketers
believe that their efforts through social media marketing have been "somewhat effective" or "very effective" for their business.
If you run a business on social media networks, you may want to take advantage of the habits of your customers, which can lead to the generation of significant leads for your business. Social media marketing assists you in attracting the correct customers with the right information at the right time and showcasing your product or brand to potential customers at the right time.
This is how social media marketing works, and if you apply it strategically, it becomes easy for your business to spread the word about your services and products.
The importance of social media marketing lies in the following benefits:
Improved brand awareness
Lead generation and more conversions
Strengthen relationships with your consumers
Boost website traffic
Improves SEO
Social Media SEO: The Importance of Social Media Marketing for SEO
Making improvements to your SEO strategy is essential since it enhances the amount of traffic your website receives from search engines and increases your Google ranking. However, due to cut-throat competition, ranking high in search results is difficult, especially with the volume of new content uploaded every day.
Although social media does not directly contribute to SEO rankings, the links you distribute across social media platforms help to build brand awareness and visibility. They accumulate and have an impact on your social media SEO strategy in the following different ways:
Enhances online visibility and organic traffic
Improves lifespan of your posts
Extensive content distribution
More opportunities to gain backlinks
Improves SERP rankings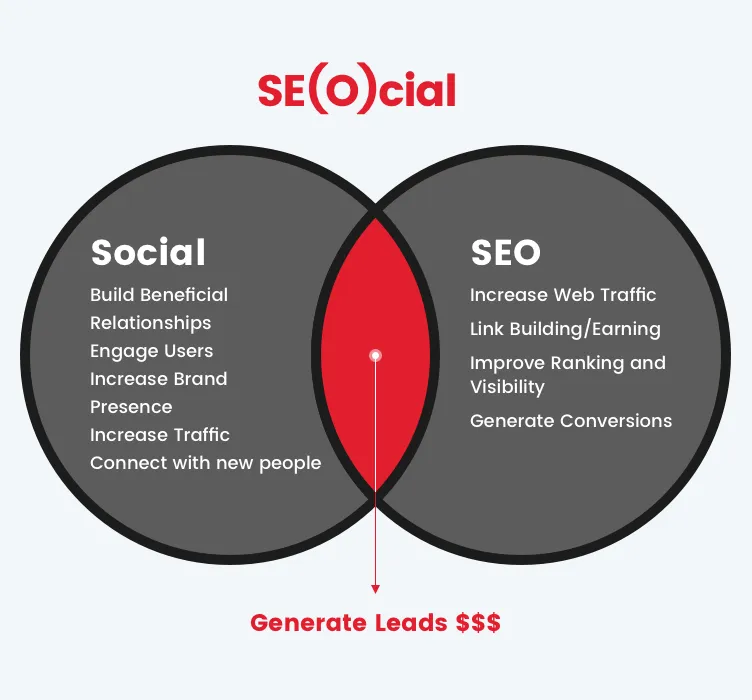 B2B Social Media Marketing: The Importance of B2B Social Media Strategy
Marketers that target businesses may not always be the same as those who target end consumers, but the common thing amongst them is: they are both dealing with people. Engaging people is always the most critical aspect of a successful marketing campaign because by doing so, you get to know them more. And they make their own decisions, forward the word to their friends, and make purchases.
61 million LinkedIn
users are senior-level influencers, and 40 million are in decision-making positions.
Because social media marketing reaches decision-makers, developing an effective B2B social media marketing strategy is very important now than ever before.
Rather than selling their products, most B2B businesses leverage social media as a top-of-the-funnel marketing strategy, mainly for content promotion and awareness building rather than product/service sales.
3 Social Media Mindset Changes for Effective B2B Social Media Marketing
There are many misconceptions around how B2B social media marketing works and how soon businesses can get results from their initiatives.
The truth is leaders need to change their social media mindset as B2B social media marketing strategy, if implemented correctly, delivers results in the long term. To get positive results from the B2B social media marketing strategy, the focus should be on consistently delivering personalized content across all social channels, thereby weaving your consumers through an orchestrated experience.
Therefore, most businesses will have to change their social media mindset to achieve their B2B social media marketing success. The following are three fundamental social media mindset changes that leaders should bring:
Your Buyers Want to Engage Through Social Media
Focus on Building Relationships, Not Sales
B2B Social Media Marketing is a Long-Term Strategy
5 Social Media Marketing Mistakes Small Businesses can Avoid in 2022
The social media marketing space is becoming overcrowded and it becomes challenging for small businesses cut through the noise and come in front of their prospects eventually they start to commit social media marketing mistakes, as listed below:
Not Posting Consistently

Posting Irrelevant Content

Not Engaging With Your Audience

Not Measuring Your Results

Not Staying Up-to-Date With the Latest Algorithm Changes
How can Social Media Marketing Boost Sales and Customer Loyalty?
Have you ever considered what makes a brand successful? Customers are the ones who are loyal to your brand; they are the ones who choose your brand over the competition. Your loyal customers prefer to purchase from you over a competitor's offer, no matter how appealing the offer from the competitor is. That is an example of consumer loyalty.
So, what is the best way for a company to increase client loyalty? Of course, high-quality products and services can help to attain this goal to a significant extent. That, however, is not the case always. You must also distinguish yourself from the competition, who is constantly looking for new ways to attract the attention of your potential clients. And social media marketing plays a pivotal role to boost sales and customer loyalty.
What are Different Stages of Social Media Marketing Funnel?
A social media marketing funnel is your target audience's route to reach you and become customers. Marketing funnels chart the path that consumers follow from the time they first learn about your company to when they purchase. They also chart the path that customers travel after making a purchase.
When used strategically, a social media marketing funnel can help you determine what your business has to do to influence consumers at various stages of their purchasing journey. It begins when they become aware of your brand and continue until they purchase a product and/or service from your company.
In the end, a consumer who has gone through the social media marketing funnel becomes an authentic advocate for your brand.
The following are the different social media marketing funnel stages that every business should work upon to generate more relevant leads:
Awareness
Consideration
Purchase
Retention
Advocacy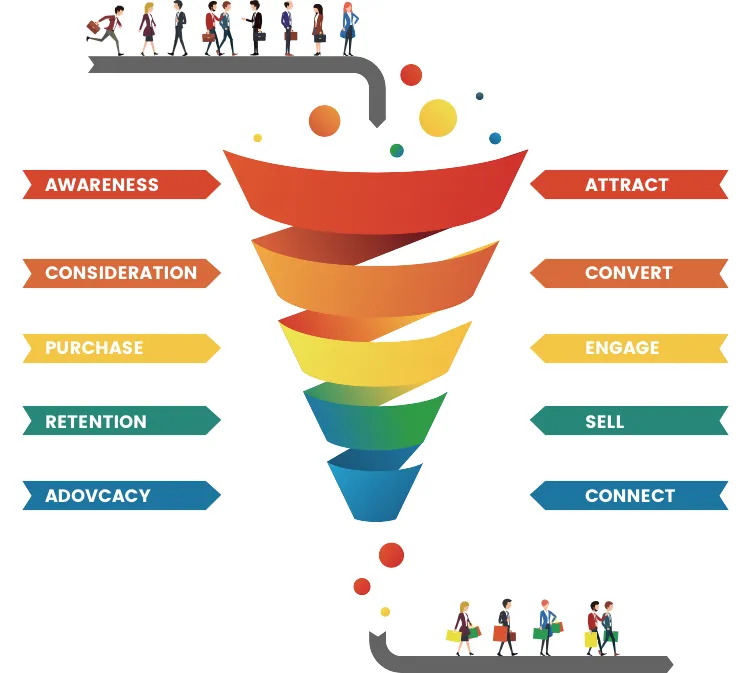 Reasons Why Your Business Social Media Profile Sucks?
Social media has radically altered the way we communicate with one another and, as a result, the way we conduct business since its inception. Most people have not yet fully adapted to their social environment and have failed to recognize the one factor that could turn their failures into success stories.
One of the key focus areas that almost remain untouched is social media profile. Most businesses fail to attract, engage, and convert their target audiences because their social media profile sucks.
Here are the key three reasons why your business social media profile sucks:
You use different photos and names across different social networks
You're tagged in all sorts of photos
You leave bio fields blank
10 Benefits of Social Media Marketing for Business
To compete in today's Digital Darwinian era, you must be abreast of the latest developments in your industry. 72 percent of businesses use social media data to help them make better business decisions.
So, what can you do to distinguish yourself from the competition and ensure that your company is doing everything possible to succeed?
Of course, this can be accomplished through the effective use of social media marketing.
The following are 10 benefits of social media marketing for businesses that can be seen if it's incorporated in their marketing plan.
More inbound traffic
Improved SERP rankings
Improved brand loyalty
Content promotion
Increased visibility
Retargetting opportunities
Improved conversion rates
Building a community
Cuts down marketing costs
No geographical restrictions
What are the Different Types of Social Media Marketing?
Everything about your social media success is directly related to the success of your posts on social media. Content that is both effective and high-performing, on the other hand, creates a number of difficulties for businesses. It's competitive, time-consuming, and, ideally, it should provide value to your customers' experience with your company.
To overcome these challenges, marketing leaders should come up with content strategies that are a mix of different content types. Usually, the following are the key different types of social media marketing:
Content marketing
Community management
Paid media
Sponsorship
Forum marketing
Social media video marketing
Influencer marketing
Types of Social Media Video Marketing to Boost Engagement
In the world of social media marketing, if you haven't started using videos on social media as part of your strategy, you're already behind the times. It's likely that your competitors have already done it before you.
73% of people
who check out a product review video tend to purchase one of the items on it.
More than ever, it is clear that videos have become a vital aspect of the majority of effective marketing initiatives. This is especially true nowadays. The current growth in popularity of new social media video marketing techniques clearly demonstrates this. The following are the different types of social media video marketing that businesses can leverage to boost engagement:
Informational videos
Live videos
Behind-the-scenes videos
Tutorial videos
Trending/Breaking news
What are Social Media Influencers?
Almost all marketing leaders–90% precisely–admit that social media influencer marketing is an effective form of marketing for their business.
Despite the fact that the numbers speak for themselves, we are still left with the question of exactly what are social media influencers?
People like you and me, in general, are these social media influencers. They are individuals who are driven by a particular passion and are not hesitant to share their enthusiasm with the rest of the world. The options are unlimited, whether it's in the realm of culinary, fashion, humor, or gaming.
Influencers have earned enormous internet popularity due to their posts about their passion on social media, allowing them to shape and influence audience perspectives on a variety of topics through blog posts, videos, images, tweets, and other forms of communication.
The concept behind social media influencer marketing strategy is that by delivering a message to a small group of influential people, they would spread it throughout their vast networks, thereby developing a rapid and successful strategy for reaching many people.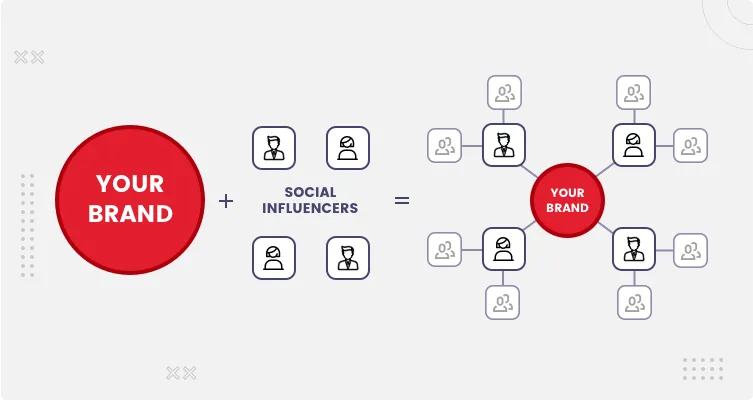 Top 5 Social Media Marketing Trends
The evolution of social media has occurred.
While new social media marketing trends and features can feel like they are always being introduced, they also provide you with the opportunity to experiment and connect with your audience in a new way.
So, what can we expect for the year 2022? From niche marketing to an increased focus on AR/VR marketing, here's a list of the top social media marketing trends to watch in 2022.
Video marketing
Niche marketing
Content curation
VR/AR marketing
Bots marketing
7 Top Social Media Analytics Tools
Do you want to know which of your social media strategies are effective? Do you want better to focus your time, effort, and financial resources? You'll need social media analytics tools to track your progress.
This section walks you through the top seven social media analytics tools that you can leverage to make more informed marketing decisions:
Social Status
Falcon
Sprout Social
Awario
Zoho Social
Brand24
Sotrender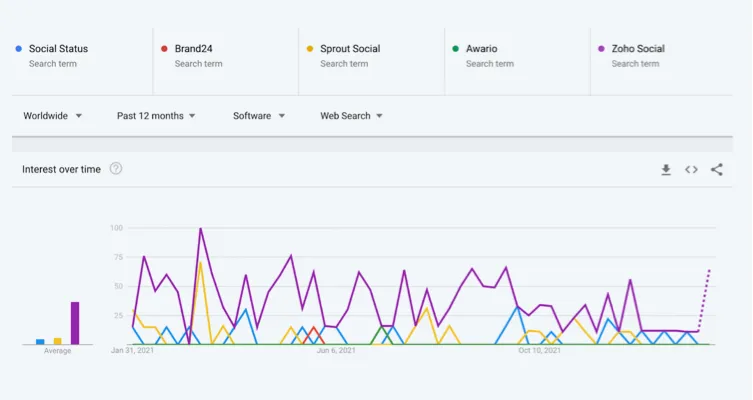 4 Social Media Marketing Tools to Cover Your Bases
The use of the appropriate social media marketing tools can make a significant difference.
And, if you don't have the necessary social media marketing tools, your social media plan may fail before it even gets a chance to get started.
A successful social media marketing strategy may make or break your company's success. However, without an arsenal of particular, effective social media marketing tools aligned with your company's aims, you will be unable to develop or share valuable content, attract new audiences, or steer personalized engagement.
The following are some key social media marketing tools that should be part of your marketing arsenal:
LinkedIn Sales Navigator
Buffer
BuzzSumo
Sprout Social
What are the Most Effective Social Media Marketing Strategies?
While the amount of "follows," "likes," and "shares" on a social media post is essential, the trustworthiness of a business is defined by far more than this.
Today's social media environment necessitates a distinct set of abilities, with businesses being required to comprehend the requirements of their target audience completely.
To help you, we have come up with the following effective social media marketing strategies that you should put into action this year, regardless of whether you are a young entrepreneur or a well-established business.
Audience Targeting
Planned Content
Scheduling Content
Getting Social and Being Interactive
Use of effective hashtag strategies
Social Media Influencer strategy
Effective Hashtag Strategies to Expand Your Reach and Boost Brand Awareness
Knowing how to effectively use hashtags, regardless of which social media platforms your company employs as part of its social media marketing strategy, will help you expand your brand's reach and engagement on social media platforms.
Different types of hashtags can be used based on your business or project requirements. They are as follows:
Trending hashtags
Community hashtags
Campaign hashtags
Event hashtags
Chat hashtags
Content Description Hashtags
Product or Service Hashtags
Personalized Social Advertising Strategies
91% of consumers
are more likely to shop with brands who provide relevant offers and recommendations
When you use data for your personalized social advertising strategies, you may provide more relevant messages to your target audience. In other words, using personalization, businesses gather information on their target audience's interests, demographics, and behavior to produce more relevant and valuable content.
Considering how much content is being offered to your target consumers from all directions, this is becoming increasingly popular. Adding some sort of personalization hacks will give your website a better chance of standing out from the crowd. You can leverage the following personalized social advertising strategies to engage your target audience completely:
Retargeted advertisements
Personalized videos
User-generated content
Top Social Media Marketing Tips
Social media can be a goldmine of leads and conversions for businesses if used properly, and it is becoming increasingly evident that this is the case. As a result, many businesses have shifted their marketing resources to social media, where they hope to establish a following and cultivate customer loyalty while also attracting new customers.
Following are a few top social media marketing tips that you can put into action to make your social media marketing strategy far more effective at generating sales leads.
Build a social media marketing strategy
Focus on your target audience
Choose your social media platforms judiciously
Build a social media calendar
Humanize your brand
Use social media analytics tools
Aim for engagement first, not sales
Focus on building relationships
Be consistent
Provide a seamless visual experience
Leverage storytelling
FREE MESSAGING & POSITIONING TEMPLATE If you need help determining how to message and position your brand in the marketplace, this template is perfect for you.
DOWNLOAD NOW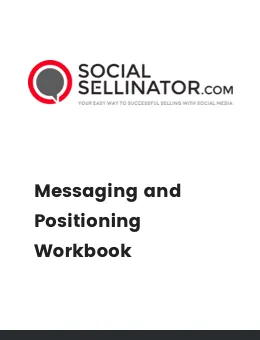 Social Media Marketing Recommendations During COVID-19
Only the most nimble and adaptable businesses stand a chance of surviving in this chaotic and uncertain environment steered by the COVID-19 climate. There are various techniques that firms can use to respond to or pivot in the present COVID-19 environment, and social media marketing is critical to the successful implementation of all three of these techniques.
As a result, the following social media marketing recommendations during COVID-19 could be implemented to increase your social media efforts:
Maintain your communication with customers
Design a new strategy to promote your products or services and bounce back after the crisis
Sustain your social media presence by posting new content
Adopt your automated marketing campaigns to the pandemic
Maintain your social media marketing budget with either SEO cost calculator or social media pricing sheet guide
How Can You Outsource Social Media?
Previously, we highlighted the necessity of branding and authority building through social media, by building an effective social media marketing strategy.
Although it is possible for some businesses to invest the necessary time and resources to manage a full-force social media campaign for their brand, this is not always possible.
This is where brands start to outsource social media. Businesses can hire outside professionals to assist them in managing their social media accounts. However, the question is: how can you go about it in such a way that it will not harm your brand while also ensuring that it is actually successful? Let's discuss why and what to look for while outsourcing your social media.
Why Should I Hire a Social Media Marketing Agency?
Social media has grown so ingrained in our daily lives that it has simply become an extension of who we are and how we engage with the people and things around us, without us even realizing it. The same is true for brands as well. However, 73% of businesses feel their marketing strategy is not effective.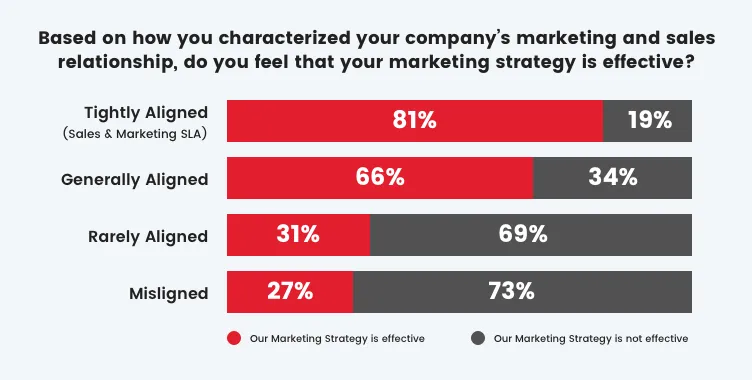 If, as a marketing leader, you are not sure how to compose the correct tweet or LinkedIn post, or Instagram reel to promote your business goals and attract, engage, and convert your target audience, it's easy to become overwhelmed - which is where a social media marketing agency can help.
A social media agency is, at its core, a group of digital marketing specialists who are knowledgeable about the ins and outs of social media channels, the world of influencers, creative PPC campaigns, and other topics. The following are some key reasons you should hire a social media marketing agency:
Get access to the right tools and right social media marketing strategy
Gain competitive advantage
Build brand recognition
Goal Achieving & Time-Saving
Build a marketing funnel that converts
Why Hire a Social Media Consultant?
Have trouble hopping on the social media bandwagon because you're not quite sure where to begin? Or have you established social media networks that you are unable to maintain?
In either case, you may want to think about hiring a social media consultant to assist you. If you want to construct effective social media platforms, having someone else on your team to develop a targeted social media strategy and provide extra hands for content creation and publishing may be precisely what you need to get started.
But what should you look for in a social media marketing consultant? Here are the key three traits:
A Track Record Filled with Positive Results
Alignment with Your Business Goals
An Understanding of Your Industry
Social Media in Various Industries
COVID-19 has changed the way businesses used to attract their target customers. Today, irrespective of any industry, the usage of social media marketing to attract, engage, and delight their target customers has increased, and various industries have started to invest more in their social media marketing strategies.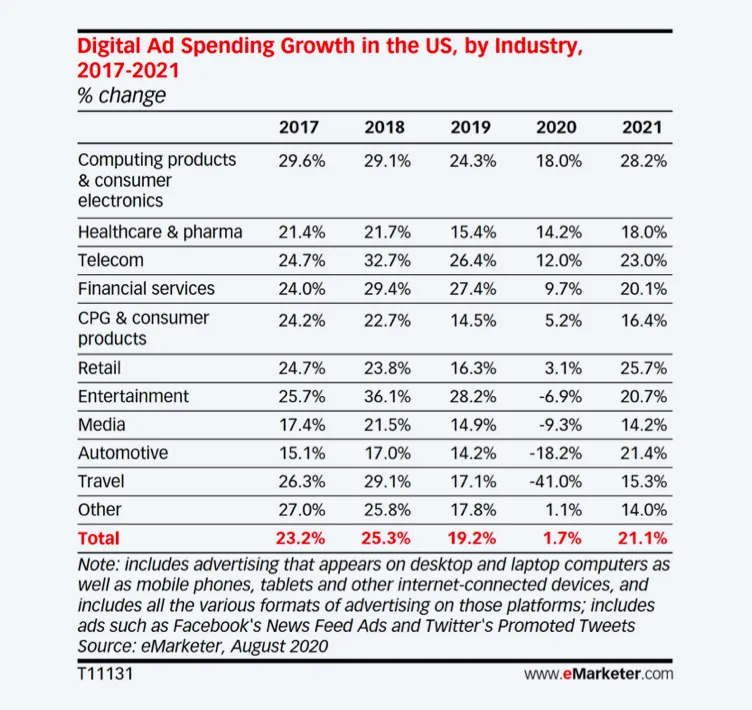 Social Media in Financial Services
Even before the year 2019, social media in the financial services industry was significant. The COVID-19, on the other hand, fundamentally altered the way we establish ties with clients and customers. Social media has become an unavoidable necessity.
During the epidemic, social media has transformed the nature of client connections for 90% of financial advisors, according to a survey. Those who brought in new business used social media more frequently this year, with more than half increasing their usage.
It has become more than essential to invest in building social media strategy for financial services to retain customers. And every industry has realized this fact, which can be seen through the following graph:
How Online Lead Generation Financial Services can Bring You 30 Customers in 30 days
Offering financial services to businesses requires a concerted effort to acquire and convert leads, often accomplished through digital marketing efforts. While doing so, digital marketing requires you to operate on a scale and in a marketplace where you will be up against many competitors, including national and international financial services firms.
The ability to master your online presence and work on online lead generation financial services leads through building and maintaining relationship matter will help you generate and convert more leads for your financial organization, regardless of whether you are a bank, credit union, financial advisor, RIA firm, CFP, wealth manager, or any other financial service.
Financial Institution Social Media Cheat Sheet
The information contained in this financial institution cheat sheet will assist you in better understanding social media analytics, including which metrics are available, how to apply them, and what they imply in terms of action items for your organization. Also, you will get acquainted with how to use different social media channels to attract your target audience.
Social Media in Healthcare
76% of people
relied on social media for information during the COVID-19 period, and 59.2% mentioned that they went through social media at least once per week to stay updated with all the information around COVID-19.
With so many people relying on social media to gain reliable information, it becomes more important for professionals to leverage social media in healthcare, not just delight their target audience and feed them the correct information.
It is essential to use social media in healthcare wisely to go through this easy-to-use and practical social media cheat sheet for healthcare professionals.
How Healthcare Lead Generation Bring You 30 Customers in 30 days
To keep your company or medical practice operating smoothly, no matter what area of the healthcare industry you work in, from medical manufacturing to medical care, you must build a healthcare lead generation funnel strategically to attract, engage, and convert your medical leads.
Social Media in Real Estate
77% of realtors
leverage social media in real estate to make more informed decisions.
The pandemic has had impacted the real estate market significantly, as has been the case for most industries.
On the other hand, agencies are seeing a thriving market, which contrasts with the situation of many small enterprises.
In 2020, social media emerged as a crucial tool for real estate professionals. Real estate has always been a business that relied on in-person meetings and relied on old-school marketing strategies (for example, print advertising).
Although it is still early in the game, agents are increasingly adopting social media in real estate as a means of showcasing their worth and their listings digitally. Moreover, this has become a necessary feature in this age of social alienation.
Real Estate Social Media Cheat Sheet
Many realtors are still daunted by social media and struggle to create engaging posts to share with their clients. Some real estate businesses will post regularly without having a social media marketing strategy first.
No social media platform is the same, which necessitates the development of customized methods to market your real estate listings and relevant content effectively.
Depending on the situation, what works on Twitter may or may not work on Facebook. Are you actively participating in LinkedIn groups? On Facebook, do you use images and direct links to your company's website? Shortening and tracking your links on Twitter is something you should be doing. To make things simpler here's the real estate social media cheat sheet that can help you convert your visitors.
Financial Services And Social Selling: The Best Way To Get New Clients
Discover how you can leverage these powerful social media platforms for you and get customers in 30 days.
DOWNLOAD NOW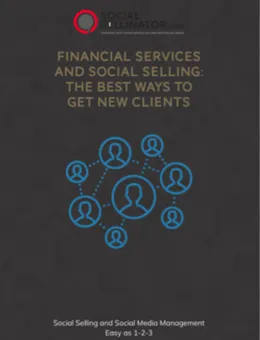 How to Generate Real Estate Leads in 30 Days
A great real estate agent is a master in the art of generating real estate leads. To attract more home buyers and sellers to your firm, many realtors explore opportunities in the top real estate websites to generate real estate leads, as well as offline strategies for collecting more leads. This is why we have created this ultimate guide that will help you generate real estate leads in just 30 days.
What is a Social Media Marketing Strategy for Real Estate?
It is a significant financial (and emotional) choice. Most people have questions when starting.
Your customers expect more than a real estate license. They want an agent who will safeguard their interests and assist them in understanding property ownership. Their agent must be someone they can trust throughout the process.
Here come social media. It may be a terrific tool to connect with buyers, sellers, and tenants. It includes a list of do's and don'ts for agents, as well as samples of posts you may use in your social media marketing strategy for real estate.
The following are some tips you can add to your social media marketing strategy for real estate:
Educate buyers
Do not push your prospects to buy from you
Add videos
Build a relationship with your prospects by reacting to your comments
Chat with your followers
Conclusion
Given that social media now has billions of users, it's simple to see why so many businesses and marketers utilize it to advertise products and communicate with customers.
Understanding social media marketing and using it will help you avoid feeling overwhelmed when you build your marketing strategy to attract, engage, and delight your customers.
So, start working on your social media marketing strategy today to gain more followers, engage more customers, and increase sales.
Item 1
Content for Item 1
Item 2
Content for Item 2
Item 3
Content for Item 3