What is social media management? Regardless of how you approach social media management, whether, with the assistance of a digital marketing agency or a toolkit, it is critical to understand more than the definition of social media management. You must know how it works, what it comprises, and how it can help drive your business success.
This social media management guide covers everything that can help you get started with managing social networks and media profiles of your brand or business and optimizing them to attract, engage, and delight your target customers. Keep reading to kickstart.
What is Social Media Management Meaning?
Social media management means an ongoing strategic process of curating, scheduling, publishing, analyzing, and engaging with content by either paid, owned or earned media so that your brand presence is solid across all social channels like Instagram, Facebook, Snapchat, and Twitter.
An effective social media management strategy e.g, Facebook ads management can help save businesses time and generate more relevant leads by delivering an orchestrated experience to their customers.
For corporate social media management, it is not just replying to comments on Facebook or replying to tweets and other social media posts; it is all about strategizing how to manage multiple social media accounts or channels in a way that builds brand awareness and brings relevant leads to you.
Social media management is a practice that steers your social media marketing and digital marketing strategies.
Read the ultimate guide about digital marketing here
Why is Social Media Management Important?
490 million users: this is the number that social owned media platforms gained in 2021 (a 13.2% increase over the previous year). So, it implies that you have 13.2% more customers to attract, engage, and convert through social channels. Do we still need to talk about why social media management is critical?
A well-articulated social media management strategy enables personalized marketing responses across the entire customer decision journey at each touchpoint.
How you manage your social media account is vital for businesses especially media outlets, yet businesses tend to spend only 10-12% of their budget on social media management services.
Not surprisingly, many business leaders are not comfortable with their organizations going beyond mere "experiments" with social media strategies. They believe it's hard to assess social media's value for their brand.
However, we can precisely assess the buzz that social channels create about a product or brand and can even calculate how social media influences purchasing behavior of consumers.
What Platforms does Social Media Management Cover?
Firstly, it is most important to understand "what is social media management?" Once you are acquainted with its definition, the next question arises about the platforms that social media management covers. The following are some of the key platforms that define the social media management strategy:
How to Choose the Right Social Media Channel for Your Business?
First of all, it is vital to note that you have to stay consistent and on your toes across all social media channels for a good media coverage when it comes to your brand narrative. And when deciding about the placement of your paid and owned media (ads and organic), understand that each social channel has a different set of audiences; thus, with a proper social media analytics, you can analyze where your target consumers are and engage them there.
For example: On Instagram, these social media users primarily engage with visuals, get their stories from Twitter, connect with their peers or family via Facebook, take tips from Pinterest, and discuss professions on LinkedIn.
Pro tip: When you create content for Instagram, focus on visual design. And when you are creating content for Twitter, make sure your message is concise and timely.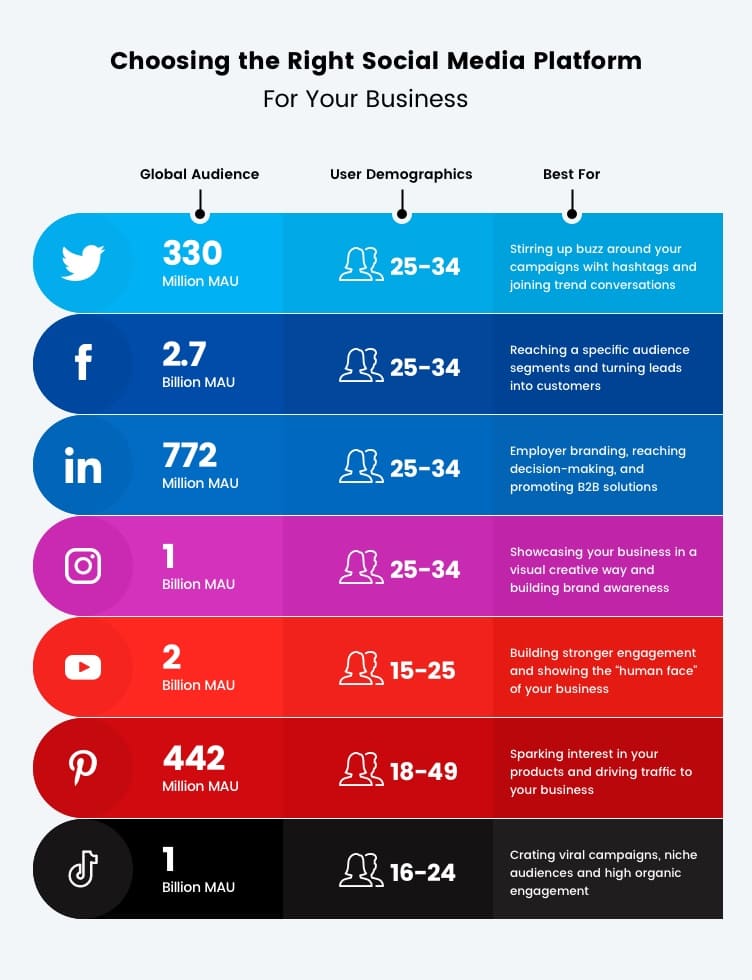 Best Social Media Management Tools
There are a number of social media management tools available that enable businesses to steer their social media presence in a single place. Using the best social media management platform and social media platform allows you to seamlessly automate, monitor, and control all your accounts, thereby improving productivity and saving time that could be utilized in curating fore focused and personalized content for your target audience.
The following are the best earned social media management platforms in 2022 that can help achieve your social media business goals
Buffer: Best for SMBs
CoSchedule: Best for SMBs and agencies
Hootsuite: Best for SMBs and enterprise
HubSpot: Best for SMBs and enterprise
SocialPilot: Best for small agencies
Sprout Social: Best for Agencies & Medium-Sized Businesses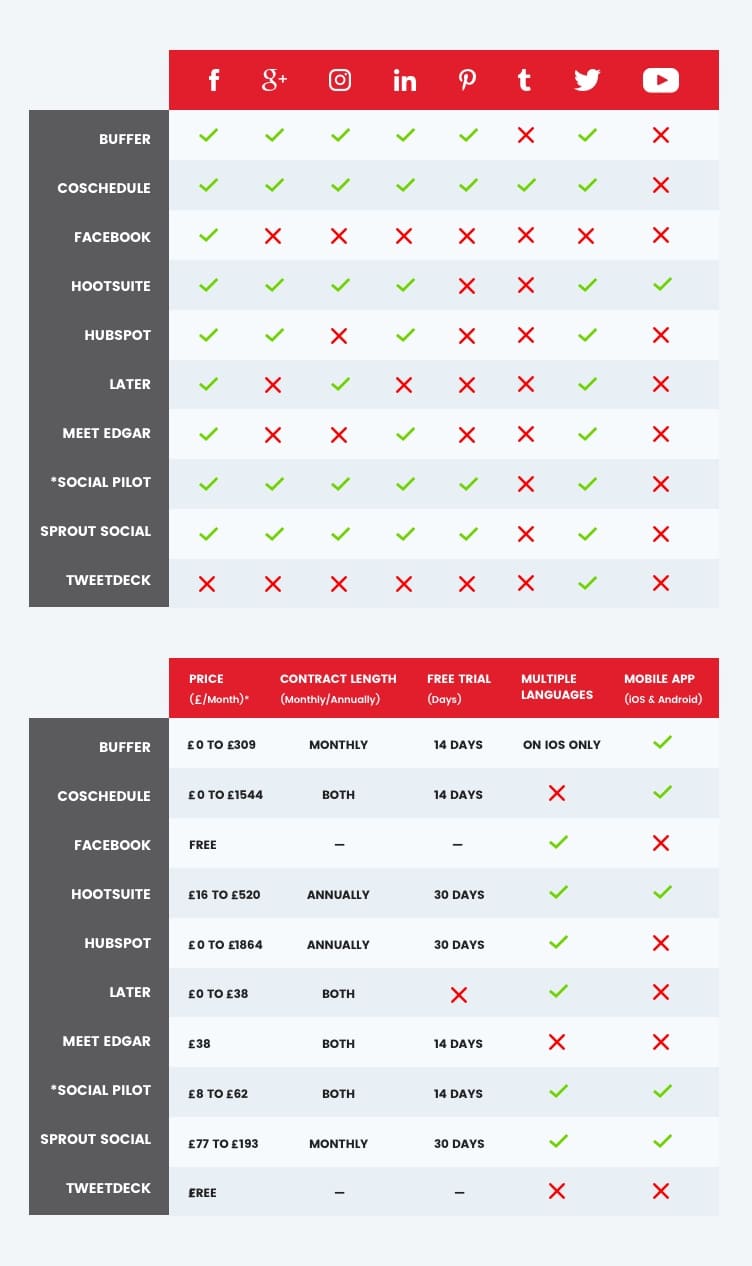 From the above tables, you can infer that no social media management tool fits all requirements – it all depends on your business needs and budget. Maybe a combination of two tools is the best fit for your business, or a single tool alone could work for you.
Some businesses face trouble managing their social media accounts and do not get the desired results from any of these social media tools; we recommend that they look for the best social media management services to map out their result-driven social media marketing strategy on facebook, instagram and twitter.
What does Social Media Management Strategy Include?
What is social media management? We agree that the definition of social media management is broad, and business leaders tend to wonder what is covered in social media management strategy.
Leaders want to understand where their efforts should focus and what amount of time will it require. In nutshell, social media management strategy mostly covers the following aspects:
Data is King: the first step is to analyze your current social media strategy
Set Your Goals: what do you want to achieve with your social media management services: leads, engagement, awareness , paid media, or sales?
Understand Your Audience: investigate your audience, build personas, and note down their pain points


FREE BUYER PERSONA TEMPLATE Our simple fillable pdf guides you through the strategic process of learning who your ideal customers are, what motivates and challenges them, and how they make purchasing decisions.

DOWNLOAD NOW

Build a Channel-Specific Approach: build different social media strategies for different channel sales
Measure Your Social Media Performance: track the performance of your campaigns and rebuild the strategy based on the results
Overall, a social media management strategy includes all the key aspects of social media marketing.
Read the ultimate guide about social media marketing here
What is the Cost of Social Media Management Services?
When it comes to social media management cost, it all depends upon your business requirements. Depending upon these requirements, there are many options available for business leaders to choose from, which are as follows:
1. Hiring An In-House Social Media Manager: In the US geography, the average salary of a social media manager varies based on their experience and work location and is around $50,000. For example: if you are looking to hire a social media manager from San Francisco, it may cost you around $65,000, according to Glassdoor. As a beginner you can also explore various social media manager resources for beginners online to get started.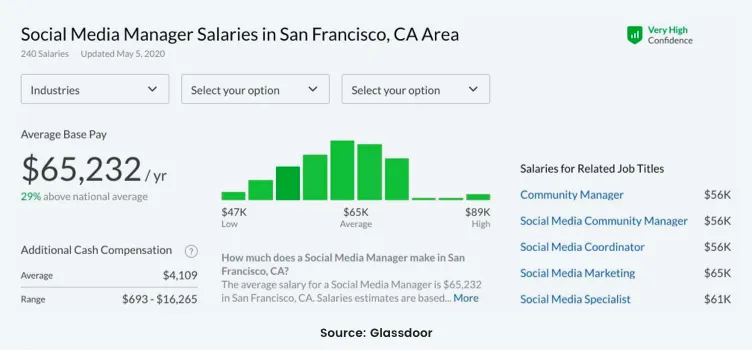 2. Hire a Freelance Social Media Manager: There are plenty of platforms like Upwork and Fiverr, from where you can hire a freelance social media manager at about a $25-$30 hourly rate.
3. Partnering with a Social Media Management Agency: With an experienced social media management agency, you get access to a single shop for all your business needs. These agencies usually have an in-house team and plenty of social media tools to build and implement your result-driven social media management strategy.
This SEO cost calculator will help you understand how to budget for SEO services moving forward.
Quick Tale
How SocialSellinator helped Pars Equality Center partnered with the Public Affairs Alliance of Iranian Americans (PAAIA) to increase awareness of participation in the 2020 census among the Iranian American community.
PAAIA turned to SocialSellinator to increase its census awareness to allow maximum participation. We designed and implemented their entire ad campaign strategy, from persona identification to content curation to running the campaign and measuring its performance.
What is a Social Media Manager?
Working as a consultant, in-house employee, or team member at a social media management agency, social media managers are highly skilled professionals with a strong understanding of social media marketing, digital marketing, advertising, and management techniques. They assist you with achieving your social media objectives, such as increasing your following or generating leads through social media.
Conclusion
The disruptive impact of the digital era is being extended across a wide range of functions thanks to social media platforms. The perceived lack of metrics, the apprehension, and a limited sense of what is achievable are all eroding, in the meantime.
Organizational leaders can determine the functions, touchpoints, and objectives of social media activities while also developing strategies for measuring their impact and managing their risks.
For executive-level discussions on how to lead social media management strategies within your organization, now is the only right moment.
Item 1
Content for Item 1
Item 2
Content for Item 2
Item 3
Content for Item 3