Introduction
This comprehensive guide is meant to cover all the essential parts of SEO, from finding the words and phrases (keywords) that can bring qualified and relevant traffic to your website to making your website friendly to all search engines (Google, Bing, etc.) to building links and promoting the unique value of your site.
SEO is complicated and constantly changing, but it's easy to understand the basics, and even a little SEO knowledge can make a big difference. You can also learn about SEO for free on the website, including in guides like this.
When you use this information and put it to use, you'll be well on your way to becoming an SEO expert.
What Is Search Engine Optimization?
Search Engine Optimization (SEO) is a set of activities and processes to help make web pages more visible on the Internet and boost the appearance and rank on search engines such as Google and Bing. Objective is to increase the quantity but also the quality of the traffic to the site or the page.
Typically, the aim is to appear on the first SERP (Search Engine Result Page) and possibly on the first rank of the organic (unpaid) results returned by search engines.
How do Search Engines Work
Think of search engines as assistants who answer all your queries. They are there to find, analyze, and then display the content on the Internet to present the most relevant results to your questions.
How do search engines work? They do so primarily through 3 search engine functions: Crawling and Indexing, Ranking.
Crawling
To rank the content on the Internet, the content needs to be visible to the search engines in the first place. So, how do they do that?
Through a complex algorithm.
They first inspect all website elements, such as the webpage, headline, navigation, relevant keywords, authority links, and content.
Crawling in the context of SEO means following the links around your website. Google uses spiders or bots to handle the task. That's why web developers familiar with SEO always include a sitemap on the pages to make it easier for the spiders to navigate multiple paths. (Spiders, search robots, bots, wanderers, or crawlers are the tools web search engines use to create their databases.)
The links serve as invisible neural pathways for these bots to crawl through the World Wide Web. Their job is clearly defined: find the most relevant result to match the user's query.
If you make it difficult for the bots to scan through, you might send Google bots to your competitor's website.
To prevent this, you must audit your website at least once a month to detect and fix crawl errors. A few most prevalent crawl errors are:
Server error
404
txt error
DNS error
Indexing
Once the bots have crawled through your website, they will add you to the search engine's database. The database is an anthology of indexed pages crawled by search engine bots. The content on your website is stored and organized. Once the bots have indexed a page, it is in the competition to be displayed as a result of queries for the concerned query keywords.
Here are some of the crucial elements in indexing a website:
The XML sitemap
The nature of the content and how it relates to the search
Anchor text of the links
Detailed information about the links (e.g., located within the page, ads, authoritative websites, backlinks, etc.)
Duplicate content
SEO-friendly URLs and canonical tags
Meta tags ensure that your website is optimized for SEO so that Google will find and properly index you. Even if you have a fantastic product, your target customers can only find your business if you are on Google's database.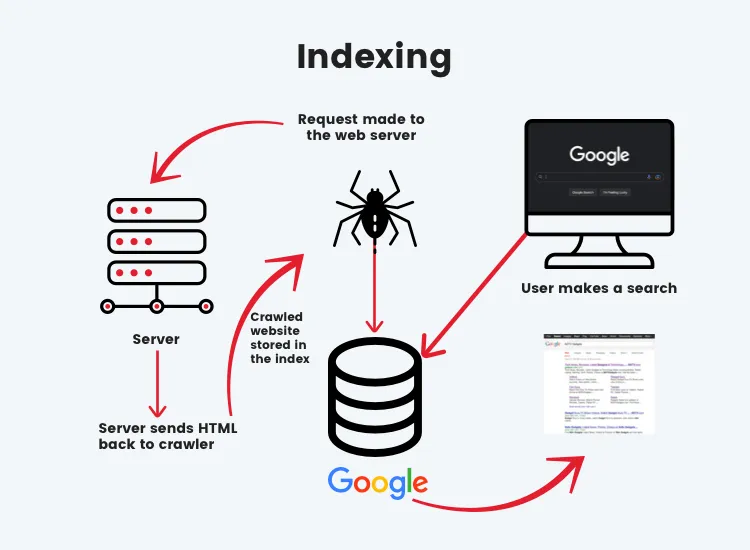 Ranking
Once the spiders have crawled and indexed your site, the next step is ranking. The search engine, at this step, will provide the relevant pieces of content to answer the users' queries.
Search engines will consider multiple elements to determine your website's ranking on the SERP. Here are some of the factors that will impact ranking: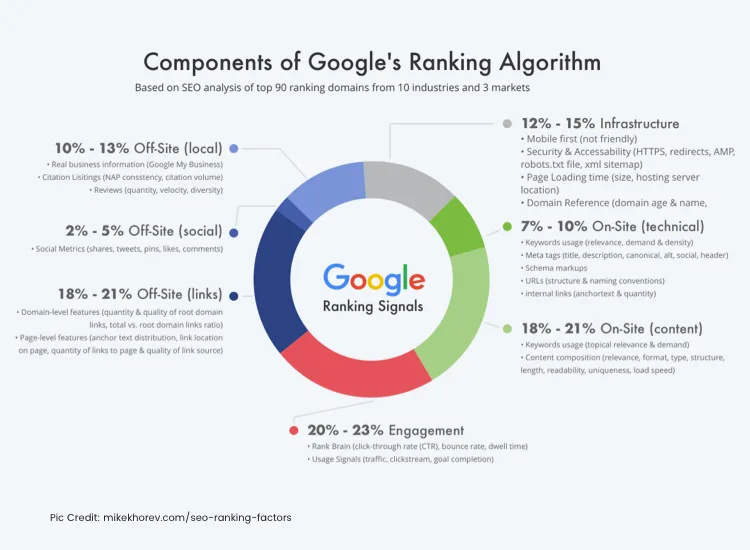 Load Speed
Google recommends that your page load should be two seconds or less to keep your bounce rate low. For instance, 8 in 10 users will abandon your page when it takes 4-5 seconds to load.
Off-page and On-page
On-page refers to the technical elements of your website and content quality. Off-page typically refers to the backlinks--the more authoritative they are, the better.
Mobile Friendliness
American adults are glued to their phones for almost four hours each day. Nowadays, the phone is not only a tool for making calls. It is the primary tool that connects them to the Internet.
Relevant Keywords
How your keywords match, the user search is crucial to your rank. But depending on your industry, the keywords can be highly competitive. It would help if you had a better understanding of what your customers are doing when online.
You must also test your keywords and benchmark them with your most successful campaigns. Even Google will tell you that you produce content to address a user's need rather than please the algorithm.
Types of Search Engine Optimization
01. On-Page SEO
On-page SEO is also called on-site SEO. It is a set of activities done directly on the website or the webpage. Search engines consider a host of on-site factors before ranking any content.
A few significant activities done as a part of on-page SEO are:
Keyword research and placement on the website
Creating quality content, including keywords
Meta title and description optimization
Image optimization with alt attributes
02. Off-page SEO
Off-page SEO is also called off-site SEO. As its name suggests, it is a set of activities carried out off the website or the webpage. The goal, however, is the same—rankings on the search engines.
A few significant activities done as a part of off-page SEO are:
Competitor research and analysis to know why and how your direct and indirect competitors are ranking
Link building through guest blogging on other high-ranking platforms to drive referral traffic
Search engine marketing or SEO marketing
Press releases in publications that reach your audience
03. Technical SEO
As you'd deduct from the name, technical SEO is concerned with the technical aspect of your website. And though it is not directly involved with the content, it can make or break your ranking game. It refers to activities that help your site offer the best possible user experience.
A few significant activities done as a part of Techincal SEO are:
Keeping the site load time as short as possible (less than 3 seconds)
Making your site mobile friendly
Check the code, header tags, metadata, and identify crawl errors.
Auditing your website for keyword cannibalization (meaning that the different pages of your websites are not competing for the same seed keyword).
Auditing your website for duplicate content within the site
04. Local SEO
This kind of SEO focuses on the location of the business and the users. It includes working on rankings in a specific location, such as a town, city, county, state, country, or even a continent. The idea is to appear on search results for a specific location.
It typically works well for brick-and-mortar stores/office-based businesses. Local SEO rankings, though, depend on how much care you have taken to optimize your Google Business Profile (GBP).
GBP work on stringent guidelines from Google that must be fulfilled to optimize your profile fully. This is so in the case of GBP because Google will display your business for a relevant query based on
Relevance to the query
Proximity to the user
Google reviews
Business hours
and more.
The Relationship between SEO and SEM (Search Engine Marketing)
We mentioned SEM as a part of off-page SEO, and for a good reason. But what is SEM? Let's get familiarized.
What is Search Engine Marketing?
Wikipedia defines search engine marketing (SEM) as a digital marketing strategy that uses paid and unpaid advertising and optimization techniques to promote a website and boost its visibility in SERPs. Aside from SEO, the other SEM strategies are:
Display Advertising
These are image, video, or text-based advertisements aimed at convincing users on digital platforms like social media and websites to take a specific action.
Remarketing
This strategy involves posting or showing ads to users who previously used your app or visited your website to boost brand awareness or sell a product or service.
Shopping/Product Advertising
This is a campaign to establish and maintain product awareness with prospective customers.
Pay-per-click (PPC)
Under this SEM strategy, you will pay a certain amount to websites or search engines like Google when your ads get a click.
But how is SEO different from SEM?
3 Differences between SEO and SEM
Although they are often used interchangeably and believed to be the same, SEO and SEM have significant differences. You can elect to use both these strategies in your digital marketing efforts if you want immediate tangible results and have the money to spend. However, if you need only to choose one, here are their different features to help you decide:
01. Cost
One of the primary differences between SEO and SEM is that SEO is an organic approach, meaning it will naturally attract traffic to your website over time, while SEM is a paid scheme wherein you will pay each time a user clicks your ads. Cost-wise, SEO is a better approach.
However, your choice will depend on several factors, such as your budget, business goals, and business experience. If you are a startup and want to gain immediate impact, SEM would work well for you if you are prepared to spend. SEO will help you expand your business with minimal cost and high returns if you have several years in the business.
02. Search Results
Paid strategies immediately impact your SERP and web traffic. It is because you can specifically target a group of users with your ads. SEO, meanwhile, takes time before it can produce tangible results. Also, you need to develop quality content to build brand awareness, establish a relationship with your market, and build their loyalty.
Furthermore, SEM is an excellent strategy for testing. If you are new in business or the advertising arena, you can use SEM to get immediate results for your campaigns and change strategies if the results are dismal. SEO, meanwhile, is ideal for those who want a gradual but steady growth of their business.
03. Return on Investment
To ensure return on investment (ROI), SEO could have the advantage as your costs are minimal. In SEM, you need to invest money to get results. However, if you are a risk-taker, spending some for higher returns will work well for you.
A solid SEO strategy will bolster your web traffic significantly in the long term. If you already establish your SERP ranking, you only need to post regular content or update your existing ones to get results. Meanwhile, in SEM, you need constant monitoring to determine how your ads perform. Your losses could also be significant if you don't do SEM correctly.
How to Align your SEM Campaigns to your SEO Strategy
You have to keep in mind that using SEO and SEM for your business growth is not an "or" question. The question is how to use them both effectively. There are a few things you will need to keep in mind as your choose SEM to complement your SEO strategy:
Determine your business standing
Assess your industry
Examine your competition
Know the average cost-per-click in your market
Analyze your regular customers' buying cycle
Consider the performance of your website
Difference between SEO and SMM (Social Media Marketing)
As much as social media has achieved a relevance that would have been unthinkable 20 years ago, social media marketing seems to have become the breath of marketing.
Social networking sites provide a personal touch to websites, which is why most users will go directly to these profiles. The ability to share information with a global audience is a bonus. In addition, social media allows you to reach a wider audience and increase your sales. As a result, social media is an essential part of SEO.
But how is it different from SEO? Let's find out.
What Is Social Media Marketing?
Social media marketing (SMM) uses social platforms or networks such as Instagram, LinkedIn, Facebook, Twitter, etc., for online marketing. Product and service-based companies are leveraging SMM not only to attract new customers but also to delight the old ones and get repeat business.
4 Differences between SEO and SMM
It's not a battle. Addressing which one is better is out of the question. If you look at the bigger picture, you'll need both SEO and Social campaigns because of the interdependence of their results. You see, social profiles can also rank in search items. And SEO needs Social's point of view regarding link-building outreach. But here is how SEO is different from SMM.
Audience Targeting and Conversion
Social Media directly captures an audience initially through their specific pain points, which is the strongest and most catchy emotion. Social media audiences are deeply emotional because they're intersted in the content on a personal level rather than from a business perspective.
The secondary goal is to target people based on their demographics, geographic location, and, most importantly, interests. It requires creative content to drive traffic efficiently. Social media audience targeting requires you to present the content even if they're not searching for it. And you need to figure out how to make them click without sounding like a salesperson.
With a good Digital Marketing strategy, SEO targets an audience based on problems that require instant answers. The audience usually asks questions and seeks reliable, informative content. They search for the articles they want to read and learn. You need to figure out the topics they're searching for. They come to you, but you must be there when they ask for it. That's why building website credibility is imperative to achieve and maintain a high ranking.
Content Format
Social Media lives and breathes visual content. The mind connects with words, but images and videos are more quickly processed by the brain because they're entertaining. Audiences in social media are there for entertainment, so you have a better chance if you conform to creating visual formats.
SEO relies on long written formats. Google recognizes credibility through the number of words on the web page content and keyword relevance.
Consistency of Traffic
Social Media continuously requires advertising efforts. You should maintain ongoing marketing strategies to drive traffic from social media platforms. Social campaigns are quick in driving traffic, but that traffic quickly slows down once you don't provide fresh content to engage your audience.
Effective SEO efforts produce high-ranking campaigns that can usually sustain independently for weeks or months. The moment it works, it drives a passive search traffic source, which means less effort and better stamina.
Speed of Traffic
Social Media ad campaigns and posts engage with the audience instantly. You can get likes, comments, and drive traffic to your website in a matter of minutes, sometimes even seconds. If done strategically, you can also grow consistently grow the number of followers on your website and social pages.
SEO takes a little more time to gain traffic momentum. It has a slow, steady speed as it gets sifted for its relevance. You'll have to wait for days before you can see results in the Search Engine Results Page (SERP) ranking. Search engines are also tricky because they can take years before your website gains authority and credibility. You'll have to utilize highly-relevant keywords to improve visibility.
How to Align your SMM Campaigns to your SEO Strategy
If aligned properly, using SEO and SMM together can do wonders for ranking your website and social media business pages. You can use the tips below to help drive more traffic and increase revenue through search engine optimization (SEO) and social media marketing:
Build a search engine optimization (SEO) friendly website
Optimize your social media marketing for keywords and build a strong social presence
Share content across different social channels
Read more about how to align your SMM and SEO strategies
Why SEO Is More Important than Ever
The COVID-19 pandemic changed people's lives around the world. Socialization and shopping activities shifted online with the implementation of lockdowns and physical distancing measures. For many businesses, the change to increasingly remote and digital work might be how their business is conducted way into the future. There is an increase in organic searches, reiterating the importance of building SEO campaigns to get the desired results.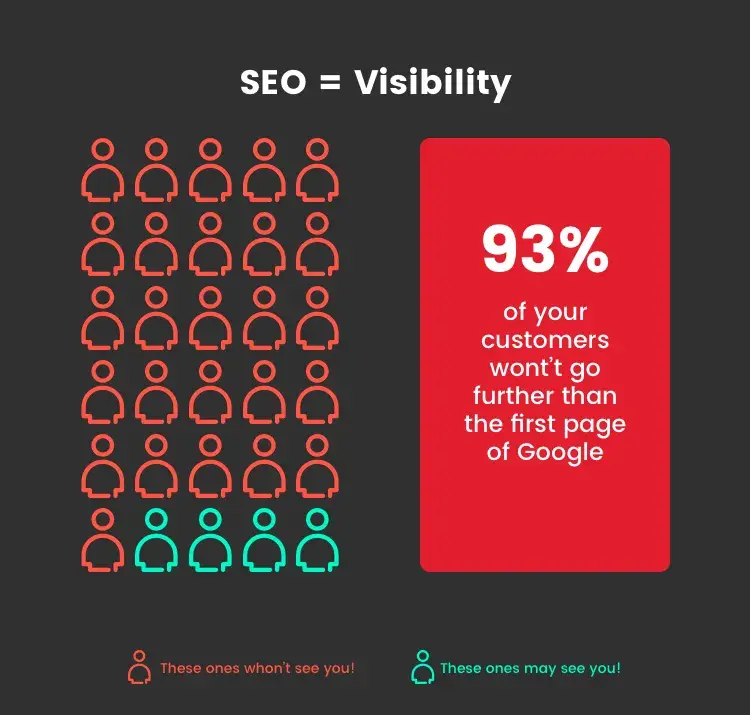 To put it in words more concretely,, we've stated 5 solid reasons for you:
01. Evergreen Content will Remain Essential
Focusing on evergreen content that stays fresh within your industry, will remain crucial and accumulate views over time. As a good practice, you should combine evergreen with trending topics to generate traffic and prepare for the future simultaneously.
02. Search will Continue to Grow
As experienced during this pandemic, paid and organic searches dominate online platforms and will probably do so in the future. Marketers also believe SEO is the most stable and substantial strategy to promote a brand, product, or service. They also agree that SEO is a cost-effective marketing channel that can produce results.
03. SEO Platforms Optimize Telecommuting
The pandemic resulted in the emergence of many SEO platforms as enterprising companies scrambled to meet the needs created by the remote work boom. These platforms also helped improve B2B companies' efficiency by leveraging SEO in their marketing efforts. The growing success of B2B marketers working at home will likely boost the demand for SEO platforms.
04. SEO provides a competitive edge
Another reason SEO is indispensable is that it allows small and medium enterprises (SMEs) to compete against their bigger rivals. It gives SMEs a competitive edge since they usually only have one business to focus their SEO efforts on, compared to their larger competitors. If you are an SME, SEO is the best tool to raise brand awareness, establish trust, and engage with your potential market at an affordable price.
05. SEO will Support Future Business Campaigns
Focusing on your SEO strategy now will bear fruits later. It will serve as the foundation for building your campaigns in the future when many businesses will operate more like before the crisis. You should include ways to help your customers strengthen relationships and establish their loyalty to your brand.
Read more about why SEO is important and how your business can leverage it.
5 Ways to Find Out What's Wrong With Your SEO – And 3 Ways to Fix It
An SEO assessment is a vital part of your SEO strategy to boost your website content's ranking potential in search engine results pages (SERP). This process will allow you to identify what's working and what's causing your content's failure to rise. Let's discuss the steps you should take to find out your website's flaws.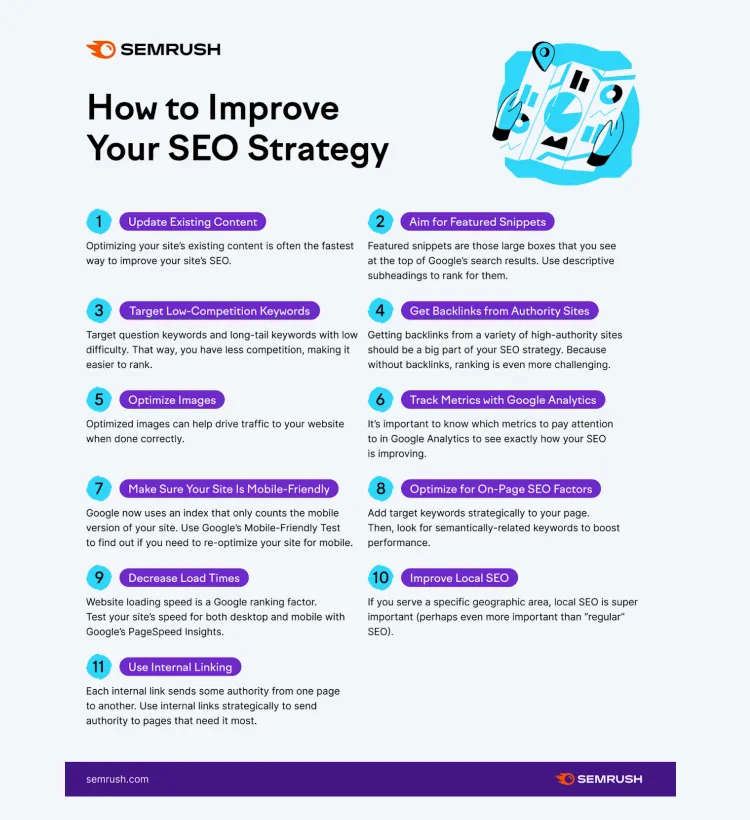 5 Steps in Conducting an SEO Analysis
01. Investigate your visibility on search engines like Google
Start your analysis by determining your content's SERP performance and the overall visibility of your website on search engines. Having a clear view of where your website sits on the rankings will allow you to develop an optimization plan.
In calculating your search visibility, collect your keywords' rankings and compute the estimated click-through rate (CTR) based on each ranking. Add all the CTRs and divide the total by the number of your keywords. The higher the result, the better your website's position in the Google rankings.
02. Analyze your content
Your content is an essential component of your content marketing strategy. Ensure you have no duplicate content by eliminating every duplicate you find immediately. Start your analysis with your top-ranked pages.
There are several things to check in your content. Make sure your URLs are around four to five words long and your meta-descriptions contain your primary keyword. Ensure your titles and headings are relevant and attention-grabbing and should also include your keyword.
Check the quality of your backlinks or external links. Try linking your content to ranking and trustworthy websites to increase your reputation. Your internal links should also be relevant to your content. Make sure to fix any broken link to improve user experience and avoid its negative effects on your SEO.
03. Check your domain, images, and technical SEO
To improve your SEO, use a simple, short, and easy-to-remember domain name that reflects your brand or business. Don't use hyphens and special characters. To optimize your images, use alt tags and include keywords in your brief descriptions. Also, compress your images for faster loading of your content.
Your technical SEO also affects the visibility of your website. Some of the technical components you should check are your XML sitemap, robots.txt file, and website security. You may buy a Secure Sockets Layer (SSL) certificate to boost your security.
04. Scrutinize your spam score
The quality of sites linking to your content can affect your spam score. Ensure to investigate your inbound links and eliminate those from low-authority sites to improve your score. To eliminate bad inbound links, you may request the websites to remove them or use a disavow links tool.
05. Monitor your page speed
The loading time of your page is among the metrics used by Google's algorithm to rank your content. Having slow speed affects your page's indexation and your user's experience. It would be best to improve your page's loading time for better SEO performance.
There are several strategies you can use to improve your page loading speed. One technique is compressing your images to make them load easier. You may also use file compression software to compress your HTML, JavaScript, and CSS files larger than 150 bytes.
Other strategies include increasing your server response time, activating your browser caching, and using content delivery networks (CDN), also called content distribution networks.
Read more to know the common SEO mistakes and how to fix them.
3 Ways to Improve Website Performance
Your SEO audit or analysis starts your effort to improve your SEO campaign. Use your audit results to develop a plan to boost your SEO ranking on search engines. Here are the three steps you can take to fix your SEO issues and optimize your campaign: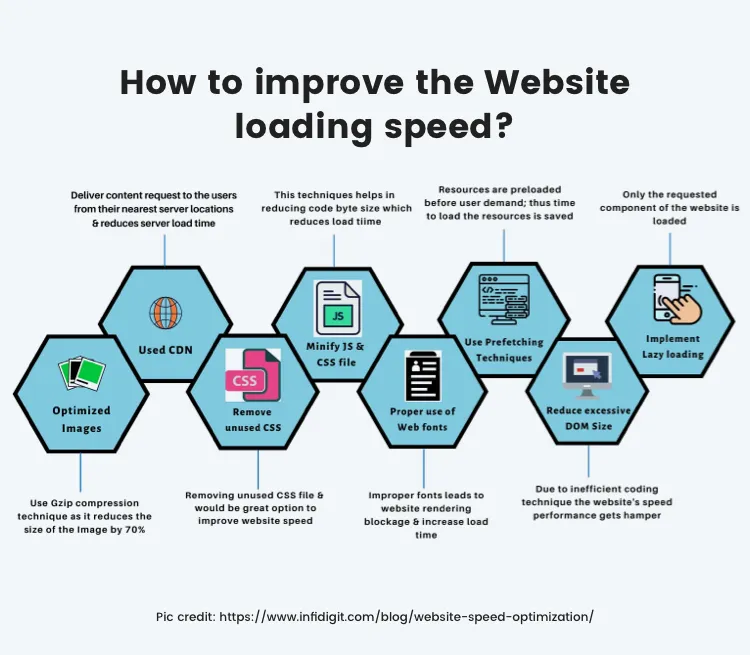 01. Evaluate the results of your SEO analysis
Your audit report will reveal what's working and what's not in your SEO campaign. Analyze the results intently, determine the areas that need immediate action, and focus on them. Also, find the components that significantly affect your SEO and improve or optimize them if necessary.
You may use tools like Ahrefs' SEO checker to help you assess and redesign. These tools can offer you possible solutions to fix the flaws and shortcomings of your content marketing strategy.
02. Tweak or develop your SEO plan based on the results
Your next step is redesigning your campaign to eliminate the flaws and improve performance. If you already have a plan, integrate your solutions to resolve your mistakes. If you don't have one, it's time to create one.
There are several critical steps in creating an SEO marketing strategy. These steps include:
Decide your target market
List the keywords you need to rank for
Investigate your competition
Plan your content
Monitor your SEO performance
03. Execute your Redesigned Strategy and Adjust Moving Forward
After your redesign or plan creation, you must implement it to determine its effectiveness. Make sure to monitor and assess your campaign's performance regularly. This way, you will know immediately if your solutions are working.
As you progress, continue refining your campaign based on your monitoring or regular SEO analysis results. You should also be aware of the changes in your market's behavior and updates on search engine algorithms and use them in your strategy.
5 SEO Trends to Look Out For Next Year
At the start of each year, advertisers ask the same question: "Is SEO still relevant for me?"
As the world limps back to life after the COVID-19 pandemic ravaged economies and continents, is SEO still the thing to invest in, especially when the resources are tight?
The short answer is yes.
As the 2008 financial crunch had shown us, businesses that ramped up their marketing spending in the middle of the crisis recovered quicker. Meanwhile, more conservative companies had a rockier restart.
However, it does not mean that you should hastily spend your money. It is why you should be on the lookout for SEO trends, which should help shape your decision.
Here are the SEO trends you can anticipate for next year: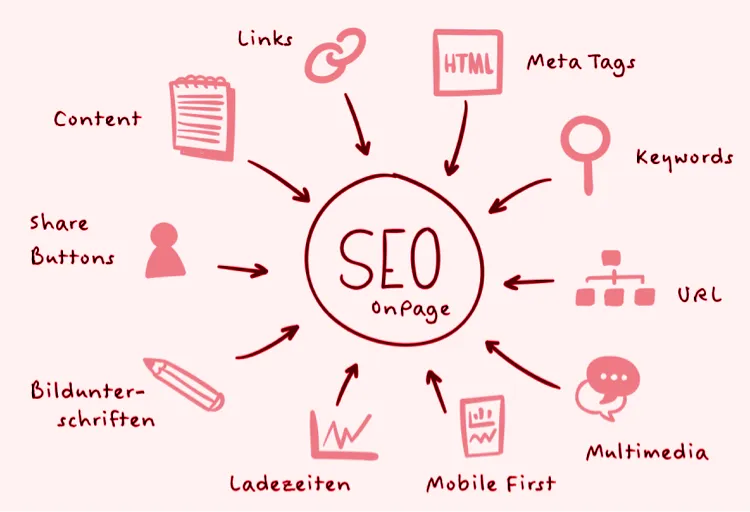 01. Remember the Acronyms
You should be familiar with these two terms, which impact your SEO campaign:
I. BERT stands for Bidirectional Encoder Representations Transformers
II. NLP stands for Natural Language Processing
While they are not a new technology, you need to know that their machine-learning capability would drastically change the way Google will appreciate the search query.
With NLP, for instance, Google can better understand the context and nuance of the language used in the query. AI will continue to change the SEO landscape as the industry will reach an estimated $120 billion by 2025. With machine learning, you can ensure more accurate results in your analytics, which will enable you to boost the success of your SEO campaign.
02. Corporate Identity Becomes More Relevant
Now, more than ever, you need to know who you are because Google would ask the same question when indexing websites. You need to check all the right boxes on the panels on Google's Knowledge Graph so you show up when people search for people, organizations, places, etc.
With the Knowledge Panel, you have a billboard that lists vital information regarding your company. More importantly, it also boosts your credentials, as far as Google is concerned.
You should start thinking of your brand as an entity. Any marketing effort you employ in the future should be to persuade Google and your customers about who you are.
03. The Continued Dominance of Mobile
The trend is not new since, for many years, people have been accessing the Internet using their mobile devices. Mobile e-commerce has shown no signs of slowing down from 2020 through 2024.
Your SEO campaign should take into account mobile Internet. You start with your website and ensure it is optimized for smartphones, tablets, and laptops.
Since 9 in 10 of your target audience are using their mobile gadgets to access your website, you must enhance the customer experience rather than make it difficult for them.
04. Lifetime Value Vs. Short-term Gains
Your SEO should be a tool to meet your objective. But your job has just started once you funneled traffic to your company and created leads. Your ultimate goal should be to enhance the client experience to create a customer lifetime value.
Analytics will play a larger role in getting a profile of your target customers—who they are, what they do when they are online or offline, what they like, the links they click, the purchases they make, and how they interact with your website. The profile will be material to create a unique experience tailored to each need. When you customize the experience, you make the customer feel important, and they are more likely to reward you with loyalty.
05. Search Intent
Search engines have automated almost all aspects of Pay Per Click, and, along with machine learning, they managed to unpack user intent. Again, search intent is not a new concept. But the advertisers who can unlock the true nature of search will have a higher chance of maximizing their marketing campaign. Search engines continue to tweak their algorithms to match user intent.
Fortunately, Google is already trying to show you the way. Its machine learning technology will recommend results. But you need to leverage best practices to gain an edge over your competition. One method to do this is to analyze your search engine results pages and parse data so that your keywords best address user intent.
Read about SEO trends for next year in detail
10 Google Hacks to Rank Your Brand New Website
Nothing beats a well-rounded SEO strategy. But for that there is something we can help you with—10 hacks that can help you rank your brand-new website well on Google.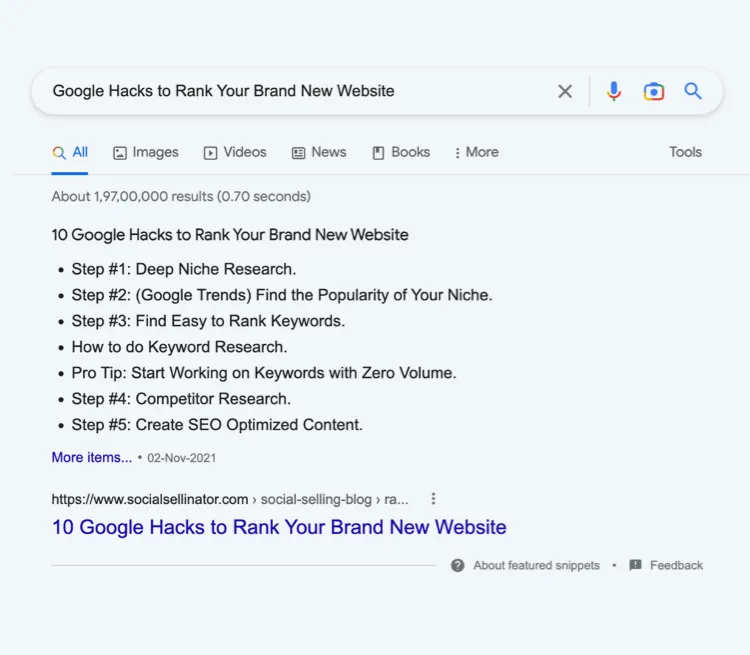 Step #1: Deep Niche Research
Find a new or easy-to-rank-for niche. Deep niche research should be done before creating the website to ensure there aren't any major or popular websites already ranking well on Google for some important keywords related to the topic of your site.
Doing niche research can save you time and money because if you've already found a difficult-to-rank-for niche, there is no point in creating the website.
Step #2: Use Google Trends to Find the Popularity of Your Niche
A niche with higher trends means more traffic leads to better conversions and more money. Before you create a niche, it is highly recommended that you look into the Google trends section. Look for the keyword within the last 5 years and see how much interest has grown or declined over time.
If you are sure your product is good enough, then focus on niches where the competition level isn't very high but has a high Search Volume potential.
Step #3: Find Easy-to-Rank Keywords
As discussed, consider which words best describe your company, what you do, and your services or products. You will need to start with long-tail keywords at the beginning of your SEO ranking efforts. Short keywords may be challenging to rank for, especially in the beginning.
Step #4: Competitor Research
Finding the right keywords is not enough. You still have to do competitor research to ensure that you are on the right track. To check for competition, you need to search your main keyword on Google and explore the top 10 results.
Step #5: Create SEO-Optimized Content
Creating SEO-friendly and useful content is the only way to rank on Google. Your content should be unique and target a specific audience which will help you connect with them, and in return, you will receive targeted traffic that trusts your website.
Quality content includes using subheaders, internal linking, and catchy title tags. Keep the keywords you chose earlier in mind while writing your content; include them naturally within the text, as it will help with ranking on Google.
Step #6: Improve Your Website's User Experience
Good design will increase your traffic and trust towards your website, which will help you rank on top of Google. If your site belongs to an e-commerce niche, then it's smart to pay attention to product pages that need more optimization than other pages. User experience also includes conversion rate, so focus on the design and layout of your site.
Step #7: Improve the Quality of your Site
Improving the quality of websites includes different things that are common but also equally important. It will also include increasing the website page speed to less than 3 seconds; having a mobile-friendly site; securing your site with HTTPS, and using schema markup, to name a few.
Step #8: Off-Page SEO (Backlinks Creation)
As we discussed before, off-page SEO must be done in consonance with on-page SEO. You Start making a presence on social media platforms, business directories, forums such as Quora, guest posts, etc. Also, focus on broken link building and create infographics and videos.
Step #9: Use Other Search Engines
Undoubtedly, Google is the largest search engine, but you can also use other search engines like Bing, Yahoo, or DuckDuckGo to get even more traffic. Other search engines index websites easily within a few days or weeks, but Google takes time, and it could take months to get indexed by Google and rank well for your keywords.
Step #10: Be Persistent
Many businesses give up quickly because they didn't get the results they wanted within a few weeks. But it's essential to be persistent, even (or especially) when your site is new and still needs to rank well on Google. Changing your website or content might help get higher rankings in search engines, which will help increase traffic and visitors.
Read bonus tips for ranking on Google here.
Conclusion
Every occasion in which you can establish a connection with your audience is a potential lead or customer acquisition. In addition, digital marketing allows you to reach prospective consumers through an extensive range of channels, increasing opportunities exponentially.
Using social media platforms, websites, text messaging, or any other online channel to market your business, service, or product is a highly effective method of reaching a wide audience.
Item 1
Content for Item 1
Item 2
Content for Item 2
Item 3
Content for Item 3