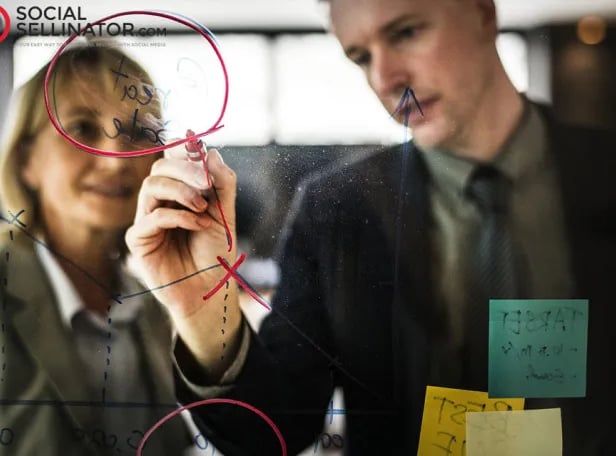 No matter the business you're in and no matter your size of business - building a solid social media presence has never been more critical. Today, there are more than 2.56 billion global social media users. Your audience is out there talking about products and companies that are similar to yours. But without a strong social media presence, nobody will know and you aren't a factor in those conversations.

The good news is that building a social media presence is easy and will happen practically overnight. Hopefully, this sentence made you stop, because the opposite is true. It's incredibly easy to waste your time and money chasing social media fairy tales. Without a well-defined strategy and experience building social media followings, it's nearly impossible to gain traction. For brands, it's tougher to hold the interest of an audience than it is for individuals and thought leaders. For that reason, many companies turn to social media marketing companies to help them design a strategy that makes sense for their business.

But evaluating those marketing service providers is nearly as tough as establishing the presence itself. Most social media agencies make big promises. Few are able to deliver. Many of my own clients come to me after having a bad experience with another company and are rightfully skeptical of being taken for yet another expensive ride.

As you evaluate social media marketing companies, here are three very important traits that you need to look for in order to identify your ideal partner:


1. A Track Record of Success


Many social media agencies make big promises. Every single one of them will claim that they will grow your following and generate sales through social platforms. Some can, some can't. What separates these two types of agencies is proof. Past results are no guarantee for future success. But you need to look for someone who is able to clearly explain to you what they achieved for another client and how they did it.

Any social media marketing company that you choose to work with should be able to provide proof of their previous successes. If they are confident that they can help your company, that means that they should have been able to provide similar results for other companies in the past.

This proof can come in the form of:


A portfolio
Case studies
Testimonials
References

Bottom line — you shouldn't work with a company that can't prove that they've produced results in the past. And you definitely shouldn't work with a company that is either not prepared or not willing to talk about its approach to measuring the success of a social media program.


2. Understanding Your Industry & Audience

A solid social media presence means that you are connecting with your intended audience. You're sharing information and updates that they find valuable or insightful. Otherwise, there is no reason for them to follow you.

To speak to their needs and interests, you have to know them. Not in a superficial way, either. They can smell that from a mile away. They know when companies are trying to appeal to them to sell them something.

One could make the case that a social media marketing company that you work with, should have experience in your industry. If that's how you feel, then this agency should have experience delivering verifiable results with companies similar to yours. To give your audience what they want, they have to know your audience.

On the other hand, a fresh perspective can be very valuable. Maybe you simply haven't been able to find a good social media management agency with experience in your specific business. Or you just hit it off with one agency, but they never worked for a company like yours. Now what?

In those cases, there are two thoughts to consider. First, if you want to work with an agency over an extended period of time, it's important that you are on the same page. Personalities play a big role in client-agency relationships. At the end of the day, you can work with an agency that's perfect on paper, but if you constantly butt heads or you don't like each other's attitude, this relationship will not last long.

The second thought to consider is creativity and versatility. So, maybe the agency you like never worked in your business, but they have creative ideas that sound good. The key here is to determine if creativity will be accepted and successful in your industry. If someone comes with a fresh approach, it can blow the competition out of the water. A pair of fresh eyes can sometimes find opportunities that everyone else overlooked. So, there's definitely potential here. But just make sure that the rationale and the strategy is sound. Creativity alone is not worth much - but a smart strategy with creative execution can help you win big.


3. Processes

Last but certainly not least, they have to fit within your current processes. What that means is a question that every company has to ask themselves. How are your current marketing operations structured? Will the social media marketing company fit in smoothly with those processes? Do you get along with the person who would be managing your social presence?

Even companies that have a proven track record and understand their audience may not be a good fit. How you work together is an important consideration and one that can only be felt as you begin to explore a potential engagement.