Social selling is here to stay, & your company must ensure that it is competitive. Social selling improves lead quality, enhances pipeline, and increases success rates and sales values. Previously regarded to be a sales-only activity, social selling has evolved into a major element for businesses today.
Businesses can use this strategy to help them meet their sales goals. Consider social selling to be a form of modern relationship-building.
Over 76% of customers are prepared to engage in a social media conversation with potential vendors.
78% of salespeople who use social selling outsell their peers who don't.
Social selling, according to 31% of B2B professionals, has allowed them to develop deeper relationships with clients. (Source: Optinmonster)
Social selling has received a lot of attention in recent years. Its impact on any social media management initiatives has been tremendous, and it has been hailed as the future for sales professionals. Since its beginning, social selling has provided salespeople with new techniques to research, attract, and engage prospects.
This guide will walk you through all aspects of social selling for business such as— what is it, why to use social selling for business, how to start social selling, how various sectors are leveraging social selling, and much more. Keep reading to kickstart.
What is Social Selling?
Social Selling can take place on any social media platform — Facebook, Twitter, LinkedIn, YouTube, industry forums, or even in the comments section of a blog post. The key is to take a long-term approach rather than short-term sales tactics.
The process of leveraging a brand's social media channels to connect with prospects, create a relationship with them, and engage with potential leads is known as social selling.
When compared to traditional sales, social selling allows you to locate and interact with prospects more efficiently. Social selling tactics include sharing relevant content, engaging directly with potential customers, personal branding, and social listening.
Social Selling Explained
Social marketing aims to modify or sustain people's behavior, not their thoughts or awareness of a problem. You are not practicing social marketing if your main purpose is to raise awareness, and information, or influence views.
With all of the buzz around networking marketing, there are a lot of misconceptions. Marketing does not expose your brand to - or lessen - the opinions of satisfied - or disgruntled customers. Communication, real-time customer care, and excellent advertising efficacy are all important aspects of social networking. Let's take a look at some statistics that can help you avoid common pitfalls. The most popular online activity is ranked as Internet-based networking.
Rapid and considerable increases in targeted traffic have the potential to suffocate your profit margins. Social media participation has the potential to alter your business, but there are some guidelines to follow. This is a work of art. It's not something to be taken lightly.
Why is Social Selling Important?
It's a cutting-edge approach for businesses to form meaningful connections with potential customers and stay top-of-mind. It is significantly more productive than cold calling and email outreach for many organizations, and it can be used to bring customers through sales funnels developed with automated sales tools.
Social selling is a modern way of developing meaningful relationships with your potential customers. You use platforms like LinkedIn, Twitter, Facebook, and Google Plus to get, connect with, understand, as well as nurture your sales prospects. But the question is: why social selling is important?
Some of the reasons you should consider social selling for your business are.
Build Real Relationships With Your Customers
Build Brand Awareness
Increase Your Sales
Opportunities to Create Value and Promote Honesty
Establishing Brands as Niche Experts
Customers Are Already Using Social Media to Shop
B2B Brands Have Already Paved the Way
Using your social networks to find, engage with, understand, create trusted relationships with, and nurture sales prospects are known as social selling. It enables your sales team to attract qualified leads and engage with them on social media, addressing inquiries through meaningful content conversations.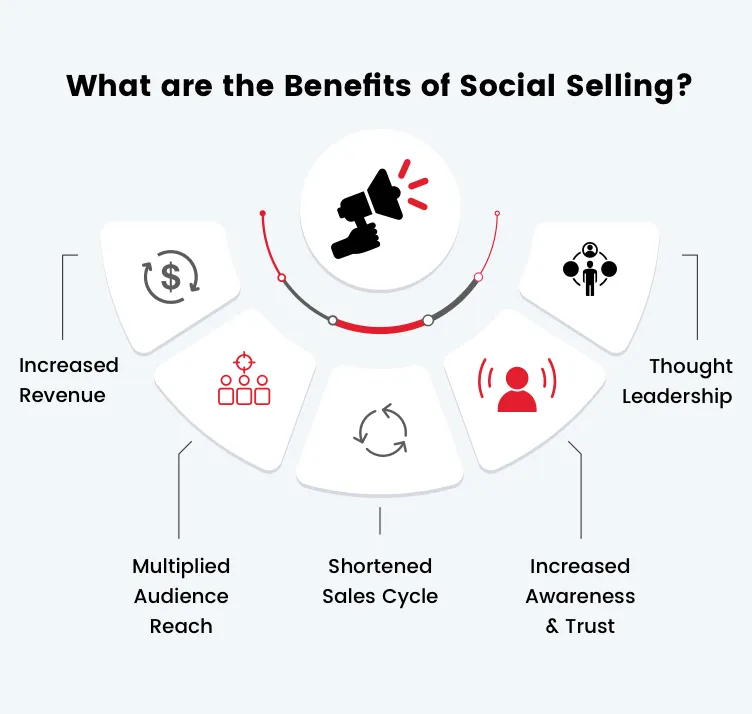 Why Social Selling is the Most Reliable Way to Increase Sales Leads
Your salespeople may build authentic relationships by using social selling.
According to 31% of B2B professionals, social selling technologies helped B2B workers build closer ties with clients. Building rapport & genuine connections between you and your prospects are at the heart of social selling.
The influence of social media on the B2B buyer's journey has been astounding. Digital media influence 92% of buying decisions in one way or another. Social selling is the most reliable technique to increase sales leads and create real, meaningful relationships with prospects.
Here at SocialSellinator, we've built our business around social selling, and we strategically use it to help our clients reshape the way they conduct sales. Some of the reasons why we believe in social selling include:
More Social Selling Means More Opportunities
Build Better, More Meaningful Relationships
Decision-Makers Leverage Social Media
How to Start Social Selling:
7 Tips to Set up Your Strategy
Understanding social selling isn't enough to start bringing it to action for you. To get started with social selling, you'll need to develop a strategy that will help you stay focused.
Success in social selling is about shifting your mindset and applying some common sense. Success in social selling often comes down to your initial planning and ability to stick to those plans.
As they say — how you start is how you finish. In this article, we'll detail some of the initial tips that you should follow in your early days of social selling to set yourself up for success down the line.
The very first is, How you present yourself on social media matters.
Spreading a positive message and establishing a professional personal relationship is critical for shaping prospects' and clients' feelings about your company. Start with an audit of your current social media accounts, which include—
Overall presence.
Well-maintained professional account.
Showcase your expertise to build connections.
So, this was just one tip shared; to know more in detail, click here to know how to start social selling.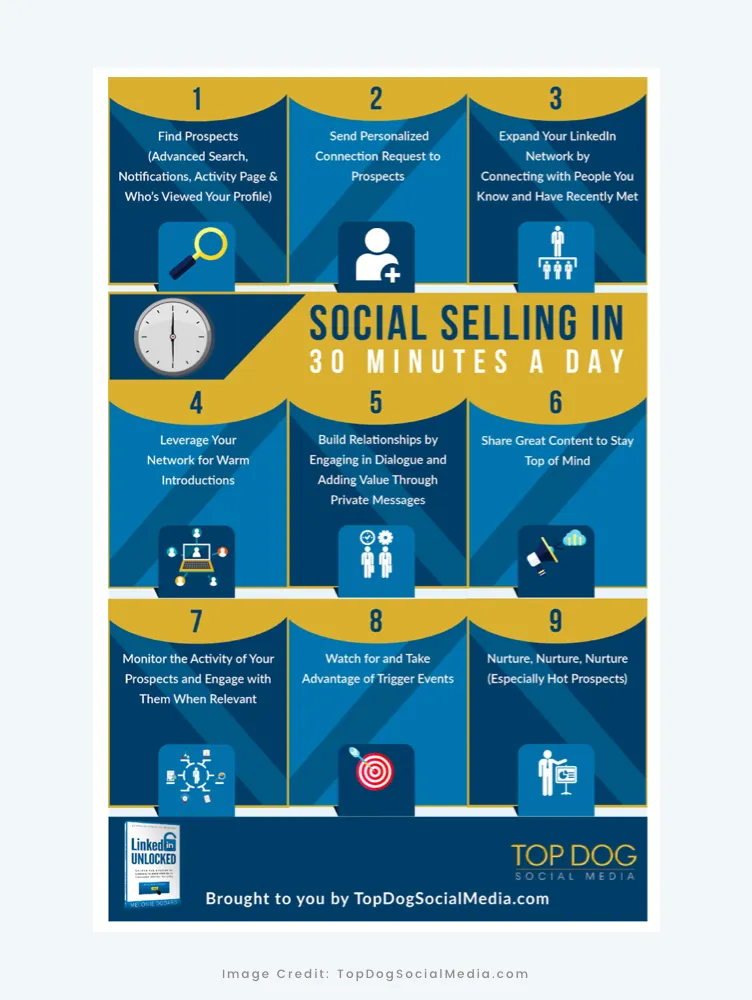 10 Social Selling Strategies You Can't Afford to Dismiss
Brands and organizations now have a platform to interact with their customers; thanks to social media. Instead of only nurturing current customer relationships, you can also use social media to find and convert lucrative prospects.
Salespeople are using social media to acquire important details about their prospects before they walk through the door, remain up to date on buying trends, connect with influencers, and more.
This blog will provide you with a comprehensive list of ten social selling tips that you can use to perform social selling like a pro. Let's read—
Present your best impression with a formal image that makes businesses trust you and find you welcoming.
With influencers, sales reps must build rapport and show credibility.
Keep track of the result of your previous social selling efforts.
Monitor relevant conversations to acquire prospects.
Join and participate in relevant LinkedIn groups.
Figure out who your prospects are.
Provide importance to your prospects on a regular basis.
Prospects should be nurtured.
By sharing success stories, you can earn trust.
Respond to customer complaints/feedback in a timely manner.
By following these crucial social selling tips, you can achieve higher ROI in the future.
The 3 Pillars of an Effective Social Selling Strategy
With the surge in popularity of social media, social selling has gained in popularity. Salespeople have been honing their talents in social selling for years and are now knee-deep in it.
If you want to attain success, you need to embrace and regularly work on some key pillars of social selling strategy:
1) A Willingness to Engage
2) Truly Valuable Content
3) A Clear Goal for Each Interaction
Every company's strategy should include social selling. Leveraging the networks and relationships you've built across various channels is critical to success, whether you're a B2C company trying to connect with active customers on Twitter or a B2B company looking to reach new prospects on LinkedIn.
Social Listening:
The First Step to Social Selling
The social listening strategy helps you tune in to the world's 3.03 billion active social media users. Then you can keep track of what your customers are saying about your company across many social media channels.
It enables you to listen to, learn from, and communicate with your consumer base. You can also discover more about your industry or competitors and uncover potential new customers.
Social listening is the process of tracking and analyzing mentions and conversations about your brand on social media platforms to uncover opportunities to act.
Read our in-depth blog on social listening to see how you can use it to promote your business.
How To Do Social Selling:
8 Principles to Apply Every Single Day
Every reputable organization's roadmap for sales success now includes social media and social selling.
Expert social selling is a combination of science and art. In comparison to other methods, it will help you reduce the sales cycle, nurture your prospects, and increase closing rates if done right.
Consistency is perhaps the most critical quality possessed by any potential social seller.
Social selling is a commitment that must be made daily.
You must follow up with prospects, engage with new individuals regularly, and ensure that your material is distributed widely throughout the social channels where you want to be found. You won't see results unless you're consistent.
So, how do social selling? We'll go over some of the most significant social selling ideas in this article, which aspiring social sellers should apply to their efforts daily—
A Genuine Approach Wins
Valuable Content is the Cornerstone of Success
Generosity Establishes Connections
Lower Volume, Higher Quality
Questions Build Relationships
Use Smart Automation
Groups Broaden Your Platform
Make the Ask When It Makes Sense
You'll set yourself up for long-term success if you internalize these rules and make sure to consider them while you develop your approach.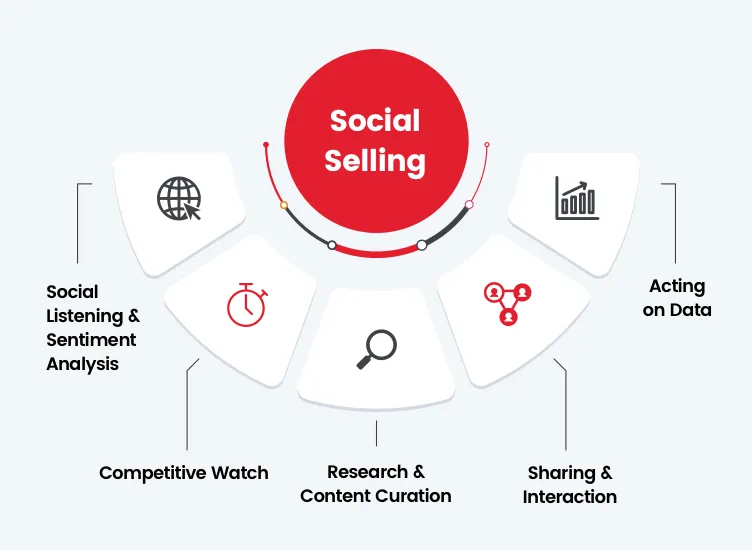 10 Social Selling Metrics to Help You Improve Effectiveness
Continuously measure, iterate, and test new ways of engaging with your target audience as you roll out your social selling strategies. You'll discover particular tactics that engage the audience and put you in a position to form new relationships due to doing so.
The most significant KPIs to monitor are engagement, impressions, reach, the share of voice, referrals, conversions, and response rate or time. When you combine these, you'll have a 360-degree perspective of your social media performance.
Read our in-depth blog to learn about the most critical social selling metrics that social sellers can use to track their efforts. Every metric reflects an integral part of any social selling campaign. Optimizing one of the parameters on this list entails improving a critical activity or tactic in your overall social marketing plan.
How to Measure Social Selling:
6 Ways to Measure Your Progress
Most of the top-performing organizations embrace social media and social selling tools as part of their strategy.
According to Forbes, only 15% of marketers can demonstrate social selling ROI in a quantitative way.
In a world that is becoming socially oriented, it's critical to understand how to monitor this social component and iterate on your strategy regularly.
Here are six social selling KPIs you can use to measure social reach that your team should keep a close eye on all of the time:
LinkedIn's Social Selling Index
Social Network Growth
Warm Conversations (Leads) Generated
Content Engagement Rate
Prospect Referrals
Activity Metrics for Leads
Why Social Sales is the #1 Growth Channel For Ecommerce
A social Commerce strategy can increase brand visibility, and customer communication, and increase sales for your online store.
eCommerce & social media are a combination made in heaven. Marketers have long used social media platforms to communicate with eCommerce customers.
Customers have developed a higher level of trust in online transactions because of the comfort of shopping 24 hours & seven days a week, the ability to buy hard-to-find or specialty items, and the ease of comparison shopping. All of which have contributed to the continued growth of eCommerce sales since 2010. Moreover, it's secure and saves your data.
Social Selling Automation:
10 Tools for Quick Success
Social selling is a sales method that uses social networking sites to find prospects, build relationships, and, hopefully, generate sales. It's not simply a fad; it's an essential aspect of cross-selling and the modern sales process.
It is a long-term approach that will take some time to bear fruit. You must execute a variety of tasks regularly to increase your following. The social selling automation tools mentioned in our blog can help you jump-start your social selling methods and make you more effective in less time. Let's go right in and look at some of these incredible helpers.
Prospecting: LinkedIn Sales Navigator
Email Finder for Business Profiles: AeroLeads
Content Sharing: reactor
Social Post Scheduling: Buffer
Relationship Intelligence: Nudge.ai
Social CRM: Nimble
Social Listening: Meltwater
Twitter Analytics: FollowerWonk
Email Identification: Hunter
Custom Codeless Automation: Zapier
15 Things to Do Every Day for Social Selling Success
You should expect to work on engagement for 3-4 months to see social selling results.
Customers prefer to engage with sellers who have a solid social media brand, according to 81 percent of respondents. Developing a reliable social selling strategy necessitates a mental shift for many businesses.
You'll have nothing to show for it if you don't pick the flowers before they blossom.
Build meaningful connections with prospects and a reliable lead-generation network.
Check out these 15 things to do every day for social selling success.
Find Prospects
Send Personalized Connection Requests
Start New Conversations
Build Connections by Engaging in Public Conversations
Share High-Quality, Relevant Content
Share Posts by Prospects
Monitor Important Prospects
Nurture Warm Prospects
Schedule Future Updates
Participate in Private Groups
Build Your Own Group
Find Opportunities to Engage with Influencers
Work on a New Blog Post
Check Relevant Hashtags
Take a Quick Look at Metrics
How a Social Selling Company Can Help You Lay the Foundation for Your Sales Future
Many marketers consider social selling to be merely transactional. The advantages of social selling are numerous and extend far beyond a simple sale. But with help of an experienced social selling company, things accelerate in a result-driven manner. When things are slow, social selling company creates a foundation for your sales department, helping you reach quotas.
It helps you in building a reputable presence among prospects in your field. Relationships can be leveraged in your new position as well if you're focusing on building them rather than selling them.
This type of relationship-building can help you get referrals and establish yourself as a go-to resource. If you think of social selling as solely transactional, you'll miss out on these prospects.
4 Critical Principles of Effective B2B Social Selling
Social selling improves lead quality, increases workflow, and raises win rates and sales values. Previously regarded as a sales-only activity, social selling has evolved into a necessary part of today's businesses.
So long as you're determined to make it work, social selling is effortless and precise. Most social sellers fail for various reasons, but the most common is a lack of consistency & an inability to follow the basic principles that lead to success in social selling.
Long-term success is almost guaranteed if four critical B2B social selling rules are followed. They are:
Identify and Purposefully Engage with Prospects
Choose the Right Platform and Tools
Mix in Automation Intelligently
Track and Analyze Your Results to Improve
What are the Best Social Selling Books?
Social selling is a long-term technique that takes dedication before seeing the results. You must execute a variety of tasks regularly to increase your following.
These tools will assist you in launching your social selling techniques and achieving success in a shorter period. Automating critical components of your social selling methods is necessary to improve your results.
Most people don't come naturally with the ability to sell on social media. You may study the basics of social selling from various excellent internet resources. Read the blog to know more about some of the best social-selling books.
4 Reasons Why Digital-First Companies Must Invest in Social Selling Training Right Now
According to Google trends, the word "social selling" has gained popularity over time. 93 percent of salespeople have never undergone any formal social selling training.
The process will be accelerated, and your salespeople will be on the right track from the start if they receive training from an experienced source.
Reps want to be trained
Facilitate more conversations with relevant prospects
Use sales tools more effectively
Learn how to build a long-term asset
It is something that every business should follow. Want guidance on social selling training or looking to execute a social selling strategy? Request Free Consultation.
7 Sins of Twitter in Social Selling
Consider the type of content you Tweet when getting your Tweets onto their timeline. While still beneficial to your followers, your timeline should convey your industry and product expertise. Building relationships is a crucial component of sales success.
Twitter is a fantastic tool, but it can also be stupid. If you don't want your tweets to make people uncomfortable, these are seven Twitter sins you should never do.
Random-tweeting
Tweetstorms
Recycling old tweets
Over-hashtagging
Don't repost verbatim
Twitter trolling
Bad grammar
6 Thoughts and 10 Tools for Fueling Demand-Gen with Social Selling
Seeing the actual benefits that social selling may bring is incredibly motivating and enjoyable for communication. There is no such thing as a silver bullet regarding social selling. However, it's a terrific complement to other sales methods.
We are aware that social selling is still underused in many marketing departments. To help change that, we would like to share some thoughts and tools with other marketers to help them embrace the social selling lead generation tactics.
Thoughts are:
Start with a plan
Define your target audience
Focus on owning
Consider how you want to manage the platforms
Work closely with your marketing team
Use Google Campaign URL builder to track engagement
What is Social Selling on Facebook?
When it comes to social selling, Facebook can be a bit of a mystery to understand.
Many businesses have found themselves in a bind as a result of recent changes on Facebook. Because of this, business leaders must grasp how to navigate Facebook in 2022 and remain compliant with the platform's best practice guidelines.
We've broken down how social selling works on Facebook and what reps can do to make the most of the network in order to complete more deals in the sections below.
Guide
FREE GUIDE TO USING FACEBOOK AS A

SOCIAL SELLING PLATFORM
Facebook is the world's largest social media network, which makes it a great platform for social selling. Learn how to leverage your Facebook presence to sell socially, including the top 10 tools for optimizing your efforts.
DOWNLOAD NOW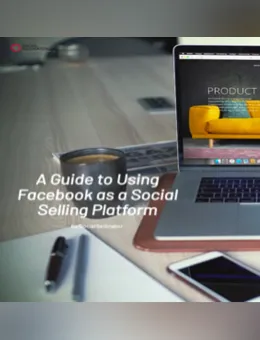 Social Selling on Facebook: Understanding Messenger Bots
More than 1.3 billion people all around the globe are using Facebook Messenger.
Many of these people use the app as their primary mode of communication.
For businesses looking to integrate social selling and social media automation into their overall marketing plans, an open messenger platform has a lot of promise.
Facebook chatbot offers far too much potential for helpful automation.
Messenger bots can be used in various ways that could assist social merchants. You may automate interactions and provide your prospects access to information without waiting for you to answer by using Messenger Bots.
Social Selling on Facebook: Top 10 Tools to Use in 2022
Did you know that there are over 2.3 billion monthly active Facebook members worldwide?
It is a massive social media platform with an ever-increasing user base. Brands and marketers well recognize Facebook's potential. Moreover, it has long been their favorite medium.
Growing your Facebook presence necessitates a thorough understanding of data and management.
Here's how these top 10 Facebook marketing tools will boost your social selling strategy.
Buffer
Post Planner
CoSchedule
Sprout Social
Likealyzer
Social Bakers
Animoto
Shortstack
Gratis
AgoraPulse
Social Selling on Facebook: What are the Best Facebook Marketing Tips to Engage Your Target Audience
As Facebook is based on a family-and-friends-first approach, it can be challenging to reach out and make the first contact with clients proactively. But that is not to say there isn't a way to engage effectively.
While many individuals think of Facebook as a social media site, offering a lot of opportunities for networking and exploring new prospects. It's critical to approach Facebook social selling with the right mindset and a well-thought-out strategy.
If you're doing business on Facebook, your profile should be treated as a commercial asset. There's nothing wrong with allowing potential customers to see you. Just make sure you go over your profile and make sure there's nothing dubious or offensive.
Read our blog on Facebook marketing tips to improve your ROI on social selling on Facebook.
Social Selling:
Real Estate on Social Media
Even with limited resources, intelligent real estate brokers can use social media to develop meaningful relationships with their clients and attract new business.
How do you go about it?
The sheer number of social media platforms and real estate marketing tactics available can be bewildering at first; but, we will discuss each of them in detail in the following sections.
Guide
FREE GUIDE TO SOCIAL SELLING FOR REAL ESTATE PROFESSIONALS
Real estate agents like you are finding their next buyers and sellers on Facebook and Instagram. This social selling ebook is laser-focused on how to leverage social media to sell real estate. Learn these tips and tricks, deploy them, and watch your sales funnel grow!
DOWNLOAD NOW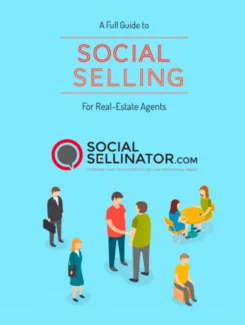 Social Selling on Instagram: Instagram Real Estate Marketing
Yes, Instagram is widely used for real estate, but only when done correctly. Instagram is the best place to increase your business's engagement.
Instagram is a popular platform for consumers to follow their favorite brands. 80% of users are following at least one business account.
With the highest interaction rates of any platform, Instagram is a powerful conduit for realtors.
According to an eMarketer report, 59 percent of millennials in the United States use Instagram daily.
You can use it to share fascinating videos and virtual tours of your homes with your audience. Want to know How? Read here to know how you can leverage Instagram real estate marketing to bring more relevant leads.
Social Selling on Facebook: Facebook Real Estate Marketing
If you want to escalate your business, you should start with social media. Businesses find that Facebook is a result-driven platform to sell their goods and services. It includes real estate as well.
Real estate agents can use social media channels to increase their visibility. Without paying a penny, you can grow a following, and brand awareness, and promote open homes with a bit of time, effort, and ingenuity.
Businesses can, for example, use Facebook to publish listing-related updates and content, book appointments, contact customers, and curate reviews all from one source.
We'll show you how to use real estate social selling on Facebook with this infographic.
Social Selling in Healthcare
These days, social media and healthcare are inextricably linked.
More and more members of the public are turning to social media for news and resources related to healthcare. Meanwhile, the concept of doctors being followed on Facebook is very acceptable.
And, given the recent expansion in the healthcare industry and the public's desire for up-to-date information, it's no surprise that healthcare accounts are among the most followed and interacted with on social media these days. In the following sections, we will talk more about social selling in healthcare.
Guide
FREE GUIDE TO SOCIAL SELLING FOR HEALTHCARE PROFESSIONALS
Social media is an amazing tool for healthcare professionals to educate their patients, generate recommendations from existing patients, and control their digital reputations. This ebook will help you leverage social media sites like Facebook to grow your patient list and provide better care to modern patients.
DOWNLOAD NOW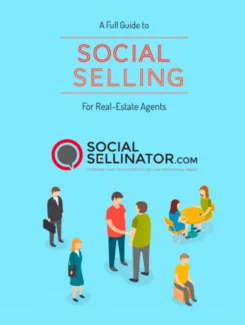 Social Selling on Instagram for Healthcare Professionals
Although Instagram and healthcare haven't always been synonymous, today's marketers recognize it as a critical channel for reaching healthcare decision-makers.
Healthcare professionals (HCPs) can use social media to exchange information, debate healthcare policy and practice issues, encourage healthy behaviors, engage with the public, and educate & interact with patients, students, colleagues, & caregivers.
Instagram is a social media tool that has gone viral. Users are interested in interacting with one another and with businesses.
Every day, over 200 million users visit one business profile. It means that firms will tap into a steady stream of new customers. Instagram has a monthly active user base of over a billion people. It is one of the most widely used social media platforms by the masses.
Social Selling in Finance: Financial Social Media
Despite the fact that the majority of financial advisors use social media, it does not necessarily result in tangible outcomes.
It is no longer possible for financial advisors to achieve their goals and create connections with their clients using the tactics that they used to rely on. After all, when it comes to doing business with organizations, people turn to those that they know and trust most.
If you are selling your home in a competitive market, the top financial advisers will take advantage of any fresh possibilities that present themselves and allow them to establish their brand and trust with prospective purchasers.
In the following sections, we will discuss how to leverage social selling in the finance industry.
Guide
FREE GUIDE TO SOCIAL SELLING FOR FINANCIAL SERVICE PROVIDERS
Many financial service providers are using Facebook and LinkedIn to grow their client base. Discover how you can leverage these powerful social media platforms for you, and get customers in 30 days.
DOWNLOAD NOW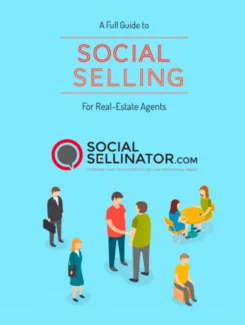 Social Selling on Facebook for Financial Services Providers
There are several important factors to consider when selling your company's financial services, ranging from customer service and compliance to branding and communication style.
If you want to stay ahead in finance and leverage the most out of it, you must keep advancing while staying on the right side of the line.
We thought we'd help you out with so much to consider by compiling a list of dos and don'ts for financial advisor Facebook marketing. Let's have a look at it.
Wrapping Up
Social media technologies are useful for more than just keeping track of the competition. They show you what your consumers are doing and saying as well, providing you with valuable insights into difficulties that you might otherwise be unable to detect. If you deal with such concerns ahead of time, you may be able to avoid a costly breakup for both you and the customer.
According to research, 62 percent of customers said they tell others about their negative customer service experiences. However, the good news is that 72 percent of respondents said they pass on positive customer experiences to others.
As a result, while social media can assist you in identifying dissatisfied consumers and repairing the connection, it can also assist you in identifying your advocates.
There's never been a better moment to use social selling technologies, whether it's to locate new consumers, tailor tailored pitches to match their needs, or bring the appropriate people together to close a deal.
Item 1
Content for Item 1
Item 2
Content for Item 2
Item 3
Content for Item 3