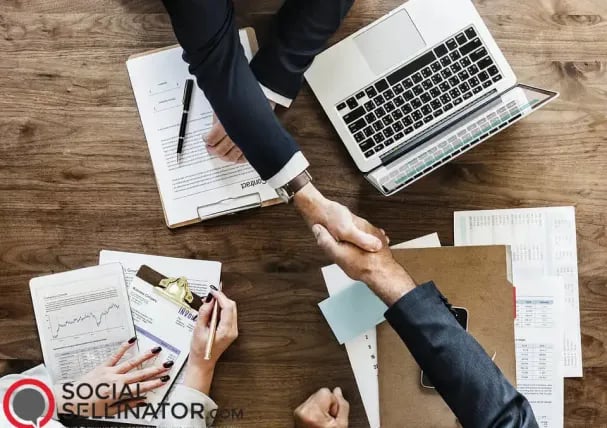 The evolution of social media had a jaw-dropping influence on the B2B buyer's journey. Digital channels play a huge role in buying decisions, with 92% of B2B buying decisions being influenced by digital media in one way or another.

Early adopters of social selling understand the impact that it has on their careers, while companies that insist on sticking with traditional sales channels and methods find themselves struggling to meet their monthly quotas.

Innovation moves fast. While in the late 90s, selling per fax was the way to go, many businesses today don't even have fax machines anymore. Just a few years ago, reaching out to prospects through email would have been seen as a cutting-edge way to grab their attention. Today? It's more likely to land you in their spam inbox than get in front of your target. Of course, that means that social selling - today's shiny toy - will be overtaken by something else at some point. Already today, 'digital sales' is talked about.

But in the meantime, social selling remains the present and future. It's the most reliable way to increase sales leads and develop real, meaningful relationships with prospects.

Here at SocialSellinator, we've built our business around social selling and we strategically use it to help our clients re-shape the way they conduct sales. Some of the reasons why we believe in social selling so strongly include:


More Social Selling Means More Opportunities

The proof is in the pudding. Social sellers engage with more people within their target market. As a result, they are able to attract 45% more opportunities, according to a recent study from LinkedIn. That's something that every business could benefit from.

Social selling is all about building connections with your audience before the selling process starts. That way, when the selling process commences in earnest, there is already familiarity and understanding there. Your prospects already know that they can come to you for information about your product, industry, or other related topics. The sales conversation is more of a formality when it takes place in that context.


Build Better, More Meaningful Relationships
Genuinely engaging with prospects before trying to sell them anything will lead to stronger, more genuine relationships. Right?

That's exactly what social selling does. 31% of B2B professionals said in a recent survey that social selling allowed them to build deeper relationships with their clients.

Through genuine engagement, you learn about their hobbies, interests, and professional experience. You might learn more about what college they attended. When sales conversations do start, you can speak to how your solution will help them from a place of true understanding — rather than using sales tricks to learn more and guide the conversation. Don't try people to sell what you have - sell them what they need.


Decision-Makers Leverage Social Media
Decision-makers and C-level executives use social media to research options and make purchasing decisions. In fact, a study from Bambu recently found that 84% of C-level executives leveraged social media in their B2B purchasing processes.

In sales, your goal should always be to meet your audience where they already are. In this case, your audience is already using social media to learn more about the products and services they invest in.


B2B Buyers Prefer to Engage Through Social
Companies should embrace social selling not just because it is more effective, but because it's the medium where their buyers prefer to engage with them. 92% of B2B buyers use social media platforms specifically to engage with thought leaders in their industry. 33% of users prefer to contact brands through social media rather than making a phone call.


Increase Sales Leads Reliably

Social selling helps companies to increase their sales leads but also increases the quality of the leads generated as well. Embracing social selling allows sales reps to go into sales conversations with a better understanding of their prospects and a foundation for their relationship in place. By embracing social selling early, you'll position yourself at the forefront of a burgeoning industry that will one day be accepted as the most effective way to engage in B2B sales.