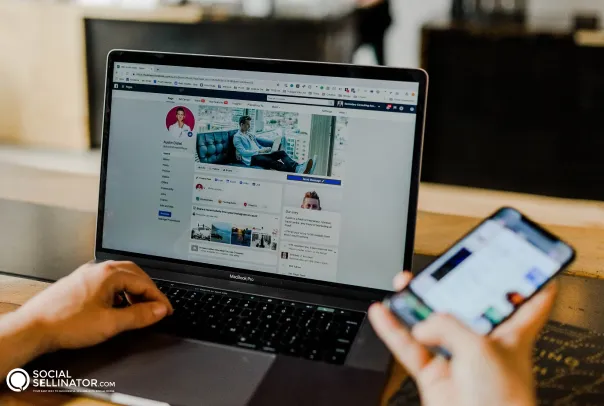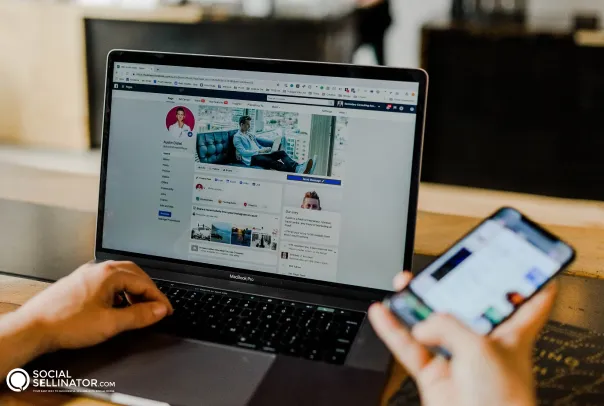 Social selling on Facebook gives you plenty of opportunities for business growth.
First and foremost, it helps you build or improve your brand recognition. It enables you to extend your reach to generate more leads and conversions.
Most importantly, it helps you forge meaningful relationships that lead to customer loyalty. After all, that's what social selling is all about — directly interacting with prospects and providing real value.
Those in the financial services industry can experience great benefits from social selling on Facebook. Read on to find out why this platform is ideal for social selling and how you can harness its power as a financial services provider.
Understanding the massive potential of Facebook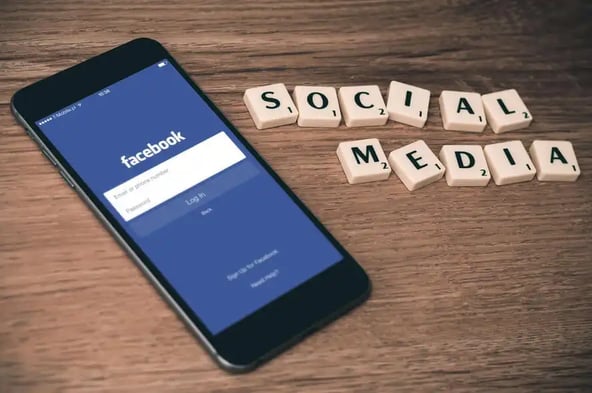 According to Statista, Facebook counts more than 2.45 billion monthly active users as of the third quarter of 2019. During that time, the dominant social platform reported nearly 1.62 billion daily active users.
Due to the sheer size of the audience, it's only logical to direct some of your efforts toward this colossal platform.
However, due to various Facebook algorithm changes, it has become challenging for businesses. It now prioritizes personal posts that inspire meaningful interactions over pages and public content, including posts from companies.
So, how can you cut through the noise and take advantage of Facebook's massive potential? The answer lies in social selling.
Why Facebook is the perfect platform for social selling
You don't see as many business pages on the news feed as you used to. Because of those algorithm changes, it's tough for businesses to extend their organic reach on the platform.
This isn't something new, though.
Facebook has been doing it for a while now. A famous chart from 2014 by Convince & Convert shows how Facebook's stock price goes up with the decline of organic page reach.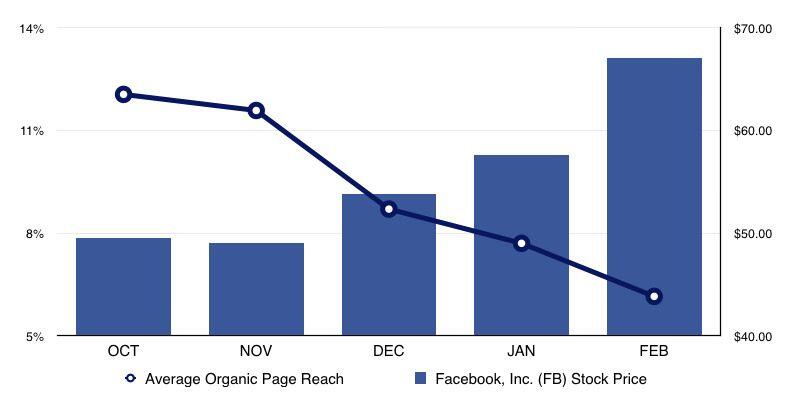 But this doesn't mean it's the end of the road for businesses that want to sell on Facebook. Since the platform now prioritizes personal posts that spark conversations, it opens the door for social selling.
You can sell your financial services offerings by having sales reps interact directly with your target audience. You can and should still maintain your business page. But your sales reps can now make a more significant difference from their personal Facebook profiles.
Techniques suited for Facebook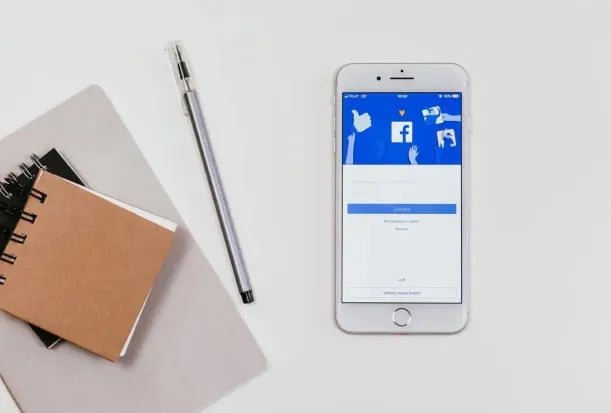 Your social sellers should be as subtle as possible when trying to sell on Facebook. They should avoid being overly self-promotional and not merely drop links and be done with it.
Here are the top actionable techniques they should focus on.
1. Communication through a company page
You already know that responding to all comments on your company page goes a long way. But including your team in the process can take customer relationships to a whole new level. social listening
Interacting with someone from your team will give your prospects the peace of mind they're looking for when they need a solution to a problem. People simply trust other people more than they believe stock responses from company pages.
Your sales reps shouldn't do your community managers' job, of course. But if they collaborate and sync their efforts, they will build fantastic customer relationships together.
2. Content promotion
Promoting your content is one of the most straightforward techniques your sales team can apply. They can share your blog posts, company announcements, and various news regarding your industry and niche.
The key is to raise more awareness and increase visibility. Your company page may count plenty of followers, but combined, your sales team can potentially reach an even larger audience.
Just remember that they will have more organic reach than your business page.
Speaking of content, you can't expect to capture many leads if you don't compel people to click on your posts. Crafting engaging headlines and a call to action are two of the essential copywriting tips to keep in mind when you're looking to secure more clicks and engagement.
3. Research and testing
Facebook is fantastic for learning more about your target audience, prospects, leads, and competitors. Why? Because all of them are on Facebook.
You can see what other financial service providers are up to and how their sales reps are engaging their prospects.
That way, you can test their strategies yourself to see what works and what doesn't.
You can also utilize various social media monitoring tools to gain an insight into what people are saying about your business.
Furthermore, you can learn more about anyone contacting you for your financial services. That is if they have a public profile that you can explore to see if they match your ideal customer persona.
4. Industry-related Facebook groups
Industry-related Facebook groups are excellent for social selling. A lot of people turn to Facebook groups to find a solution for their different pain points. Your team of social sellers can be there to provide a helping hand whenever a prospect or customer needs it.
Again, it's vital not to promote your business shamelessly. Advise your sales reps not to drop links, but rather engage in helpful, meaningful conversations. They can add relevant and useful links only after answering a question providing a proper solution. Help and add value - don't sell.
Almost every Facebook group has strict rules regarding the use of promotion and links, so make sure your sales reps read them beforehand.
5. Building brand recognition
Regularly posting on Facebook from your company page will improve your brand recognition. You need to publish fresh content to keep engaging your followers consistently.
However, your social sellers can make a much more significant impact by participating in various conversations with your followers.
With useful tips, recommendations, actionable advice, and more, they can provide excellent customer service. That way, they offer real value and exceed your customers' expectations. Before you know it, people will associate your business with unparalleled service and great value.
6. Building loyalty
Turning prospects into loyal customers is one of the top goals of every business. Whether you run a bank, issue credit cards, or offer insurance, you want your customers to keep coming back.
Social selling on Facebook is one of the best ways to achieve that goal. Your social sellers can establish regular communication on the platform, nurturing every lead and client, and inspiring their loyalty.
The don'ts of social selling on Facebook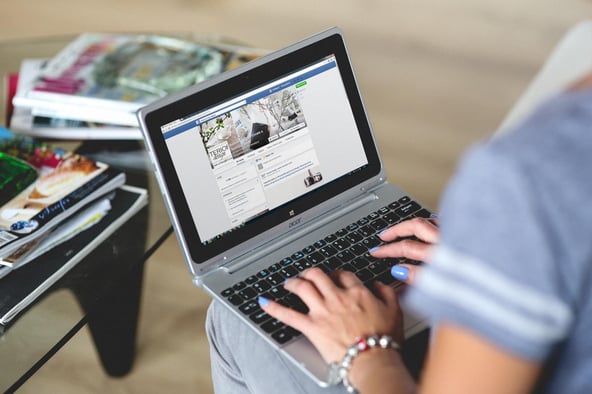 Now that you know what to do to harness the power of social selling on Facebook, it's time to learn about the pitfalls you must avoid.
1. Don't hard-sell
In a nutshell: Facebook is not for hard selling. If you do it, you will only push away your prospects.
Although people want to interact with brands on Facebook and other social media, they don't respond well to an in-your-face approach.
Being subtle and authentic will go a long way, so leave your hard-selling techniques for your off-platform efforts.
Avoid hard-selling even when someone shows interest in your products or services on the platform. Instead, suggest taking the conversation to email or phone, where you can deploy proper lead generation and selling techniques.
2. Don't spam
Spamming your followers is also a huge no-no. No one likes their news feed overflowing with excessive posts from brands. If you post too frequently or, God forbid, spam your followers with messages and comments, you know what you would accomplish? You'll successfully lose followers.
If you don't want people to unfollow you, don't be an annoying spammer.
3. Don't feed the trolls
Unfortunately, there will always be trolls on social media, especially on Facebook. You can't avoid them sometimes, and you usually can't beat them, but you can certainly ignore them. And ignoring them, you should.
Their mission is to create discord in an online community by posting off-topic comments and starting heated discussions. If you dignify them with a response, you would only give them more reason to continue their trolling. You don't want to get inside that bottomless pit and hurt your reputation.
So, don't feed them. Don't give them the pleasure of getting the attention they seek by addressing them in any way. Starve them and focus on building your friendly community. Don't try to reason with an unreasonable person.
4. Don't forget to engage
Engaging with your Facebook followers is vital for building strong and meaningful relationships. After all, Facebook is a social network that brings people together.
Make sure your team members are always friendly, helpful, and personable. They should be storytellers that compel people to engage in conversations about your brand. They should encourage discussions, create polls and surveys, and ask for user-generated content.
Being highly responsive to comments and messages is also vital for increasing engagement. It helps humanize a brand and inspires loyalty and brand advocacy.
Taking it one step at a time
Social selling on Facebook can provide your business with excellent benefits. The platform prioritizes relationships and meaningful conversations over business pages. That's why your sales reps can do wonders for your Facebook marketing strategy.
Your lead generation, direct sales, and ROI may not blow up as quickly as you may want. But if you consistently follow all these tips, you'll be on the right path to success.