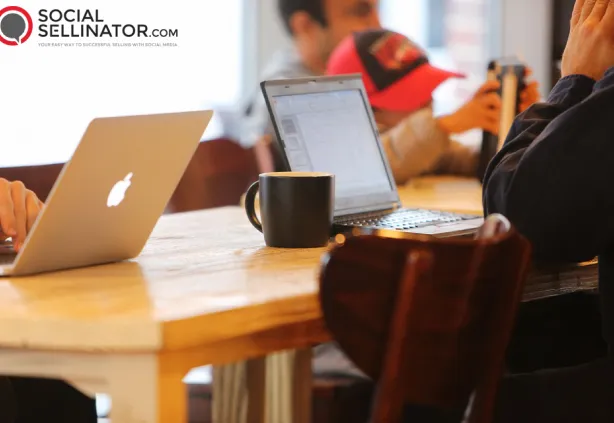 You might wonder: what is social selling? Or you're interested in improving your social selling skills. Naturally, you want to dedicate your limited time to a platform that is going to have the most impact on your business. This leads many to choose Facebook, the world's largest social network.

There are many reasons why Facebook makes an excellent choice of platform for social selling. Just take a look at these stats that show how large (and engaged) Facebook users are:


Facebook has

2.3 billion users

in total.
There are

1.1 billion Facebook users

that speak English. That's almost half of their total number of users.

Facebook is the third most visited website

worldwide, only behind Google and YouTube. It's also important to consider that Facebook relies heavily on app usage, which will drop its number of browser-based visits.

35% of Facebook's ad audience

is under 25 years old.

68% of Americans

use Facebook.

While many consider Facebook to be more of a social media platform to share personal information with friends and family, there is a lot of opportunity to make connections and scout new prospects on Facebook. And you can't

However, the platform requires that you employ some unique strategies to make connections with your ideal audience. There is truth to Facebook being a personal platform first. You don't want to continually send business communications intended for your customers but reach your family and friends.

It's important that you go into social selling on Facebook with the right mindset and a well-thought-out strategy for social selling. In this article, we'll cover some simple steps that you can take while selling socially on Facebook to increase your audience and build more connections with your ideal prospects.


Facebook — A Home To More Business Discussions Than Most Know

Yes, Facebook places its focus on your personal life. You connect with your family and friends first. Your main timeline and feed are not generally a good place to conduct business, at least at first. But that's why we're writing about social selling on Facebook: Tips to find and engage with prospects. Mark Zuckerberg's platform is a key pillar of effective modern marketing. And whether you're doing social selling on Facebook for healthcare professionals, real estate agents, or as a B2B company: you can't afford to neglect this juggernaut.

Still, Facebook presents a lot of opportunities for social sellers. Facebook Groups, in particular, provide a direct avenue to the target audience of many industries. It's particularly useful for B2B sellers, as there are many B2B Facebook groups with relevant daily discussions — providing you with the perfect opportunity to jump in and make some connections. If you want success with social selling on Facebook, it's important that you know where to find your audience and how to interact with them. Throwing things against the wall and seeing what sticks isn't an approach that will lend itself to success on the platform.

There are tens of thousands of relevant Facebook groups that you could join. In the discussions that happen there, you will make new connections that blossom into Facebook Messenger conversations, friend requests, and the ability to begin interacting with these prospects on a deeper level.

Now we'll dive into some direct tips that you can use to find your audience and interact with them to build meaningful relationships through social selling on Facebook.


Clean Up Your Profile

This should be common sense but is often overlooked. If you are going to be doing business on Facebook, then you need to treat your profile as a business asset. Or at least make sure that you are properly using the privacy settings to keep your business prospects from seeing your weekend party pictures, political opinions, or generally anything that you wouldn't want to share with a business associate.

Somehow, many people overlook this step as they begin social selling on Facebook. Whether you realize it or not, the things that you share with your prospects on the platform have an impact. They form the basis for how they view you, your business, and your prospects.

Make sure that everything that possible customers can see on your profile is something that you'd like them to see. It should look like the content that you share on LinkedIn, only perhaps a bit more personal. There is nothing wrong with letting your prospects get to see you. We're not saying that you have to hide your wedding pictures or that photo with Grandma. Just make sure that you are giving your profile a once-over and that there is nothing questionable or offensive on there.


Join Facebook Groups

For B2B social selling on Facebook, Facebook Groups are your bread and butter. They are the locations where your prospects will engage in conversations about their business, which makes it the place where you want to be as well!

Now, there are a few important considerations here. The great news is that every Facebook user is allowed to create a group. That means that there are going to be a lot of dead groups out there. When we say dead, we mean several different things. Yes, it could mean that there are groups with no (or very little) active discussion taking place. You shouldn't ever waste your time with those. By "dead," we are also referring to Facebook groups that aren't good for much more than allowing people to post spam in them. If you join a good number of Facebook groups, you're likely to find groups that are filled with people only sharing links and no active discussions taking place. Ignore these as well.

Facebook Groups can be made public or private. Each group will also have specific rules for engagement that you must follow or else you are likely to be kicked out of the group or have your posting privileges suspended.

As you look for groups to join and engage with, there are a few traits that you should be looking for:


Active Discussions.

This is the determining factor in whether or not a specific group is a good choice. If people aren't actively chatting then there isn't any opportunity there for you to build connections. The quality of the discussions matters here, too.

The right kind of discussions.

Know your audience. If you are selling an advanced enterprise product, a group of small business owners that are just starting to build their business isn't going to be the right group for you. You have a limited amount of time. Focus on engaging within the Facebook Groups that most narrowly fit what you are looking for from a client.

Well-moderated.

It's very easy for Facebook pages to fall apart and devolve into a spam-fest when moderation isn't present. The best groups to join are going to be those with active moderators that care deeply about the success of the group.

Private groups.

Private groups are always going to be more worth your time than public ones. The level of exclusivity matters here, too. Some groups will only let you join if you pay for access. Others let the general public join but require that they answer a few questions before doing so.

Cultural fit.

What groups look the most fun to participate in? When social selling is something you actively enjoy, you'll be more likely to dedicate more time to it and find success.

Finding Facebook Groups is simple. On the Facebook Groups Discover page, you can search for groups using keywords. This makes it easy to find groups that are narrowly focused on the markets that you serve. Be creative here. You'll find that the audiences in similar groups tend to overlap quite a bit so you might be better off joining the best group that you can find in each category, rather than joining several groups that cover the same topic.

The Discover Page also gives you additional resources for finding Facebook groups that might be relevant to you. Their "Suggestions for You" section recommends Facebook groups to you based on the other groups that you have already joined. "Popular Near You" recommends groups that are popular with others in your local area. They also have sections that recommend groups that friends like, and listings for groups in different categories like "Business" and "Art.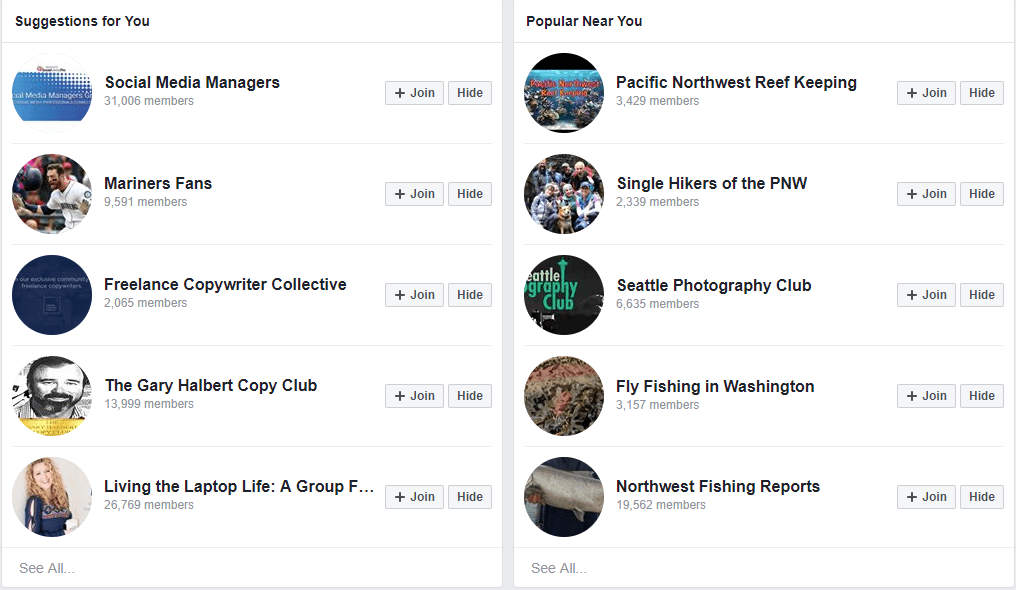 Most social selling on Facebook will take place within Facebook groups. As you begin to establish connections and grow your audience, you'll start to migrate some discussions over to Facebook Messenger. Eventually, you may add them as a friend on the platform and begin to interact with them on your news feed and throughout the Facebook website. But most connections will start in Facebook groups.

By embracing Facebook Groups as a vital component of your strategy for social selling on Facebook, you give yourself a simple and direct way to connect with your ideal prospects.


Create Your Own Facebook Group

Creating your own Facebook Group is an excellent way to increase your audience on the platform. In creating your own group, you control the moderation and can push discussions toward topics that will position you to provide insight.

We recommend creating a Facebook Group that is directly related to your products or area of expertise. For instance, a pay-per-click marketing consultant might start a group for other PPC marketing consultants. This might seem backward at first. After all, the ideal client of a PPC professional isn't other PPC professionals, right? They would just handle it themselves.

While that is true, it does position the group founder as an expert on the topic. They can ensure that their posts are read by their audience. They can dictate what kind of discussions will take place within the group.

It's not just PPC professionals that will join their group, either. Business owners that are looking to learn more about PPC advertising will also join the group. They may join the group, find that PPC advertising is a bit more complicated than they originally thought, and decide to hire a professional. Who will they go to? The person that has shared the most knowledge within the group.

Creating your own Facebook group is easy, but creating a group with engaged participants and relevant content is a long and arduous process. In the beginning, there will be very little to no discussion taking place. Additionally, especially in the early going, the group founder must play an integral role in starting and responding to conversations. Over time, however, a Facebook Group provides you with a reliable audience on the platform that will grow organically over time.


Leverage Messenger

Don't overlook Facebook Messenger. In fact, many social sellers would say that while Facebook Groups provide them with a simple way to meet and connect with their target audience, Messenger is actually the most powerful tool on the platform.

Facebook Messenger is the most popular mobile app based on the number of downloads that it receives. You can message anyone on Facebook that you are friends with directly. You can also message people that you are not friends with, but it requires that they accept your invitation to chat.

Messenger is quickly becoming a digital marketing staple. Currently, only 31% of businesses on Facebook use Messenger in any way, but that number is quickly growing. Messenger alone has 1.3 billion active users that send more than 8 billion messages a day.


Measure and Analyze

In order to better understand what works for you when it comes to social selling on Facebook, you have to track and analyze your efforts. While there are some tools that can help you with Facebook automation, there aren't many tools for tracking and analyzing social selling efforts, so you'll have to do a lot of it by hand.

At the very least, make sure that you are tracking your conversations. When you have a conversation with a prospect, where did the initial engagements take place? What strategy did you employ? What was the final outcome of the discussion?

Knowing what works is critical for refining your strategies over time. If you don't keep track, it's easy for vital information to get lost in the shuffle.


A Wealth of Potential on Facebook

Facebook truly provides a wealth of potential for social sellers. By leveraging a combination of Facebook Groups and Facebook Messenger, you can locate, engage with, and ultimately build lasting relationships with new prospects. These relationships often result in friend requests, setting the stage for relationships that feel closer than they would have on another platform. Use the tips in this article to help you lay the foundation for your initial audience and grow it over time.

What do you think? Share your thoughts about building audiences on Facebook in the comments: