With the advent of the internet and its role as a consumer commodity in the late 1990s, content marketing became a mainstream business practice. Companies had to dig for new ways to connect with their audiences on websites, blogs, and email marketing as they added these channels to their marketing strategies.
More than regularly sending emails or updating social media accounts is required. The content you produce for your company must address the audience's problems and add value. Content marketing is used by digital markets all around the world. By creating & delivering pertinent articles/blogs, videos, podcasts, and other material, content marketing is a marketing technique used to draw in, hold onto, and grow the audience.
A recent study by Semrush indicates that 97% of businesses include content marketing in their overall marketing plan.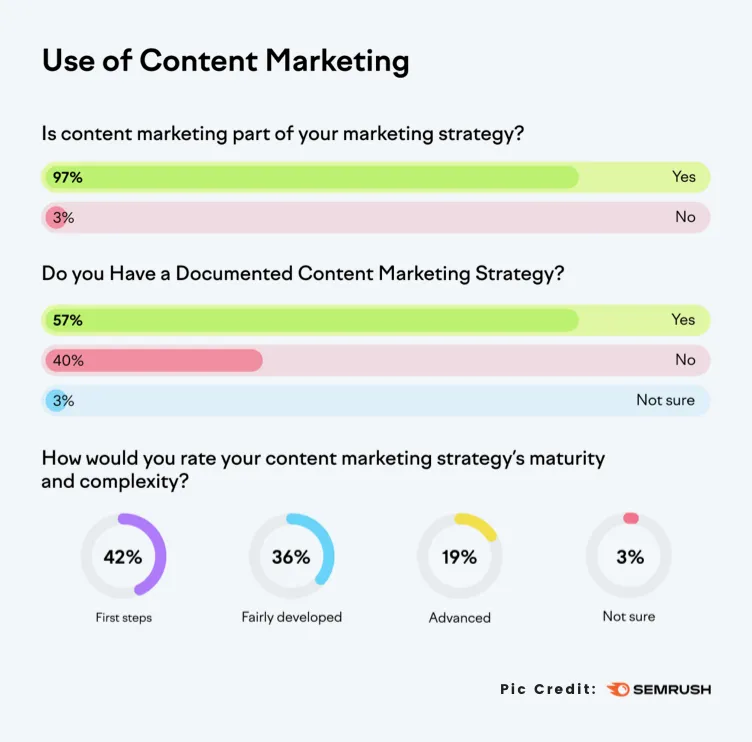 Content marketing aims to guide potential customers through the buyer's journey and make your overall social media management strategy a success. Marketing through content foreshadows the end of hard selling. Marketing aims to create relevant and valuable material that speaks to the buyer during each phase of their journey.
This complete guide will help you understand all aspects of content marketing for business: what content marketing is, its strategies, why content marketing is essential, why blog writing is so important, and how to promote your content. Keep reading to kickstart.
What is Content Marketing?
Neil Patel explains content marketing as a long-term method aimed at establishing a robust relationship with the target audience by consistently offering them high-quality, relevant content.
Content marketing is a marketing tactic used to attract, engage, and retain the audience by creating and delivering pertinent blogs, podcasts, and other media. People will first think of your company when you know as a business when it's time to buy what you sell. Thanks to this strategy's promotion of brand awareness and development of expertise.
Why is Content Marketing Important?
To improve awareness and reach more potential customers, businesses must market their products and services. By leveraging content marketing as a platform for advertising, you increase brand likability, familiarity, & trust. You must be aware of the issues people face daily to use content to address these concerns.
Why is content marketing important? Read its some advantages:
The cornerstone of any digital marketing effort is content.
Through the use of pertinent information, it raises the awareness of your industry, products, and services among your potential clients.
Through the use of pertinent information, it raises the awareness of your industry, products, and services among your potential clients.
It may help you earn links from other websites, improving your search engine rankings.
You can gain a competitive edge over your competitors by improving your ranking.
Digital Marketing – What are Content Marketing Tactics?
Your audience tells people your brand is valuable when they share, comment on, or like your content. It takes work to gain the interest of your target audience of prospective customers. Your digital marketing team must be consistent, innovative, and deliberate.
And to begin with, to gain the interest of your target audience, it is essential first to gauge your buyer persona.
FREE BUYER PERSONA TEMPLATE Our simple fillable pdf guides you through the strategic process of learning who your ideal customers are, what motivates and challenges them, and how they make purchasing decisions.
DOWNLOAD NOW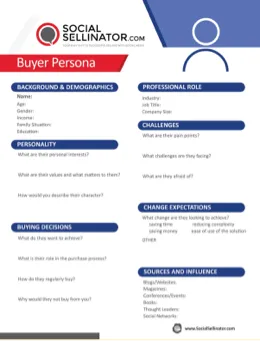 You need to take your content marketing plan seriously to increase organic traffic to your website and grow a successful company. Here are some of the tried-and-tested content marketing tactics that will help you connect with and engage your target audience-
How to Develop and Optimize Landing Pages?
How to Classify Your Audience to Boost Engagement?
How to Learn About Your Target Audience and Satisfy Their Needs?
How to Use Adaptive Content to Target Millennials?
Should You Stick with a Consistent Content Marketing Strategy?
Should You Regularly Run A/B Split Tests?
What are the Top 5 Content Marketing Strategies?
The cost of content marketing is 62% less than the cost of outbound marketing, but the number of leads generated is more than three times greater. Developing a successful content marketing strategy can increase website traffic and conversion rates by up to 7.8 times.
No article, social media post, video, or sound clip makes a difference if no one sees it. With the tips mentioned here, you may solve that issue and include each part in comprehensive content marketing strategies. The tips will aid your firm in improving and thriving.
The following are the Top 5 Content Marketing Strategies discussed in our article: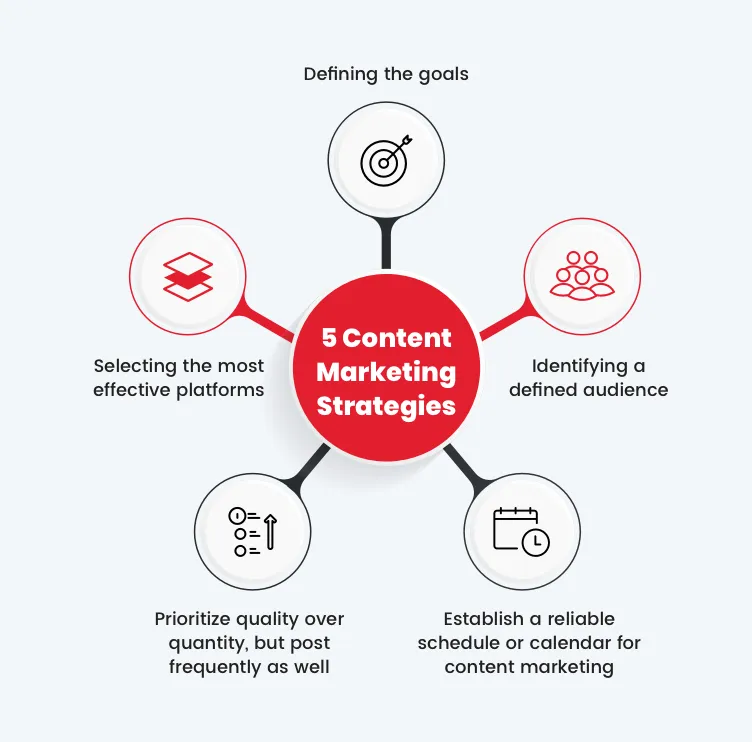 Why Is Blog Writing So Important In 2022?
Blogging is still the king of content and is the most affordable SEO strategy compared to video, infographics, and images. You can offer details about your company and its products, ideas, and opinions on many subjects, making blog writing a critical strategy.
Blogging is a great way to give your business a voice and establish your status as an industry expert. Although more marketers are adopting video to interact with their target audience, blogging is still the preferred content delivery method.
3 Tips For Writing Captivating Blog Posts
Starting to write blog posts is an essential first step in your content marketing journey. Blogs are an excellent start because they are quick, simple, affordable, and good at generating interest. Even setting a weekly blog posting goal can be a significant first step.
However, the following blog writing tips should be kept in mind when strategizing an engaging blog post:
1. Three words: hook your reader
The reader will go somewhere else if you don't capture their attention. Be creative when drafting your opening salvo. What about posing a query to pique the reader's interest? A startling figure? A quote that makes you think? Whatever it is, it must compel the reader to read your piece to the end.
2. The KISS Principle
Keep the meat, and remove the fat. Keep it crisp by using short sentences. Keep your language precise and straightforward. When you could have used a shorter word instead of a longer word, it is not a good idea to try and sound intelligent. However, it is essential to follow the KISS principle when writing.
3. Calls to action are everything
Content marketers think a blog post is worthless without a call to action. After reading your article, the reader may wonder what to do next. It is clear that your enthusiasm has infected them, but they require the next step of engagement and motivation to take action.
4 Great Ways to Promote Your Content
While creating content is crucial, promoting what you currently have is just as important in a social media marketing strategy. You don't need to publish several things each day. Additionally, you can benefit more from your previous work than you would if you published a hastily written article daily.
Creating content for marketing involves just half of the effort. People need to see and read your material to be truly successful.
Fortunately, you can succeed without becoming an expert in social networking. Read these four quick ways to promote your content and increase content visibility.
Leverage earned, owned & paid channels
Utilize different platforms
Collaborate and co-brand
Influence is everything
Content is Key: Seven Secrets of Successful Writers
If you consider content writing a career, don't think twice and seize the opportunity. Most successful content writers these days have an enviable life.
They seldom go to the office and work from where they are most comfortable. The vast majority have a hard time making a living writing content.
The following are seven secrets to becoming a successful content writer: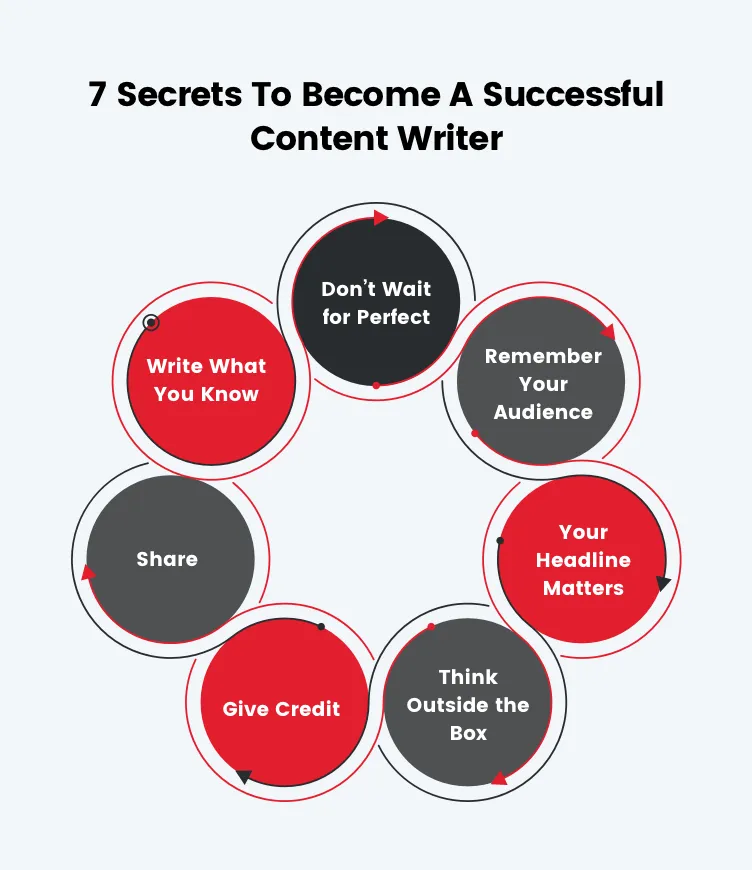 How Businesses Can Leverage On Content Marketing
Businesses are aware of the value of content marketing in building their brand's credibility and authority. To nurture leads, content marketing should include a variety of tactics. You must invest in lead-generation content to master content marketing and produce content that works.
When done right, content marketing draws the target audience's attention. As a result, it helps customers remember your company's brand. Read on as we discuss how businesses use content marketing to benefit their brand's success.
You may also like: How much does SEO cost?
3 Proven Steps to Creating Useful Content
So, above, we have just read how businesses can leverage content marketing. Now, the question is how to create helpful content.
The most important thing for attracting, retaining, and engaging customers is to provide rich and exciting content. What is the correct procedure?
Social media content strategy differs by social network. Facebook content lends itself to images and videos, while Twitter uses short posts of 140 characters or less. Content should be informative and serve as an informative or thoughtful resource for your audience. It should also include a link to your site and the source.
Want to know more? Read this blog that covers crucial content creation steps.
6 Tips to Create a Strong Social Media Content Strategy in 2022
Content strategy in social media consists of planning, creating, and implementing content on multiple platforms. Your social media approach is more likely to be successful if your foundation is robust. Once you've gained confidence, start small and work your way up.
Social media experienced a year without precedent in 2020 as the pandemic forced people indoors. Platforms for social media have replaced traditional sources of knowledge and communication.
This guide shares how to develop a robust social media content strategy in six simple steps: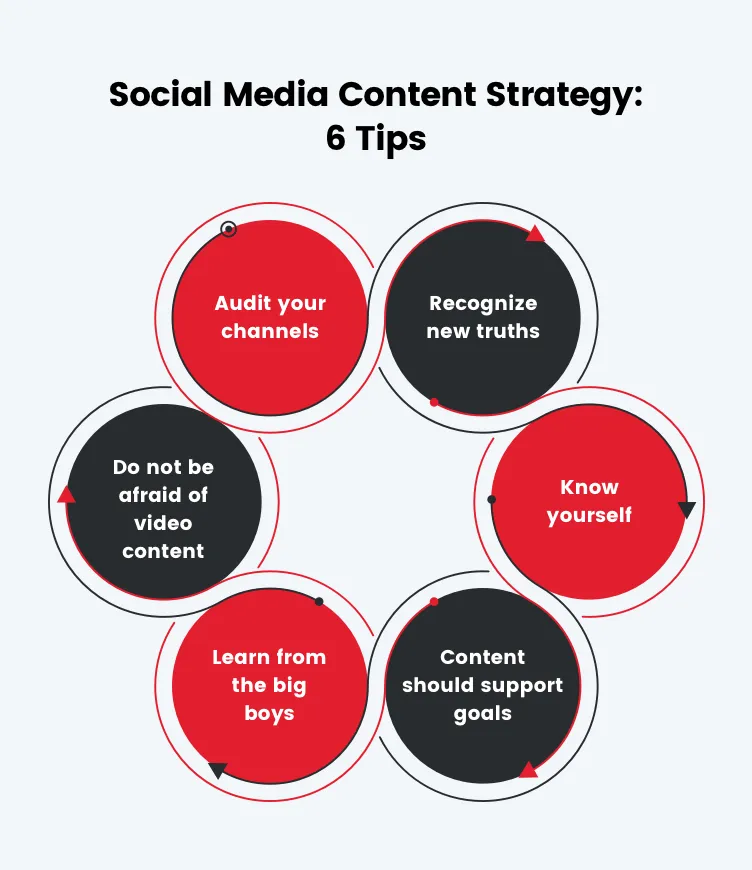 4 Reasons Why Your Content Needs Visuals - and How to Do It
Great content is more than typing words on a digital screen - it pops! Why is visually appealing content more powerful than words? Is there a mismatch between what your business says or presents and what your readers see first?
Use multimedia in your content marketing strategies to attract the attention of your target audience.
Videos do it more effectively and with more information.
A message or information that the audience can view can significantly impact and influence them to do the intended action. Recognize how much brand awareness can be increased by using a visual representation of your product. Here are the ways how businesses can create visually appealing content:
Images
Videos
Slideshows
Audio
10 Facebook Marketing Tips in 2022
The most popular social media platform for communication & engagement is Facebook. Users of Facebook will continue to consume more videos and audio recordings than text-based updates.
Post fresh and original content if you have a business page or group. Keep your status updated so people can learn more about your business and product line through your marketing on facebook. Utilize a location-based post to enhance your Facebook updates that promote local awareness.
The following are the best Facebook marketing tips for 2022:
Post original and fresh content
Use more visual content
Understand how to create a viral post
Use Facebook polls
Set up Online Events
Add a CTA to All of Your Posts
Use Ad Targeting Tools
Use Posts Feed Optimization
Don't Forget About Mobile Devices
Use Facebook Pixel Technology
How To Get Connections and Targeted Leads on LinkedIn
The LinkedIn audience is quite responsive to experiences and stories. However, providing content that sounds like something other than selling is crucial. That creates a lot of fresh leads through a primary snowball effect.
Also, remember that you still need to use fundamental SEO techniques on the keywords in your headlines. Last, cross-promote your LinkedIn content throughout various social media platforms to engage the audience.
By promoting your content, you may generate efficient connections and leads. You can connect with LinkedIn users who aren't currently on your connection list using sponsored content. Your regular visitors and followers are the only people who see the posts you publish on LinkedIn.
This will automatically help you get connections and targeted leads on LinkedIn.
FREE
A Guide to Using LinkedIn as a Social Selling Platform
250 million LinkedIn users login to the platform every month. How can you leverage this engaged business audience for your LinkedIn social selling strategy? Read this eBook to learn LinkedIn insider tips. We'll help you optimize your profile, target prospects, use the app to its fullest, and grow your audience.
DOWNLOAD NOW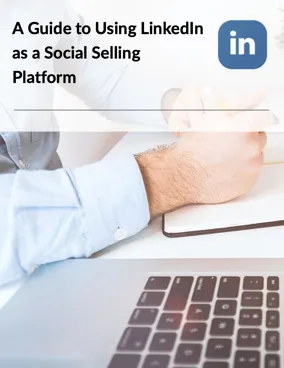 5 Social Media Marketing Trends for 2022 + Key Tips
You can choose the platform where your audience responds best to your content. The most well-known brands include Twitter, Facebook, YouTube, and Instagram. Start producing more video content to stay ahead of the curve. Just be sure your videos are engaging and of excellent quality.
On social media, interactive content is one of the social media marketing trends, & a great way to stand out. You can generate surveys, polls, quizzes, and more. Find out what works best for your business or social media networks by being creative and leveraging critical social media marketing trends.
Snapchat Marketing: 10 Ways to Promote Your Brand
In recent years, Snapchat has grown by leaps and bounds. It boasts a user base of more than 530 million active users. Each session of the app lasts an average of three to seven minutes.
With Snapchat marketing, brands can create content that resonates with their target audience. The app is an effective tool for social media marketing that can be used to reach new audiences.
To leverage social media marketing on Snapchat, it's crucial to understand your audience. The perception of your brand can be significantly enhanced by clearly understanding what your Snapchat friends and followers want and need. You can also get assistance from the Snapchat audience analysis tool.
Read to know how content plays a crucial role in promoting your brand via Snapchat marketing.
15 Snapchat Marketing Strategies to Grow Your Business
To see your Snapchat strategy grow, you must get followers and produce quality content. Look for new followers of your associated profiles on other social networks. You will have a good chance of growing your followers if you promote your content across as many channels as possible.
Talk about your followers' interests, like sports, movies, or shopping, in the content you post. Connecting with people or influencers from the same market as your brand is one approach to achieving this.
You may ask your followers or previous customers to create a video of themselves using or buying your product and send it to you.
As a reward, you may offer a free product or give them a shout-out on social media. Additionally, customers will feel more valued for their time, which will drive company growth.
Copywriting And Social Selling: 5 Hacks To Bring Them Together
Social selling largely relies on copywriting. Copywriting for social media marketing is an essential part of your digital marketing strategy.
A brand's image is how they portray itself in the public eye. Excellent copywriters can get to know their audience and the brand they're writing for well enough that they understand what the audience wants to hear.
Speaking to your customers as people rather than potential customers is the key to effective communication. You'll make sales with these five tricks that combine copywriting and social selling. Continue reading to learn five hacks for improving your connections with customers.
10 Tips to Create Blog Posts That Convert
Unfortunately, several businesses underuse the powerful marketing tool of blogging. Some websites, such as eCommerce, do not recognize the importance of blogs and consider them a distraction. The worst technique for raising the churn rate is overcrowding your website with low-quality content.
Building your credibility, bringing in new traffic, and promoting your products may all be accomplished by blogging. Here are some tips to improve your blog post's conversion rate: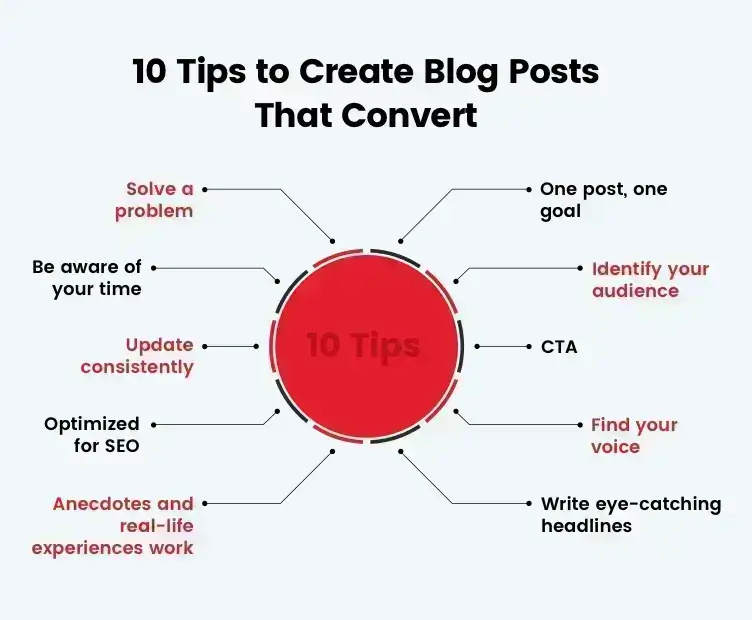 Use These Copywriting Tips to Get More Clicks
Copywriting is the art & science of using words online in a manner that delivers a valuable and entertaining message to your audience.
Developing a nurturing and long-term profitable relationship with your customers is possible when quality copywriting is combined with digital marketing.
Also, engaging copywriting can play a significant role in increasing a company's sales. Whether you produce email, website, or social media marketing materials, copywriting tips below can help you get more clicks.
Use the Power of Persuasion
Craft Engaging Headlines
Play to Your Audience
Devote Time to Your Keywords
Social Selling Podcasts to Turn You Into a Social Selling Ninja
Approximately 44% of Americans listen to podcasts, which amounts to 124 million people in total. In the United States, 26% of Americans listen to podcasts regularly, and 44% watch them at least once daily.
In recent years, podcasts have become the preferred method of sharing and engaging with information due to their accessibility.
For sales professionals, there is a lot of great podcast content. Not every podcast will touch on social selling with depth, but there are several good options. Check out these top five social-selling podcasts to start you on the path to understanding the subject.
How to Use Brand Storytelling to Develop a More Personal Connection With Your Audience
There is more to your brand than what you tell people. Your brand's reputation is shaped by the signals that you send, both positive and negative.
Brand storytelling is a tool to grasp the narratives and help customers see through the noise to discover the traits that make your brand unique.
The key to developing a powerful brand is brand storytelling. You can give your customers a glimpse into your operations by telling them stories and anecdotes about your company. This way, customers and potential clients learn more about your company and the "why" behind what you do.
3 Steps to Identify Share-Worthy Blog Topics
A key component of effective social selling is creating high-quality content. In some cases, however, it can take time to identify what type of content your audience desires.
Finding blog topics that encourage interaction and are worth sharing is much more complicated than most people think. Most likely, your target audience is overwhelmed with content choices.
Look at these statistics following the three tips explained to see how fiercely competitive people's content consumption time is.
Top 3 Ways Social Sellers Can Promote Blog Posts to Grow Their Reach
To engage in effective social selling, you must demonstrate your authority. To get that first foothold while keeping clients' interests in mind, you must understand how to market a blog post. Even if you write and publish the best blog posts in your field, they won't help you much if no one reads them.
It is challenging to gain awareness if you don't have a large social media following. Internet marketing guru Neil Patel advises spending as much time on content promotion as you do on content creation.
You may gradually build the audience for your content if you adhere to the following blog post promotion ideas.
Social Media Marketing: Magic Solution to Your Marketing Challenges?
Social media allow small businesses to benefit from innovative and efficient marketing strategies. Because of its ability to connect simultaneously with many people, social media has transformed B2B marketing techniques and how businesses interact with customers or clients.
Social media is critical for B2B success, especially when it comes to content. Your reach on social media is enormous, and you can use it to increase the audience with the help of content. In addition, it is beneficial if your content is shareable, meaning that individuals like and would like to share the content they find interesting.
Read a full-fledged blog on this link to learn more about content's role in social media marketing.
What a Social Media Marketing Agency Can Do For Your Business
Social media provides many opportunities for connecting with potential customers. You will most likely achieve this by posting engaging content that is helpful to your audience.
Your company can demonstrate its credibility and expertise by gaining a large following. Possibly it will relate to an existing product, or it may be something else entirely.
The key to effective social media visibility is to publish relevant, high-quality content. You can enhance website traffic, build brand awareness, and generate leads by providing this content. Your business can benefit from all of these benefits.
Read the blog to know what a social media marketing agency can do for your business keeping content in mind.
Conclusion
You can reach your target audience and make more sales with good content marketing. There are many ways to use content marketing to increase sales, make your brand more well-known, and get to know your prospects and customers better.
And don't forget to find ways to add more value to each piece of content you make.
To get started, figure out what kind of content works best for your business and audience, and then create a content marketing strategy to boost your bottom line immediately.
Item 1
Content for Item 1
Item 2
Content for Item 2
Item 3
Content for Item 3