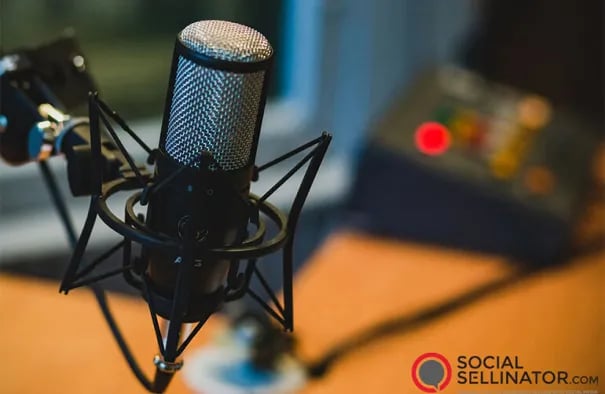 If you're not already listening to any podcasts, you should be.

In recent years, we have seen podcasts explode in popularity, surpassing other mediums in reach. The accessibility of creating and listening to podcasts has made them the preferred method of sharing and engaging with information, for many. Today, 44% of Americans are listening to podcasts, up to 124 million people total. 26% of Americans listen to podcasts monthly.

For sales professionals or anyone who is interested in social selling, there is a lot of great podcast on content marketing out there. And these podcasts are a great for for you to gain a lot of insight and sharpen your skills. However, with podcasting growing so quickly, there are a lot of different sales, marketing, and social media oriented podcasts to wade through, and not every podcast will touch on social selling with depth. However, there are several social selling podcasts out there that take a detailed look at popular strategies, or focus on social media in a way that makes them a good fit for those that want to learn more about social selling.

To get you started, here are my top five social selling podcasts:


#1 - The #AskGaryVee Show
Gary Vaynerchuk has been an internet business celebrity for over a decade now. His hyper demeanor and relentless positivity have secured him a cult following in recent years, but he's not everyone's cup of tea. That said, he is an expert social media marketer who has built his businesses and personal brand on the back of that skill.

While his podcast may not directly deal with social selling, many of the topics he covers inevitably deal with the best practices and core principles required for effective social selling. If you want a good, entertaining podcast that will provide you with broad social media insights, The #AskGaryVee Show is a great place to start.


#2 - The Social Media Social Hour
The Social Media Hour is an excellent podcast for marketers, entrepreneurs, and sales professionals who want to deep-dive into today's most popular social media strategies. Hosted by Tyler J. Anderson, who is a social media entrepreneur, the podcast covers discussions with top brands and influencers in the social media space, covering every social media platform available.

One of my favorite things about the show is that the episode titles clearly state what they episode will cover, making it easy to pick through their archives and find valuable episodes that are relevant to your interests.


#3 - Social Pros Podcast

The Social Pros Podcast is a member of the marketing podcast old-guard, originally debuting in 2012. Back in 2015, the podcast won Best Podcast/Audio Series at the 2015 Content Marketing Awards. Hosted by Jay Baer of Convince & Convert and Adam Brown of Salesforce, the podcast hits that sweet spot between content and sales that social sellers are looking for.


#4 - Selling With Social

If you want something that is more of a deep-dive specifically into social selling, Selling with Social is an excellent podcast. Featuring interviews with sales pros from around the world, the Selling With Social show looks at detailed strategies for engaging prospects for social media and integrating it into your current sales processes. You can expect new episodes released on a weekly basis.


#5 - Growth Experts

Growth Experts, a podcast from Dennis Brown, features interviews with CEOs and entrepreneurs around the subject of growth hacking. On its surface, growth hacking may seem only tangentially related to social selling. However, when you dive into the podcast you'll quickly see how many of the subjects they talk about deal directly with building valuable relationships through social media and leveraging those relationships to close sales. While Growth Experts may be more targeted toward marketers rather than sales professionals, there are many lessons taught throughout its archive that would prove useful for both.