Introduction: The Power of Content Marketing
In the digital marketing landscape, content is the undisputed king. It's the captivating storyteller, the master chef crafting a gourmet dish for your target audience, and the seasoned conductor harmonizing your brand's message with creativity and relevance. But to truly leverage the power of content and unleash your brand's potential, you'll need more than just compelling words and visuals. You'll need a strategic partner that knows the ins and outs of the content marketing realm, and that's where content marketing agencies come into play.
In this article, we will delve into the world of content marketing, explore the role of content marketing agencies, and provide a comprehensive review of the top content marketing companies. If you're a head of marketing or digital marketing in a small to midsize business, grappling with the challenges of low brand awareness, lead and revenue deficiency, and a need for authentic engagement and ROI-focused strategies, then this guide is for you. Let's embark on this journey of discovery and uncover the leading content marketing agencies that can help you achieve content marketing excellence.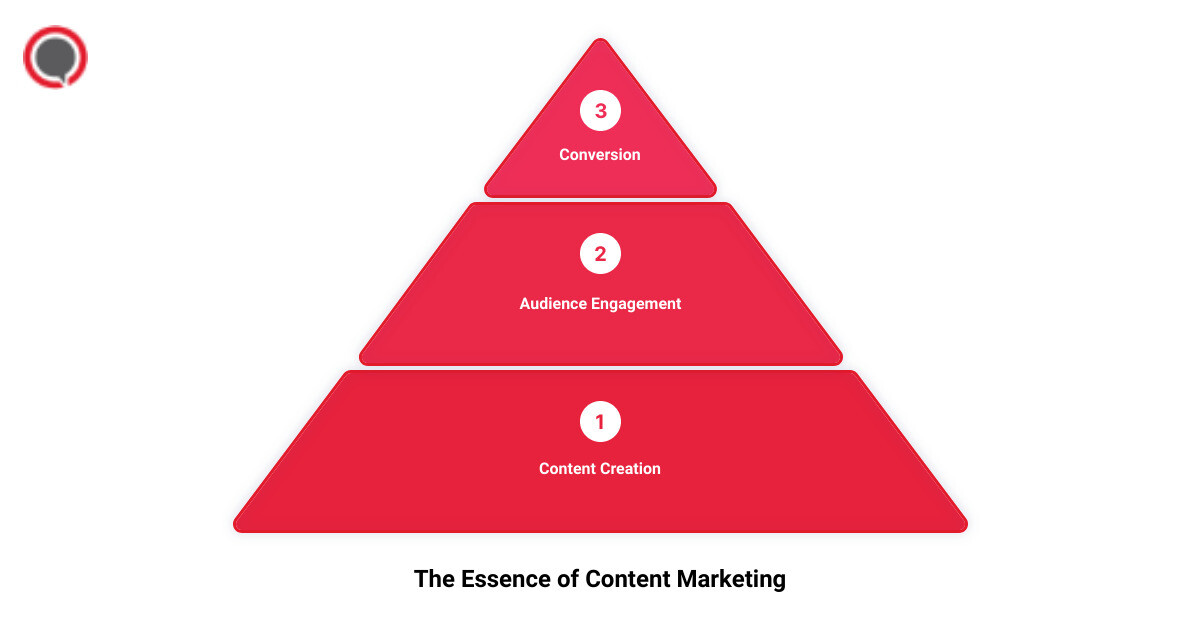 Understanding Content Marketing: What It Is and Why It Matters
Content marketing, as the name suggests, is an approach that centers around creating, distributing, and promoting relevant, valuable content aimed at attracting and retaining a clearly defined audience. The ultimate goal? To drive profitable customer action. But let's take a step back and dig a little deeper into this marketing phenomenon.
Content Marketing: The Heartbeat of Digital Marketing
So, what exactly is content marketing? In the words of renowned marketer, Neil Patel, content marketing is a long-term method aimed at establishing robust relationships with the target audience by consistently offering high-quality, relevant content. From blogs, videos, and podcasts to infographics and ebooks, the content you create should provide solutions, add value, and position your brand as an industry expert.
When you consistently deliver valuable content, it fosters brand loyalty and trust. And when it's time for your audience to make a purchase decision, they'll naturally think of your company first. That's the power of content marketing.
The Importance of Content Marketing
Content marketing isn't just about creating and sharing content; it's about answering your audience's questions, solving their problems, and meeting their needs. It's about building trust and credibility with your audience, connecting with them on a deeper level, boosting your website's SEO, generating leads, and setting yourself apart from the competition.
A recent study by Semrush indicates that 97% of businesses include content marketing in their overall marketing plan. It's not surprising, given that content marketing costs 62% less than traditional marketing methods and generates about 3 times as many leads.
Let's remember one thing: creating content isn't enough. A great content marketing company will provide you with the actionable data you need to create profitable content for your business. They'll offer detailed breakdowns of your performance, full of metrics, KPIs, and sentiment analysis. This data should answer key questions like: Does this content move us closer to our campaign goals? Does this piece of content lead to a conversion? What do we need to change or optimize to improve our conversion rates?
Specialization: The Key to Content Success
Especially when you're in a specialized industry like healthcare, engineering, or finance, content marketing becomes even more crucial. In these industries, audiences expect content that isn't just engaging, but also deeply knowledgeable and accurate. And for that, you need a specialist – someone who understands your industry, speaks its language, and can write about it in a way that resonates with your audience.
Now that we understand what content marketing is and why it's so important, let's dive into the world of content marketing agencies. What do they do, and how can they help your brand unleash its full potential? Let's find out in the next section.
The Role of Content Marketing Agencies
Content marketing agencies are the unsung heroes of the digital marketing world. They work tirelessly behind the scenes to create compelling stories that capture your audience's attention and inspire action. But what exactly do they do, and why should your business consider hiring one?
What Does a Content Marketing Agency Do?
A content marketing agency is much more than just a group of writers. These agencies are composed of strategists, analysts, and creative experts who work together to craft a comprehensive content plan tailored to your business' specific needs.
Their work doesn't stop at creating engaging articles, e-books, or infographics. They also carry out extensive research and analysis to ensure that the content they create is not only engaging but also SEO-friendly. This means that it's designed to rank high in search engine results, bringing more visibility to your brand.
Moreover, a content marketing agency is also responsible for measuring the success of your content marketing efforts. They do this by using various metrics and key performance indicators (KPIs) to provide you with a clear picture of how your content is performing. This includes analyzing data such as how far people are reading into your content or which pieces of content are leading to conversions.
Why Should You Hire a Content Marketing Agency?
The decision to hire a content marketing agency can be a game-changer for your business. Here's why:
Specialized Experience: Content marketing agencies bring a wealth of specialized experience to the table. Especially in industries like healthcare, engineering, or finance, where a high level of expertise is required to produce credible content.

Efficiency and Speed: Experienced agencies can produce content faster and provide readers with a deeper level of insight that comes from years of experience. This can significantly reduce the time it takes for your content to start delivering results.

Fresh Perspectives: Even if they're new to your industry, agencies can bring fresh ideas that are perfect for beginners. Their writers will produce content that your audience also finds helpful.

Data-Driven Results: A good content marketing agency will provide you with the actionable data you need to create profitable content for your business. They'll help you answer important questions related to your campaign goals, conversions, customer engagement, and more.
In conclusion, a content marketing agency can help you take your brand to new heights. They can provide you with the specialized expertise, efficiency, fresh perspectives, and data-driven results that are critical for a successful content marketing strategy. In the next section, we'll delve deeper into some of the top content marketing agencies that can help you unleash your brand's potential.
Top Content Marketing Companies: A Comprehensive Review
In the digital marketing world, not all agencies are created equal. The best content marketing agency for your business depends on your unique needs and objectives. Let's delve into the crème de la crème of content marketing companies that have proven their prowess in this arena.
Siege Media: Premium SEO Content and End-to-End Client Experience
With over a decade of experience in SEO and design, Siege Media has carved a niche for itself as a go-to agency for businesses seeking premium SEO content. They offer an end-to-end client experience, focusing on content that consistently drives rankings. Their services range from static in-post images to interactive calculators and animated infographics. Siege Media has worked with recognizable clients like AirBnB, Asana, Tripadvisor, and Zillow.
97th Floor: Content Automation and SaaS Marketing
97th Floor excels at content automation. They prioritize the relationship between content and customers, creating individualized marketing plans for each client. Their patent-pending software suite, Palomar, supports data-driven processes for creating customer-focused content. Clients of 97th Floor include Blendtec, Gigamon, and Utah Jazz.
Omniscient Digital: B2B Focus and High Volume Content Needs
Omniscient Digital specializes in working with B2B software companies to turn content into business growth. Their four-step approach to creating ready-to-publish articles, along with product-based content optimized for traffic and lead generation, has seen considerable success with SaaS and B2B companies.
Foundation: Full-Service Offerings and Design-Focused Content
Foundation is known for its design-focused content. Catering primarily to growth-stage SaaS companies, Foundation uses storytelling to communicate each client's brand. They create a range of design assets, from infographics to motion graphics, data visualizations, presentations, and more.
Brafton: Digital PR and Content Strategy
Brafton has a strong reputation in digital PR and content strategy. They create high-quality content tailored to the needs of both B2B and B2C clients. Brafton's focus on SEO ensures that the content they produce helps clients rank higher on search engine result pages.
Power Digital: High-Volume Content and Full-Service Offerings
Power Digital is a go-to agency for businesses with high-volume content needs. They offer a full range of services, from SEO and content marketing to social media, PPC, and PR.
Optimist: Content Strategy and Digital PR
Optimist excels in content strategy and digital PR. They create content that resonates with audiences and drives engagement, focusing on SEO, content marketing, and PR to help clients achieve their marketing goals.
Column Five: Design-Focused Content and Full-Service Offerings
Column Five stands out for its design-focused content. They create meaningful content that uses storytelling to communicate each client's brand. Their services include creating infographics, motion graphics, data visualizations, presentations, and more.
Green Flag Digital: High-Volume Content and B2B Focus
Green Flag Digital specializes in high-volume content and has a strong focus on B2B markets. They combine public relations and data-driven content marketing services to create a strategy that drives traffic and links.
Builtvisible: SaaS Marketing and Content Automation
Finally, Builtvisible specializes in SaaS marketing and content automation. They focus on creating content that will reach a client's natural organic channels while resonating with prospective clients. Their approach includes digital storytelling, data collection and analysis, and automation.
Choosing a content marketing agency is a significant decision. The right agency can help you unleash your brand's potential by crafting a content strategy that aligns with your business objectives, enhances your online presence, and drives measurable results.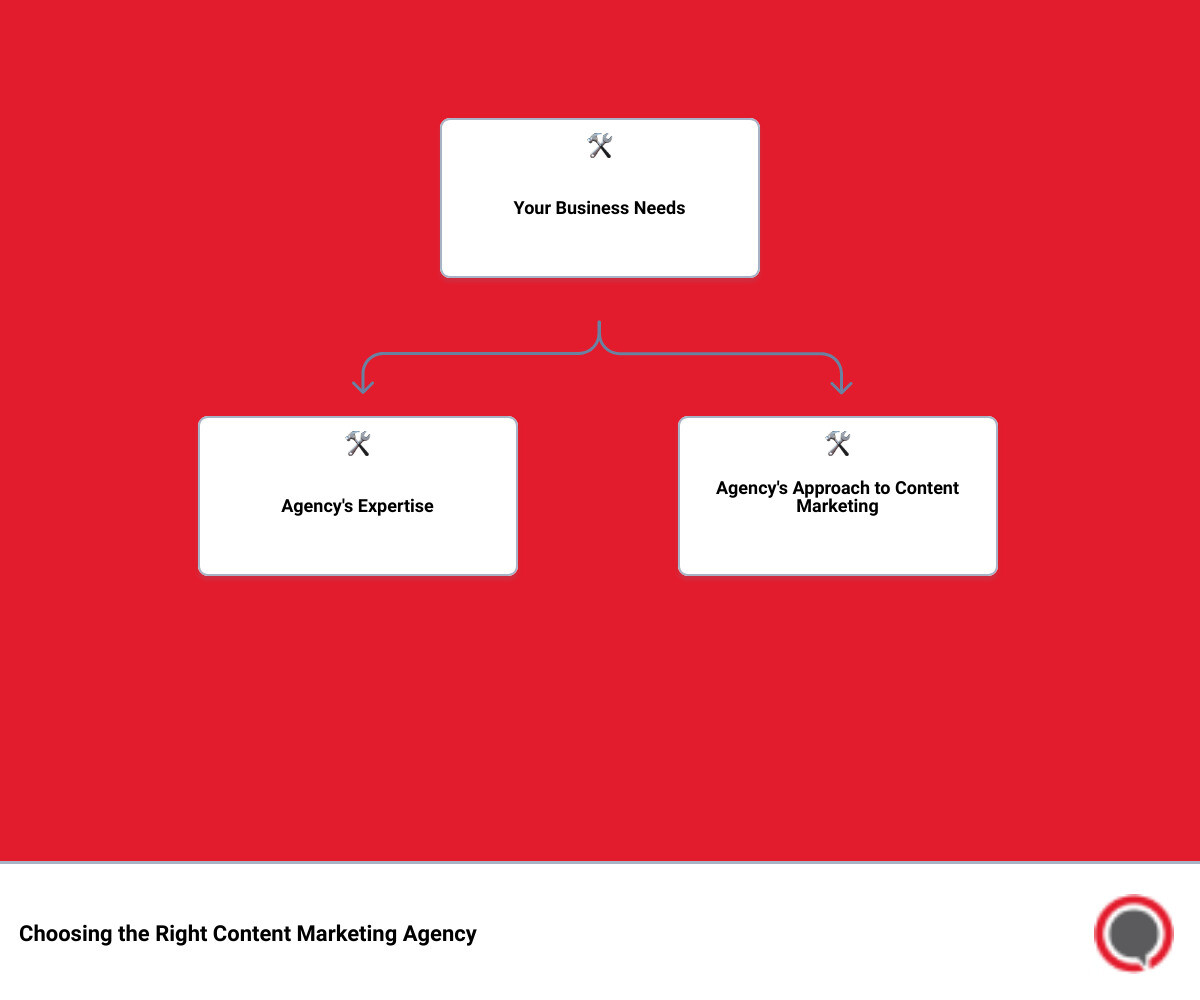 How to Choose the Right Content Marketing Agency for Your Business
Selecting a content marketing agency can feel like a daunting task, but with the right approach, it doesn't have to be. Here are three crucial steps to guide you through the selection process.
Understanding Your Business Goals and Needs
Before diving into your search for a content marketing agency, you must first establish a clear understanding of your business's marketing goals. Are you aiming to increase brand visibility, generate more qualified leads, or improve conversion rates? Maybe you're looking to create compelling content that engages your audience and builds brand loyalty.
Once you have these objectives in mind, you can better articulate your needs to potential agencies. Remember, different agencies specialize in different areas of content marketing, such as blog posts, eBooks, infographics, or social media content. Knowing what you need will help you narrow down your options to the agencies that possess the expertise to help you achieve your goals.
Evaluating the Agency's Expertise and Track Record
When assessing a content marketing agency, it's crucial to look at their past performance and areas of expertise. Agencies with a proven track record in your industry or with businesses similar to yours are more likely to understand your unique challenges and goals.
To evaluate an agency's expertise, examine their portfolio, case studies, and client testimonials. This information can give you a sense of the quality of their work and their ability to deliver on their promises. For example, an agency specializing in SEO should demonstrate how their content strategies have led to increased website traffic and higher search engine rankings.
Assessing the Agency's Approach to Content Marketing
Content marketing isn't a one-size-fits-all solution, so it's essential to find an agency that tailors its approach to your specific goals and needs. They should be able to provide a comprehensive content strategy that includes content creation, promotion, analytics, and optimization.
Communication is also a critical factor. A good agency will be transparent about their strategies, provide regular updates, and be open to your feedback. Look for agencies that prioritize client collaboration and view themselves as a partner in your business growth.
Finally, consider the agency's ability to provide actionable data and content analysis. They should be able to provide you with detailed reports that outline your content's performance, including metrics like engagement, reach, and conversions. This information is crucial for measuring your return on investment and making necessary adjustments to your content strategy.
Choosing the right content marketing agency requires careful consideration, but by understanding your needs, assessing potential agencies' expertise and approach, you can find a partner that aligns with your business objectives and helps you unleash your brand's potential.
SocialSellinator: Your Partner in Digital Marketing Success
In the realm of digital marketing, finding a partner who truly understands your business needs and can deliver results is critical. Enter SocialSellinator, a premier digital marketing agency that offers comprehensive and tailored solutions to help your brand thrive online.
Our Comprehensive Approach to Digital Marketing
SocialSellinator believes each business is unique and requires a distinctive approach to digital marketing. We don't believe in a one-size-fits-all solution. Instead, we offer a free consultation where we dive deep into understanding your unique business needs. We study your target audience, business goals, and industry trends to develop a comprehensive strategy that maximizes your online potential.
We offer a wide variety of services aimed at addressing your specific needs and goals, including Search Engine Optimization (SEO), Social Media Marketing, Website Design and Content Creation, and Automation and Analytics. Whether you need help with managing your social media accounts, creating engaging content, or implementing effective social media advertising strategies, we've got you covered.
Our Expertise in SEO, Social Media, and Content Creation
Our team of experienced professionals specializes in creating engaging social media posts, writing informative blogs, optimizing SEO, and creating eye-catching videos and graphics. We're experts at making complicated things simple. If you're not in the top three spots for the keywords that matter, we can help change that.
Our SEO services include keyword research, on-page and off-page SEO, link building, and content optimization. We aim to improve your online visibility, bring in quality traffic, and boost your search engine rankings. We also offer Content Creation services to provide your website with engaging, SEO-friendly content that resonates with your audience and drives action.
Why Choose SocialSellinator for Your Digital Marketing Needs
Choosing SocialSellinator means you're selecting a partner who prioritizes authentic engagement, data-driven strategies, and a focus on ROI. We address your digital marketing challenges head-on with a comprehensive suite of digital marketing services.
We handle all aspects of your social media management, from content curation to comment management, so you can focus on what you do best - running your business. Our success stories speak for themselves. From improving social followings to developing an online presence, our clients have leveraged our expertise to achieve their business goals and elevate their digital marketing game.
In essence, if you're a head of marketing or digital marketing in a small to midsize business, grappling with these challenges, SocialSellinator isn't just an option; it's your next strategic move. Choose SocialSellinator to elevate your digital marketing game.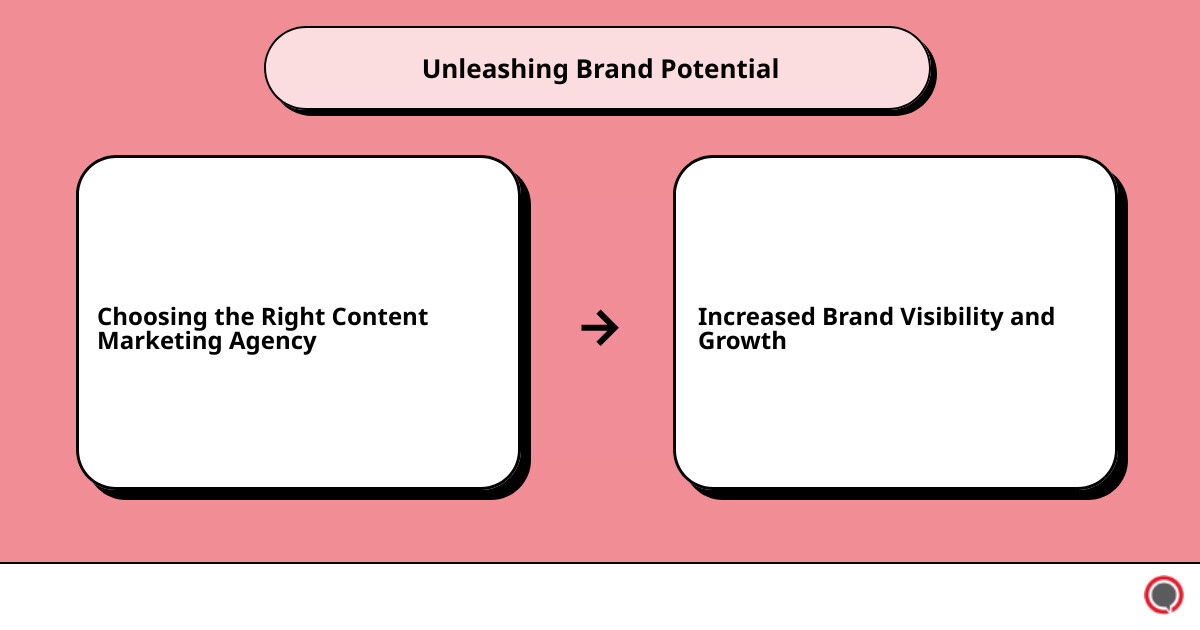 Conclusion: Unleashing Your Brand's Potential with the Right Content Marketing Agency
The digital landscape is vast and ever-evolving. As a marketing decision-maker, navigating this space can feel like traversing an intricate labyrinth. But remember, you're not alone. The right content marketing agency can guide you, shedding light on shadowed paths and transforming the maze into a well-lit road to success.
Choosing the right content marketing agency is a critical decision that can propel your brand to new heights. It's about partnering with experts who can translate your business goals into powerful content strategies, create engaging, SEO-optimized content that resonates with your audience, and deliver measurable results that drive business growth.
In this regard, the role of companies like Siege Media, 97th Floor, and Omniscient Digital is commendable. They've consistently demonstrated their capability to deliver high-quality content marketing services. But remember, what works for one brand may not work for another. Your choice of agency should align with your unique business needs and objectives.
And this is where SocialSellinator shines. Our comprehensive approach to digital marketing is tailored to meet the specific needs of heads of marketing and digital marketing in small to midsize businesses. Our suite of services, including SEO, social media marketing, and content creation, is backed by a team of digital experts dedicated to driving your business growth. We focus on authentic engagement, data-driven strategies, and measurable ROI, addressing the key pain points of today's marketing decision-makers.
In conclusion, the path to unleashing your brand's potential lies in choosing the right partner for your content marketing journey. Choose wisely, for this decision holds the power to transform your digital marketing game and propel your brand to unprecedented heights. At SocialSellinator, we're ready to embark on this journey with you, guiding you every step of the way.
Because with the right partner, the intricate labyrinth of digital marketing becomes a roadmap to success. And that's exactly what we offer at SocialSellinator - a strategic, data-driven roadmap to digital marketing success. Let us help you unleash your brand's potential and carve your path to success in the digital world.