Snapchat has over 530 million active users, and it's a fun marketing tool, which is why it deserves a more prominent place in your marketing strategy. If you want to reach new customers and your target audience in their target market to improve ROI, you need to use Snapchat the right way. Here are some helpful Snapchat Marketing Tips For Reaching New Audiences.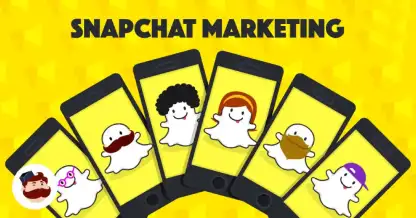 source: adespresso.com
Make It Easy for Your Users to Find You
It's a good idea to add the Snapchat geo-filter to every event you hold within the app. Completing this one action will make it easier for your brand and target audience members to connect in person later.
To reach more impressions, always use a location-based filter on top of the snap itself during any high traffic events or campaigns. One more thing is to use the same username as your brand domain has.
Offer Sneak Peeks into Your World
Snapchat marketing is all about sharing moments that matter with an audience that cares. Your followers want glimpses of realities they may never typically see in their daily lives, like getting a backstage tour or seeing what goes on at the office behind closed doors, and much more. Think about the types of content you can offer to allow this 'look behind the green curtain' to your user base.
Use Snapchat to Be More Transmedia
When the TV show "The Walking Dead" promoted its midseason premiere on Snapchat, it got nearly double the number of impressions that they did during the season premiere itself in 2014. The difference in the marketing campaign was that users could add a filter for the show within Snapchat, not just share an image to their timeline.
In addition, you can get even better results by making your snaps interactive through filters or with game elements that unlock hidden surprises when viewers scan them using lens technology from Snapchat.
Build Your Brand on Snapchat
Your company may be what you care most about professionally. Still, there's no reason you have to be completely anonymous on social media and other platforms.
Instead, take a cue from some of the biggest influencers in the world. They build their brands as much or more than any company they work for, and use that to drive engagement with a wide audience of followers, fans, and potential customers.
Snapchat Content Must Be Unique
A good rule of thumb is if your audience can find it elsewhere online (like blogs, Facebook posts, or Instagram), then don't share it on Snapchat. It's important to continue creating something which is unique.
Instead, use the app for things you couldn't quickly get away with sharing anywhere else, like behind-the-scenes looks into your business or office culture through live videos from your team members or photos snapped during an industry event you attended. This gives your content a more personal feel and gives your audience a reason to follow you on Snapchat rather than getting all your content from other social media sites.
Create a Conversation by Asking Questions
Ask questions that will prompt your followers to share a snap or video response with their followers. They could play games like "Would you rather…" since the platform allows multiple-choice answers while also prompting users to send snaps back and forth within the story itself.
This is a new marketing strategy that a lot of consumer brands are successfully using to grow their ROI and getting more customers.
Look for Content Creators
Find content creators who can help your business get the word out. There are tons of people on Snapchat like vloggers, celebrities, and actors who love sharing their day-to-day life with others through videos, photos, and stories.
If you have a business that's great for pop culture, find Snapchat accounts of those who are relevant to your industry and ask if they'd like to do a snap for your brand.
What are good examples?
A lot of brands are finding content creators on Snapchat who can create fun, entertaining, and engaging stories of their products being used. If you're a beauty brand, find makeup artists. If you're a food brand, find chefs and bakers, and so on. No matter what your brand is, there will be a content creator out there who shares your niche and who can help enrich your Snapchat best marketing campaigns as part of your marketing mix.
Test Drive Different Formats for Engagement
Snapchat gives users plenty of room to play around with how they tell a story visually, from snaps to videos to carousels and geofilters. If you're not sure how to tell your brand's story through these different formats, run some experiments and see what kinds of stories get the most engagement from followers.
Get Close with Snapchat Spectacles
There's no need to go all-in on buying a pair of Snapchat Spectacles to engage more directly with customers to boost your digital marketing strategy. Still, it may be worth investing in the new technology just for its ability to bring immediacy back into the picture literally and figuratively.
"Getting up close and personal again will revive intimacy in our visual communications, says Nick Cicero, CEO of Delmondo. It will make people feel like they're part of the experience, and that's what will drive deeper engagement."
Stay on Top of Events
In the Snapchat news cycle, as with any other social network, it can take a while for new features to gain traction significantly when they change up the fundamental way Snapchat has worked in the past.
That means there are opportunities right now to get ahead of some of these changes if you look at events happening within the platform and how those changes might affect your strategy.
For example, think about the following: How will influencers use this feature? Will you be able to attract more followers from new audiences with the update? Does this change encourage different types of stories? What kinds of businesses could benefit from updates like this one long-term?
Utilize Live Streaming to Grow Your Social Media Audience
source: techcrunch.com
Live streaming is one of the latest features to be rolled out as part of a new update. By doing events on Snapchat, it allows users to broadcast themselves in real-time through photos and videos for up to 24 hours after an event has occurred.
This could help you further connect with your audience members who want behind-the-scenes looks at industry events and campaigns you attend, so it's worth exploring as part of your digital marketing strategy.
Host Contests on Snapchat to Build Excitement
Create buzz about what you have coming next or get creative with ways that followers can get involved with your brand by hosting frequent contests where they can win free products or gift cards from your business.
Post the most recent contest results on your Story or in a video, and make sure to comment back if people leave messages for you.
Add a Snapcode Directly onto Your Website Banners
While they may not be familiar with using Snapchat before, everyone knows how to use their phone to scan a code. With that, visitors of your website should easily be able to access your Snapcode, which then leads them directly to your profile especially if you have a custom branded Snapchat filter or sticker in place, as shown in the image above.
Create Stories That Promote Customer Reviews
Whenever you get positive feedback from customers, use Snapchat as an opportunity to give those followers more ways to leave their praise for you and share it with their friends on social media.
It's also worth creating a story that encourages people to review the service they received when applicable since happy customers are 10x more likely than others to offer reviews.
Keep Your Content Consistent and Organized
Snapchat is about creating an experience for your audience. Consistent themes and designs will help develop trust with users, while varied content will keep them interested in what's coming next. Add calls-to-action and links to other pages within the app itself so people can easily click through when they see something they like.
Be Specific About Who You Are Marketing To
Use different filters depending on age group, gender, or location of the audience you want to reach in order to get better results. The geo-filters add more dimension and meaning to the snaps themselves than just text ever could make it really easy to find new tactics that work for your business.
Pros of Snapchat for Marketing Purposes:
Reach bigger audience
Young generation audience
Easy to grow business
Customized filters for any event
Repackage your brand image
Offline and online marketing together
A great addition to the marketing mix
Cons of Snapchat for Marketing Purposes:
Sending snaps can be difficult for inexperienced users
No profit from advertisements
Highly competitive
Things to Avoid on Snapchat:
As this platform is providing so much value, it is obvious that it has some rules that you have to follow.
Don't spam people with repetitive content. Be sure to only contact relevant content creators, and be selective when you decide which influencers to reach out to.
Never ask for payment upfront. Don't just pay someone for their Snapchat username or handle; that's not how this platform works, and you'll lose credibility with any future potential collaborations.
Don't make it your goal to gain a ton of views or followers. If you're getting spammy with your content, people will start blocking you and moving on, which means less engagement for your brand. Instead, better offer a deep dive into relevant content, even if it's less frequent.
You should also know that there are certain mobile devices that can play the stories, so be careful what you post as while on some of these devices, they might take screenshots of the snaps and upload them online, then get thousands of likes. As always, use common sense before posting something online and remember about those who may take advantage of using photos from your stories.
Don't buy fake likes or followers. The number of your followers on the platform is not in any way a reflection of the popularity or potential profits it can bring. We have seen many business owners who use this platform feel good when they see a couple of thousands, but then they realize that most are bots, which really hurts your credibility - and your own analytics.
Conclusion
We hope you found this blog post helpful. If you're looking for a company to help your business reach new audiences and promote the brand on one of the fastest-growing social media platforms out there, please give us a call.
Our team of experienced marketing experts is ready to brainstorm with you about how we can work together in order to achieve your marketing goals. Let's chat soon so that we can help you to grow your business on Snapchat.