Hashtags are a great way to expand the reach of your posts and develop brand awareness on social media. Most social media platforms, including Twitter, Instagram, and Facebook, allow users to search for content by hashtags. This makes it easy for people to find your content if they are interested in the topics you are writing about.
When using hashtags, it is important to use them sparingly and strategically. But how do you use them effectively?
Well, in this article, we're going to take a look at how to use hashtags on social media and make it an important part of your social and content. marketing strategy. We'll also give you some tips and tricks for getting the most out of them.
So, let's get started!


What is a Hashtag?
A hashtag is simply a word or phrase prefixed with the "#" symbol. For example, if we wanted to tag a post about social media marketing, we might use the hashtag "#socialmediamarketing."
Hashtags are used to help categorize content on social media. They make it easier for people to find content that interests them, and they can also be used to start or join conversations on specific topics.
How to Use Hashtags?

There are several different ways you can use hashtags on social media. The following are some of the most common:


1. To Increase the Reach of Your Posts
If you want your posts to be seen by more people, then using hashtags is a great way to do that. When you use relevant and popular hashtags, your content is more likely to show up in search results. This means that people who are interested in the topics you are writing about are more likely to see your content.


2. To Develop Brand Awareness
Hashtags can also be used to develop brand awareness. When people see your brand name or logo alongside a hashtag, they will start to associate your brand with that particular topic. For example, if you use the hashtag "#socialmediamarketing" often, people will start associating your brand with social media marketing.


3. To Join or Start Conversations
Hashtags can also be used to join or start conversations on social media. If you see a hashtag that you are interested in, you can use it to find other people who are talking about the same thing. You can then join the conversation by commenting on their posts or tweeting your own thoughts on the topic.
If you want to start a conversation on social media, you can use a hashtag to do that as well. For example, if you want to get people talking about social media marketing, you could use the hashtag "#socialmediamarketingchat." Then, all you need to do is tweet a question related to social media marketing and wait for people to respond.


Tips for Using Hashtags

Now that you know how to use hashtags, let's take a look at some tips and tricks for using them effectively:


1. Use Relevant Hashtags
The most important thing to remember when using hashtags is to make sure they are relevant to the topics you are writing about. If you use irrelevant hashtags, people are not going to be interested in your content. Worse yet, they may even think you are spamming.


2. Use Popular Hashtags
Another great tip is to use popular hashtags. These are hashtags that are being used frequently by other people. By using popular hashtags, you increase the chances that more people will see your content.


3. Use a Variety of Hashtags
Don't just use the same hashtag over and over again. This will make your content look repetitive, and it will also make you look like a spammer. Instead, mix things up and use a variety of different hashtags.


4. Keep It Short and Sweet
Try to keep your hashtags short and sweet. If they are too long, people will not want to read them. And, if they are too short, they might not be effective.


5. Don't Overdo It
Finally, don't overdo it with hashtags. Using too many hashtags can be just as bad as not using any at all. A good rule of thumb is to use no more than three hashtags per post.
By following these tips, you can be sure that you are using hashtags effectively and getting the most out of them. So, what are you waiting for? Start using hashtags today and see the results for yourself!
Types of Hashtags to Use

Using hashtags isn't enough. If you aren't smart in the way that you use them, you'll see no more engagement than your typical hashtag spammer does. Finding smart and effective ways to use hashtags will not only expand the reach of your social posts but will help to improve your brand awareness overall as you consistently appear in specific industry-related hashtags.

In this section, we'll cover the different types of popular hashtag marketing strategies we see continually delivering results to brands.


Trending Hashtags

Trending hashtags are perhaps the most common hashtag marketing strategy and arguably the most impactful when done well. The trending hashtags that show up on Twitter and Facebook drive a lot of eyeballs to the posts that perform well and use those hashtags. For most companies, the trending hashtags will rarely align with their business or service, but keeping a close eye on them can yield creative opportunities to tie your brand to a current trending topic.

The brand exposure can be astronomical if you are in the right place at the right time. This can't be shown any more clearly than during news events that trend, when news publications often have the most popular Tweets in the category.


Let's look at an example

Do you remember the Pokemon Go craze? Pokemon Go was a Pokemon mobile game that allowed players to catch Pokemons out in the real world using a GPS system. The game was a huge hit and had brought in more than $1.8 billion in sales by Summer 2018, just two years after its release.

The game was trending on every social network. That fact was not lost on Warby Parker, a prescription eyeglasses company. While their business may seem wholly unrelated to the Pokemon Go trend, they found a simple way to make the most of the hashtag and use it to their advantage: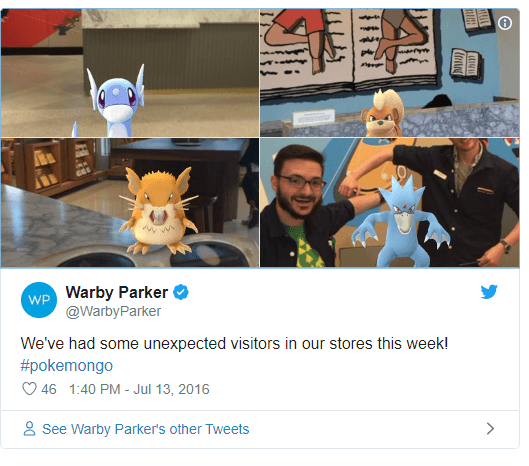 Nothing earth-shattering in terms of engagement, but a simple post with a few digitally-added Pokemon in their office with some of the employees caught a small wave on the trending #PokemonGo hashtag and got them noticed. This example is great because it shows a fun side of their team that customers don't usually get to see as well.


Community Hashtags

Community hashtags can be a great way to connect with a very specific audience. Some might say that they are another version of branded hashtags because many influential brands have communities that pop up around them.

Using our earlier example, a quick search of the #JustinBieber hashtag pulls up a long list of fans celebrating the person and the music and a few voicing their dislike as well: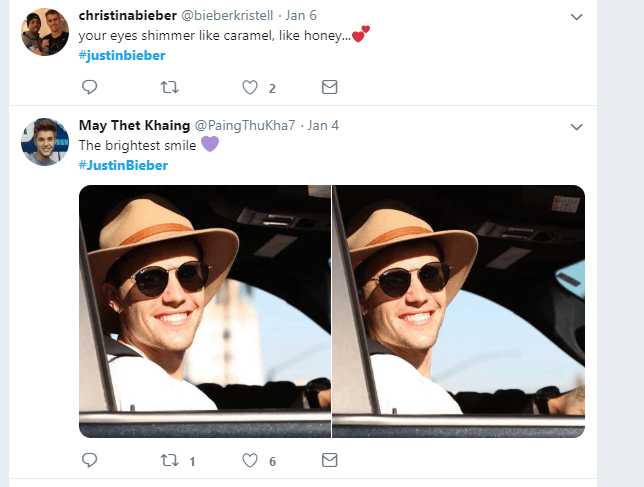 It comes as no surprise. People are always sharing their opinions on Twitter. Let's look at a brand example. Nike is a company with a lot of fans. At any given time, there are dozens of loyal supporters discussing Nike products, advertisements, and news on Twitter.


These brands see genuine communities grow around their brand and products. Often, brands will use their own name as a hashtag in an attempt to get a sort of social media community growing around their brand. While this strategy will only work for companies that have passionate and loyal customers, it can be a great way to help people find information about your company regardless.

One example of a smaller company using this hashtag marketing strategy comes from West Elm, a furniture and home decor company. They tag all of their Instagram photos with the #MyWestElm hashtag and ask that their followers to do the same when sharing pictures of their furniture.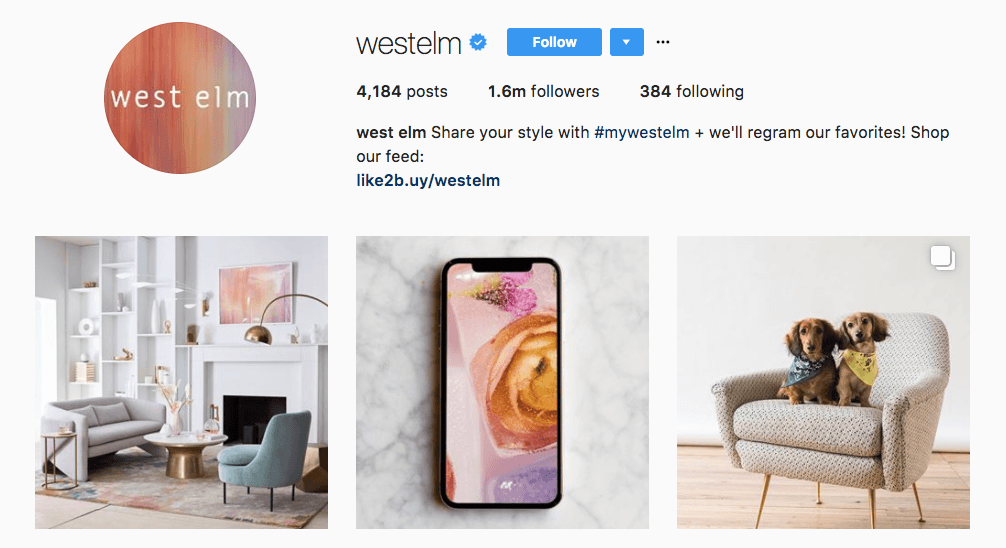 This allows the company to showcase a variety of styles in their products and provides would-be customers with social proof that their products are loved and appreciated by their customers.


Campaign Hashtags

While the West Elm example highlights a long-term branding approach to social media, there are shorter, more focused ways to use hashtag marketing to grow your social presence. Campaign hashtags are used as part of a social media marketing campaign or contest. They typically have a start and end date — however long the company will be running a particular campaign.

Some of the common types of hashtag campaigns that we see having success socially typically promote things like:
Discounts

Holidays

New products

Giveaways

Contests

Causes
One excellent example of a company promoting a cause through a hashtag campaign comes from Divine Chocolate USA, who used the hashtag #BCorpMonth to celebrate B Corporations, which are businesses that meet the highest standards of verified social and environmental performance, transparency, and legal accountability.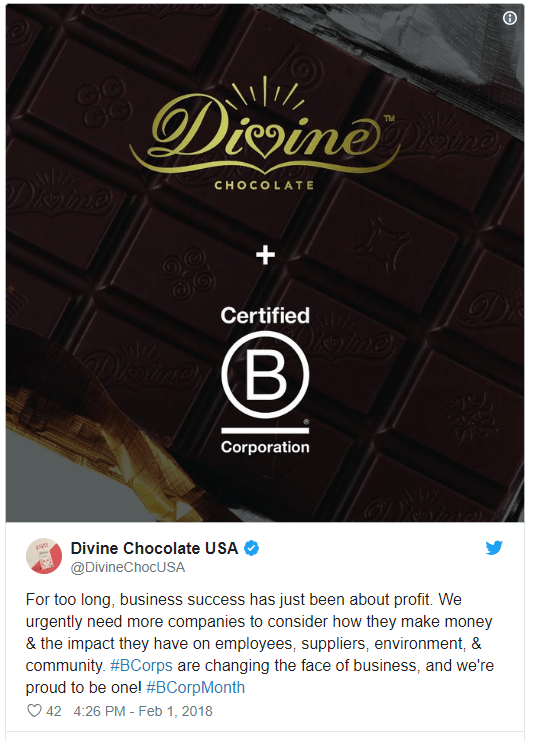 While marketing hashtag campaigns have a limited lifespan, they can make a big splash in a short amount of time when they connect with your audience.


Event Hashtags

Events make for a great opportunity for hashtag marketing. They have a built-in audience of attendees, those that wish they could attend, and the rest of us that are on the outside looking in, wondering what all of the fuss is about.

For example, posting updates about popular industry conferences can be a great way to not only schedule some interesting coffee meetups during the conference, but it can help your brand to gain more visibility throughout.

Here's a good example of using a conference hashtag to bolster brand content: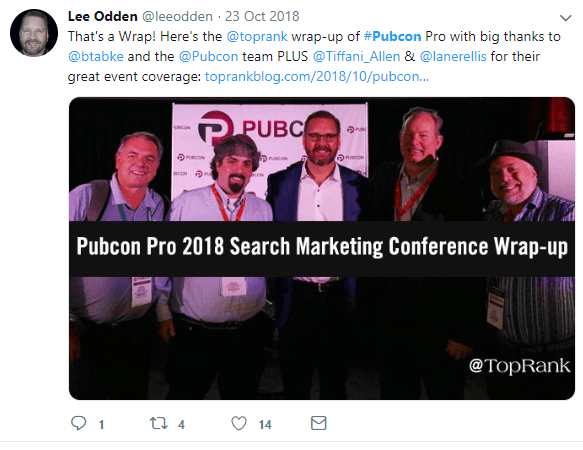 Once Pubcon had wrapped up, the company published a detailed wrap-up of the event. Then, they promoted this content on Twitter and other social networks using hashtags that were associated with the event.


Chat Hashtags

Do you know what a Twitter chat is? A Twitter chat is essentially a public discussion that organizes itself by hashtag. Let's say a teacher's union wanted to take a day to discussion teaching salaries in the US. They might choose to do this under a hashtag like #TeachingPayChat or something similar. Not only does this approach help chat participants to find discussions to take part in, but it increases the visibility of the cause to users outside of their group that normally wouldn't participate.

Here's a an example of a few Tweets from a Twitter chat called #BlogChat: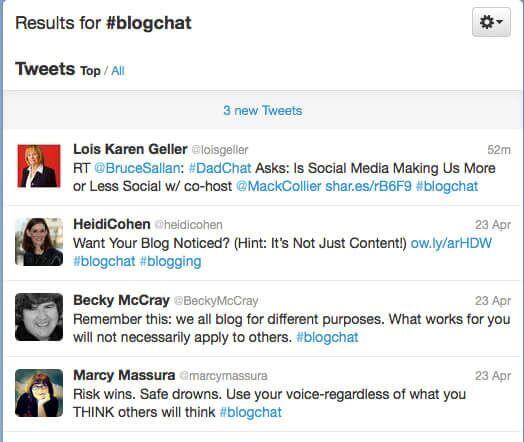 In other words, a Twitter chat is simply a way for people (and brands) to have somewhat organized discussions around a popular topic. If you are able to find a Twitter chat that closely aligns with your brand or product, it can be a powerful opportunity to get your product in front of an ideal audience.

If you want to find Twitter chats (scheduled ones, anyway), I recommend keeping a close eye on the TweetReports Twitter Chat Schedule page.


Content Description Hashtags
Simple, but often effective. Simply tagging your updates with useful hashtags that describe your content can be an effective way to increase their visibility. For instance, if I were to promote this post on social media, I might use a content descriptor hashtag like #SocialMediaMarketing or #HashtagMarketing. This will help searchers who are interested in content around those subjects to find my post.

There are many companies that keep a close watch on hashtags that are related to their industry. They use it to find brand partners, customers, and answer questions for authority building. Appearing in content description hashtags can be a solid way to network and find like-minded companies to partner with.


Product or Service Hashtags

If you have a company that offers multiple products or services, hashtags can draw attention to the different sides of your brand. This is incredibly helpful when your products have different audiences.

These hashtags can help consumers to perform research on a product. Sifting through your catalogue can be difficult if you have a large range of products and services. A product or service hashtag makes it simple for consumers to find information about that product.

Take a look at this example from GoPro, while promoting their GoProPlus: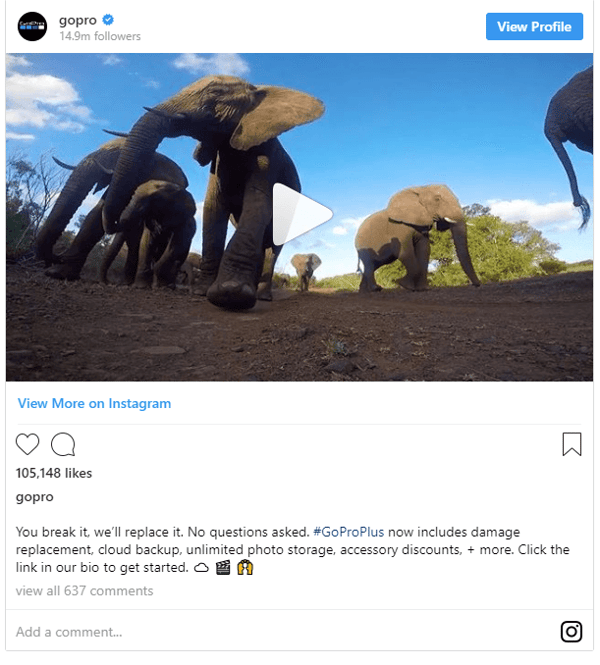 If you hadn't guessed already — the elephant ends up kicking the camera and damaging it. This is a fun and lighthearted way to promote new selling points for their Go Pro Plus line. The post did very well, receiving more than a whopping 100,000 likes and 600+ comments.
Hashtag Marketing ToolsNow that we've covered popular hashtag marketing strategies, we have to recommend a few tools that will make your life a whole lot easier. These tools will help you generate, track, and research hashtags for your social media marketing campaigns:
Those are just a few of the many hashtag-centric tools that are available today.


Use Hashtag Marketing to Grow Your Social Reach

Smart hashtag usage isn't about spamming as many hashtags as you can into each update. It's about finding smart, strategic ways to get your social media updates in front of your ideal audience. The strategies in this article should help you to get the gears turning on how you can implement effective hashtag strategies into your own social media presence.

What do you think? If you've used hashtags in a unique way or have questions about hashtag marketing, we'd love to hear from you in the comments!