Boost Your Business with the Best Digital Marketing in Portland, OR
In the bustling business landscape of Portland, OR, standing out from the crowd can be a daunting task. With numerous competitors vying for the attention of your potential customers, it's crucial to have a robust digital marketing strategy in place. If you're a head of marketing or digital marketing in a small to midsize business in Portland, grappling with the challenge of elevating your online presence, then this article is for you.
We're going to discuss why digital marketing is essential for your business, what makes a great digital marketing agency, and how to choose the best one in Portland, OR. We'll also delve into the top digital marketing services offered by SocialSellinator, an award-winning digital marketing agency that's revolutionizing the way businesses approach online marketing.
So, without further ado, let's dive into the world of digital marketing in Portland, OR, and explore how you can boost your business with the best services in town.
Why Digital Marketing is Essential for Your Business
In today's heavily digital world, the phrase "out of sight, out of mind" couldn't be more relevant. With consumers increasingly turning to the internet to search for products and services, the importance of a robust digital presence for businesses cannot be overstated. Digital marketing has become a vital driver of business growth, helping companies extend their reach, engage with customers, and ultimately improve their bottom line.
Reach a Broader Audience
Firstly, digital marketing allows businesses to reach a broader audience. The internet transcends geographical boundaries, meaning your brand can interact with audiences far beyond the local community. This is especially crucial for small businesses in Portland, OR, that are keen to take their business from local to global with the right approach.
Cost-Effective Marketing Solutions
Secondly, unlike traditional marketing methods that often require significant budgets, digital marketing provides cost-effective solutions. Affordable and scalable services such as SEO, social media marketing, and email marketing not only fit within your budget but also yield a high return on investment (ROI).
Measurable Results
Thirdly, digital marketing offers real-time tracking and analytics, allowing you to see exactly what is working and what isn't. This data-driven approach ensures that your marketing budget is being spent wisely, contributing to a higher ROI. It's a stark contrast to traditional marketing, where gauging the success of a campaign can be challenging.
Highly Targeted Marketing
Fourthly, digital marketing allows for highly targeted marketing. You can reach out specifically to your buyer personas, ensuring that your marketing efforts resonate with the right people. This level of personalization is not achievable with traditional marketing methods.
Improve Your Brand's Online Reputation
Finally, digital marketing helps improve your brand's online reputation. Through engaging social media posts, informative blogs, and responsive customer service, businesses can build strong relationships with their customers and foster brand loyalty.
In essence, digital marketing is not just a nice-to-have but a must-have for businesses in today's digital world. With the right strategies, you can harness the power of digital marketing to grow your business and maintain a competitive edge.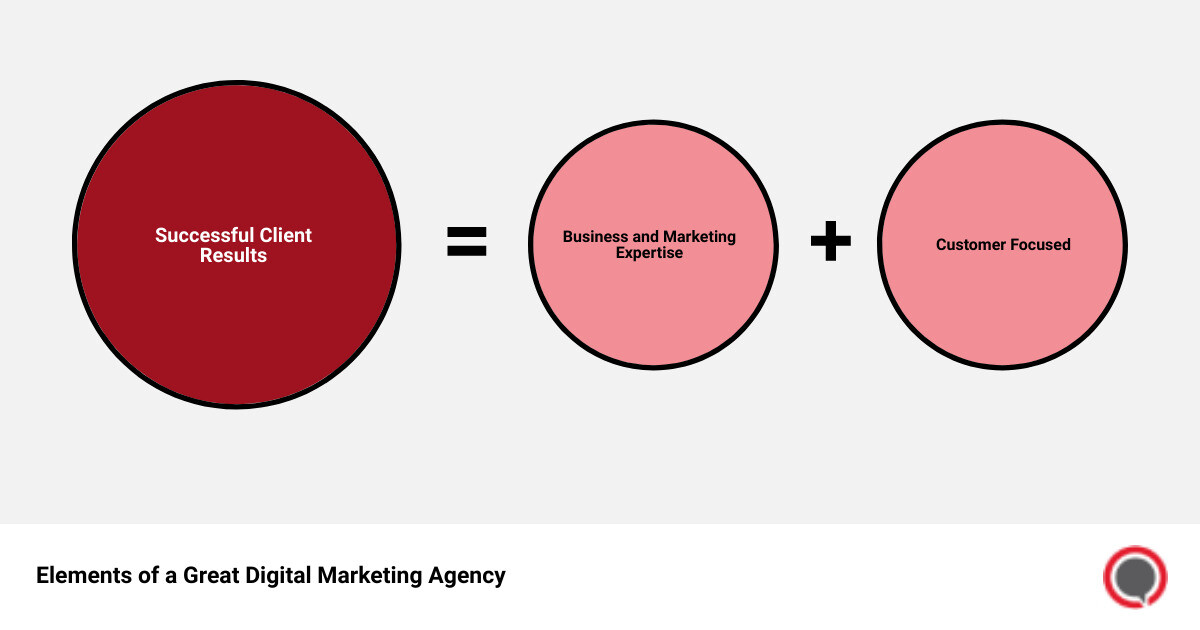 What Makes a Great Digital Marketing Agency
In the bustling city of Portland, OR, thriving in the digital marketing realm requires more than just basic knowledge of SEO and social media. You need a formidable ally that can help you navigate the competitive digital landscape. So, what makes a great digital marketing agency? Let's delve into the key characteristics that set the best digital marketing agencies apart.
Business and Marketing Expertise
An exceptional digital marketing agency possesses an in-depth understanding of both business operations and marketing principles. This expertise enables them to develop effective strategies that align with your company's objectives, enhance your brand visibility, and drive business growth. They can understand your business model, identify your target audience, and devise tailored marketing plans that resonate with your prospects.
Marketing Specialists
Great digital marketing agencies are composed of a diverse team of specialists, each with their unique skill sets and areas of expertise. This includes SEO experts, content creators, social media managers, graphic designers, and more. Their collective skills allow for the successful execution of comprehensive marketing campaigns that cover all digital fronts.
Contagious Passion
If there's one thing that the best digital marketing agencies in Portland, OR, have in common, it's an unwavering passion for what they do. This enthusiasm fuels their creativity, drives their innovation, and enables them to consistently deliver top-notch services. A passionate agency will go the extra mile to ensure your marketing campaigns are not only effective but also unique and engaging.
Effective Tools
Top-tier digital marketing agencies use cutting-edge tools and technology to streamline their processes, enhance their services, and provide actionable insights. These tools aid in everything from keyword research and competitor analysis to campaign monitoring and performance reporting.
Customer Focused
A remarkable digital marketing agency places a high emphasis on customer satisfaction. They prioritize your needs, listen to your concerns, and tailor their services to meet your specific objectives. They maintain open and transparent communication, keeping you informed every step of the way.
Happy Clients
Nothing speaks louder about an agency's competency than a long list of satisfied clients. Successful digital marketing agencies have a track record of delivering results and exceeding expectations. They can provide case studies, testimonials, or client references that attest to their skills and professionalism.
A Communication Plan
Exceptional digital marketing agencies ensure seamless communication with their clients. They keep you in the loop about campaign progress, promptly address your queries, and take your feedback into account. This collaborative approach ensures that your marketing campaigns are aligned with your vision and goals.
Creative Storytelling
In the digital marketing world, content is king. The best digital marketing agencies use creative storytelling to captivate audiences, convey your brand message, and inspire engagement. They can craft compelling content that resonates with your audience and sets your brand apart.
In conclusion, a great digital marketing agency is not just a service provider; it's a strategic partner that can propel your business to new heights. As you search for the best digital marketing in Portland, OR, consider these attributes to make an informed decision.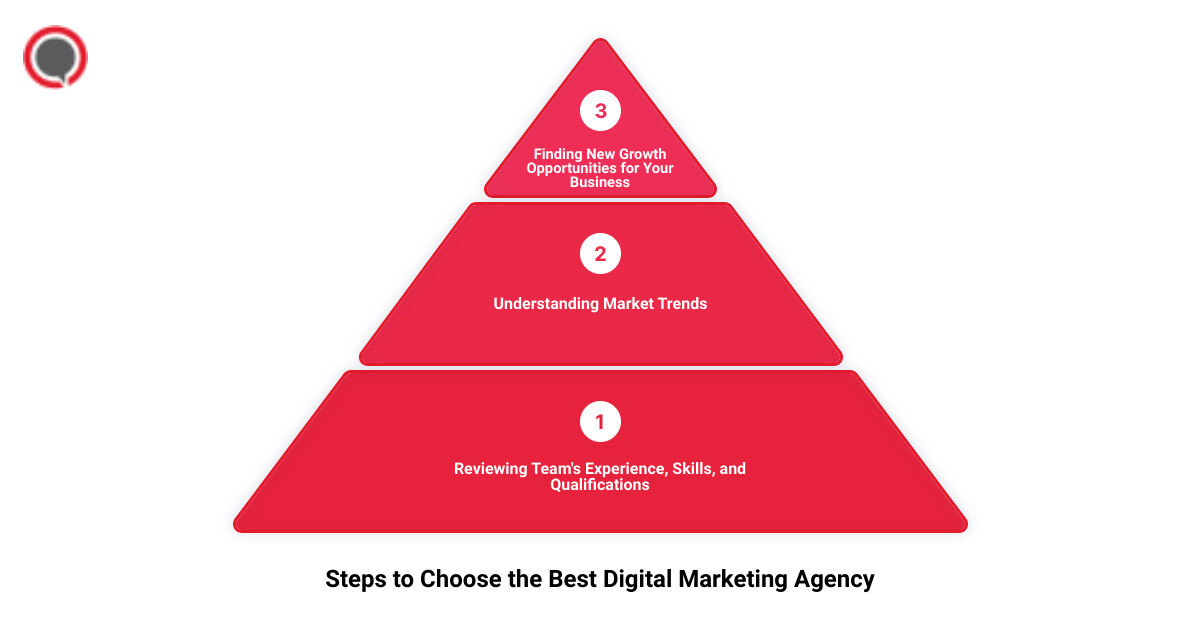 How to Choose the Best Digital Marketing Agency in Portland, OR
After understanding what makes a great digital marketing agency, you might be wondering, "How do I select the best one for my business?" Here are three key steps to help you navigate this critical decision: reviewing the team's experience, skills, and qualifications; understanding market trends; and identifying new growth opportunities for your business.
Reviewing Team's Experience, Skills, and Qualifications
The first step in choosing the best digital marketing agency in Portland, OR, is to scrutinize the team's experience, skills, and qualifications. It's crucial to find a team that has a proven track record of delivering results, particularly within your industry. The agency should be able to provide case studies, customer testimonials, and industry recognition to demonstrate their expertise and success.
For instance, if you're interested in SEO, the agency should be able to demonstrate how their strategies have led to increased organic traffic and higher search engine rankings. Remember, a solid track record and proven expertise are key indicators of a reliable digital marketing agency.
Understanding Market Trends
Another critical factor is the agency's understanding of market trends. Digital marketing is a fast-paced field, and it's essential for your chosen agency to stay on top of the latest developments and trends. This includes not only understanding changes in search engine algorithms and social media platforms but also recognizing the evolving behaviors and preferences of your target audience.
An agency that keeps its finger on the pulse of the industry will be able to anticipate shifts and adjust strategies accordingly, ensuring your digital marketing remains effective and relevant.
Finding New Growth Opportunities for Your Business
Finally, a top-tier digital marketing agency in Portland, OR, will go beyond just executing campaigns - they'll actively search for new growth opportunities for your business. This involves diving deep into your business, understanding your goals, and customizing their strategies to align with your specific objectives.
A good agency will also keep an eye out for new digital marketing channels and techniques that could benefit your business. They may identify potential partnerships, explore untapped markets, or suggest innovative ways to engage your audience.
In conclusion, finding the best digital marketing agency involves a careful evaluation of their expertise, understanding of market trends, and ability to uncover new growth opportunities. With these steps, you'll be well on your way to choosing an agency that can help your business thrive in the digital world.
Top Digital Marketing Services Offered by SocialSellinator
When it comes to boosting your online presence, SocialSellinator offers a wide range of top-notch digital marketing services. Each service is designed to address your unique business needs and propel your brand to new heights in the digital landscape. Here's a closer look at what they offer:
Visibility is the name of the game in the digital world. SocialSellinator's Search Engine Optimization (SEO) services aim to enhance your website's rank on search engine results pages, leading to increased demand generation. They employ a robust content strategy and high-quality backlink building to ensure your business is easily found by potential customers.
Web Design and Development
Your website is your digital storefront and it needs to make an impression. SocialSellinator offers web design and development services that focus on creating visually appealing, user-friendly, and responsive websites. They also ensure your site is optimized for SEO to drive more traffic and increase conversion rates.
Social Media Marketing
In the era of hashtags and influencers, having a strong social media presence is critical. SocialSellinator's social media marketing services aim to grow your brand's social community and engage the right audience. They handle everything from content curation to comment management, ensuring your online reputation is well managed.
Pay-Per-Click (PPC) Advertising
Want to reach potential customers faster? SocialSellinator's Pay-Per-Click (PPC) advertising service creates custom ad campaigns to bring you the desired results. They have the tools to create the right ads for your business, ensuring every ad dollar spent brings a return on your investment.
Online Reputation Management
Your online reputation can make or break your business. SocialSellinator's online reputation management services help you establish brand authority, cultivate customer trust, and manage customer reviews. They strive to ensure your online reputation stays positive, winning back previously dissatisfied customers if necessary.
Content Writing
Content is king in the digital age. SocialSellinator's content writing services provide the foundation needed to create awareness for your brand. They craft engaging, smart, and unique content that helps your business stand out and outperform competitors.
Video Production
Video content can significantly boost engagement. SocialSellinator's video production services handle pre-production, production, and post-production, customizing the content according to your vision, target audience, and best practices. This results in captivating videos that drive conversions.
Conversion Rate Optimization (CRO)
Finally, SocialSellinator offers Conversion Rate Optimization (CRO) services to maximize your marketing efforts. They identify and eliminate problem areas that prevent website visitors from becoming customers. Through comprehensive reviews and A/B testing, they determine what works best for your campaigns, ensuring every visitor is a potential conversion.
In summary, SocialSellinator offers a comprehensive suite of digital marketing services designed to help your Portland business connect with its target audience, boost brand visibility, and drive revenue growth.
Why SocialSellinator is the Best Choice for Digital Marketing in Portland, OR
When you're looking to boost your business in the ever-competitive Portland market, you need a digital marketing agency that's not just good, but the best. SocialSellinator is that agency. Here's why:
Award-Winning Services
SocialSellinator isn't just any digital marketing agency. We are a top-rated agency that has been recognized for our excellence in the digital marketing field. Whether it's SEO, PPC, or social media marketing, our award-winning services ensure that your business gets the best possible online exposure.
Innovative, Customizable Solutions
Every business is unique, and so should be its digital marketing strategy. At SocialSellinator, we pride ourselves on offering innovative and customizable solutions that are tailored to your specific business needs. We don't believe in a one-size-fits-all approach; instead, we craft a unique strategy that fits your business like a glove.
Experienced Professionals
Our team of experienced professionals is our biggest asset. They bring a wealth of knowledge and expertise to the table, helping you navigate the complex world of digital marketing. With their hands-on approach, they ensure that your business gets the attention it deserves.
Latest Technology and Cutting-Edge Strategies
Staying ahead in digital marketing means staying on top of the latest technology and strategies. At SocialSellinator, we use the latest technology and cutting-edge strategies to keep your business ahead of the curve. From the latest SEO techniques to the newest social media trends, we ensure your business is always at the forefront.
Comprehensive Approach to Digital Marketing
Digital marketing isn't about focusing on one aspect. It's about creating a comprehensive strategy that covers all bases. That's exactly what we do at SocialSellinator. Our comprehensive approach covers everything from SEO and PPC to social media marketing and content creation. This ensures that your business gets the full benefits of digital marketing.
Commitment to Customer Satisfaction
At the end of the day, our goal is to ensure your satisfaction. We take pride in our commitment to customer satisfaction, and we're not happy until you're happy. We work closely with you to understand your needs and exceed your expectations.
In conclusion, SocialSellinator is your best choice for digital marketing in Portland, OR. We bring a unique blend of experience, innovation, and commitment to every project, ensuring you get the best results. If you're looking to boost your business, it's time to get in touch with us.
Now that we've walked you through the essentials of digital marketing and why SocialSellinator stands out as the best choice for your business in Portland, OR, it's time to take the next step. Remember, in the digital age, staying ahead of the competition requires more than just having a product or service to sell; it requires a robust online presence, a clear understanding of your target audience, and an effective strategy to reach them.
That's where we come in. SocialSellinator is not just a digital marketing agency; we're a partner that understands your business objectives, aligns with your core values, and is committed to delivering measurable results. Our holistic approach to digital marketing combines business and marketing expertise, passionate specialists, cutting-edge tools, and a focus on authentic customer engagement to ensure your business thrives in the digital landscape.
Our comprehensive suite of digital marketing services, ranging from SEO and web design to social media marketing and PPC advertising, are tailored to meet your specific needs. We go beyond the one-size-fits-all approach, providing innovative, customizable solutions that leverage the latest technology and strategies to drive your business growth.
But don't just take our word for it. Our track record of happy clients and award-winning services speaks volumes about our commitment to customer satisfaction. We're not just about delivering services; we're about building partnerships and being a part of your success story.
So, if you're a head of marketing or digital marketing in a small to midsize business in Portland, OR, grappling with the challenges of low brand awareness, lead and revenue deficiency, and need for quality results, it's time to take action. SocialSellinator isn't just an option; it's your next strategic move.
In conclusion, elevate your digital marketing game with SocialSellinator, your go-to solution for the best digital marketing in Portland, OR. Reach out to us today, and let's start turning your digital marketing challenges into opportunities for growth. Because at SocialSellinator, we believe that every business deserves to shine online.