Introduction: The Power of Digital Marketing
In the current digital age, harnessing the power of digital marketing is no longer an option but a necessity for businesses of all sizes. From startups dipping their toes into the market to established brands aiming to expand their reach, digital marketing is the key to unlocking unprecedented growth and success. It's the fuel that powers visibility in the crowded online space, fosters engagement with your target audience, and ultimately drives conversions and customer loyalty.
Digital marketing is a multifaceted approach that leverages various channels from social media, content marketing, SEO, email campaigns to PPC advertising. Each aspect works synergistically, creating a robust and comprehensive strategy that places your brand at the forefront of your industry. But to harness the full potential of digital marketing, you can't go it alone. This is where the elite digital marketing firms come into play.
In this article, we delve into the world of top digital marketing firms that dominate the industry. These are the agencies that have mastered the art and science of digital marketing, crafting innovative strategies and delivering measurable results. So if you're a head of marketing or digital marketing in a small to midsize business, this is for you. Get ready to discover the power of digital marketing and the elite firms that can help you unleash it.
The Importance of Partnering with a Top Digital Marketing Firm
In the digital era, the success of your business largely depends on the overall visibility and reputation of your brand online. As a head of marketing or digital marketing in a small to midsize business, you are aware of the challenges involved in building brand awareness, generating quality leads, and ensuring a high return on investment (ROI). This is where a top digital marketing firm comes into play, providing comprehensive solutions tailored to your specific needs and challenges.
The Role of SEO and AI in Digital Marketing
The future of digital marketing is becoming increasingly intertwined with advanced technologies like Search Engine Optimization (SEO) and Artificial Intelligence (AI). SEO plays a crucial role in improving your business's visibility on search engines, ensuring it ranks higher on relevant search results. However, SEO isn't just about using the right keywords; it involves optimizing your web design and corresponding content to build a well-rounded organic search strategy.
On the other hand, AI is revolutionizing the way marketers predict consumer behavior, enabling the delivery of personalized experiences at scale. AI can analyze data faster and more accurately than any human, providing valuable insights that can significantly boost your marketing efforts.
Partnering with a digital marketing firm that has expertise in SEO and AI can give your business a competitive edge. These firms have the know-how to adapt and innovate in an industry shaped by constant technological advancements.
The Benefits of Hiring a Digital Marketing Agency
Hiring a digital marketing agency comes with a plethora of benefits. These firms offer a wide range of services, from managing marketing and advertising across various platforms to conceptualizing, creating, and publishing all sorts of content that can drive online business growth.
Digital marketing firms focus on producing measurable results such as on-site conversions, rankings on search engine results pages (SERPS), lead generation, and social media engagement. They have the tools and expertise to track, measure, and optimize data and analytics, ensuring each strategy or campaign aligns with your business objectives and delivers results.
Moreover, these firms understand the importance of authentic engagement and data-driven strategies. They are committed to providing genuine interactions that lead to customer loyalty and sales. They also value transparency and are open about their strategies, successes, and failures, allowing you to make informed decisions about your digital marketing strategy.
In conclusion, partnering with a top digital marketing firm can help you navigate the complex digital landscape, boost your online presence, and drive business growth. In the next section, we'll discuss the criteria for selecting the best digital marketing firms.
Criteria for Selecting the Best Digital Marketing Firms
Choosing the right digital marketing agency is like finding a perfect pair of shoes – it needs to fit your company's unique requirements, match your brand's style, and guide you towards your business goals. Here are some crucial factors to consider when selecting your digital marketing partner.
Client Reviews and Industry Reputation
When it comes to digital marketing, reputation is everything. Client reviews and industry reputation play a pivotal role in determining the credibility and effectiveness of a digital marketing agency. Use online review sites, Google Business listings, and social media to get a comprehensive understanding of the agency's reputation. Don't just rely on the star-rating, delve deeper into the comments to assess if clients are satisfied with the agency's results, pricing, and communication style.
Portfolio and Areas of Expertise
An agency's portfolio speaks volumes about their creativity, quality of work, and the range of projects they've handled. It offers an insight into their ability to provide services that align with your project's requirements. Investigate whether the agency has experience in your industry or has solved similar business growth problems to yours. An agency with such expertise will better understand your target audience and industry-specific challenges and is more likely to generate a successful campaign.
Pricing Structure and Value for Money
Cost is always a significant factor for businesses, especially for small to midsize businesses operating on a tight budget. Digital marketing agencies often customize their pricing based on your business's needs, so it's essential to communicate your budget upfront. Remember, transparency in pricing and a clear explanation of what each package includes are signs of a reliable agency. It's not just about finding the most affordable option; it's about ensuring you're getting value for your money.
In essence, choosing the right digital marketing firm involves a mix of assessing the agency's reputation, understanding their areas of expertise, and ensuring their services offer value for money. By considering these factors, you're more likely to find a digital marketing partner that aligns with your business's needs and goals, propelling your business towards success.
Top 3 Digital Marketing Firms in the World
In the dynamic world of digital marketing, certain firms have consistently proven their mettle, delivering innovative solutions and achieving remarkable results for their clients. Let's explore the top three digital marketing firms globally that have set the gold standard in the industry.
Ignite Digital: A Global Leader in Digital Marketing
First on our list is Ignite Digital. This firm is highly recommended for businesses with multiple locations, as it offers a comprehensive range of services, including website design, SEO, local search marketing, PPC, social media marketing, and email and text marketing services. Ignite Digital is lauded for its remarkable blend of cutting-edge strategies and practical execution, driving measurable results and ensuring a strong online presence for their clients.
WebFX: A Full-Service Digital Marketing Agency
Next up, we have WebFX, a full-service digital marketing agency renowned for its focus on artificial intelligence (AI) and data-driven insights. They offer a range of services, including website design, social media marketing, SEO, PPC advertising, Amazon marketing, and email marketing. With its innovative approach and an emphasis on performance metrics, WebFX is a favored choice for businesses looking to leverage the power of AI and data analytics to drive their digital marketing efforts.
Disruptive Advertising: A Game-Changer in the Industry
The third firm on our list is Disruptive Advertising, a firm that lives up to its name by challenging the status quo and introducing innovative marketing strategies. Disruptive Advertising's strength lies in their ability to provide customized solutions that match the unique needs of each client. From efficiently managing ad budgets to crafting compelling ad copies that resonate with the target audience, Disruptive Advertising ensures that their clients get the best ROI.
Choosing any of these top digital marketing firms can help your business stay ahead in the intensely competitive digital landscape. These companies not only provide industry-leading expertise but also understand the rapidly evolving digital ecosystem to deliver strategies that drive tangible results.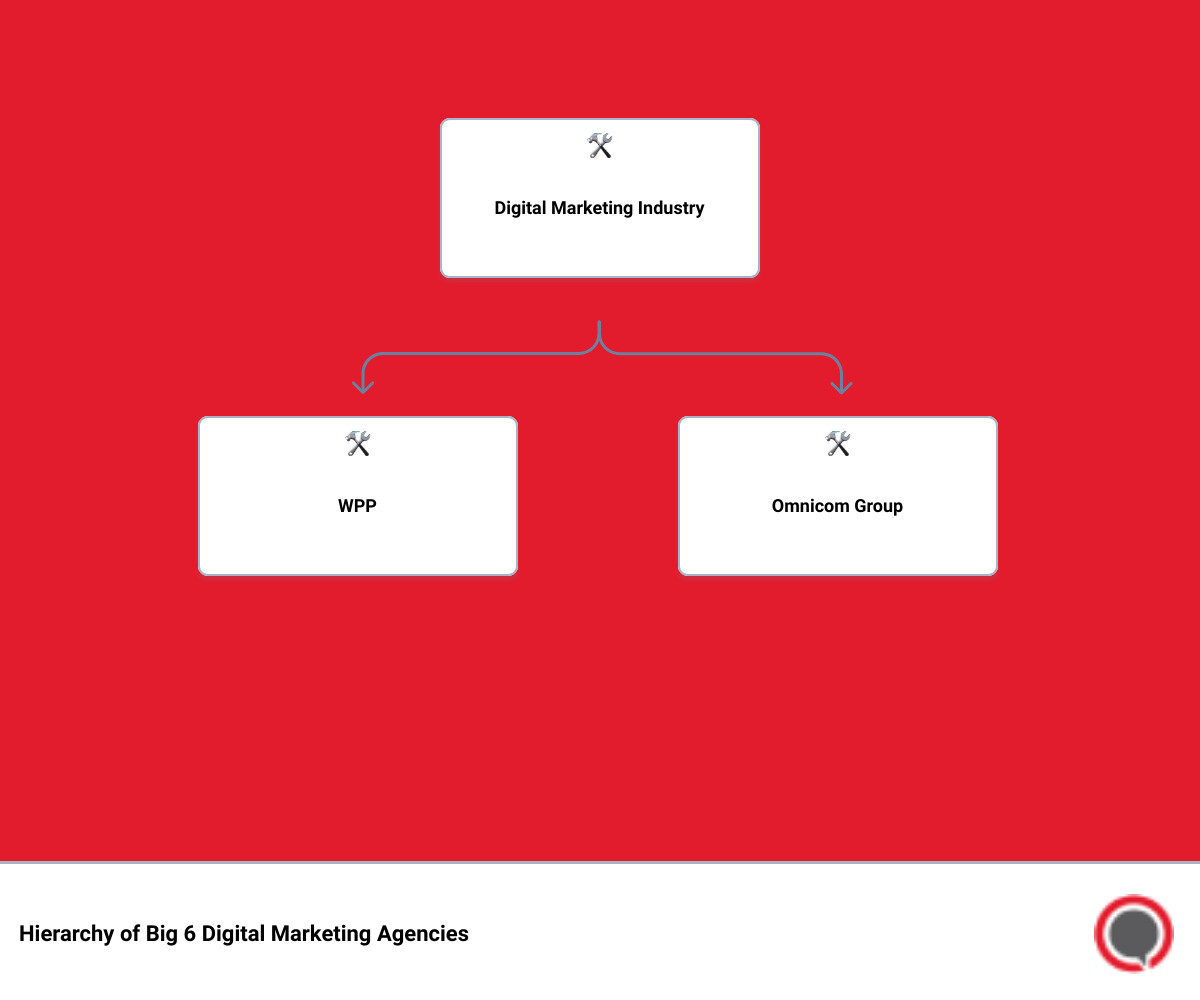 The Big 6 Digital Marketing Agencies
As we continue our exploration of the digital marketing landscape, it's impossible to overlook the impact and influence of the Big 6 agencies. These firms are the titans of the industry, each contributing unique strategies and specialized expertise that shape the very fabric of digital marketing globally.
WPP: Spearheading Paid Social Media Campaigns
WPP is a force to be reckoned with in the world of digital marketing. Known for masterminding paid social media campaigns for global brands like Apple and Spotify, this agency is a go-to for businesses seeking to create a powerful impact through their social media presence.
Omnicom Group: A Giant in the Advertising World
Omnicom Group has earned its reputation as a giant in the advertising world. Offering a wide array of services, Omnicom Group is known for its innovative approach to digital marketing strategies that cater to the unique needs of high-profile clients, such as Disney and United Airlines.
Publicis Groupe: A Pioneer in Digital Marketing
Publicis Groupe has a rich history of pioneering digital marketing initiatives. This agency is esteemed for its comprehensive suite of services, which includes everything from SEO to content marketing, making it a one-stop shop for businesses looking to enhance their online visibility and reach.
Dentsu: A Powerhouse in the Advertising Industry
Dentsu is a powerhouse in the advertising industry. With a diverse portfolio of clients, including international giants like Toyota and Microsoft, Dentsu has established itself as a leader in crafting compelling campaigns that resonate with audiences on a global scale.
Interpublic: A Leader in Integrated Marketing Solutions
Interpublic stands out for its leadership in providing integrated marketing solutions. This agency excels at creating cohesive strategies that weave together multiple marketing channels, from social media to email marketing, delivering a consistent and impactful brand message.
Havas: A Global Network of Communication Professionals
Havas is a global network of communication professionals. Known for its collaborative approach, Havas brings together experts in various fields of digital marketing to deliver comprehensive solutions that meet the unique needs of each client.
Each of these agencies brings a unique approach and set of skills to the table, but they all have one thing in common: a commitment to excellence in digital marketing. By leveraging their expertise, these agencies are helping to shape the future of digital marketing, driving innovation and delivering results. Whether you're a small business looking to scale or a large corporation seeking to maintain your market dominance, partnering with one of these agencies can provide the strategic guidance and expertise needed to succeed in the digital landscape.
Spotlight on SocialSellinator: A Top Digital Marketing Agency
Navigating the digital landscape can be a daunting task, but with the right partner, it can become an exciting journey of growth and discovery. Enter SocialSellinator, a top digital marketing agency that stands out in the crowded marketing landscape. In a world where digital marketing agencies are plentiful, SocialSellinator brings a unique blend of expertise, a proven track record of success, and a customized approach to every client's needs.
SocialSellinator's Innovative and Customizable Solutions
What sets SocialSellinator apart is their tailored approach to digital marketing strategy. They understand that every business is unique, with its own set of challenges and goals. Rather than offering a one-size-fits-all solution, SocialSellinator takes the time to understand your business, its needs, and goals. They then craft a comprehensive digital marketing strategy that encompasses everything from search engine optimization to content marketing, social media management, and more.
Their flexibility and adaptability have been praised by their clients. Naveen Joshi, CMO of Taazaa, commended SocialSellinator for their ability to translate business needs into effective marketing tactics.
The Comprehensive Approach to Digital Marketing at SocialSellinator
SocialSellinator shines in its comprehensive suite of digital marketing services aimed at meeting the unique needs of small to midsize businesses. Their services range from social media management and content creation to SEO optimization and PPC campaigns. They handle everything from content curation to comment management, ensuring your social media presence is both active and effective.
To further enhance your online presence, SocialSellinator also provides SEO services that boost your Google ranking, increasing demand generation and filling your sales funnels. Their Facebook and Google Ads management services are well-optimized and designed to drive sales.
Why SocialSellinator is the Perfect Choice for Your Digital Marketing Needs
SocialSellinator is not only about delivering digital marketing solutions, but they also stand out as a reliable partner for businesses seeking to grow digitally. Their proven track record, backed by tangible results, is a testament to their ability to deliver.
A successful collaboration with Spicely Organics, where they significantly improved the company's social following, and a partnership with Allied Pain & Spine Institute that resulted in increased visibility and traction, are just a few examples of their success stories.
Furthermore, SocialSellinator's specialization in both B2B and B2C businesses makes them a versatile choice. They understand the unique challenges and opportunities that these different business models present and tailor their strategies accordingly.
In conclusion, SocialSellinator is not just a digital marketing agency; it's a strategic partner that brings a unique blend of expertise, proven results, and a customized approach to help your business successfully navigate the digital landscape.
Conclusion: The Future of Digital Marketing and the Role of Top Firms
The digital landscape is ever-changing. As we step boldly into the future, the role of digital marketing agencies becomes even more critical. These elite firms are not just service providers; they're strategic partners, navigators, and pioneers, leading the way in an increasingly digital world.
Emerging Trends and Technological Innovations
The future of digital marketing is characterized by continuous innovation and adaptation. The integration of AI-powered tools and predictive analytics continues to rise, leading to more effective personalization and targeted marketing campaigns. In addition, the dominance of video marketing, live streaming, and AR technologies provides immersive experiences that engage consumers on a deeper level. Furthermore, voice search optimization is becoming increasingly essential, with more consumers using smart speakers and voice assistants for their search queries.
The Role of Digital Marketing Agencies
In this evolving landscape, the role of top digital marketing firms like Porter Novelli, Cuker, Ignite Digital, WebFX, and Disruptive Advertising becomes even more crucial. They are not only keeping pace with these changes but are also setting the pace, driving innovation, and shaping the future of digital marketing. Their expertise, strategic insights, and commitment to delivering measurable results enable businesses to stay ahead of the curve and achieve their marketing objectives in an increasingly complex digital environment.
SocialSellinator: A Trailblazer in Digital Marketing
Among these leading digital marketing agencies, SocialSellinator stands out for its comprehensive suite of services, customized approach, and steadfast commitment to empowering businesses through authentic engagement and transformative connectivity. As we move forward into 2023 and beyond, SocialSellinator continues to evolve and innovate, ensuring that its clients are not just surviving the digital revolution but thriving in it.
In conclusion, the future of digital marketing is bright, and top digital marketing agencies are leading the charge. They are the strategic partners businesses need to navigate the digital landscape, seize opportunities, and drive growth. As we embrace the future, these elite firms stand ready to guide us, unleashing the full power of digital marketing to achieve business success.