Introduction: The Importance of Digital Marketing in Today's Business Landscape
In a world where digital presence has become a necessity and not just an option, digital marketing plays an instrumental role in shaping business success. Navigating the ever-evolving digital landscape can be overwhelming, especially for small to midsize businesses that grapple with limited resources, constant competition, and the pressing need to stay relevant. This is where SocialSellinator, your ultimate digital marketing partner, steps in, helping you unleash your online potential by leveraging effective digital marketing strategies.
Digital marketing is a broad term encompassing a myriad of activities aimed at enhancing your website's visibility, driving engagement, and ultimately, fostering business growth. From social media marketing to search engine optimization (SEO), email marketing, and pay-per-click (PPC) advertising, the digital marketing sphere is vast and varied. These strategies serve to connect your brand with your target audience, boost brand awareness, and facilitate lead generation and conversions.
In contrast to traditional marketing methods, digital marketing offers cost-effective and scalable solutions that can be tracked and optimized in real-time. This data-driven approach ensures that your marketing budget is being spent wisely, contributing to a higher return on investment (ROI). Furthermore, digital marketing allows for highly targeted marketing, enabling you to reach out to your specific buyer personas and engage with them on a personal level.
Understanding the importance of digital marketing is just the first step. The real challenge lies in implementing effective digital marketing strategies that align with your business goals and resonate with your target audience. That's where the expertise of a digital marketing agency comes into play. An agency like SocialSellinator doesn't just understand the digital marketing landscape; we help you navigate it with precision, ensuring every step aligns with your overarching vision for business growth.
In the sections to follow, we'll delve deeper into the world of digital marketing agencies, their role in the market, and how to choose the right partner for your business. We'll also introduce you to SocialSellinator and explain how we can help you maximize your online potential. So, if you're ready to elevate your digital game, read on.
Understanding the Big 6 Digital Agencies and Their Role in the Market
In the realm of online marketing, certain names command great respect and influence. These are the powerhouses that steer the course of digital marketing, setting trends, and redefining standards. Welcome to the world of the Big 6 digital agencies.
Who are the Big 6 Digital Agencies?
The Big 6 digital agencies are the titans of the digital marketing industry. These are WPP, Omnicom Group, Publicis Groupe, Dentsu, Interpublic, and Havas. Their influence spans across global markets, shaping the digital strategies of some of the world's biggest brands. From spearheading paid social media campaigns for giants like Apple and Disney to crafting compelling digital narratives for brands like Spotify and United Airlines, these agencies hold the reins of digital marketing power.
What Services Do These Big 6 Agencies Provide?
The Big 6 digital agencies offer a comprehensive suite of services to cater to diverse marketing needs. Their expertise extends beyond traditional advertising, delving deep into the intricacies of digital marketing. They are known to masterfully navigate the online realm, ensuring brands not only survive in the digital surge but thrive.
One of their core services is creating and executing robust social media campaigns. These campaigns are intricately designed to resonate with the target audience, drive engagement, and boost brand visibility. The Big 6 agencies employ precision marketing techniques to spike retail sales, ensuring each advertiser gets the most out of their domain.
These agencies also excel in personalizing content to enhance customer loyalty. They conduct extensive keyword research, understand your demographics, and measure marketing effectiveness to optimize your email campaigns and web development strategies.
Moreover, they leverage AI algorithms for consultation and audience segmentation. They manage your database, deploy chatbots, and execute email marketing campaigns, ensuring the alignment of marketing efforts and using data points to measure marketing ROI.
In essence, the Big 6 digital agencies are your ultimate partners in digital growth, managing everything from campaign optimization and website development to creating immersive web experiences and ensuring your digital presence is aesthetically pleasing and impactful.
As we move further into the digital era, the importance of partnering with a skilled digital marketing agency becomes even more crucial. Whether you're working with one of the Big 6 or seeking a more tailored approach with a boutique agency like SocialSellinator, the key is to find a partner who understands your brand, shares your vision, and has the expertise to transform your digital marketing game.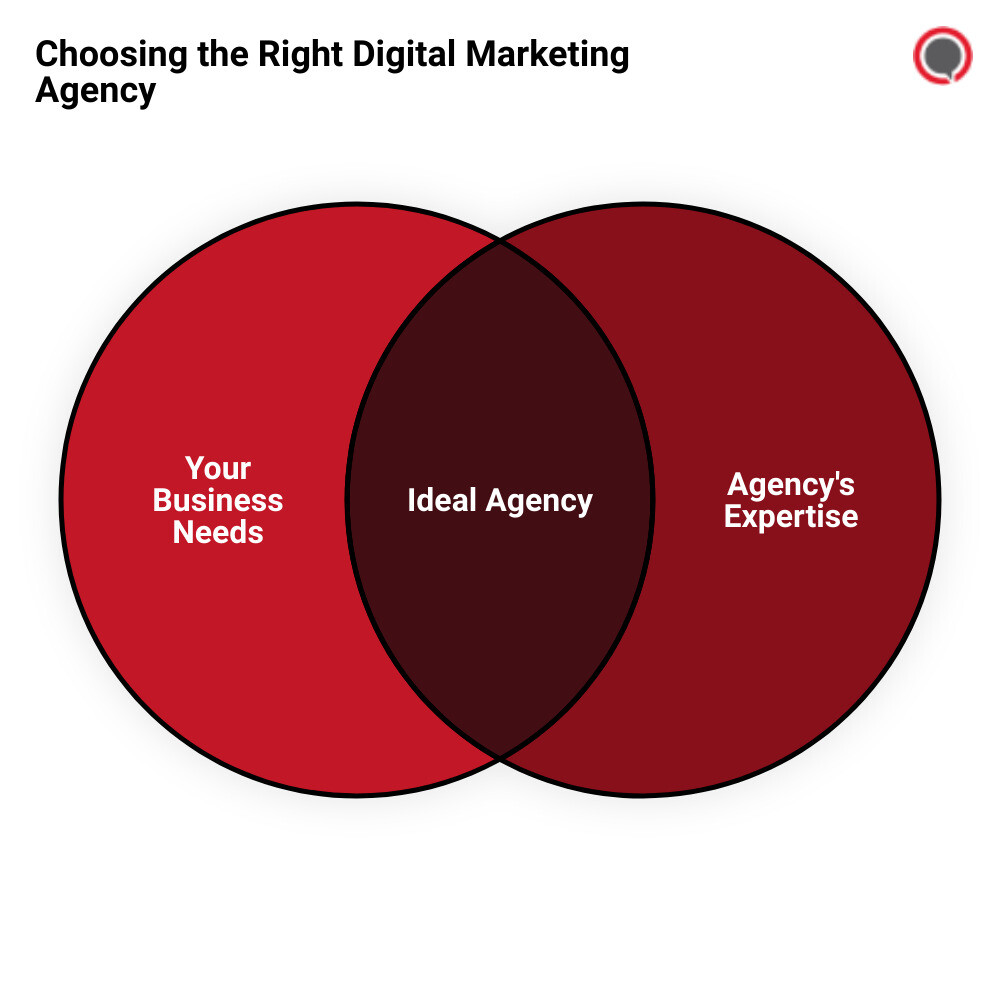 How to Find the Right Digital Marketing Agency for Your Business
Just as a wise sailor wouldn't venture into uncharted waters without a reliable compass, neither should you dive into the digital marketing sea without a trusted partner. Choosing the right agency can be a game-changer for your business. But how do you find that ultimate agency that not only understands your business goals but can also help you realize them? Here are some key areas to consider.
Evaluating a Digital Marketing Agency's Portfolio
A solid track record and proven expertise are prime indicators of a reliable digital marketing agency. When you look at an agency's portfolio, you are essentially peeking into their past work and assessing their capabilities. Does the agency have a consistent record of delivering results for businesses similar to yours? Case studies, customer testimonials, and industry recognition can offer valuable insights into the agency's performance. If you're interested in social media management, for instance, the agency should showcase a history of growing social followings and boosting customer engagement.
Understanding the Cost of Digital Marketing Services
Cost is an undeniable factor in your choice of a digital marketing agency. It's crucial to have a good understanding of the costs involved before embarking on a new partnership. Average fees for digital marketing services like social media marketing range from $900-$20,000 per month, email marketing can cost between $300-$1500 per month, and the typical cost for SEO services varies from $1500-$5000 per month. Transparency in pricing and a clear explanation of what each package includes are key to making an informed decision.
The Importance of an Agency's Reputation
In the digital world, reputation is everything. A digital marketing agency's reputation can give you a glimpse into their credibility and reliability. Online reviews, ratings, and customer feedback can help gauge the reputation of the agency. A great reputation often signals an agency's commitment to client satisfaction and high-quality service.
Assessing Client Options and Customer Service
The ideal digital marketing agency is a partner in your business growth, not just a service provider. It's crucial to find an agency that values collaboration, takes the time to understand your business, and customizes their strategies to align with your specific goals. Consider how the agency communicates with you - are they transparent about their strategies? Do they provide regular progress updates and are they open to feedback? A great agency will have account managers who ensure the business success of your campaign on a day-to-day basis.
In Conclusion, finding the right digital marketing agency is about more than just hiring a service provider; it's about partnering with experts who can help you navigate the digital landscape and achieve your business goals. By evaluating an agency's portfolio, understanding the cost, assessing the agency's reputation, and gauging their approach to client collaboration, you're on your way to discovering the ultimate digital marketing agency near you.
The Value of Hiring a Digital Marketing Agency
What's your secret weapon to unleash your online potential? It's hiring a digital marketing agency. Outsourcing your digital marketing efforts to experts not only frees up your team's time to focus on other projects but also brings in a wealth of expertise and innovative marketing strategies.
Why Hiring a Digital Marketing Agency is Worth It
The initial investment might seem significant, but, as the saying goes, you need to spend money to make money. When you hire a digital marketing agency, you're investing in a team of specialists who live and breathe online marketing. They have a proactive work approach, constantly monitoring and managing your campaigns to ensure you're always a step ahead.
With digital marketing agencies like Thrive, you're not just hiring a service; you're investing in your success. They maintain full transparency, allowing you to see how their efforts directly impact the growth of your online revenue.
Moreover, these agencies are cost-effective in the long run, providing better ROI on your marketing spend. They eliminate the need for hiring an in-house team, expensive tools, and ongoing training, saving you both time and money.
The Expertise a Digital Marketing Agency Can Bring to Your Business
Digital marketing agencies are a powerhouse of expertise. They are well-versed in navigating the ever-changing digital landscape, handling everything from SEO and content marketing to social media engagement and paid advertising.
These agencies understand that every company is unique and requires specific solutions. They take the time to understand your business, your target market, and your competitors, creating a customized data-driven solution that meets your sales target and marketing goals.
Agencies like SocialSellinator are not just service providers; they are strategic partners. With their thorough market research, analysis of consumer behavior, and development of data-driven marketing approaches, they craft campaigns that resonate with your target audience and deliver measurable results.
In a nutshell, hiring a digital marketing agency brings you a team of dedicated specialists, proven strategies, and a relentless focus on achieving your business goals. No more guesswork, no more wasted efforts - just data-driven strategies that drive growth and deliver results. Trust us; it's worth it.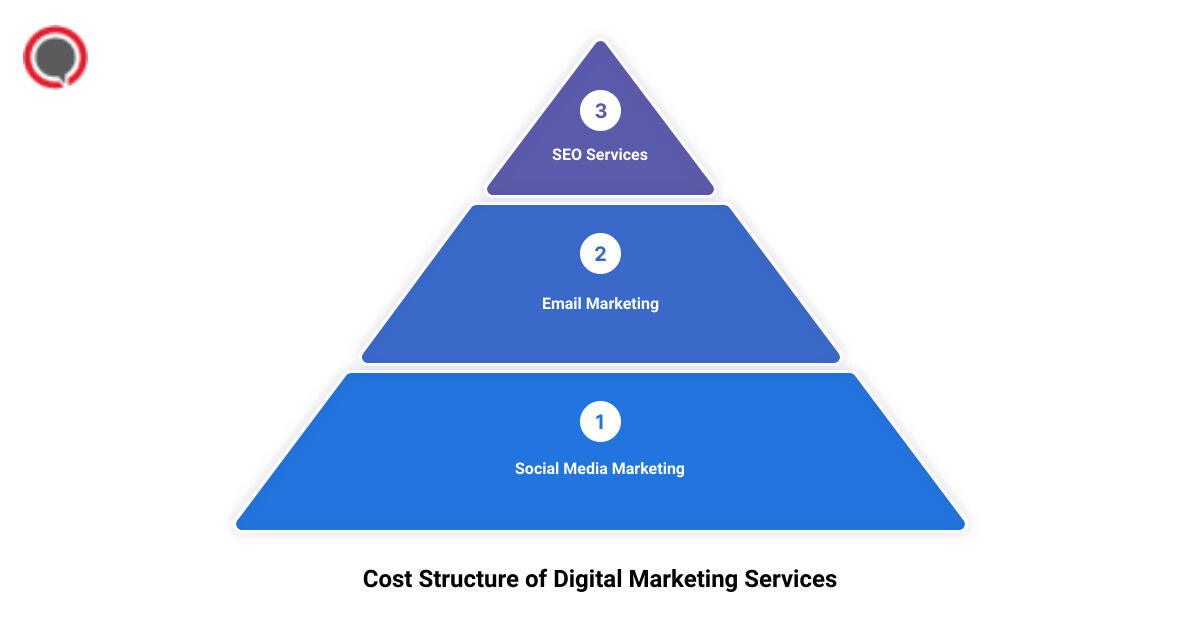 Average Fees for Digital Marketing Services
In the world of digital marketing, the question of cost often looms large. Understanding the financial commitment involved is crucial when deciding on the best agency for your business. Given the scope and complexity of digital marketing services, costs can vary widely.
Understanding the Cost of Social Media Marketing
Social media marketing is an essential part of any digital marketing strategy, with its ability to engage directly with your audience and enhance your brand's online visibility. However, the cost of this service can fluctuate significantly, ranging from a few thousand dollars for basic account setup and management, to tens of thousands for more comprehensive, multi-channel campaigns. Remember, high-quality social media marketing is an investment, and a good agency will provide a clear plan for measuring success and the expected return on investment.
The Average Cost of Email Marketing
Email marketing remains a highly effective way to nurture leads and keep your brand top-of-mind. The average cost for this service can range from $300 to $1500 per month, depending on the complexity of the campaigns and the size of your email list. It's important to factor in the value of an agency's expertise in crafting compelling, personalized emails that drive engagement and conversions.
The Price Range for PPC Services
Pay-per-click (PPC) marketing is a popular choice for businesses looking to increase their online visibility quickly. The cost associated with this service primarily depends on the keywords you are targeting and the competition in your industry. Typically, you can expect to pay between $350 and $5000 per month. Be sure to ask for an estimated cost of service and expected ROI before signing any contracts. Remember, a good PPC service will also include keyword research, content creation, optimization, and ad copywriting.
The Typical Cost for SEO Services
Search engine optimization (SEO) is another crucial service offered by digital marketing agencies. It enhances your website's visibility in search engine results, driving organic traffic to your site. The average cost for SEO services can range from $1500 to $5000 per month. This investment can lead to a significant increase in website traffic and a higher conversion rate over time.
In summary, the cost of hiring a digital marketing agency is determined by the range and complexity of the services you need. Be sure to do your research, consider your budget, and remember - the cheapest option is not always the best. Your focus should be on finding an agency like SocialSellinator that can deliver quality services, generate measurable results, and offer a good return on your investment.
Introducing SocialSellinator: Your Ultimate Digital Marketing Partner
In the digital landscape, the right marketing partner can make all the difference. That's where SocialSellinator steps in. As a premier digital marketing agency, we're not just service providers; we're your strategic partners in success.
Our Expertise in Digital Marketing
With a deep understanding of the unique challenges faced by heads of marketing and digital marketing departments in small to midsize businesses, SocialSellinator brings a wealth of digital marketing expertise to the table. Our services range from Search Engine Optimization (SEO) to Social Media Marketing, Website Design and Content Creation, and Automation and Analytics. Each of these services is designed to boost your online visibility, engage with your audience, and drive actions that matter to your business.
Our Customizable Solutions for Your Business
At SocialSellinator, we believe that every business is unique and requires a distinctive digital marketing approach. That's why we offer customizable solutions tailored to your specific needs and goals. We dive deep to understand your business, analyze your target audience, and develop a comprehensive strategy that aligns perfectly with your objectives. Whether you need to boost your online visibility with SEO, engage customers through social media, or optimize your website for conversions, we've got you covered.
Our Commitment to Delivering Measurable Results
As digital marketing experts, we understand that results matter. That's why everything we do is backed by data-driven strategies and a clear focus on ROI. We don't believe in vanity metrics. Instead, we track, measure, and analyze your digital marketing performance to ensure you're getting the most out of your investment. Plus, our commitment to authentic engagement means we prioritize genuine interactions that lead to customer loyalty and, ultimately, increased sales.
Our Comprehensive Approach to Digital Marketing
Our approach to digital marketing is holistic. We don't just focus on one aspect of digital marketing; we cover all bases. From SEO to social media marketing, from content creation to automation and analytics—we offer a comprehensive suite of services that work together to deliver the best possible results. This comprehensive approach helps us ensure that all your digital marketing efforts are aligned and working together to maximize your online potential.
In essence, SocialSellinator isn't just an option; it's your next strategic move. With our comprehensive suite of services, proven results, and commitment to your success, we're the perfect choice for businesses looking to master their online presence in the bustling digital landscape. Don't just navigate the digital world—dominate it with SocialSellinator.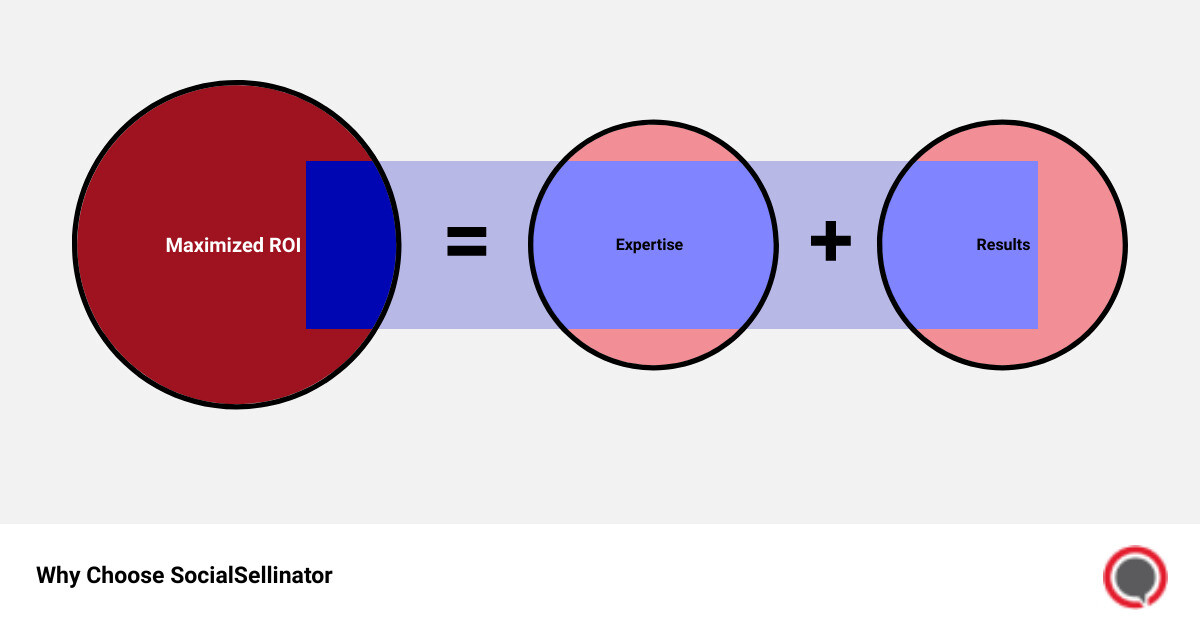 Conclusion: Why SocialSellinator is the Perfect Choice for Your Digital Marketing Needs
Let's take a peek into the future. Imagine your brand breaking through the noise, effortlessly catching the attention of your target audience. Imagine the surge in high-quality leads and the resultant increase in revenue. Now, stop imagining because with SocialSellinator, that can be your reality.
Our Dedication to Helping You Maximize ROI
Every penny you invest in your marketing efforts should bring you closer to your business goals. At SocialSellinator, we understand this, and that's why we've dedicated ourselves to ensuring you get the maximum return on your investment. We don't chase vanity metrics; instead, we focus on what truly matters to your business: authentic engagement, lead generation, and revenue growth.
Our data-driven strategies are designed to deliver tangible results that directly impact your bottom line. We monitor and optimize your digital marketing campaigns, making data-driven adjustments that ensure efficiency and maximum ROI. With our performance optimization strategies, you're not just spending on marketing—you're investing in growth.
Our Promise to Exceed Customer Expectations
We believe in not just meeting but exceeding your expectations. Our team of experts goes above and beyond to ensure our campaigns resonate with your audience and spur them into action. We offer transparent communication, regular updates, and a commitment to your success that keeps you informed and in control every step of the way.
Contact Us Today to Discover the SocialSellinator Difference
In the vast digital marketing landscape, standing out can seem like a daunting task. But with SocialSellinator by your side, you're not just another brand—you're the brand. Our unique blend of expertise, comprehensive services, and dedication to your success sets us apart from other digital marketing agencies.
Don't let your business blend into the background. Contact us today and discover the SocialSellinator difference. Let's boost your brand awareness, generate high-quality leads, and witness your revenue grow. Unleash your online potential with the ultimate digital marketing agency near you—SocialSellinator.