Introduction: The Power of Content Marketing
In the dynamic realm of digital marketing, content is king. It's the magnetic force that pulls your audience towards your brand, the captivating storyteller that educates and engages, and the strategic tool that propels your business towards success. As the digital landscape continues to evolve, the importance of a robust and sophisticated content marketing strategy cannot be overstated.
But, crafting a successful content marketing strategy isn't a walk in the park. It demands a deep understanding of your audience, a knack for storytelling, and the ability to craft messages that resonate. That's where content marketing agencies come into play, serving as the architects of your brand's content narrative.
In this article, we delve into the world of content marketing agencies, shedding light on their role, importance, and how to choose the right one for your business. We will also introduce you to some of the top content marketing agencies, including SocialSellinator, and how they can unleash your brand's potential. So, let's embark on this enlightening journey of discovery.
The Role of Content Marketing Agencies in Today's Business Landscape
In the digital era, the business landscape has evolved dramatically, shifting the spotlight to online platforms. Whether you're a startup, a growing business, or an established enterprise, a robust online presence has become a non-negotiable requisite. This is where content marketing agencies come into play, wielding the power to amplify your brand's digital footprint and propel your business towards success.
Content marketing agencies are the architects behind your business's online persona. They go beyond simply churning out blogs and articles; they design a comprehensive content strategy that aligns with your business goals and resonates with your target audience. They create content that informs, engages, and inspires, positioning your brand as an authority in your field.
At the heart of every content marketing agency's approach is the belief that meaningful content can drive growth. They create content for your owned platforms such as your website, and then utilize social media, YouTube, and occasionally paid ads to distribute it. The key to their strategy lies in the phrase "grow through content". This means that every piece of content must have a well-thought-out strategy behind it to ensure that it not only informs but also propels your business forward.
These agencies are well-versed in the intricacies of different industries and niches. They understand your business and its challenges, and they tailor their strategies accordingly to ensure maximum impact. They specialize in creating economies of scale and accumulating knowledge within your industry, giving them an edge that enables them to deliver exceptional results.
In addition to content creation, these agencies play a pivotal role in Search Engine Optimization (SEO), helping your business get discovered by potential customers. They understand the channels that drive sales for your company and leverage them effectively. This combination of content creation and SEO optimisation ensures that your brand message reaches your core audience in the most impactful way.
These agencies aren't just about immediate results; they're about building sustained customer relationships and enhancing your brand's reputation. They provide value to your customers by showcasing content that matters to them, fostering a two-way relationship between your business and your audience. This focus on customer satisfaction is not just a nice-to-have; it's a business essential.
In a nutshell, content marketing agencies are your partners in navigating the complex digital terrain. They leverage their expertise to craft strategies that help your business thrive in the online world. They turn the challenge of the digital landscape into an opportunity for unprecedented success. So, if you're ready to turbocharge your online presence, it's time to harness the power of a content marketing agency.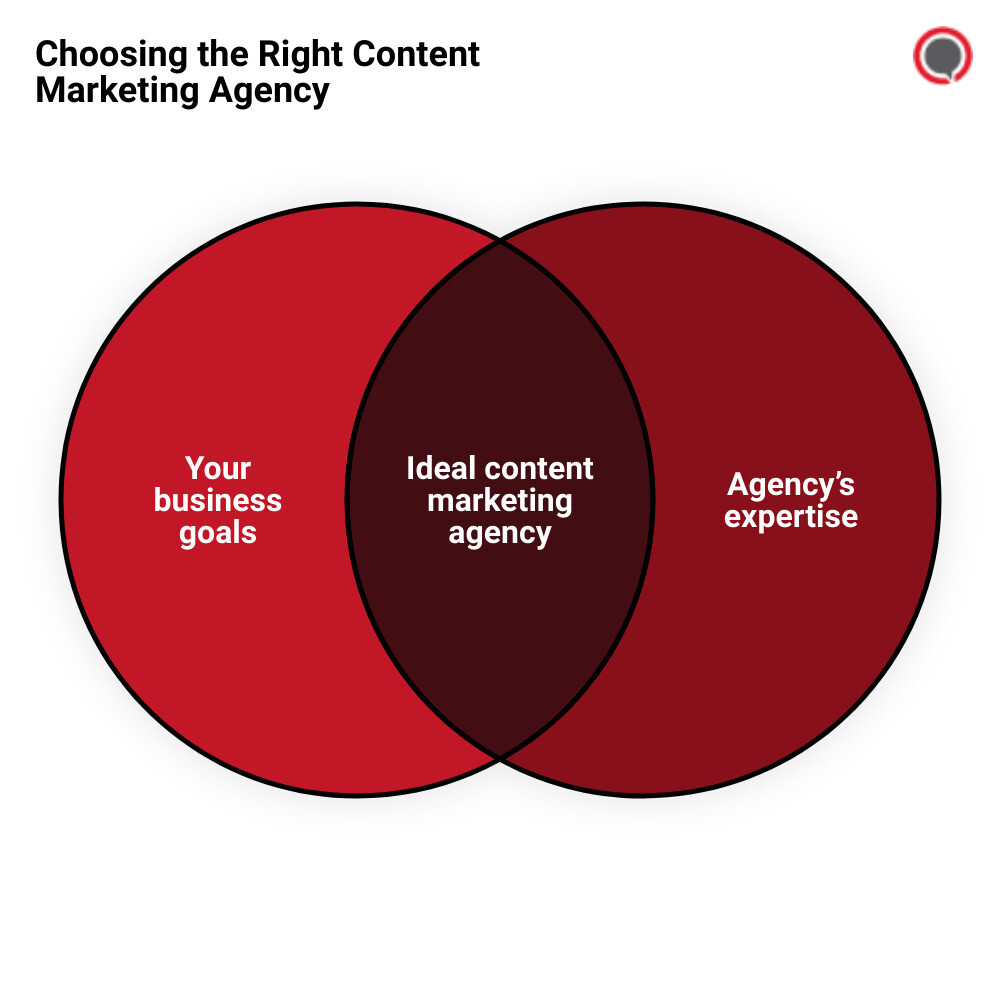 The Importance of Choosing the Right Content Marketing Agency
Finding the best content marketing agency for your business is akin to finding a needle in a haystack. It's not just about selecting a firm with the most impressive client list or the largest team. Instead, it's about finding an agency that understands your business, offers solutions tailored to your needs, and can confidently navigate the unique challenges your industry presents.
What to Expect from a Great Content Marketing Agency
A top-notch content marketing agency is more than just a service provider; it's a trusted partner in your business growth. As such, it should provide a clear roadmap to success, complete with measurable KPIs, regular performance updates, and a transparent pricing structure.
The spectrum of services offered by such an agency can be expansive, spanning from content creation for owned platforms like your website, to strategies for content distribution through channels such as social media, YouTube, and paid ads. Their services should be aimed at helping your business grow through content that is backed by a solid strategy.
Contrary to what the term may suggest, content marketing is not just about blogging and writing. A great content marketing agency recognizes the importance of a multi-pronged approach to content, encompassing social media marketing, SEO, video production, and sometimes even paid advertising. In essence, they offer a holistic approach that's tailored to meet your specific needs.
Key Features of a Top Content Marketing Agency
When evaluating potential content marketing agencies, there are a few key features to look for.
Industry and focus: Does the agency have experience in your industry? Do they specialize in serving businesses of your size and type? An agency with a track record of success in your specific sector can provide invaluable insights and strategies that a more general agency might miss.
Content analysis and measurement: A top content marketing agency will provide you with a detailed breakdown of your content's performance. They should be able to answer questions such as: Does this content move us closer to our campaign goals? How far are people reading into your content? What do we need to change/optimize to improve our conversion rates?
Client reviews and testimonials: These give you a glimpse into the experience of working with the agency. Don't just look at the star-rating - dig deeper to see if clients seem satisfied with the results, pricing, and interaction style of the agency.
Communication and reporting: The agency should provide regular reports detailing the performance of your campaigns. Will you have a dedicated account manager who you can reach out to with questions or concerns? Effective communication is crucial for a successful partnership.
Remember, the aim is not to find the biggest or most popular agency, but the one that understands your business's needs and goals, and can help you unleash your brand's potential. By considering these factors, you'll be well on your way to making a choice that drives your business forward.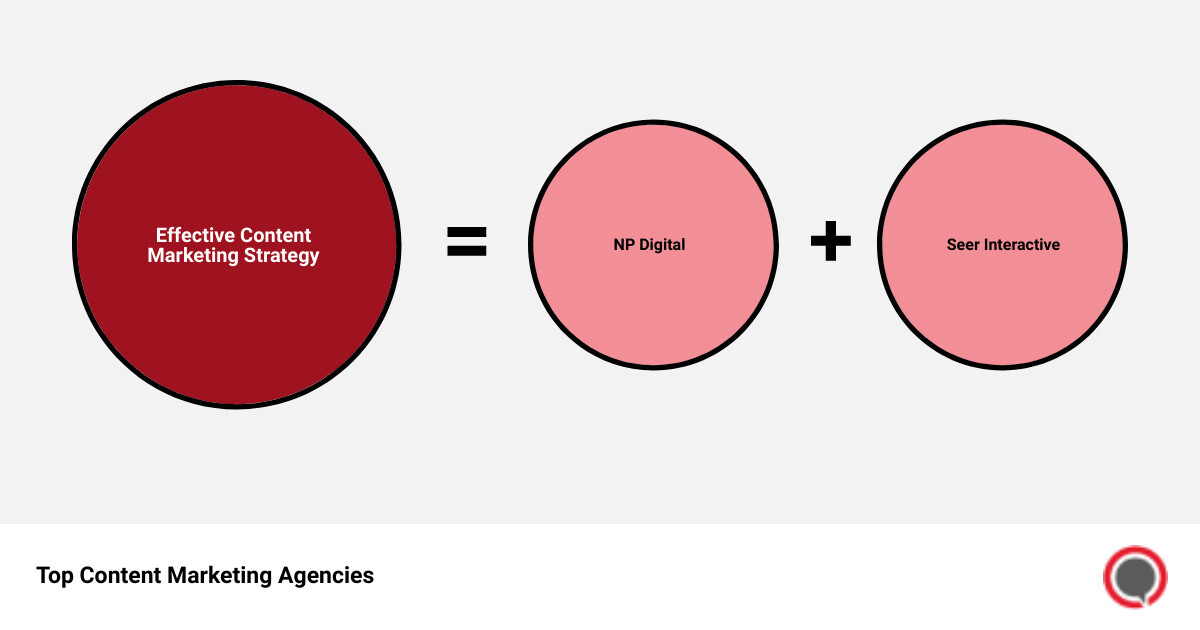 Top Content Marketing Agencies to Consider for Your Business
When it comes to accelerating your brand's digital growth, not all content marketing agencies are created equal. The right agency will be a catalyst, driving your brand's online visibility and generating high-quality leads. Let's explore some top-notch content marketing agencies that have proven their mettle in this dynamic digital landscape.
NP Digital: Immediate and Consistent Revenue Growth
NP Digital is an industry leader that prioritizes immediate and consistent revenue growth. Founded by Neil Patel and Mike Kamo, this agency has carved its niche by integrating technical SEO with content marketing. They are renowned for creating content that not only aligns with Google best practices but also drives traffic and leads, ultimately boosting revenue. Their robust client list includes giants like Facebook, Viacom, Google, and NBC.
Seer Interactive: Big Data Search and Content
Seer Interactive stands out for its unique focus on big data in content marketing. Founded by Wil Reynolds, the agency uses a combination of in-house and third-party tools to analyze over 20 million keywords and 202 million SERP data records. This data-driven approach enables them to uncover hidden customer trends, making them an ideal choice for companies in competitive fields like finance and banking.
Distilled: Expertise in Technical SEO
Distilled is widely recognized for its expertise in technical SEO. Their team of dedicated professionals leverages data to design and implement SEO strategies that propel brands to the top of search engine results. Distilled's comprehensive approach to digital marketing makes it an excellent choice for businesses aiming to boost their online visibility.
Fractl: Data-Driven Content and Digital PR
Fractl is a content marketing agency that blends data analysis with creative storytelling. They are known for creating engaging content that resonates with audiences and drives shares, backlinks, and traffic. Their data-driven approach allows them to forge a strong connection between brands and their target audiences.
Column Five: Specializing in Data and Content Visualization
Column Five is an agency that excels in creating design-focused content. They believe in the power of storytelling and prioritize visual design to communicate each client's brand. Their creative approach to content marketing helps clients create a visual identity that sets them apart from competitors.
Single Grain: Conversion-Driven Content Marketing
Single Grain is a digital marketing agency that specializes in creating conversion-driven content. They focus on helping businesses increase their online visibility, generate high-quality leads, and convert those leads into customers. Their client-centric approach makes Single Grain a reliable partner for businesses aiming to boost their online sales.
The Content Bureau: Premier B2B Content Marketing
The Content Bureau is a premier B2B content marketing agency. They specialize in creating high-quality, engaging content that generates leads and drives sales for B2B businesses. Their in-depth understanding of the B2B landscape makes them a go-to choice for businesses in this niche.
Web Profits: Specializing in SaaS Content Marketing
Web Profits is a content marketing agency that specializes in the SaaS industry. Their expertise in creating content that drives user acquisition and retention makes them a perfect match for SaaS businesses. Web Profits' strategic approach to content marketing helps SaaS companies grow their user base and increase their revenue.
Choosing the right content marketing agency can be a game-changer for your brand's digital growth. Consider these top agencies as potential partners in your journey to unleash your brand's potential.
How SocialSellinator Stands Out Among Top Content Marketing Agencies
In the vast ocean of content marketing agencies, SocialSellinator sails ahead with its unique combination of expertise, comprehensive services, and a proven track record of success. Let's delve into the key aspects that set SocialSellinator apart from the crowd.
Comprehensive Approach to Digital Marketing
While many agencies focus on specific facets of digital marketing, SocialSellinator adopts a comprehensive approach. This agency provides an all-around suite of digital marketing services, fostering a diverse online presence for your brand. From social media management to content creation, SEO optimization, and PPC campaigns, SocialSellinator addresses all your digital marketing needs under one roof. This holistic approach not only streamlines your marketing efforts but also ensures consistent messaging and branding across all channels.
Customizable Solutions Tailored to Your Business Goals
One of the strengths of SocialSellinator lies in its ability to craft customized solutions that align with your specific business objectives. They understand that a one-size-fits-all approach doesn't cut it in the competitive digital landscape. Therefore, they take the time to deeply understand your business, its unique challenges, and its goals. Based on these insights, they create a robust digital marketing strategy encompassing everything from SEO to content marketing, social media management, and more. This tailored approach ensures that every strategy and campaign resonates with your target audience and drives your business towards its goals.
Experienced Team Committed to Your Success
At SocialSellinator, it's not just about delivering services—it's about ensuring your success. Their team of seasoned professionals is committed to helping you reach your digital marketing goals. They bring a wealth of experience and expertise to the table, offering insightful strategies and effective tactics that have proven to drive results. Their focus on amplifying your brand message, growing your network, and ultimately boosting sales and revenue exemplifies their commitment to your success.
SocialSellinator's unique blend of comprehensive services, tailored solutions, and a dedicated team makes it a standout choice among top content marketing agencies. If you're looking to unleash your brand's potential, consider making SocialSellinator your strategic partner in your digital marketing endeavors.
Conclusion: Unleashing Your Brand's Potential with the Right Content Marketing Agency
In the rapidly shifting digital landscape, content marketing serves as a beacon, guiding your brand towards visibility, engagement, and growth. As we've explored the leading content marketing agencies, it's clear that each brings unique strengths to the table. However, the final decision should always circle back to your unique business needs and goals.
Remember, the most effective content marketing agency is not just about size, reputation, or cost. It's about finding a partner who understands your business, aligns with your objectives, and brings a strategic, data-driven approach to content marketing. Moreover, they should be able to offer a holistic suite of services, from content strategy and production to promotion and analytics.
Among the contenders, SocialSellinator stands out with its comprehensive approach to digital marketing, customizable solutions tailored to your business, and a dedicated, experienced team. They are not just a service provider, but a strategic partner committed to your success. Their focus on data-driven strategies, authentic engagement, and ROI resonates with the core values of today's marketing leaders.
In a world where brands compete for attention, the right content marketing agency can be the catalyst that transforms your online presence, driving traffic, generating leads, and ultimately, growing your bottom line. It's about more than just creating content; it's about creating value for your audience and your business.
Choosing the right content marketing agency is a critical business decision. It can mean the difference between getting lost in the digital noise and emerging as a thought leader in your industry. So, take your time, do your research, and make an informed decision.
After all, your brand's potential is waiting to be unleashed. And with the right content marketing agency by your side, there's no limit to what you can achieve.
Visit SocialSellinator to learn more about how they can empower your brand through strategic, engaging content marketing. It's not just an option; for many businesses, it's their next strategic move to elevate their digital marketing game.