Introduction: The Role of a Social Strategy Agency
In the rapidly evolving digital landscape, the role of a social strategy agency has never been more critical. With the increasing complexity of social media and the need for brands to maintain a robust online presence, the expertise of a social strategy agency like SocialSellinator can be a game-changer.
Primarily, a social strategy agency manages a brand's entire social media presence. This encompasses not just posting updates, but also planning the brand's social media strategy, deciding what to post, and determining which channels to focus on. The agency's goal is to save brands time and stress, providing them with a clear roadmap to navigate the crowded social media landscape.
A social strategy agency, armed with experience and data-driven insights, can help brands understand their social media performance, enabling them to make strategic decisions. This involves analyzing the brand's audience, understanding their preferences, and tailoring the social media strategy accordingly.
Moreover, such agencies leverage their expertise in paid social media advertising, staying on top of the latest trends and algorithm updates. This is crucial in an era where organic reach is declining, and brands are increasingly turning to social advertising.
Finally, a social strategy agency plays a pivotal role in community management. Creating engaged, active social communities can be time-consuming, and for some brands, an agency is the only way to make those communities a reality.
In the following sections, we'll delve deeper into the services offered by social strategy agencies, why choosing the right one is vital, and how SocialSellinator can unleash your brand's potential.
Understanding the Services Offered by Social Strategy Agencies
A social strategy agency is a one-stop-shop for managing a brand's entire social media presence, freeing up valuable time and resources. These agencies offer a multifaceted approach to boost your brand's presence, engagement, and overall impact on social media. Let's take a closer look at these services.
Social Media Management
Managing a brand's social media presence is no small feat. It involves planning the entire social strategy, deciding what to post, and choosing which channels to focus on. Social strategy agencies, like SocialSellinator, provide extensive social media management services, allowing brands to communicate their messages effectively across various social platforms. This involves creating a consistent posting schedule, responding to comments and messages, and staying on top of the latest trends to keep the brand relevant and visible.
Content Development
Content is king in the digital landscape, and social strategy agencies recognize this. They offer in-house content development services, producing content that aligns with the brand's voice and social strategy. This could range from blog posts and articles to infographics and videos. Agencies help brands make sense of their social media performance, developing content that resonates with their target audience and sparks engagement. With a deep understanding of SEO and keyword research, they ensure that the content reaches the right people at the right time.
Paid Social Media Advertising
With organic reach on social media platforms declining, more brands are turning to paid social advertising. Social strategy agencies can create, execute, and manage successful paid social strategies. They are constantly on top of the latest trends and algorithm updates, using those skills and knowledge to boost social engagement. This involves crafting compelling ad copies, choosing the right visuals, targeting the right audience, and monitoring the campaign's performance.
Community Management
Building active, engaged social communities can be rewarding yet time-consuming. This is where social strategy agencies step in. They help brands build and manage their online communities, fostering an environment where customers can connect with the brand and each other. This involves monitoring and moderating discussions, responding to comments, and nurturing relationships with the brand's most engaged followers.
In a nutshell, a social strategy agency takes the reins of your brand's social media efforts, ensuring that your online presence is not just maintained but elevated. Whether it's creating engaging content, running ad campaigns, or building a vibrant community, they've got it covered.
The Importance of Choosing the Right Social Strategy Agency
Choosing the right social strategy agency is akin to selecting a long-term strategic partner for your brand. They will be the custodian of your brand's reputation in the digital space, influencing how your existing and potential customers perceive you. The right agency can amplify your brand's voice, drive customer engagement, and ultimately fuel business growth. Thus, it's essential to consider the following factors while making this crucial choice.
Expertise and Experience
The first factor to consider is the agency's expertise and experience. The world of social media is dynamic, and mastering it requires more than just a superficial understanding. The agency should have a proven track record of handling social media strategies for businesses like yours. They should be well-versed in various social media platforms and stay up-to-date with the latest marketing techniques and trends.
An agency with extensive experience will have navigated through varied scenarios, learned from successes and failures, and honed their strategies over time. This wealth of real-life experience is not easy to replicate in-house and can provide a significant advantage in reaching your brand's social media goals.
Access to Top-Tier Tools and Analytics Platforms
In the digital age, data is king. A successful social media strategy is driven by data and analytics. The right social strategy agency will have access to top-tier tools and analytics platforms. These tools can provide valuable insights into your audience's behavior, track the performance of your campaigns, and inform your future strategy.
For instance, an agency like SocialSellinator leverages powerful tools like Sprout's Twitter Trends Report, which provides insights into topics and hashtags frequently mentioned with the brand. This can give you a better understanding of what your target audience is interested in discussing.
Customizable Solutions to Meet Your Business Goals
Every brand is unique, with its own distinct goals, challenges, and audience. Therefore, a one-size-fits-all approach to social media strategy is unlikely to yield optimal results. The right agency will take the time to understand your business, its objectives, and its target audience. They will then create a tailored social media strategy aligned with your specific needs.
A custom strategy can help you achieve your objectives more effectively, whether you're aiming to increase brand awareness, drive traffic to your website, generate leads, or improve customer engagement. For instance, SocialSellinator's focus on "Empowerment through Engagement," "Authentic Engagement," and "Transformative Connectivity" allows them to offer strategies that resonate with their clients' core values and address their key pain points.
In conclusion, choosing the right social strategy agency is a critical decision that can significantly impact your brand's digital success. Consider the agency's expertise, access to advanced tools, and their ability to provide tailored solutions to make an informed choice.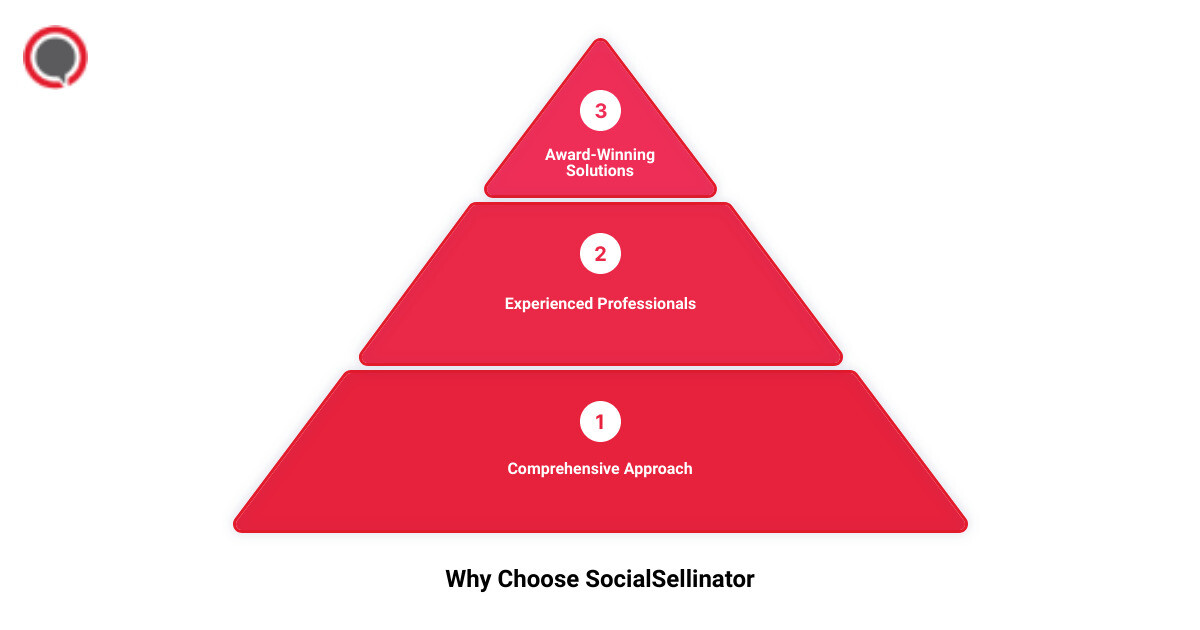 How SocialSellinator Stands Out as a Top Social Strategy Agency
In the ever-evolving digital landscape, it's crucial to partner with an agency that stays ahead of the curve, understands your unique needs, and delivers results. SocialSellinator is no ordinary social strategy agency; it's a game-changer, a partner that empowers your brand and propels it to unprecedented heights. Let's delve into what sets SocialSellinator apart.
Award-Winning Digital Marketing Solutions
SocialSellinator takes pride in delivering top-tier digital solutions that drive tangible results. With an impressive track record of assisting businesses achieve their digital marketing objectives, SocialSellinator has successfully earned the trust of its clients. Businesses like Spicely Organics and Allied Pain & Spine Institute have seen significant improvements in their social following and online visibility, thanks to SocialSellinator's dedicated and strategic efforts.
Experienced Team of Professionals
Behind every successful campaign is a team of professionals who understand the digital landscape inside out. SocialSellinator boasts a team of skilled professionals who bring a unique blend of creativity and proven results to the table. This NJ-based team is committed to ensuring global businesses soar online. With a 99% client satisfaction rate, their commitment to success is evident. Whether it's SEO optimization or content creation, this team has the expertise to drive your brand's growth.
Comprehensive Approach to Digital Marketing
One size does not fit all, especially in the realm of digital marketing. Each business is unique, and therefore, needs a tailored approach to its digital marketing strategy. SocialSellinator takes the time to understand your business, its needs, and goals. Leveraging their expertise, they create a robust digital marketing strategy that encompasses everything from search engine optimization to content marketing, social media management, and more.
Their comprehensive suite of digital marketing services is designed to meet the unique needs of small to midsize businesses. They manage everything from content curation to comment management, ensuring your social media presence is both active and effective. Their blog writing and content marketing services provide a robust foundation for all your marketing campaigns. Furthermore, their SEO services are designed to boost your Google ranking, and their well-optimized Facebook and Google Ads management services are crafted to drive sales.
In essence, SocialSellinator doesn't just promise results – they deliver them. They don't just create strategies – they transform brands. Choosing SocialSellinator as your social strategy agency is not just a choice; it's a decision to unleash your brand's potential in the digital world.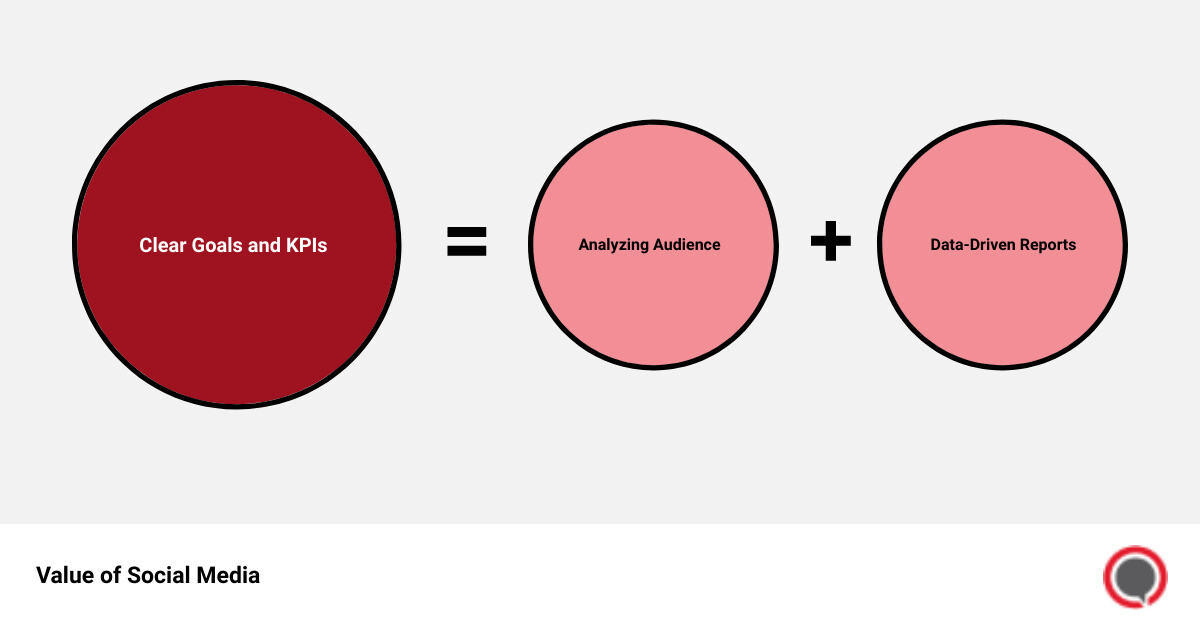 The Value of Social Media: Setting Clear Goals and KPIs
The power of social media is undeniable, but harnessing this power effectively requires a clear strategy underpinned by insightful goals and key performance indicators (KPIs). As a social strategy agency, SocialSellinator charts a roadmap for success that's tailored to your business's unique needs.
Analyzing Your Audience
Understanding your audience is the first step to creating a successful social media strategy. This involves identifying who your potential customers are, where they spend their time online, and what kind of content they engage with. By conducting a thorough audience analysis, SocialSellinator ensures that your social media campaigns are targeted and effective, maximizing your return on investment.
Coordinating with Other Agencies
Effective social media marketing does not exist in a vacuum. It works best when it is integrated with your other marketing efforts. That's why SocialSellinator places a strong emphasis on coordination with other agencies you may be working with. This ensures that your social media strategy aligns seamlessly with your overall marketing plan, creating a unified front that amplifies your brand's message.
Joining Partner Programs
Partner programs can provide valuable opportunities to extend your brand's reach and influence. SocialSellinator can guide your business in identifying and joining relevant partner programs on social media platforms. This can lead to increased brand visibility, access to new audiences, and potential collaboration opportunities.
Providing Data-Driven Reports
One of the distinguishing features of SocialSellinator's approach is their commitment to data-driven decision-making. They provide their clients with regular, comprehensive reports that reveal the performance of their social media campaigns. These reports track crucial metrics such as impressions, reach, audience growth, web traffic, sales, and leads. By analyzing these metrics, they can continuously optimize your strategy and set quantifiable goals that align with your business objectives.
In essence, the value of social media lies in its potential to drive brand awareness, generate leads, and foster customer engagement. However, realizing this potential demands a clear strategy, precise goals, and measurable KPIs. By partnering with a social strategy agency like SocialSellinator, you can ensure that your social media efforts are not just active, but actively driving your business growth.
Collaborating with SocialSellinator: A Partnership for Success
Unleashing your brand's potential requires more than just hiring a social strategy agency. It requires a partnership that fosters engagement, clear communication, and consistent progress tracking. SocialSellinator excels in creating such partnerships, ensuring that your brand is not just being promoted, but also being understood and grown.
Involving Clients in the Process
While SocialSellinator is the expert in social media management, no one knows your brand better than you do. That's why we believe in involving clients in every step of the process. This collaborative approach ensures that your brand's unique voice and message are consistently represented. It also keeps you in the loop, fostering a sense of shared ownership and alignment in every campaign.
Using a Shared Asset Library
Organization is key in managing multiple social media platforms and content types. To streamline this process, SocialSellinator uses a shared asset library of client-approved content. This not only minimizes the hassle of gaining client approval for each piece of content but also ensures a seamless and efficient publishing process. With our social tool, you can sort by media type, tags, authors, and even grant different levels of access to different individuals. This level of customization caters to your unique needs and preferences, making social media management a breeze.
Aligning on Customer Communication
Customer communication can make or break your social media presence. That's why SocialSellinator has established a workflow that ensures healthy, on-brand responses to customer messages. By submitting problematic social messages to the client as a task, we make sure that your brand's voice is consistent and that decisions are made as a team. This collaborative approach to customer communication ensures that even the most challenging situations are handled with grace and professionalism.
Providing Regular Reports
Data is the heartbeat of any successful social strategy. SocialSellinator recognizes this and provides regular, in-depth reports on your social media performance. These reports not only display metrics like audience growth and response rates, but also provide insights that can be used to fine-tune your strategy. By delivering these reports before they are even requested, we showcase our commitment to transparency and continual improvement.
In conclusion, collaborating with SocialSellinator means entering a partnership that values your input, streamlines processes, ensures consistent messaging, and delivers measurable results. With our help, your brand's potential can truly be unleashed.
Conclusion: Why Choose SocialSellinator for Your Social Strategy Needs
Entering the realm of social media can be overwhelming for any business, regardless of its size or industry. The ever-changing algorithms, the emerging trends, and the constant need for engaging content can leave even the most seasoned marketing professionals feeling out of their depth. This is where SocialSellinator steps in.
Driving Brand Success with SocialSellinator
SocialSellinator is more than just a social strategy agency. We are your partners in driving brand success. Our team of seasoned marketing professionals specializes in managing social media and digital marketing for both B2B and B2C businesses. We focus on creating engaging social media posts, crafting informative blogs, optimizing SEO, and producing eye-catching videos and graphics. With our data-driven approach, we deliver tailored programs that align with your business needs, thereby increasing brand awareness and generating leads.
With SocialSellinator at your side, you can focus on running your business while we handle the marketing strategy and execution. We ensure that your social media campaigns are not just creative and engaging but also align with your business objectives and deliver measurable results.
Customizable Solutions for Your Unique Needs
We understand that no two businesses are alike, and neither are their social media needs. That's why we offer customizable solutions designed to meet your specific goals and challenges. Whether you need full-service social solutions, campaign management, content strategy, or community management, we've got you covered.
Our flexible account structure and custom permissions make client management more scalable. This means you can customize your plan as your portfolio grows and objectives change.
A Partnership for Success
Choosing SocialSellinator means choosing a partnership that values your input and understands your unique needs. We involve our clients in the process, using shared asset libraries to streamline collaborative publishing and align on customer communication with tasking. We provide regular data-driven reports to keep you informed about your social media performance and showcase the value of our services.
Final Thoughts
In the digital arena, where attention spans are short and competition is fierce, a strong and effective social strategy can make a significant difference. Don't let the intricacies of social media overwhelm you. Let the experts at SocialSellinator handle it. We invite you to schedule a call with us today and take the first step towards creating social media campaigns that not only resonate with your audience but also drive business growth. Let's create some memorable social media moments together!