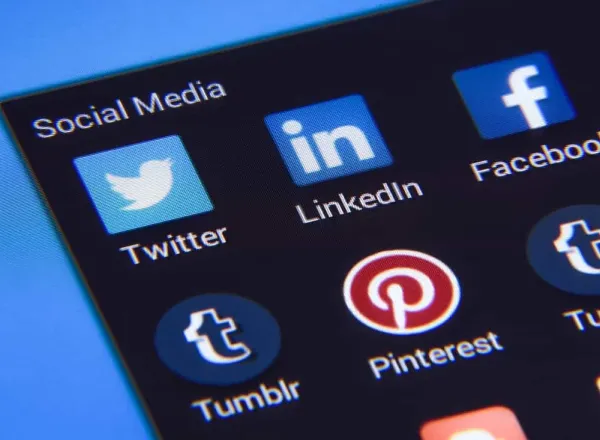 For B2B social sellers, there is one platform that is king — LinkedIn. LinkedIn is the world's largest professional social network. It boasts more than 600 million users worldwide

More than 250 million of those are logging in each month, and of those monthly active users, 40% are accessing the platform daily. LinkedIn is one of the most reliable ways to contact and develop warm conversations with B2B prospects.

Selling effectively on LinkedIn requires a subtle touch. Being able to convey the right experience, level of professionalism, and deliver this information in a well-received way requires knowledge and an understanding of your prospects. The more you practice, the better you will get.

However, you can't expect to jump right into the fray and start producing results on day one. There are some steps that you need to take to ensure that you are putting your best foot forward and presenting yourself in a way that will reflect well on your business and your brand while instilling trust in the prospects that you come into contact with.

The first of those steps is to flesh out your LinkedIn profile. Your profile is the first impression that prospects will get after coming across your status updates, receiving a message, or finding a piece of your content online.

A LinkedIn profile doubles as a virtual resume. It tells your prospects everything that they need to know about you to gain a surface level understanding of your experience and expertise. With some additional thought and flare, you can ensure that your profile conveys the right message and helps you to start new conversations off on the right foot.

So what does a well-designed LinkedIn profile for social sellers look like? Well, it's probably more complicated than you would think. There are a lot of different aspects to a great LinkedIn profile that social sellers should be leveraging to create trust and convey the right message.

If you're in the process of optimizing your LinkedIn profile, consider these tips to help put yourself in a position to build relationships and close sales on the platform, thereby giving boost to your LinkedIn Marketing Strategy.
Put Your Value Proposition in Your Headline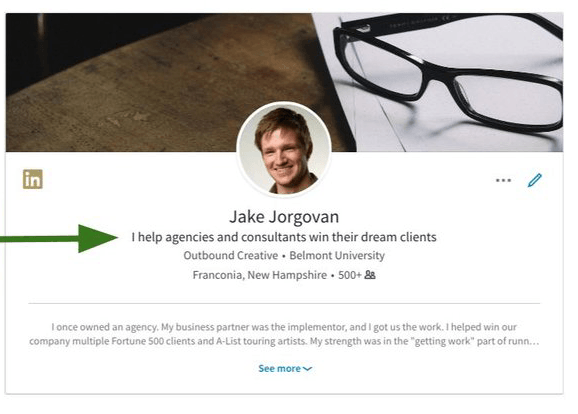 Source: Jake Jorgovan

What value do your products or services bring to your clients? That is the number one thing that you want to convey to prospects that meet on LinkedIn. So, naturally, the place where we want to put our value proposition — in the place where it will be most visible to the people that we meet.

Your headline shows up throughout the platform. It is the most visible text on your profile, located directly below your name. Whenever you engage anywhere on LinkedIn, your headline is visible. When you leave a comment on someone else's status update, your headline appears directly below your name.

Commonly, people will list their organizational titles here. That's all well and good for people that aren't trying to prospect and sell through the platform — but for social sellers, the headline is prime real estate. It gives us our best opportunity to get the value that we can create in front of clients.

Your LinkedIn headline isn't like any headline, but it should follow the standard best practices when it comes to writing headlines:
It should be specific.
It should be easy to understand.
It should elicit a reaction.
It should convey your value.
It should convey a problem that you solve.

You don't have to be overly imaginative.

Writing a compelling headline isn't all that difficult. You can browse around LinkedIn and probably find lots of people with compelling headlines that you can use as inspiration.

Here's a common, but useful headline template for LinkedIn:

I Help [the businesses you serve] Do [what you do, what outcomes it achieves]

So an example might look like this:

I Help Business Coaches Implement Marketing Automation Strategies that Grow Their Sales

You want to make it crystal clear who you help, what you do, and why they should care.
2) Have a Professional Headshot Taken

Our goal is to convey professionalism. Nothing screams a lack of professionalism quite like using a selfie for your professional picture does. Don't skimp on your LinkedIn profile picture. If you have a talented friend with a camera, you might be able to get away with making something yourself, but we would suggest that you shell out the cash to have a professional headshot taken. If you work for a company, they may be willing to pay for it.

Profiles with pictures receive a 40% InMail response rate on LinkedIn. Your photo is the first real contact that your prospects will have with you as a person. When they visit your profile, it's likely to be the first place that they look.

Strive for professionalism without being stiff. You want your professional headshot to be business-like but inviting. Make sure that you use a current photo and that the image itself is high-resolution so that your prospects won't have any reservations about doing business with your company. And most of all: make sure your photo looks like yourself. If someone meets you at an event after you first connected on LinkedIn, you want them to recognize you and not ask: "how long ago was that picture taken?"
3) Include Contact Information

As a social seller, we have to be comfortable with engaging in conversations on all social platforms. But we can't expect that all of our prospects will be just as comfortable as us. Maybe they've never used the LinkedIn messaging system before, or perhaps they just don't log in enough to feel comfortable engaging in essential business conversations through the platform. Somewhere on your profile, you should include your email address, phone number, and any contact information that you are comfortable sharing.

While you can list your email address on your LinkedIn profile and give your connections access to it, you don't want to rely on them being able to locate your email address through LinkedIn. List it somewhere visible in your summary area so your prospects can always choose to take their conversations off LinkedIn if they choose.
4) A Succinct but Effective Summary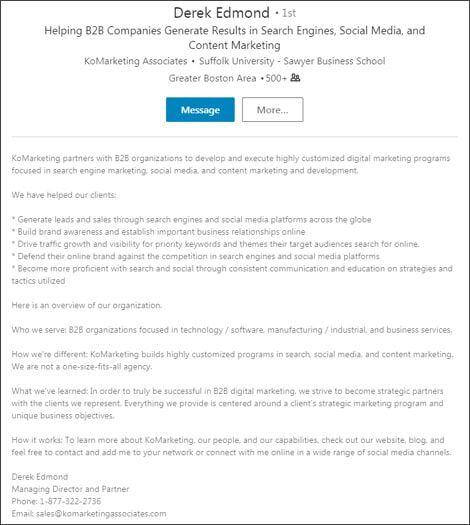 Source: LBS

You want a summary that is short, concise and conveys your value well. Generally, we feel like you should shoot for about three to four paragraphs in your resume, tops. Make sure that throughout the summary, you include keywords that potential buyers might search for on LinkedIn or even Google if your profile is publicly listed.

Here is a short outline you can use to guide your summary:
In the first paragraph, restate your headline. Share what it is that you do, who you help. How you help. And what kind of outcomes your customers can expect from working with you. Include a sentence that highlights the key benefits of your offering.
In the second paragraph, get more specific. What projects have you worked on? What were the results? What companies have you worked with?
In the third paragraph, call your prospects to action. Your call to action should convey why and how a buyer will get in touch with you and provide some insight into what the next steps will be.

An effective summary is essential. It helps to build an initial familiarity and trust in conversations and set the stage for your interaction. Following the outline laid out here will help you to keep your LinkedIn summary short, engaging, and useful.
5) Link to Helpful Content in Your Summary

If it seems relevant, you should link to it. Your summary should always include a link to your website. You have to give the people that you engage with the ability to research and get to know you on their own time. Also, add links to a portfolio, product demo pages, recent blog posts, or links to journalistic coverage of your business. Link to anything that you think will be helpful, provide the required information, or convey social proof.
6) Share Results

A compelling LinkedIn profile shouldn't just make what you do clear to your prospects, and it should also give them concrete details about how what you do helps them. If you can find a way to include them in your summary, that would be an excellent place to provide some featured results and links if applicable. Any experience that you have with known brands is worth its weight in gold when listed on your profile and website.
7) Flesh Out Your Experience Section

The experience section on LinkedIn is essentially the closest thing to a resume on your profile. Still, you should keep your ideal buyer in mind as you layout your experience. List all of the professional positions that you deem relevant and include a few sentences under each to summarize the work you did in that position. Try to list three to five primary job duties under each role. Keep your focus on the clients that you worked with and the goals that you helped them to achieve.
8) Add Degrees & Certifications

List any degrees, certifications, and courses that you have completed. This section will mean more to some prospects than others, but you must convey yourself as driven and competent. Include any relevant online courses or certifications that you have completed, mainly if they apply to the offer that you will eventually make.
9) Exchange Endorsements and Recommendations Whenever Possible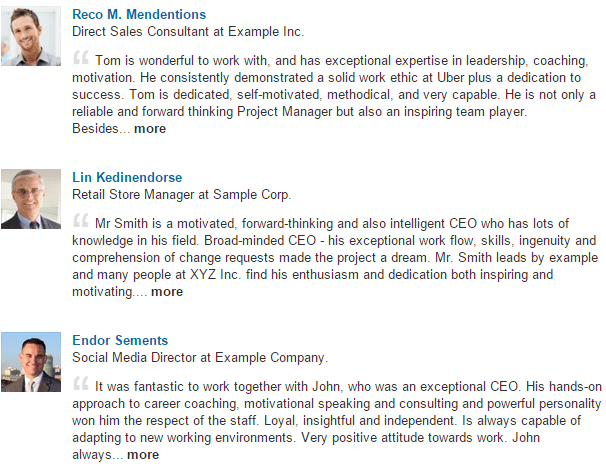 We don't have to tell you — social proof goes a long way. Those that are successful on LinkedIn are usually able to convey a lot of social proof to their clients. People interact with them and comment on their updates. They have a lot of connections and no shortage of interest whenever they jump in a conversation. But, other than the summary, there is only one direct way to include social proof on your LinkedIn profile, and that is through the "Recommendations" section. Here, other users can sign-off on skills that you have listed on your profile and leave comments about their experience working with you.

While this feature is less prominent than it used to be among most users, it still provides you with a simple and effective way to list previous experience (particularly experience as a contractor or freelancer) that is still relevant to what you are now offering.
10) Continually Add Relevant Prospects

Sure, your connections might just be a number listed on your profile, but it is essential to understand that the number functions as another form of social proof. When you know a lot of people and have a lot of relationships within your industry, it reflects positively on your business. You should continually identify and add new prospects to your profile. LinkedIn will start displaying "500+" after you reach that number, but often adding people to your network ensures that your profile will be noticed.
11) Avoid Jargon on Your Profile

You want your profile to read cleanly, with all messages conveyed clearly. For this reason, you should avoid using industry jargon throughout your profile. Say what you need to to make it clear that you have an understanding of your customer's industry, but should avoid being overly wordy or using acronyms that might be confusing to some readers. You can get to know your clients on an individual basis and better understand how they would like your engagement with them to go.
12) Join Groups
Most LinkedIn groups aren't well moderated or active. It's just a sad fact of the way that the Group feature functions. Most eventually devolve into endless self-promotion and link sharing. While some LinkedIn groups are active, well-moderated, and could provide considerable access to your ideal clients, you will have to decide about when you create your broader social media strategy.

However, the groups that you join are listed on your profile. They convey your expertise, experience, and interest in certain subjects. LinkedIn also lets people know in various places when you belong to the same group, which could make more people prioritize your conversations. Even if you don't participate, there is no reason not to at least join some of the popular groups on the platform to help you flesh out your profile.

Your LinkedIn profile serves as your home base for any prospect that wants to learn more about you. It's vital that you follow some basic best practices to not only attract your ideal clients, but convey social proof, demonstrate expertise, and show what kind of results you are capable of achieving.