Understanding Performance Marketing Agencies
In the fast-paced digital landscape, businesses across all sectors are grappling with the challenge of making a significant impact online. Low brand awareness, inconsistent lead generation, and scarcity of high-quality results often plague their digital marketing campaigns. Enter Performance Marketing Agencies, a game-changer in the realm of digital marketing.
Performance marketing agencies are specialized entities that focus on data-driven, result-oriented strategies. They operate on a pay-for-performance model, meaning advertisers and marketers only pay for successful transactions. This could be anything from a lead generated, a click on an ad, or a sale made. The goal is to achieve measurable results that directly correlate with your business growth.
Partnering with a performance marketing agency can revolutionize your digital marketing efforts. It can help you optimize your advertising budget, extend your advertising reach, diversify your revenue stream, and add a dash of innovation and creativity to your marketing. However, it's critical to properly evaluate and select the right agency that aligns with your business needs and goals.
In this guide, we'll delve deep into the world of performance marketing agencies. We'll discuss their benefits, how to evaluate them, spotlight top agencies in the USA, and share valuable insights about their operations. We'll also highlight how SocialSellinator, a leading digital marketing agency, stands out in this space.
Let's dive in and unravel the potential of performance marketing agencies to supercharge your digital marketing game.
The Benefits of Performance Marketing Agencies
In the fast-paced world of digital marketing, it's not just about getting your brand message across; it's about making every dollar count and ensuring your efforts bear fruit. Performance marketing agencies stand as a beacon of hope for businesses striving to scale their digital marketing efforts, providing a host of benefits that propel them towards success.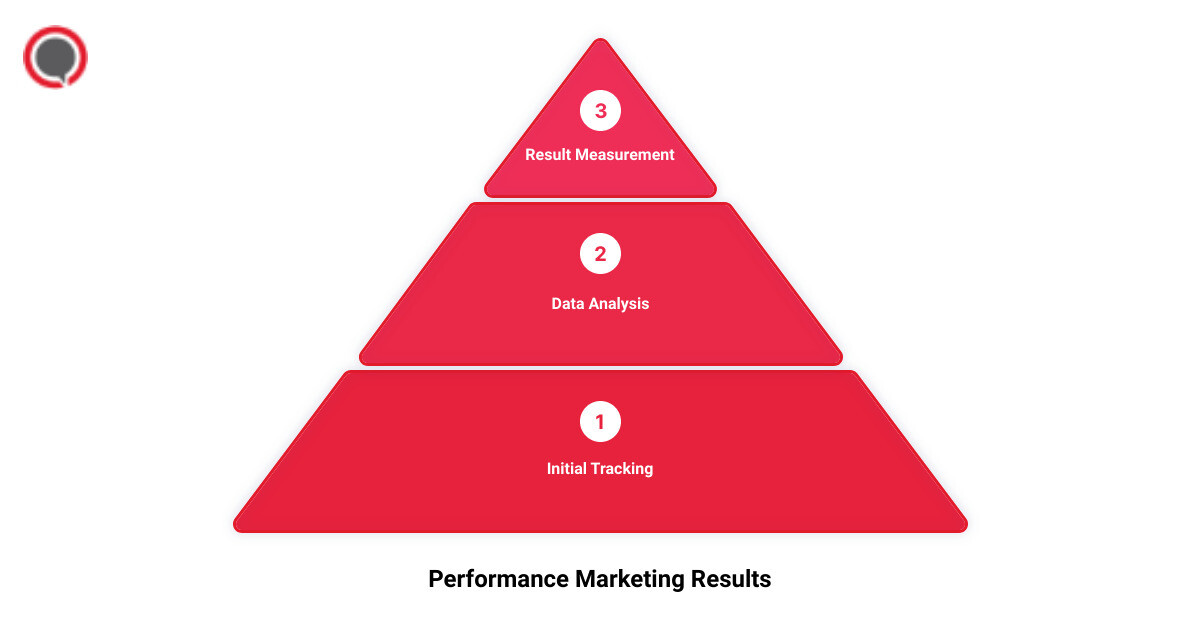 Trackable and Measurable Results
When you partner with a performance marketing agency, you're investing in a strategy that thrives on data and tangible results. Unlike traditional marketing methods where you pay for potential exposure, performance marketing allows you to only pay for successful transactions. This results-oriented approach provides you with trackable and measurable results, ensuring every dollar you spend is accounted for and contributing to your business goals. You can precisely track the performance of your campaigns and make data-driven decisions that optimize your marketing efforts.
Extending Your Advertising Reach
Performance marketing agencies can help you break free from the constraints of your in-house resources and extend your advertising reach. With their expertise and connections, these agencies can leverage various advertising platforms, such as Google AdWords and social media, to connect with your intended audience effectively. They help you extend your advertising reach, ensuring your brand message resonates with a larger audience, boosting conversions, and enhancing your online presence.
Diversifying Your Revenue Stream
In today's dynamic business landscape, it's essential to have a diversified revenue stream. Performance marketing agencies can help you achieve this by exploring and exploiting multiple advertising channels. They can tap into the power of affiliate marketing, email marketing campaigns, display ads, video ads, and much more. By doing so, these agencies help diversify your revenue stream, ensuring your business isn't overly reliant on a single source of income.
Adding Innovation and Creativity to Your Marketing
One of the key advantages of working with a performance marketing agency is the infusion of creative ideas and innovative strategies into your marketing campaigns. These agencies are a melting pot of creativity and innovation, constantly exploring new ways to engage your audience and drive conversions. They can breathe new life into your marketing efforts, adding innovation and creativity that helps your brand stand out from the competition.
In essence, performance marketing agencies offer a unique blend of benefits that can supercharge your digital marketing efforts. Whether you're an established business looking to expand your reach or a startup aiming to make your mark, these agencies are equipped with the tools and expertise to help you unleash your full potential.
Evaluating a Performance Marketing Agency
Choosing the right performance marketing agency is a critical step towards achieving your desired business outcomes. It goes beyond just checking their success stories and list of clients. Here's how to comprehensively assess potential agency partners:
Measuring Professionalism
Professionalism is the bedrock of any successful partnership. Pay attention to how promptly and professionally the agency responds to your emails and phone calls. Their level of professionalism in conducting in-person meetings is also a crucial factor. Take into account the clarity and detail of their proposal of service. An agency that provides timely, coherent, and professional communication demonstrates a commitment to delivering high-quality service.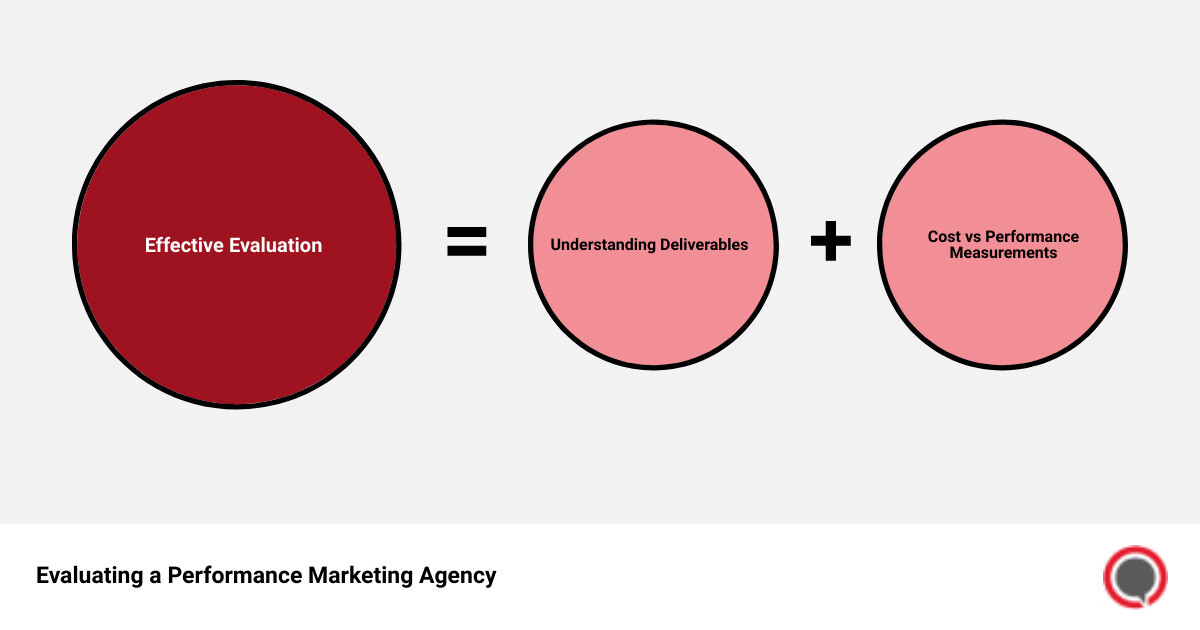 Understanding Deliverables, Cost, and Performance Measurements
Transparency should be a key attribute of your chosen agency. It's essential to ask for a contract detailing the deliverables, cost, and performance measurements. The agency must clearly articulate what they will deliver, how much it will cost, and how they will measure and report performance. It's also worth noting that a top-notch performance marketing agency will not shy away from providing a clear and detailed pricing structure, ensuring there are no hidden costs or unpleasant surprises down the line.
The Importance of a Detailed Proposal of Service
The proposal of service from a performance marketing agency should be detailed, clear, and customized to your business needs. It should ideally include their key offerings like SEO, content marketing, and digital strategy, and how these services align with your specific business goals. The proposal should also contain case studies or proofs of concept that solidify their expertise in these areas. Remember, data-informed marketing decisions offer tangible pathways to success, and your chosen agency should demonstrate this capability.
In summary, evaluating a performance marketing agency involves a thorough investigation of their professionalism, transparency, and their ability to deliver services tailored to your business needs. This rigorous evaluation will ensure you forge a successful partnership that truly suits your business needs and helps you achieve your marketing objectives.
Top Performance Marketing Agencies in the USA
On the hunt for a performance marketing agency that can deliver tangible business results? Look no further. Below we spotlight some of the top performance marketing agencies in the USA that have a proven track record of success, and are known for their innovation, creativity, and analytics-driven strategies.
As a global digital and social agency group, Viral Nation is a leader in driving growth and connection through performance and innovation. With a focus on influencer marketing, Viral Nation leverages machine-learning technologies to optimize and adapt campaigns across scales and complexities. Notable services include talent management, full-service production, strategy and creative, ambassador programs, branding, and experiential events.
Moburst
Moburst is a top-tier agency dedicated to digital and mobile-first growth solutions. They excel in innovative thinking, cutting-edge technology, and data analytics. Moburst's expertise spans organic avenues like ASO, SEO, and CRO, and they also produce creative content across social networks, influencer partnerships, and premium publisher alliances.
Disruptive Advertising
Disruptive Advertising aims to create results-based relationships with their clients by understanding their business goals. Their services include PPC management, Google Ads, email marketing, website optimization, Amazon advertising, retargeting, lead nurture marketing, and landing page design.
Thrive Internet Marketing Agency
Renowned for their expertise in online marketing solutions, Thrive Internet Marketing Agency offers comprehensive digital marketing services. They specialize in SEO, PPC, web design, social media, and content writing, ensuring your business thrives in the digital world.
Directive Consulting
Directive Consulting is a performance marketing agency dedicated to serving B2B and enterprise brands. With a focus on SEO, PPC, content marketing, and social media, Directive Consulting drives measurable success for its clients.
The Goat Agency
The Goat Agency stands out as the global leader in influencer marketing. With a data-driven approach, they deliver ROI-focused influencer strategies and campaigns to boost your brand's online presence and engagement.
Versa Marketing
Versa Marketing is a performance marketing agency that specializes in affiliate program management. They offer strategic affiliate program management services to increase your reach and generate more online sales.
Clique
Clique is a top-tier digital marketing and design agency that helps businesses elevate their online presence. Their services range from SEO and SEM to web design and development, content marketing, and more.
These agencies are just a starting point in your search for the perfect performance marketing agency. Each one brings a unique approach and specific expertise that may align with your business needs and goals. As the digital landscape continues to evolve, so does the importance of partnering with an agency that can navigate these changes and deliver measurable results.
Spotlight on Performics: A Leading Performance Marketing Agency
Stepping into the limelight, we have Performics, the performance marketing engine of Publicis Groupe. This award-winning agency is renowned for its relentless pursuit of results, expertly leveraging data and technology to deliver exceptional outcomes for its clients.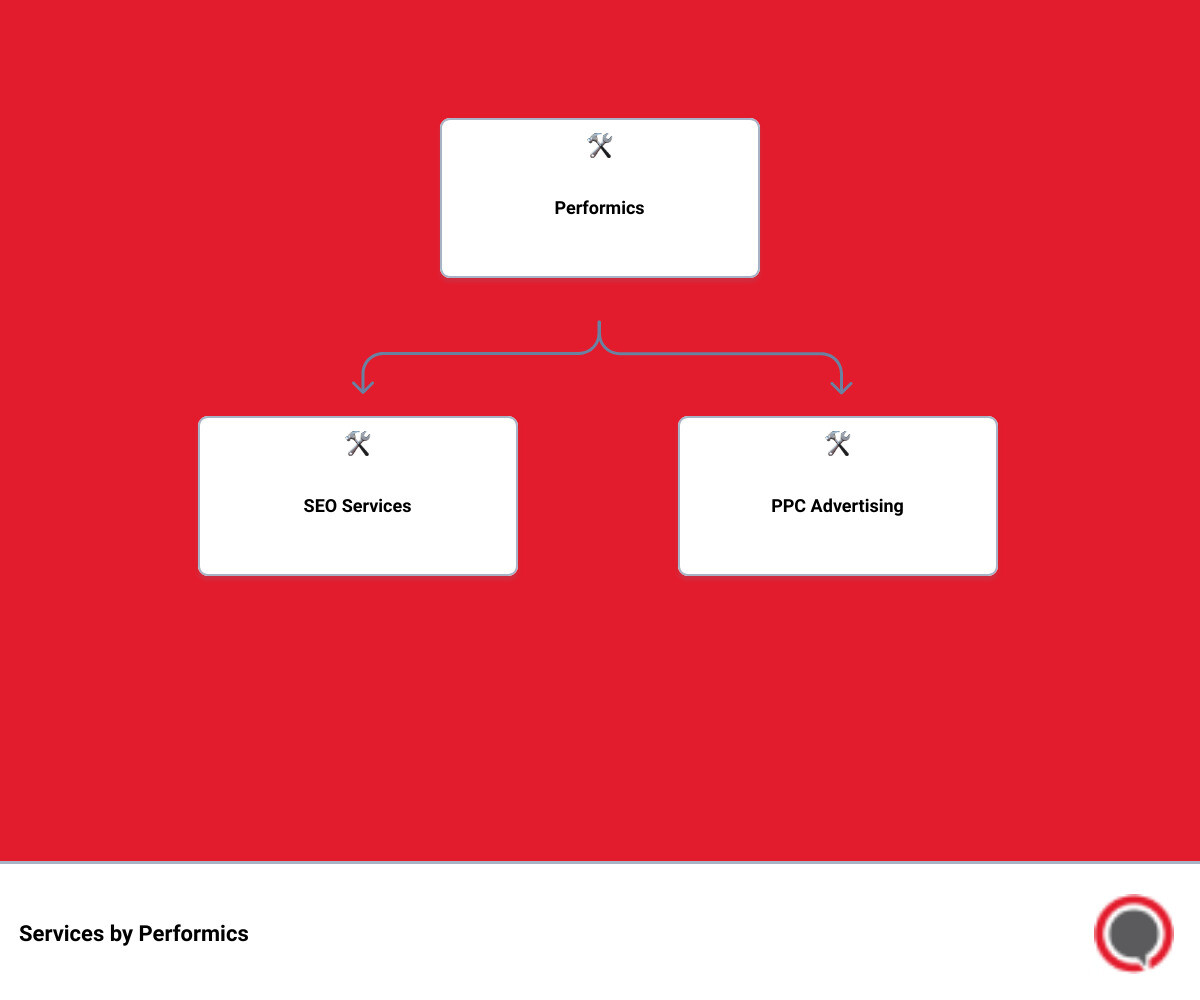 Services Offered by Performics
Performics brings a comprehensive suite of services to the table, each designed to address different aspects of the marketing spectrum. These services include performance media, performance content, planning and insights, analytics and technology, and performance consulting.
Their Performance Media service offers end-to-end digital media and commerce solutions, while Performance Content focuses on SEO, content creation, design, and conversion optimization. Their Planning and Insights service is all about uncovering digital signals that unlock brand relevance. The agency's Analytics and Technology service powers the transformation engine, and finally, their Performance Consulting service offers marketing consultancy for business outcomes.
Global Coverage and Local Expertise
Performics boasts a global presence across 57 countries with a team of 3400 experts. This extensive coverage combined with local expertise enables them to deliver efficient and effective marketing solutions to clients worldwide. Whether it's in the Americas, EMEA (Europe, Middle East, and Africa), or APAC (Asia Pacific), Performics has a team that understands the local market dynamics and can create customized strategies to drive results.
Recognition and Achievements
Performics isn't just a global player; it's also a recognized leader in its field. The agency was named a leader in The Forrester Wave™: Search Marketing Agencies, Q4 2017, a testament to their excellence in search marketing. Moreover, their innovative approach to Amazon performance was featured in AdExchanger's Programmatic IO Innovation Labs.
In their latest research, Performics found that ecommerce, gaming, and video streaming platforms lead the pack in brand trust, indicating their ability to stay abreast of industry trends and changes.
In conclusion, Performics stands out as a leading performance marketing agency with a proven track record of delivering measurable results. Their blend of global coverage, local expertise, and comprehensive services make them a formidable partner for businesses aiming to supercharge their performance marketing efforts.
As we examine the landscape of performance marketing agencies, one stands out from the crowd for its innovative and data-driven approach. Performance Marketing in Des Moines has demonstrated a mastery of the craft that offers valuable lessons for businesses seeking to leverage the power of performance marketing.
Insights-Driven Strategies for Better Connections
At the heart of Performance Marketing's approach is an unyielding commitment to insights-driven strategies. By understanding the unique needs and challenges of each client, this agency is able to craft highly personalized marketing solutions that facilitate better connections between brands and their buyers. This commitment to deeply understanding the needs of their clients echoes the values of SocialSellinator, mirroring our dedication to crafting tailored strategies that address the specific pain points of our clients.
Successful Solutions for Various Clients
Performance Marketing's client roster reads like a who's who of successful and diverse businesses. From the American Rental Association and Girl Scouts of Greater Iowa to Principal Financial Group, this agency has demonstrated its ability to work across different sectors and deliver tangible results. Their case studies reveal a track record of success in areas such as increasing rental store awareness, attracting top recruits, simplifying retirement savings for small businesses, and even making girl empowerment the "first choice."
This versatility and breadth of experience make Performance Marketing a testament to the power of a well-executed performance marketing strategy, regardless of the client's industry or size.
The Importance of Asking "Why" in Marketing
Perhaps the most noteworthy aspect of Performance Marketing's approach is their love for the question "why." This curiosity-driven approach allows them to dig deeper into the challenges their clients face and develop solutions that not only address the symptoms but also the root causes.
This focus on understanding "why" resonates with the decision-makers we serve at SocialSellinator. Our ideal buyer persona values data-driven strategies and authentic engagement, and there's no better way to achieve this than by understanding the underlying motives of their target audience.
In conclusion, Performance Marketing in Des Moines provides a compelling case study for the effectiveness of a well-planned and executed performance marketing strategy. Their success is a testament to the power of insight-driven strategies, diverse client success, and the importance of asking "why" in marketing. As we move forward in the ever-evolving digital landscape, these lessons will continue to guide businesses in achieving remarkable success in their performance marketing efforts.
How SocialSellinator Stands Out as a Performance Marketing Agency
In the vast sea of performance marketing agencies, SocialSellinator distinguishes itself as a lighthouse guiding businesses towards the shore of success. Our agency prides itself on delivering customizable digital marketing solutions, adopting a comprehensive approach to digital marketing, and demonstrating unwavering commitment to maximizing returns on investment. Let's delve deeper into what makes SocialSellinator's approach unique and effective.
Customizable Digital Marketing Solutions
At SocialSellinator, we understand that every business is as unique as a thumbprint. Our digital marketing strategies are never one-size-fits-all. Instead, we craft tailored strategies that align with your unique business objectives and marketing goals, just as we have done for a diverse range of clients, from Spicely Organics to Allied Pain & Spine Institute. Our team of experts takes the time to understand your business intricacies, enabling us to create customized solutions that resonate with your target audience and optimize your digital presence.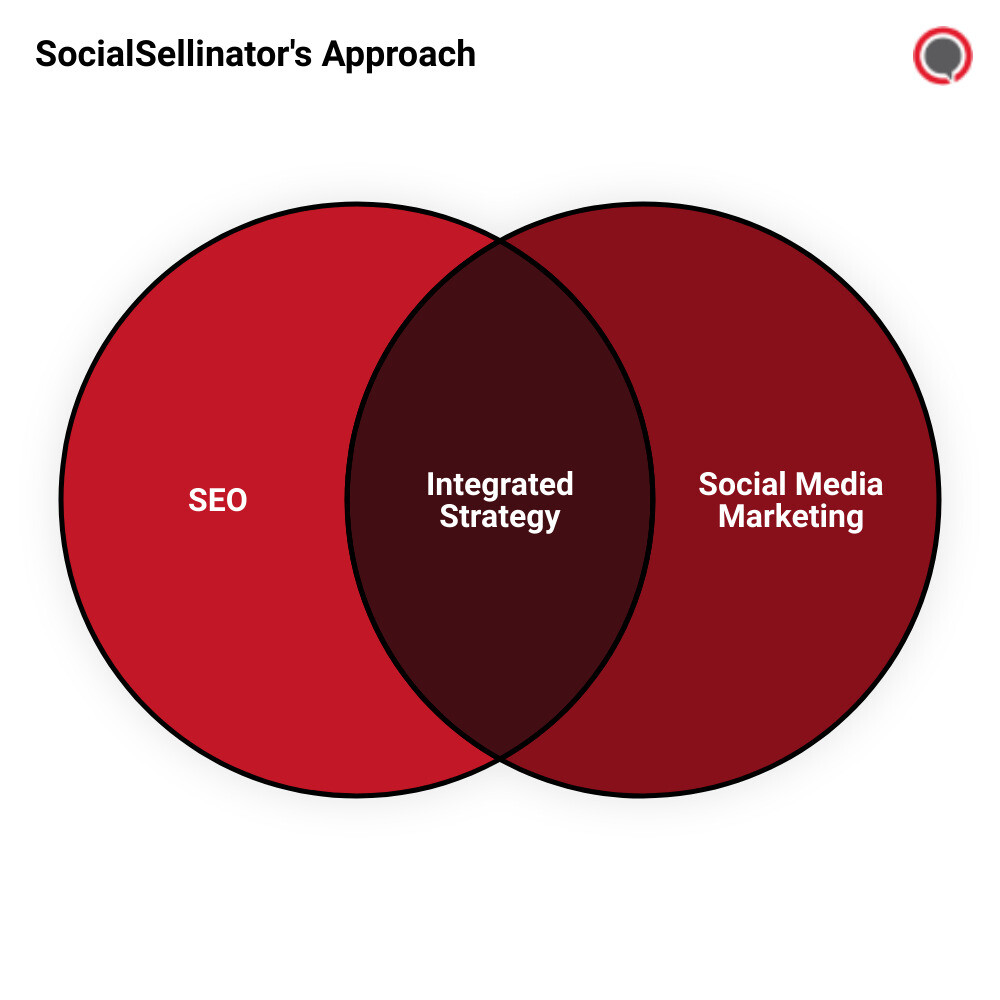 Comprehensive Approach to Digital Marketing
Navigating the digital seas requires a captain who can expertly handle every aspect of the journey. At SocialSellinator, we offer a full suite of digital marketing services. Our expertise spans across SEO, social media management, PPC campaigns, content creation, and much more. Our holistic approach ensures that all elements of your digital marketing work in harmony, resulting in a powerful, integrated strategy that drives results. From creating engaging, smart content that amplifies your brand message to growing your network to connect with key buyers, we've got your digital marketing needs covered.
Commitment to Maximizing Returns on Investment
The essence of performance marketing is its focus on measurable results. At SocialSellinator, we are committed to maximizing your returns on investment. We understand that in the realm of marketing, every dollar counts. We prioritize data-driven strategies that can be tracked, measured, and optimized for maximum performance. Our team closely monitors the performance of your campaigns, offering real-time adjustments to ensure your marketing spend is yielding the highest possible returns.
In the end, SocialSellinator isn't just another performance marketing agency. We are your strategic partner, committed to unleashing your business potential and steering your digital marketing ship towards uncharted territories of success. If you're ready to elevate your digital marketing game, SocialSellinator is your go-to solution.
Conclusion: Why Performance Marketing is Worth It
Given the various challenges and pain points faced by heads of marketing and digital marketing departments in small to midsize businesses, the importance of performance marketing cannot be overstated. It's about investing in a strategy that is both measurable and results-oriented, assuring that every dollar spent is trackable and contributes to your business objectives.
Performance marketing is the key to unlocking the door to digital success. It offers an array of benefits, from extending your advertising reach to diversifying your revenue stream. It brings innovation and creativity into your marketing strategies, enhancing engagement with your target audience. In a world where data is king, performance marketing puts you on the throne, giving you control over your campaigns and the results they generate.
When choosing a performance marketing agency, it's essential to be meticulous in your evaluation. Look for professionalism, understanding of deliverables, cost, and performance measurements. A detailed proposal of service is indicative of an agency's commitment to your success. The top performance marketing agencies in the USA, such as Performics and SocialSellinator, offer comprehensive, customizable digital marketing solutions, with a focus on maximizing returns on investment.
In this rapidly evolving digital landscape, performance marketing is not just a strategy – it's a necessity. It's about making the most out of your marketing spend, driving traffic, boosting conversions, and ultimately, growing your business. It's about harnessing the power of data to make informed decisions, optimize your campaigns, and achieve your business goals.
Performance marketing is absolutely worth it, particularly if you're looking to grow your online presence, increase brand visibility, and generate a steady stream of high-quality leads. It equips you with the insights and tools necessary to navigate the complexities of the digital world, propelling your business towards success.
To sum it up, performance marketing is the way forward. It's time to embrace this data-driven, results-oriented approach and watch your business thrive in the digital world. And with the right performance marketing agency by your side, there's no limit to what you can achieve.