Introduction: The Power of Marketing Service Agencies
In the dynamic landscape of today's business world, standing out and connecting with your target audience can be a challenging feat. This is where the power of marketing service agencies comes into play, serving as the bridge between your brand and its potential customers. Marketing service agencies, with their specialized tools, strategic relationships, and wide-ranging expertise, can turn the tides in your favor, delivering on a variety of marketing tactics that cater to your growing needs.
The power of marketing service agencies lies in their ability to adjust, evolve, and align their offerings with the growth rate of your business and the shifting sands of your industry sector. This customized approach fosters a cohesive relationship that enhances the effectiveness of your marketing strategy. As the head of marketing or digital marketing in a small to midsize business, it's essential to understand the capabilities of these agencies and harness their power to drive your business forward.
In this guide titled 'Unleashing Power: Your Guide to Marketing Service Agencies', we will delve into the world of marketing service agencies, exploring their role, functionalities, and the potential benefits they can bring to your business. Whether you're grappling with low brand awareness, revenue deficiency, or simply need quality results that align with your objectives, this guide will provide you with the insights you need to make informed decisions. Stay tuned as we unravel the power of marketing service agencies and how they can propel your business to new heights.
Understanding Marketing Service Agencies
Immersed in the hustle and bustle of managing a business, many professionals often overlook the fundamentals of leveraging marketing service agencies. As we delve deeper into the world of marketing service agencies, let's explore what they do, how they earn their keep, and why businesses increasingly turn to them for support.
What Marketing Service Agencies Do
Marketing service agencies are much like the unsung heroes of the digital world. They labor behind the scenes, crafting strategies, creating content, and running campaigns with one goal in mind: to help businesses reach, nurture, and convert users into loyal customers.
Firstly, they assist businesses in creating and managing their social media accounts, an essential factor in today's digital age. They curate relevant and engaging content that resonates with the target audience, sparking conversations and facilitating interactions. Moreover, they manage social media advertising, expertly placing ads that reach a specific demographic interested in the client's products or services.
Furthermore, these agencies offer services such as influencer marketing, community management, and crisis management. They identify influential individuals within the target market that can help drive brand awareness and customer engagement. They also build and nurture relationships with existing customers while reaching out to potential ones, creating a sense of community around the brand.
How Marketing Service Agencies Make Money
The secret sauce to a marketing service agency's revenue model lies in the diverse range of services they offer. They charge clients for services such as search engine optimization (SEO), social media marketing, content creation, and online advertising. The pricing models vary, with smaller services costing around $500 and comprehensive packages reaching upwards of $5000.
Why Businesses Hire Marketing Service Agencies
The decision to hire a marketing agency is often borne out of necessity and strategic consideration. These agencies provide businesses with a comprehensive marketing plan tailored to their budget, target audience, and goals, ensuring maximum utilization of resources.
Additionally, they alleviate the burden of learning and managing the intricacies of digital marketing. For businesses, this means more time and energy to focus on core operations, knowing that their marketing needs are in expert hands. By working with an experienced marketing agency, businesses can reach a larger audience, engage more effectively with customers, and build significant brand awareness.
In conclusion, marketing service agencies function as facilitators, enablers, and catalysts, helping businesses navigate the complex landscape of digital marketing. They are instrumental in driving business growth, enhancing online visibility, and ensuring a robust return on investment.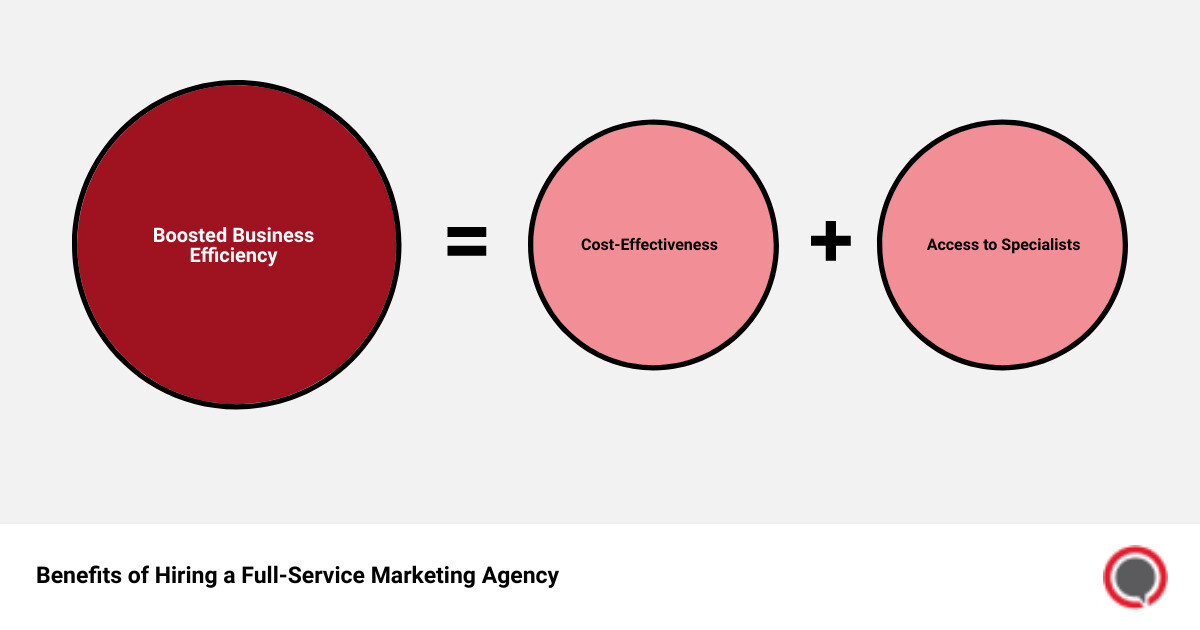 The Benefits of Hiring a Full-Service Marketing Agency
When you want to supercharge your marketing strategy and boost your brand's visibility, a full-service marketing agency comes into play as your knight in shining armor. These agencies are your one-stop solution, offering a comprehensive range of services, from content creation to social media marketing, SEO, and more. Let's delve into the significant benefits that these agencies bring to the table.
Comprehensive Marketing Strategies Under One Umbrella
Full-service agencies are your go-to for holistic and impactful campaigns. They seamlessly integrate various digital channels, including search engine marketing, content marketing, and mobile marketing. This integrated approach offers a consistent brand message across all channels and touchpoints, enhancing your brand visibility and identity.
Hiring a full-service agency is more cost-effective than maintaining an in-house team. You avoid the expenses associated with hiring, training, and providing benefits to in-house staff. Moreover, their performance-driven approach assures you that your marketing dollars are well spent, thereby boosting your return on investment (ROI).
Access to Latest Trends, Technologies, and Software
These agencies stay on top of the latest trends and technologies, ensuring your brand remains competitive in the ever-evolving digital landscape. They utilize advanced tools and software to target the right customers, at the right time, with the right offers. This access to cutting-edge technology is a game-changer, fostering innovation and accelerating growth.
Experience Across Various Industries
A full-service agency brings a wealth of experience across diverse industries to the table. They have the data to prove which campaigns are most effective for your industry, making them highly resilient and capable of driving your strategy forward. This experience translates into better strategies and ultimately, better results.
Scalability Based on Business Needs
With a full-service agency, you can scale your efforts up or down based on your business needs. Whether it's the launch of a new product or a seasonal demand change, these agencies adapt swiftly, saving you costs and ensuring efficient use of resources.
Access to Specialists with Diverse Skillsets
Full-service agencies are a pool of specialists. Whether it's SEO, content, social media, branding, or paid ads, they have experts for every discipline. This diverse expertise ensures your campaign needs are met, without overstretching your in-house team.
Quantifiable Results and Focus on ROI
These agencies are data-driven. They measure all metrics to see what is working and where the ad spend does the most good. This approach allows them to fine-tune their strategy based on your results, ensuring you get true ROI.
Fresh Perspectives and Creativity in Marketing Campaigns
A full-service agency brings fresh ideas and perspectives to your marketing. They can breathe new life into tired campaigns and find key new opportunities for your brand to grow. This infusion of creativity can take your marketing to the next level.
Continuity and Support During Work Overflow or Staff Turnover
Agencies can quickly step in during times of peak demand or staff turnover, providing consistency for your brand message. They ensure seamless operations and optimize your campaigns, making sure the value goes straight to you.
Complementing Existing Marketing Departments for Efficiency
Full-service agencies can complement your existing marketing department, dividing and conquering promotional projects. This division of labor enables your staff to be more efficient and supercharges your marketing strategy for effective results.
In the end, the benefits of hiring a full-service marketing agency are manifold. Their expertise, adaptability, and comprehensive approach make them an invaluable asset for your brand's growth and success.
The Role of Digital Marketing in a Marketing Service Agency
In today's digital-first world, marketing service agencies have a broader mandate. They're no longer limited to traditional methods of advertising and promotional tactics. The advent of the internet and the proliferation of social media platforms have significantly transformed the marketing landscape. As such, digital marketing has emerged as a critical component of a marketing agency's service portfolio. Let's explore the wide array of digital marketing services offered by these agencies and how they contribute to your business growth.
The Importance of SEO, PPC, and Social Media Marketing
When it comes to digital marketing, three elements are fundamental: Search Engine Optimization (SEO), Pay-Per-Click (PPC) advertising, and Social Media Marketing. SEO improves your website's visibility on search engine result pages, driving organic traffic to your site. On the other hand, PPC involves paid advertisements that boost your visibility and reach a wider audience. Lastly, social media marketing leverages different platforms to engage your target audience, build your brand, and drive sales.
The Power of Data-Driven Campaigns
The beauty of digital marketing lies in its measurability. Marketing service agencies use Key Performance Indicators (KPIs) like website traffic, conversion rates, leads generated, click-through rates, and social media engagement to measure campaign success. By analyzing these metrics, agencies can tweak and optimize the strategies to achieve your business goals.
The Impact of Web Design and Development
A functional, user-friendly website is the cornerstone of your online presence. Agencies offer website design and development services to ensure your site is not only visually appealing but also easy to navigate, enhancing user experience and boosting conversion rates.
The Role of Online Reputation Management and Content Writing
In the digital age, your online reputation can make or break your business. Online reputation management services offered by agencies help you build a positive online image, manage negative feedback, and maintain a strong brand reputation. Additionally, content writing services involve creating valuable, SEO-optimized content to attract and engage your audience.
The Significance of Video Production and Conversion Rate Optimization
Video production has emerged as a powerful marketing tool, with audiences increasingly preferring video content over text. Marketing service agencies create engaging videos that tell your brand story, promote your products, or educate your audience. Meanwhile, Conversion Rate Optimization (CRO) services focus on improving your website or landing page to increase the percentage of visitors who convert into customers.
In a nutshell, digital marketing is a multifaceted discipline that encompasses a broad range of tactics and strategies. By leveraging these services, marketing service agencies like SocialSellinator can help your business reach its target audience more effectively, nurture leads, and ultimately drive growth and profitability.
SocialSellinator: A Top Digital Marketing Agency
Your path to sustained digital success begins here. SocialSellinator is a premier digital marketing agency that understands the unique challenges faced by marketing heads in small to midsize businesses. We offer a suite of customizable solutions tailored to address these challenges and meet your business goals.
Customizable Solutions for Digital Marketing Needs
SocialSellinator goes beyond one-size-fits-all solutions. We take pride in offering a wide array of services tailored to address your specific needs and objectives. From Search Engine Optimization (SEO) to Social Media Marketing, Website Design, Content Creation, Automation, and Analytics, we have you covered.
The Use of Latest Technology and Cutting-Edge Strategies
We are committed to staying updated with the constantly evolving digital landscape. Our team employs the latest technology and cutting-edge strategies to ensure that your business remains at the forefront of digital innovation. This approach allows us to provide our clients with a competitive edge, helping them outshine their competitors.
Comprehensive Approach to Digital Marketing
At SocialSellinator, we believe that successful digital marketing requires a comprehensive approach. This includes a blend of SEO techniques supplemented by PPC ads to increase your business's online footprint. We also manage promotional drives on social media networks, targeting specific geographical locations and audiences to maximize engagement and conversions.
Boosting Visibility and Increasing Bottom Line
We focus on creating and implementing strategies that not only increase your online visibility but also significantly impact your bottom line. Our data-driven approach ensures your campaigns are optimized for maximum efficiency and return on investment. We aim to attract high-quality traffic to your website, generate valuable leads, and ultimately, drive revenue growth.
Website Design, Content Creation, Automation, and Analytics
Your website is your online storefront, and with our website design services, we ensure that it is not only visually appealing but also user-friendly. We provide engaging, SEO-friendly content that resonates with your audience. Our automation services streamline your marketing processes, saving you time and resources. Additionally, our analytics services track, measure, and analyze your digital marketing performance for continuous optimization.
Maximizing Returns on Investment and Exceeding Customer Expectations
Our ultimate goal is to maximize your return on investment. We understand that every dollar spent on marketing needs to show a return. That's why we focus on KPIs that directly correlate with business growth rather than vanity metrics. We strive to exceed customer expectations by delivering exceptional results that drive revenue growth.
In essence, SocialSellinator is more than a digital marketing agency; we are your strategic partner in achieving online success. We understand your challenges, share your goals, and work tirelessly to help your business thrive online.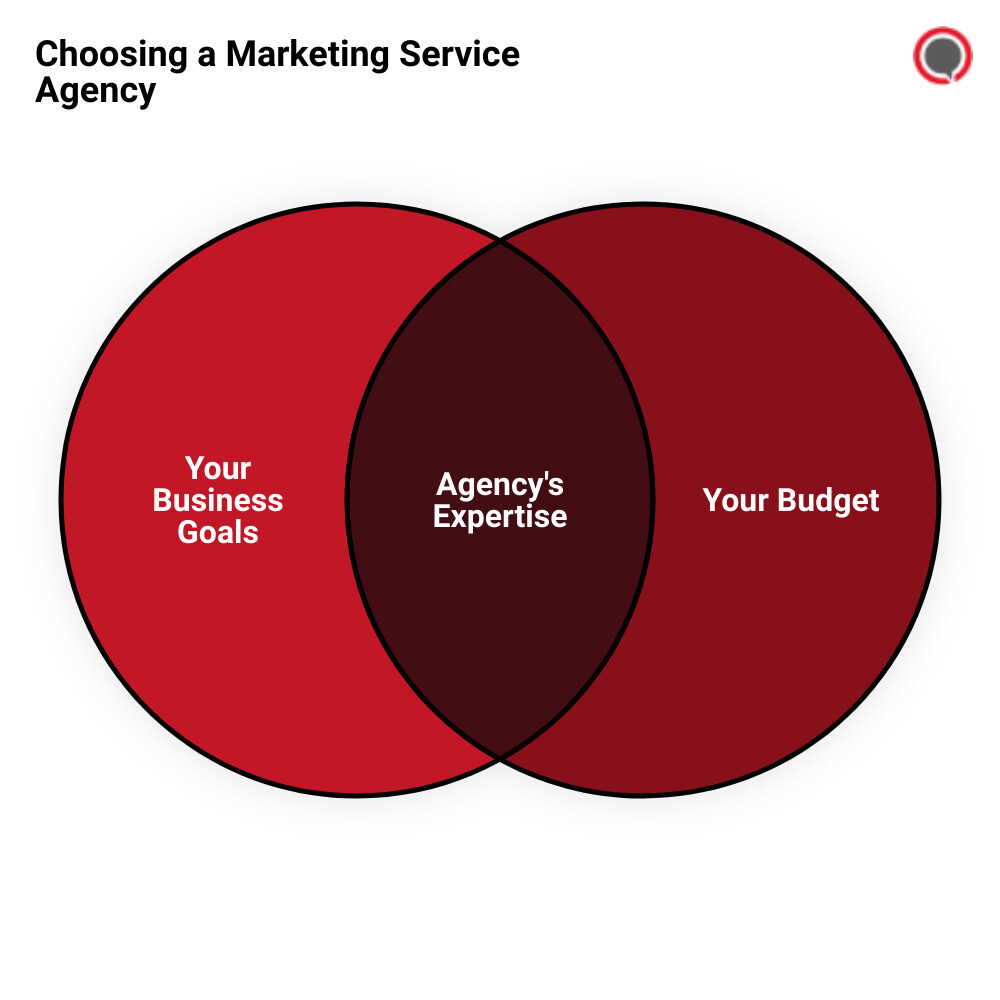 Choosing the Right Marketing Service Agency
Unleashing the power of a marketing service agency starts with choosing the right agency for your business. With countless agencies to choose from, how do you zero in on the one that will propel your business to new heights? Here's your guide to making that crucial decision.
Identifying a Successful Digital Marketing Company
The digital landscape is teeming with agencies promising to revolutionize your marketing efforts. But you need more than just promises; you need proven success. A successful agency has a consistent track record of delivering results. Look for agencies that exhibit case studies, customer testimonials, and industry recognition as evidence of their expertise.
For instance, if you're interested in SEO, the agency should be able to demonstrate how their strategies have led to increased organic traffic and higher search engine rankings. If you're more inclined towards social media management, the agency should have an impressive history of growing social followings and boosting customer engagement.
The Importance of Assessing Your Needs and Aligning with Your Goals
Before you can find the right marketing service agency, you need to have a clear understanding of your business needs. Determining your objectives and how marketing can help you achieve them is crucial. Whether you're looking to improve brand awareness, generate leads, boost website traffic, or increase sales, these goals will guide your search for an agency that can deliver.
Understanding your target audience's demographics, interests, and online behavior is also key to designing an effective digital marketing strategy. Identifying the digital marketing skills your team lacks can help you pinpoint an agency that has the specific expertise you need.
The Need for Transparent Reporting
Transparency is a cornerstone of any successful partnership. The right marketing service agency should provide clear, regular updates on the progress of your campaigns. Look for an agency that values collaboration, takes the time to understand your business, and customizes their strategies to align with your specific goals.
At SocialSellinator, for example, we believe in full transparency with our clients. We provide regular updates, are open to feedback and have account managers ensuring the success of campaigns on a daily basis.
The Value of Competitive Pricing Tailored to Your Budget and Needs
Finally, cost and budget play a significant role in choosing a marketing service agency. The right agency can greatly influence the success of your business's digital marketing efforts without breaking the bank. Look for agencies that are upfront about their pricing structures and offer cost-effective strategies that guarantee value for money.
Remember, a 'cheap' service may not deliver the results you need. Instead, focus on finding a service that provides the best value for your investment.
In the end, choosing the right marketing service agency is a strategic decision that can bring transformative results to your business. By considering these factors, you can find an agency that not only meets your needs but also aligns with your vision and goals.
Conclusion: Unleashing the Power of Marketing Service Agencies
In the dynamic digital landscape, where customer preferences and market trends shift at an unprecedented pace, businesses need a partner who can navigate through the complexity and deliver effective, growth-driving strategies. This is where full-service marketing agencies like SocialSellinator come to the fore.
These powerhouses of marketing services offer a holistic approach, covering all aspects of digital marketing, from SEO, PPC, social media marketing, to web design and development, content creation, and much more. They have the expertise, resources, and strategic vision to help businesses of all sizes, from startups to established enterprises, to unleash their potential and achieve their marketing objectives.
With their diverse skillsets, data-driven strategies, and focus on ROI, marketing service agencies can create and execute comprehensive marketing campaigns that boost brand visibility, generate high-quality leads, and ultimately enhance the bottom line. They can provide fresh perspectives, creativity, and continuity in marketing efforts, while their scalability allows them to adapt their services in line with the growth and evolving needs of your business.
Moreover, these agencies harness the latest technologies and software, enabling them to stay ahead of the curve and ensure your marketing efforts are in sync with the latest trends. Their experience across various industries equates to a deep understanding of market dynamics and customer behavior, which can be leveraged to tailor campaigns that resonate with your target audience and drive engagement.
Choosing a marketing service agency is indeed a strategic move that can empower your business to not only survive but thrive in the competitive digital realm. With agencies like SocialSellinator, you can be assured of a partner that is committed to your success, providing you with customizable solutions, transparent reporting, and competitive pricing tailored to your budget and needs.
In conclusion, the power of marketing service agencies lies in their ability to seamlessly integrate multiple marketing services under one umbrella, delivering cohesive strategies that amplify your brand's online presence and drive business growth. By partnering with a reputable agency, you can focus on your core operations while they handle your marketing, thus unleashing the full power of digital marketing for your business success.