Introduction: The Power of Digital Media Marketing
In a world where digital presence is not just an option but a necessity, the power of digital media marketing is undeniable. It's the driving force behind increasing brand visibility, engaging with target audiences, and ultimately, fueling business growth. As a digital media marketing company, we understand the transformative potential of robust digital strategies, and we leverage this knowledge to deliver results.
For heads of marketing navigating the digital landscape, the challenges are manifold. From enhancing brand awareness to generating high-quality leads, the demand for effective and data-driven marketing solutions is ever-increasing. This is where the role of a digital media marketing company like SocialSellinator comes to the forefront.
In this article, we take a deep dive into the world of digital media marketing, exploring its power and potential, understanding the role of digital marketing companies, and revealing why SocialSellinator is the go-to solution for businesses looking to unleash the power of digital media marketing.
With our expertise in SEO, content marketing, social media engagement, and more, we're here to guide you towards marketing success. Whether you're aiming to build brand identity, optimize your website for user experience, or generate engaging content, we've got you covered. After all, in the rapidly evolving digital world, staying ahead of the curve is not just about survival—it's about thriving. Let's embark on this journey of digital transformation together.
Understanding Digital Media Marketing Companies
Stepping into the digital marketing realm can feel akin to navigating a labyrinth. It's filled with twists, turns, and an array of strategies that can be overwhelming. This is where digital media marketing companies come into play.
What is a Digital Media Marketing Company?
A digital media marketing company is a specialist firm that focuses on marketing to consumers through digital channels. It crafts and launches campaigns for businesses across various platforms such as social media, pay-per-click advertising, videos, and websites, among others.
These companies are your trusted partner in the bustling world of online advertising and brand promotion. They offer a blend of expertise, technical capabilities, and strategic approach to help your brand outshine others in the digital sphere. For instance, a small bakery looking to increase its online presence might employ methods like Instagram advertising, Google AdWords, and email marketing, all under the guidance of a digital marketing agency.
The Role of a Digital Media Marketing Company in Business Success
In today's digital age, the role of digital media marketing companies in driving business success is becoming increasingly evident. They play a pivotal role in capitalizing on the benefits of Search Engine Optimization (SEO), enabling businesses to attract customers they might not have reached otherwise.
Understanding your brand and its unique value proposition is only half the battle. The real magic happens when these companies tailor your marketing strategies to resonate with your target audience. They not only help establish a solid online presence but also provide meaningful engagement that satisfies customers and enhances brand reputation.
By arming your business with a carefully crafted digital strategy, they turn the complexity of the digital world into an opportunity for unprecedented success. These agencies adapt to the ever-changing online landscape and harness digital strategies to drive business growth.
In a nutshell, digital media marketing companies are the unsung heroes who pull the strings behind the scenes, ensuring that your business not only survives in the digital realm but thrives. You're not just enhancing customer relationships; you're building new ones, scaling engagement, and effectively propelling your business toward success.
Are you ready to unleash the power of digital marketing and outrun your competition? Now's the time to embrace the expertise of a digital media marketing agency.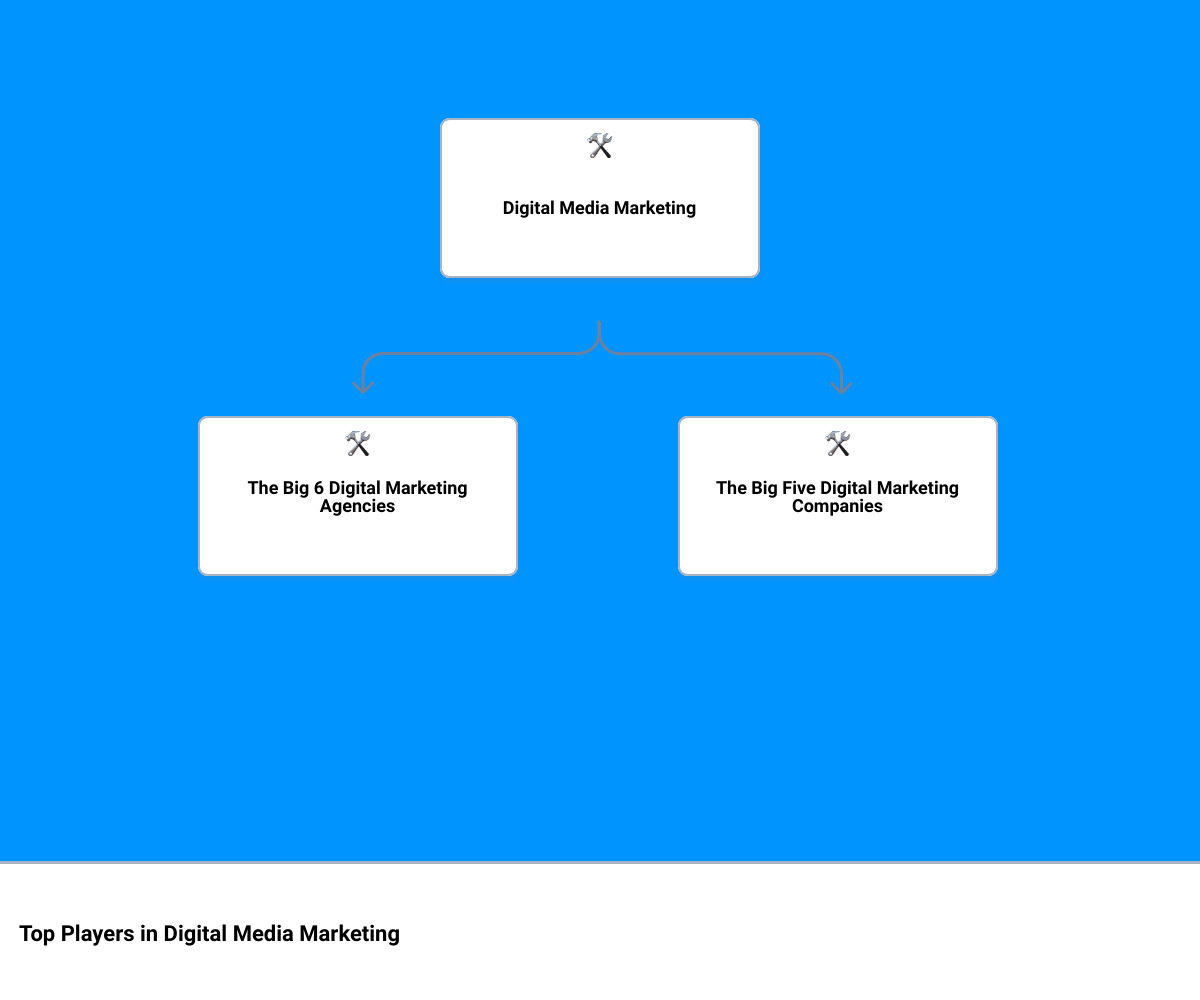 The Top Players in Digital Media Marketing
Navigating the digital marketing landscape can be daunting, given the multitude of agencies claiming to offer the best solutions. However, a few names consistently stand out, delivering groundbreaking results that redefine the industry standards.
The Big 6 Digital Marketing Agencies
In the realm of paid media, the "Big 6" digital marketing agencies reign supreme. These include WPP, Omnicom Group, Publicis Groupe, Dentsu, Interpublic, and Havas. These agencies are the powerhouses behind impactful social media campaigns for global entities like Apple, Disney, the NFL, Spotify, and United Airlines. Their innovative strategies and extensive reach set them apart from the competition.
The Big Five Digital Marketing Companies
If we take a closer look at the digital landscape, we find the "Big Five" digital marketing companies - WPP, Omnicom Group, Publicis Groupe, Dentsu Inc., and Interpublic Group. Not to be confused with the Big 6, these agencies are the largest holding companies owning numerous subsidiary agencies worldwide. Their collective expertise and global perspective allow them to deliver results that transcend geographical boundaries and industry norms.
SocialSellinator: A Leading Digital Media Marketing Company
Among the top-notch digital marketing agencies catering to small and midsize businesses, SocialSellinator holds a prominent position. This agency is the go-to choice for heads of marketing departments grappling with the challenges of digital marketing. Their comprehensive suite of digital marketing services, including social media marketing, content creation, PPC campaigns, and SEO optimization, is tailored to meet the specific needs and objectives of their clients.
SocialSellinator's focus on "Empowerment through Engagement," "Authentic Engagement," and "Transformative Connectivity" resonates with decision-makers valuing genuine interactions, data-driven strategies, and a return on every marketing dollar spent.
When it comes to digital media marketing, these players set the bar high. However, it's crucial to select a partner that aligns with your business's unique needs and goals. After all, the power of digital marketing lies in its ability to be customized to your specific requirements. With the right partner, the sky's the limit.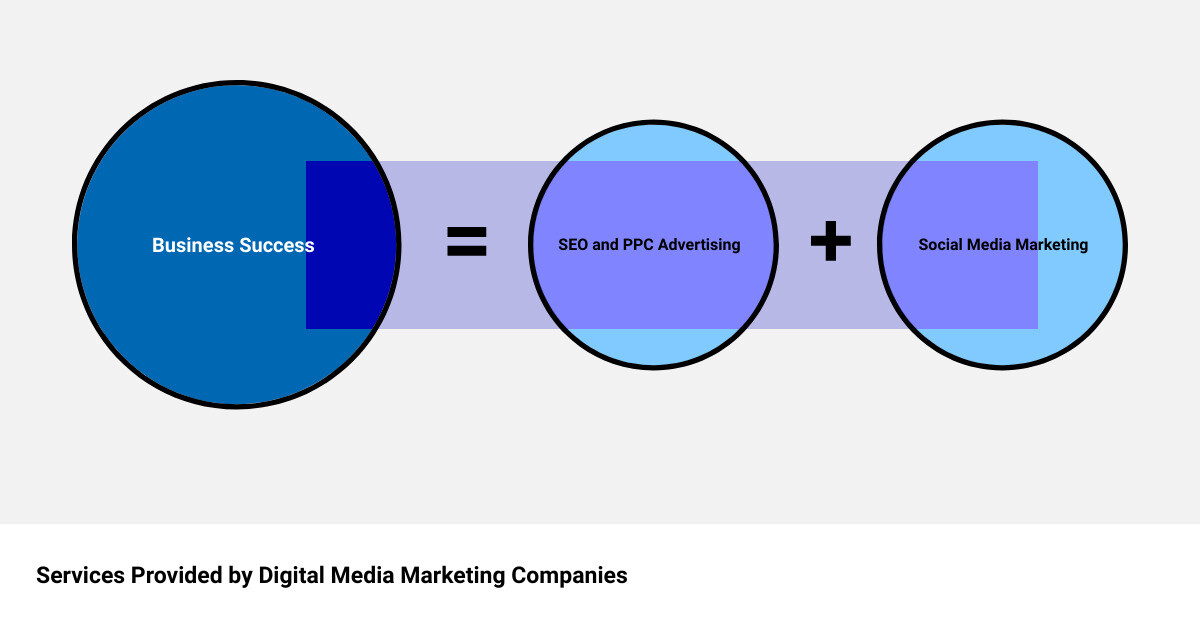 The Services Offered by Digital Media Marketing Companies
To harness the power of digital marketing effectively, it's crucial to understand the range of services provided by agencies. Recognizing these services can help you align the right strategies with your business goals and needs.
SEO and PPC Advertising
Search Engine Optimization (SEO) and Pay-Per-Click (PPC) advertising are two pillars of a robust digital marketing strategy. SEO is the art and science of optimizing your website and its content to rank higher on search engine results, thereby increasing your visibility to potential customers. On the other hand, PPC is a digital marketing model where advertisers pay a fee each time one of their ads is clicked. This service can bring instant traffic to your website and is an excellent strategy for businesses seeking quick results.
Social Media Marketing
Social media platforms are more than just networking sites; they are powerful marketing tools that can significantly enhance your brand awareness and customer engagement. A digital marketing agency can manage your social media platforms, create and share valuable content, engage with your audience, and monitor your brand's online reputation.
Web Design and Content Creation
Your website is often the first impression potential customers have of your brand. Hence, having a professional, user-friendly website is crucial for any business. Web design and development services encompass creating a visually appealing and easy-to-navigate website that enhances user experience and encourages them to take action. In conjunction, content creation is an essential service that involves creating valuable, relevant, and consistent content to attract and retain a clearly defined audience.
Reputation Management and Conversion Optimization
Online reputation management entails monitoring and managing a brand's online presence and reviews. It ensures that a positive brand image is maintained across digital platforms. On the other hand, Conversion Rate Optimization (CRO) involves enhancing elements on a website to increase the percentage of visitors who take desired actions, such as making a purchase or signing up.
In a nutshell, these key services offered by digital marketing agencies combine to form a comprehensive digital marketing strategy. It's vital to remember that not all services may be relevant to your business. The trick lies in understanding your specific needs, business objectives, and customer behavior, and tailoring a strategy that uses the right mix of these services.
Why Choose SocialSellinator as Your Digital Media Marketing Partner
In the bustling digital realm, finding the right partner to steer your marketing efforts can be a challenge. However, SocialSellinator shines as an optimal choice. As an agency, SocialSellinator is committed to taking your business to new heights with its award-winning digital marketing solutions, customizable strategies, and experienced team.
Award-Winning Digital Marketing Solutions
At the core of SocialSellinator's operations is a commitment to delivering top-notch, data-driven digital marketing solutions. The agency has a track record of boosting online presence, generating leads, and increasing revenue for various businesses. Their unique blend of content creation and network growth has proven to be effective in outperforming competitors and connecting businesses with key buyers. With SocialSellinator, your business benefits from increased brand awareness and a steady stream of new leads, customers, and revenue.
Customizable Strategies Tailored to Your Business Goals
What sets SocialSellinator apart is their ability to customize strategies to meet each business's unique needs. The agency's suite of digital marketing services, including SEO, social media management, content marketing, and paid social media campaigns, are tailored to your business objectives. Whether you're a startup or an established business, SocialSellinator offers solutions that align with your vision and goals. They go beyond just delivering services, they ensure your brand is represented positively and your marketing campaigns have a robust foundation.
Experienced Team Committed to Your Success
Choosing SocialSellinator as your digital marketing partner means you're not just hiring a service provider; you're gaining a dedicated team committed to your success. The team has demonstrated expertise in translating business needs into effective marketing tactics. They're flexible, responsive, and have a knack for creating engaging and unique content that resonates with your prospects. With their unrivaled customer support and attentiveness to specific business needs, SocialSellinator ensures a prosperous and long-lasting relationship with their clients.
In a nutshell, SocialSellinator is more than a digital marketing agency. They're your strategic partner, dedicated to propelling your business to the forefront of the digital landscape. With their award-winning solutions, customizable strategies, and experienced team, your path to digital success is clear. It's time to take that step forward with SocialSellinator.
Conclusion: The Game-Changing Impact of Digital Media Marketing on Business Success
In the digital age, business success hinges on the ability to effectively leverage digital channels to engage audiences, build brand visibility, and drive conversions. Indeed, the power of digital media marketing cannot be overstated. It provides a direct line of communication with your target audience, offering unique opportunities to build relationships, foster engagement, and promote products and services.
The role of a digital media marketing company in business success is thus pivotal. Whether it's the Big 6 or the Big Five digital marketing companies, these agencies have demonstrated their ability to spearhead successful campaigns that enhance brand visibility and drive sales. However, it's not about choosing the biggest name, but rather the agency that best meets your unique needs and goals.
Here, SocialSellinator stands out as a leading digital media marketing company. They understand the challenges faced by heads of marketing and digital marketing departments in small to midsize businesses. With their comprehensive suite of digital marketing services, they provide a holistic approach that's tailored to meet your specific needs. Their focus on authentic engagement, data-driven strategies, and ROI resonates with the core values of their clients, addressing their key pain points and driving business growth.
To sum up, the impact of digital media marketing on business success is game-changing. It's about using the right strategies, creating compelling content, and leveraging data to make informed decisions. With a strategic partner like SocialSellinator by your side, you can harness the power of digital media marketing to propel your business to new heights. So here's to your digital marketing success - may your strategies be effective, your results be impressive, and your journey be rewarding.