Introduction
In an era where "out of sight, out of mind" has never been more accurate, digital marketing has become an essential lifeline for businesses of all sizes. This critical tool allows companies to extend their reach, engage with customers, and improve their bottom line, all within the digital space—a realm where consumers are increasingly turning their attention. Amid these dynamics, the search for 'digital marketing firms near me' has grown exponentially as businesses seek to bolster their online presence and stay ahead in the competitive digital landscape.
The Importance of Digital Marketing in Today's Business Landscape
Today, the digital landscape no longer allows businesses the luxury of a brick-and-mortar-only approach. Instead, a robust digital presence has become a prerequisite for success. Small businesses, in particular, can level the playing field with larger competitors through digital marketing, even with a relatively modest investment. But the advantages don't stop there.
Digital marketing excels in areas where traditional marketing methods hit roadblocks. Specifically,
It provides clear metrics for measurability and tracking your ROI, enabling continuous refinement of your strategy,
It offers highly targeted marketing opportunities, allowing businesses to create personalized campaigns that resonate with their audience,
It provides global reach without breaking the bank.
In essence, the world we live in today demands digital savviness—not as an optional extra, but as a vital component of business operations.
The Role of Digital Marketing Agencies in Business Growth
Digital marketing agencies are the sherpa guiding businesses through the complex terrain of the digital world. Their expertise and experience equip them with the tools necessary to navigate the often intricate path of digital marketing. Be it SEO-optimized content writing, video production, pay-per-click advertising, or reputation management, agencies like us at SocialSellinator provide a suite of services tailored to your business needs.
Our specialized knowledge enables us to help enhance your online visibility, connect authentically with your target audience, protect and improve your brand reputation, and ultimately drive tangible, long-term results and revenue growth for your business.
Common Services Provided by Digital Marketing Agencies
As you set out in search of 'digital marketing firms near me', it's vital to understand the range of services these agencies typically offer:
Web Design & Development
Pay-Per-Click management
Video Production
Content Writing
Online Reputation Management
Conversion Optimization
Amazon Marketing
An effective digital marketing agency will help you navigate through these services, charting the best path forward that aligns with your business goals and resonates with your target audience. Choosing the right digital marketing agency can be transformative for your business, providing an immediate boost where needed and setting up long-term strategies for sustainable growth.
Understanding the Average Fee for a Digital Marketing Agency
Embarking on the journey of digital marketing can seem daunting, especially when considering the associated costs. However, understanding the fee structure of digital marketing agencies can demystify the process and help you make informed decisions.
Breakdown of Costs for Ongoing SEO Services
SEO, or Search Engine Optimization, is a critical aspect of digital marketing. It's the process of optimizing your website and online content to improve visibility in search engine results, ultimately driving more organic traffic to your site. The average cost for ongoing SEO services from a digital marketing agency can range anywhere between $1,000 to $7,500 per month. This cost variation largely depends on the scope and complexity of your SEO strategy.
At SocialSellinator, we understand that each business is unique, and therefore, so are their SEO needs. We tailor our SEO services to effectively meet your business objectives while optimizing costs. Our expertise spans from keyword research and content optimization to technical SEO and analytics.
Additional Consultant Fees and When They Apply
In addition to the ongoing SEO services, you may also encounter extra consultant fees. These costs typically range from $80 to $200 per hour and apply when specialized consultation is required. This could be for a very particular SEO strategy or for addressing specific issues that fall outside the purview of the ongoing services.
These additional costs underscore the importance of understanding your digital marketing needs and aligning them with the right services. It's essential to clarify with your chosen agency what is included in the monthly retainer and what would incur additional costs.
At SocialSellinator, we believe in transparency and fostering a strong partnership with our clients. We clearly communicate the cost structure, eliminating any surprises down the line. We view every dollar you spend with us as an investment in your business's growth, and we work diligently to deliver a high return on investment.
In the dynamic landscape of digital marketing, costs can vary significantly. However, armed with a clear understanding of these costs and a trusted partner like SocialSellinator, you can confidently navigate the digital marketing realm. This understanding sets you up for success, enabling you to invest wisely in your digital marketing strategy and reap the benefits of enhanced online visibility, more leads, and increased revenue.
In the next section, we will delve deeper into the value of hiring a digital marketing agency and how it can bolster your business growth. Stay tuned!
The Value of Hiring a Digital Marketing Agency
The digital landscape of today's business world is a complex and continuously evolving terrain. To navigate it successfully, you need the right set of skills, tools, and strategic know-how. This is where a digital marketing agency comes in as a valuable partner for your growth journey.
Viewing Agency Costs as an Investment
When considering the costs of hiring a digital marketing agency, it's essential to shift your perspective. Instead of viewing it as an expense, see it as an investment in your business's future. On average, businesses can expect to pay around $1,000-7,500 per month for digital marketing services, with additional consultant fees ranging from $80-200 per hour for specialized consultation, according to our research.
These costs may seem steep at first glance, but they're an investment towards a more robust online presence, a wider reach, and ultimately, increased revenue. The expertise and tailored strategies provided by a digital marketing agency can significantly enhance your brand's visibility and attract more customers. Therefore, the returns on this investment, in terms of growth and profits, can be substantial.
How a Digital Marketing Strategy Can Boost Your Business
At SocialSellinator, we understand the transformative power of a well-executed digital marketing strategy. It goes beyond merely increasing your online visibility. A well-planned strategy can attract more customers, engage them effectively, and ultimately lead them down the sales funnel.
A digital marketing agency offers expertise in various areas, including search engine optimization (SEO), pay-per-click (PPC) advertising, social media marketing, and content creation. These different components, when combined strategically, can create a powerful marketing machine that drives business growth.
For instance, SEO can help improve your website's ranking on search engines, making it easier for potential customers to discover your business. Social media marketing, on the other hand, can help you build a strong online community and foster relationships with your audience. PPC advertising can drive immediate traffic to your site, while quality content can engage and convert this traffic into customers.
Through our holistic approach to digital marketing, we at SocialSellinator can help you leverage these different components to create a comprehensive and effective marketing strategy. We focus on delivering authentic engagement, data-driven strategies, and a strong return on investment - three aspects that our ideal buyer persona highly values.
In conclusion, hiring a digital marketing agency is a strategic move that can propel your business towards success. It's an investment in your business's future, providing you with the tools, expertise, and strategies you need to thrive in the digital landscape. In the next section, we'll highlight some top digital marketing agencies to consider for your digital marketing needs. Stay tuned!
Spotlight on Top Digital Marketing Agencies
Navigating the digital landscape can be challenging, but with the right partner by your side, the journey becomes much easier. Let's dive into the realm of top-tier digital marketing agencies that are making waves in the industry.
Overview of the Big 6 Digital Marketing Agencies
When it comes to digital marketing prowess, six names often steal the spotlight. Known as the Big 6, these agencies are the powerhouses of paid media campaigns. They include WPP, Omnicom Group, Publicis Groupe, Dentsu, Interpublic, and Havas. They are responsible for the success of iconic brands like Apple, Disney, the NFL, Spotify, United Airlines, and many more. Their expertise in paid social media campaigns has made them the go-to agencies for businesses across various industries.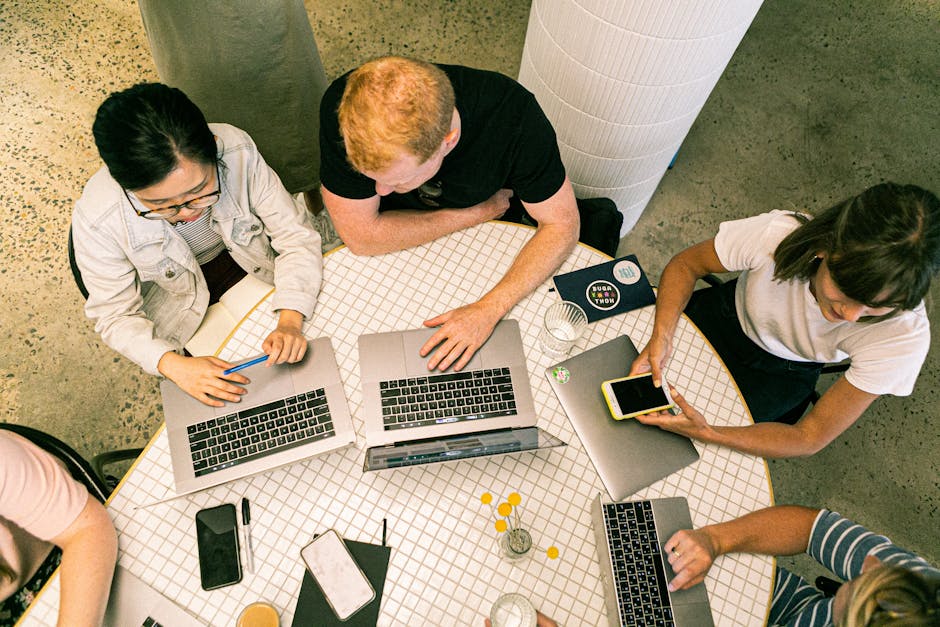 Highlighting Top Digital Marketing Agencies in India
India, too, is home to several leading digital marketing agencies that have been making a significant impact globally. Let's shine a spotlight on a few of them:
Webchutney: Known for its innovative approach to digital marketing, Webchutney consistently delivers exceptional results for its clients.

WATConsult: A pioneer in the industry, WATConsult offers full-service digital solutions that drive growth.

Growth Hackers: With its data-driven strategies, Growth Hackers helps businesses accelerate their growth in the digital realm.

Social Beat: This agency stands out for its expertise in social media marketing, helping brands connect with their audience more effectively.

Social Panga: Delivering comprehensive digital solutions, Social Panga is recognized for its ability to generate high ROI.

Schbang: Schbang prides itself on being a holistic digital solutions agency, offering everything from creative and content to technology and digital media.

ROI Minds: As the name suggests, ROI Minds is all about delivering high Return on Investment for their clients.

iProspect: A global digital marketing agency, iProspect has a strong presence in India and is known for its effective strategies.
These agencies are continually pushing the boundaries of digital marketing, delivering results-driven strategies tailored to each client's unique needs. Whether you're a small business or a multinational company, these agencies have the experience and expertise to help you thrive in the digital realm.
In the next section, we'll bring the focus closer to home as we explore some top digital marketing firms in various regions across the U.S. Stay tuned!
Exploring Local Digital Marketing Firms Near You
As the digital landscape continues to evolve, having a local agency that understands your specific market can be a game-changer. Let's journey through some of the top digital marketing firms across different areas in the U.S.
Digital Marketing Firms in Texas
The Lone Star State is home to some incredible digital marketing firms. These agencies have a pulse on the unique culture and business climate of Texas, enabling them to create tailored strategies that resonate with local audiences. They leverage their deep understanding of the Texan market to deliver digital marketing services that drive results.
Digital Marketing Firms in California
California is a hotbed for innovation, and its digital marketing scene is no different. Local firms in the Golden State are at the forefront of the latest digital marketing trends and technologies. They bring a unique blend of creativity and analytics to the table, helping businesses to shine in the highly competitive Californian market.
Digital Marketing Firms in St. Louis
St. Louis, known as the Gateway to the West, is also a gateway to stellar digital marketing services. Firms in this region have deep roots in the community and a finger on the pulse of the Midwestern market. They couple this local insight with digital marketing expertise to help businesses flourish online.
While these local agencies offer great services, it's important to choose a firm that aligns with your business needs and goals. That's where we come into play. At SocialSellinator, we understand that each business is unique and requires a customized approach to digital marketing.
We serve a diverse clientele, ranging from small businesses to large corporations, across various locations including Boston, Austin, Charlotte, Chicago, Dallas, Denver, Kansas City, Los Angeles, New York, San Diego, and San Francisco/Silicon Valley. Our comprehensive suite of services includes social media management, content creation, and blog writing, among others.
We tailor our strategies to help you reach your target audience, create engaging content, and drive growth. So, if you're looking to unlock your online potential and discover the ultimate digital marketing agency near you, SocialSellinator is your go-to solution.
Stay tuned as we delve deeper into what makes SocialSellinator stand out among digital marketing firms in the next section.
How SocialSellinator Stands Out Among Digital Marketing Firms
In the bustling world of digital marketing, it can be challenging to find a firm that truly understands your needs and delivers results. That's where we at SocialSellinator come in. We're not just another digital marketing firm; we're a strategic partner committed to your success.
Overview of SocialSellinator's Services and Expertise
As a full-service digital marketing agency, we offer a comprehensive suite of services tailored to meet the unique needs of small to midsize B2B/B2C businesses. Our services range from social media management to blog writing and content marketing, from SEO to Facebook and Google Ads management. We even specialize in LinkedIn lead generation, a key aspect of inbound marketing.
Our specialty is creating engaging, smart, and unique content that helps businesses stand out in their field. We understand the importance of amplifying your brand message while delivering insightful and actionable content that resonates with your prospects. Furthermore, our focus on growing your network connects you with key buyers and decision-makers, ultimately boosting sales and increasing revenue.
We handle everything from content curation to comment management, ensuring that your social media presence is both active and effective. We are dedicated to growing your brand's online community and engaging with the right audience. Whether you're focusing on search engine efforts, social media management, paid traffic, or influencer campaigns, we ensure your brand is being represented in a positive and impactful way.
The Benefits of Choosing SocialSellinator for Your Digital Marketing Needs
Choosing us as your digital marketing firm brings several unparalleled benefits.
The most significant advantage is our commitment to results. We have a track record of success, backed by numerous client testimonials. For instance, Chris Cole, CMO of Spicely Organics, highly recommended us after we successfully improved his company's social following.
We are not just about superficial metrics; we focus on authentic engagement that leads to customer loyalty and, ultimately, sales. We base our strategies on data and analytics that can be tracked, measured, and optimized, ensuring every dollar spent shows a return.
Our approach is flexible, allowing us to translate your business needs into effective marketing tactics. We are responsive, friendly, helpful, and detail-oriented, which has earned us an impressive reputation among our clients.
In essence, we at SocialSellinator are more than a digital marketing agency; we're your strategic partner for success. We understand the challenges you face and are committed to helping you overcome them. So, if you're ready to dominate the digital world, contact us and let's elevate your digital marketing game.
Conclusion
The Impact of Choosing the Right Digital Marketing Firm
The world of digital marketing is a dynamic landscape that requires a strategic approach, skilled expertise, and a keen understanding of the latest trends. The right digital marketing firm can help you navigate this landscape, unlock your online potential, and propel your business towards growth and success.
Choosing the right digital marketing firm is not just about getting services; it's about building a partnership. A well-chosen firm won't just execute your marketing campaigns; they'll understand your business goals, tailor their strategies to your unique needs, and work with you to drive measurable results.
Remember, the success of your digital marketing efforts is heavily dependent on the agency you choose. An effective digital marketing strategy can significantly increase your online visibility, attract more customers, and boost your business's revenue in the long run. Therefore, it's essential to invest time and resources in finding the right digital marketing firm near you.
How to Get Started with SocialSellinator
At SocialSellinator, we are committed to providing businesses with top-tier digital marketing solutions. We don't just offer services; we offer partnerships. Our team of experts works closely with you to understand your business needs, develop tailored strategies, and deliver results that align with your business goals.
Our range of services includes social media management, blog writing and content marketing, Facebook Ads, Google Ads, SEO, and LinkedIn lead generation. We are dedicated to staying updated with the latest trends and technologies to ensure that your business is always at the forefront of the digital landscape.
Whether you're looking to increase your brand awareness, generate high-quality leads, or boost your revenue, we have the expertise and commitment to help you achieve your goals. Our data-driven approach to digital marketing ensures that you can measure your ROI and continually refine your strategies to improve your results.
Getting started with SocialSellinator is simple. We offer a free assessment where we show you how our social media and digital marketing strategy can increase your brand awareness and create a predictable and repeatable stream of new leads, customers, and revenue.
In conclusion, choosing the right digital marketing firm can have a transformative impact on your business. At SocialSellinator, we are dedicated to helping you unlock your online potential and propel your business to new heights. Ready to get started? Contact us today and let's take your digital marketing to the next level!