Introduction
Chicago's bustling marketing ecosystem is an unexplored goldmine. The city's rich history with the marketing and advertising industry, dating back to 1850, has laid the foundation for a dynamic landscape teeming with innovative agencies. From globally recognized powerhouses to hidden gems, the city is a hub for creative minds revolutionizing brand engagement and digital experiences.
Brief Overview of Chicago's Advertising and Marketing Scene
Often overshadowed by the high-profile tech scenes in Silicon Valley and New York, Chicago's advertising and marketing scene has quietly been making waves. From the early days of mail-order catalogs to the present-day digital age, Chicago has been at the forefront of advertising and marketing innovations. Today, the city boasts a diverse mix of agencies specializing in everything from mobile and web app development to branding and virtual reality. Top players like Bounteous, Nerdery, and Codal, to name a few, are changing the way brands and businesses connect with their audiences.
Importance of Advertising and Marketing Companies
In an age where digital presence is critical for businesses, advertising and marketing companies play a pivotal role. They are the architects behind a brand's online persona, designing strategies that not only enhance visibility but also foster customer engagement and loyalty. From crafting compelling content to optimizing SEO, these companies employ a host of techniques to drive brand awareness, generate leads, and ultimately increase revenue.
Role of SocialSellinator in the Chicago Market
For heads of marketing and digital marketing departments in small to midsize businesses, the intricate demands of social media and digital marketing campaigns can be overwhelming. This is where SocialSellinator comes in. As one of Chicago's top social media and digital marketing agencies, SocialSellinator is equipped to handle the nitty-gritty of these campaigns, delivering consistency and reliability where others fall short.
Fueled by data-driven strategies, SocialSellinator focuses on generating authentic engagement and delivering measurable results that directly correlate with business growth. Whether it's social media marketing, content creation, or PPC campaigns, SocialSellinator's comprehensive suite of digital marketing services addresses the key pain points of businesses, making it not just an option, but a strategic solution for businesses looking to elevate their digital marketing game.
Chicago's advertising and marketing scene is a treasure trove of innovation and creativity. With SocialSellinator as your trusted partner, navigating this dynamic landscape becomes a rewarding journey towards growth and success.
The Top 4 Advertising Firms Globally and Their Presence in Chicago
The global marketing scene is a diverse and dynamic arena, with a few key players leading the charge. Let's delve into the world's top four advertising firms and how they have stamped their mark in the Windy City.
WPP
WPP, the world's largest advertising company, is renowned for its global influence and comprehensive range of services. Its presence in Chicago is marked by its association with some of the city's biggest brands, showcasing its proficiency in handling large-scale marketing campaigns. WPP's impact on the Chicago market is undeniable, as it continues to set the bar high for other agencies.
Omnicom Group
Next up is Omnicom Group, another titan in the advertising world. Omnicom's influence in Chicago is seen in the innovative advertising campaigns it has spearheaded for well-known businesses in the city. The agency's commitment to creativity and strategic marketing solutions has solidified its position in the Chicago advertising landscape.
Publicis Groupe
Publicis Groupe, a French multinational advertising and public relations firm, has made quite a splash in Chicago as well. Known for its innovative approach to marketing, Publicis Groupe has helped several Chicago-based brands reach new heights with effective and engaging campaigns. Their work in the city is a testament to their global reputation for excellence.
Dentsu
Last but certainly not least, we have Dentsu, a Japanese international advertising and public relations joint stock company. Dentsu has a strong presence in Chicago, providing businesses with unique marketing solutions that reflect their global expertise and local understanding. Their work in Chicago is characterized by culturally relevant campaigns that resonate with the city's diverse audience.
To sum it up, these global advertising giants have left their mark on Chicago, contributing to the city's dynamic and vibrant marketing scene. They have brought their unique strengths and global perspectives to the city, enhancing the range of marketing services available to businesses. However, for businesses seeking a more personalized and dedicated service, local agencies like SocialSellinator offer a compelling alternative. As a leading digital marketing agency in Chicago, SocialSellinator provides tailored digital marketing solutions that are designed to meet the unique needs of each client. With a focus on genuine engagement and data-driven strategies, SocialSellinator is proving to be a valuable ally for businesses navigating the Chicago marketing landscape.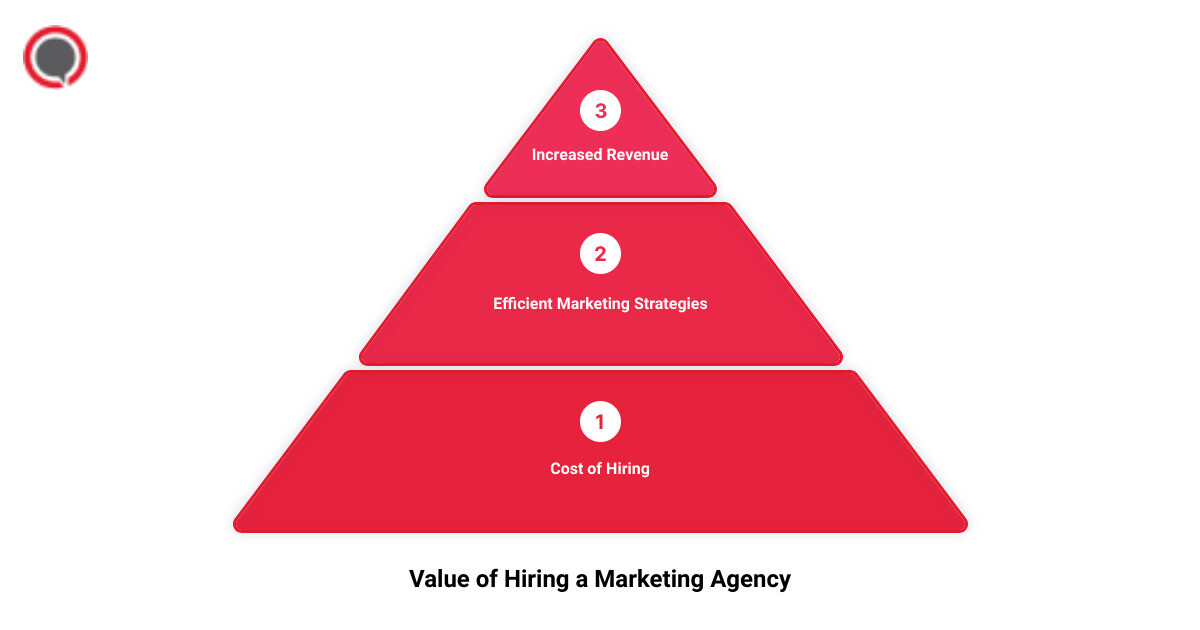 The Value of Hiring a Marketing Company: An Investment, Not an Expense
In the fast-paced world of digital marketing, businesses are often faced with the decision of whether to manage their marketing strategies in-house or to partner with a professional agency. So what's the value in hiring a marketing company, particularly in a vibrant city like Chicago? Is it just another cost or a strategic investment?
The Benefits of Hiring a Marketing Agency
Hiring a professional marketing agency brings numerous benefits to the table, each contributing to the overall growth and success of your business. For one, marketing agencies are specialists in their field. With a wealth of expertise and experience, they are well-versed in navigating the dynamic digital landscape. Partnering with a marketing agency allows businesses to focus on their core competencies while leaving the complexities of online marketing to the experts.
Another major advantage of hiring a marketing agency is the ability to alleviate stress. Balancing daily business operations, research, sales, PR, and advertising can quickly become overwhelming. A specialized agency can take on this heavy lifting, making the entire marketing experience smooth and seamless. This allows you to focus on what truly matters: devising strategies to drive growth for your brand.
Moreover, marketing agencies often have access to specialized tools and platforms that may be costly or unavailable to your business. These resources can help you better understand your data, track campaign performance, and measure the impact of your marketing efforts. Access to such tools through an agency can be more cost-effective than developing or purchasing them in-house.
How Marketing Agencies Boost Revenue
Marketing agencies don't just alleviate stress and provide expertise, they also play a significant role in revenue generation. Through targeted campaigns that precisely reach specific audiences, agencies can generate brand awareness, attract new customers, and foster long-term customer loyalty. This directly contributes to increased sales and revenue growth.
The ability to track and analyze data in real-time also empowers businesses to refine their strategies continually, ensuring they stay on the path to sustained growth. With their deep understanding of the marketing landscape and a track record of success, agency teams offer specialist skills across multiple verticals to help ensure your success.
The Role of SocialSellinator in Providing Value
In the context of Chicago's vibrant marketing scene, SocialSellinator stands as a proven partner for businesses seeking to maximize their online presence. As a comprehensive digital marketing agency, SocialSellinator offers a unique blend of services including social media marketing, content creation, SEO optimization, and more.
Our focus on "Empowerment through Engagement," "Authentic Engagement," and "Transformative Connectivity" resonates with the core values of today's business leaders. By addressing key pain points and delivering measurable results, SocialSellinator serves as a strategic ally in achieving business growth.
In conclusion, hiring a marketing agency is not an expense, but a strategic investment. It's a decision that brings immense value, driving growth and success for your business. And in a bustling city like Chicago, partnering with a trusted agency like SocialSellinator is a move towards a brighter, more successful future.
The Top 5 Advertising Companies in the World and Their Influence in Chicago
The global advertising landscape is dominated by a few powerhouses. These multinational corporations not only impact the global market but also exert a significant influence on regional markets, like Chicago. Let's take a closer look at these top five advertising companies and how they shape the advertising and marketing scene in the Windy City.
Apple Inc
As one of the most influential technology companies globally, Apple Inc has an advertising approach that is as innovative and sleek as its products. In Chicago, Apple's presence is felt through its vibrant retail stores and advertising campaigns that resonate with the city's tech-savvy population. Apple's focus on creative and minimalist advertising strategies has inspired local agencies to adopt similar approaches, pushing the boundaries of ad creativity.
Microsoft Corp
Microsoft Corp is another tech giant that has a significant impact on the global advertising scene. Its influence in Chicago is evident, with many local businesses and agencies adopting Microsoft's software solutions to optimize their operations and marketing strategies. Microsoft's advertising campaigns, often highlighting product usability and innovation, have set a high standard for local advertising agencies in Chicago to emulate.
Alphabet Inc
Alphabet Inc, the parent company of Google, plays a pivotal role in shaping the advertising and marketing industry not just globally, but also in Chicago. Given Google's preeminence in digital advertising, local companies align their marketing strategies with Google's constantly evolving algorithms and advertising platforms to ensure optimal visibility on the web. Moreover, Alphabet's emphasis on data-driven and targeted advertising has become a standard practice among Chicago's digital marketing agencies.
Amazon.com Inc
As the world's leading e-commerce platform, Amazon.com Inc has revolutionized the landscape of online advertising. Many Chicago businesses rely on Amazon's advertising services to reach a wider audience, leveraging Amazon's vast user base and advanced targeting options. The e-commerce giant's emphasis on customer-centric advertising has influenced local agencies in Chicago to prioritize personalized and relevant ad content to boost engagement and conversions.
Meta Platforms Inc
Formerly known as Facebook Inc, Meta Platforms Inc has a profound influence on the global and local advertising scene. In Chicago, businesses of all sizes utilize Meta's social media platforms, including Facebook and Instagram, for their advertising needs. Meta's focus on creating immersive and interactive campaigns using advanced technologies has set a new trend among Chicago's marketing agencies, pushing them to explore innovative ways to engage audiences.
In conclusion, these global advertising giants have significantly shaped the advertising and marketing landscape in Chicago. Their innovative and data-driven advertising approaches have set industry standards that local agencies, including SocialSellinator, strive to meet and exceed. This global-local interplay ensures that Chicago businesses have access to world-class advertising strategies, tailored to resonate with their local audience.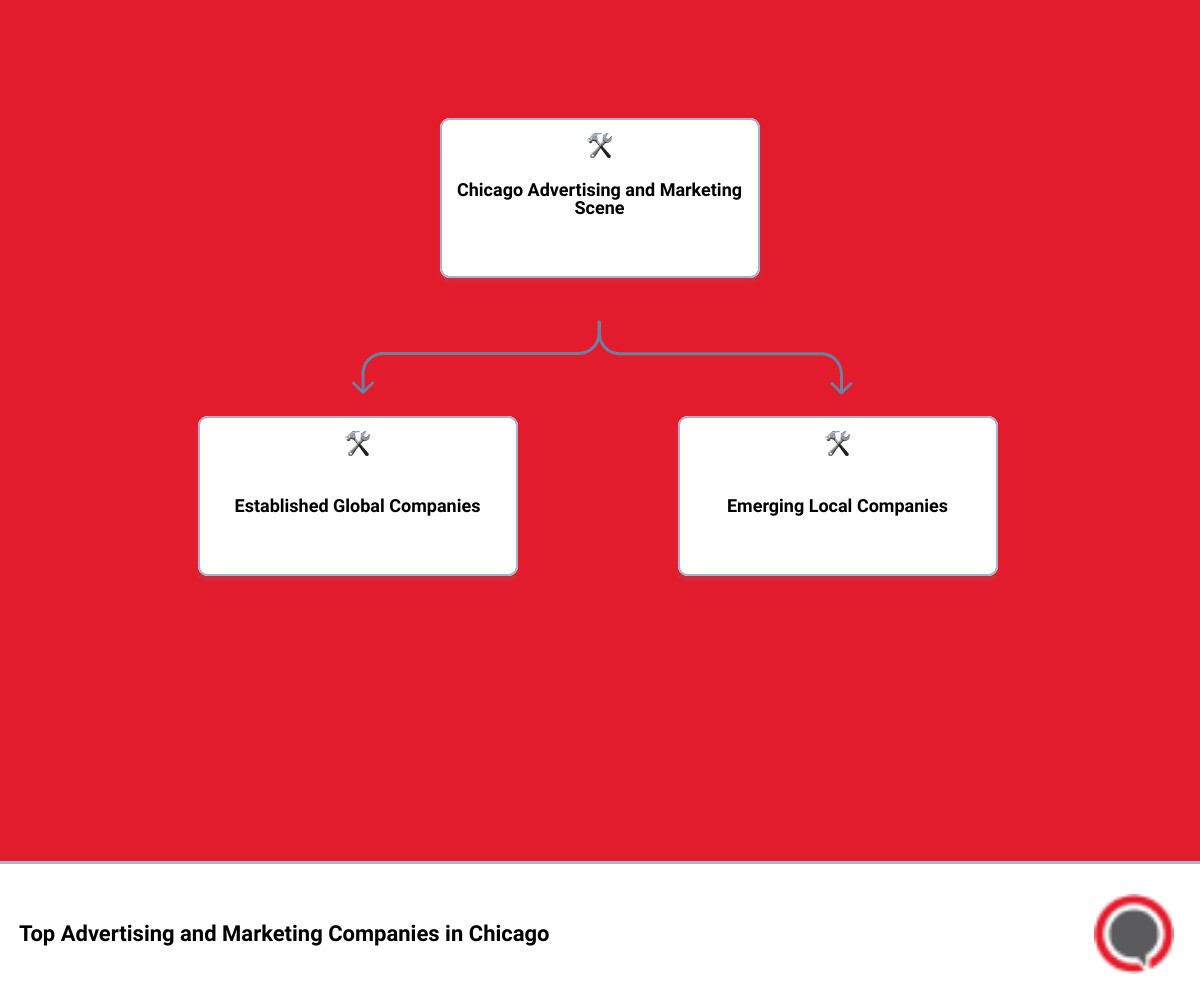 Unveiling Chicago's Hidden Gems: Top Advertising and Marketing Companies
Get ready to explore Chicago's vibrant ad and marketing scene! Here, we uncover the hidden gems of Chicago's advertising and marketing industry. These companies have carved a niche for themselves with their unique offerings and innovative approaches.
At the heart of Lakeview, Bounteous is a digital branding and experience agency that uses strategy, design, web and mobile development, and analytics to deliver brand experiences that change behavior and drive results. Some of their notable clients include Wilson, Zipcar, and Domino's.
Nerdery
Nerdery has made its mark in the digital agency landscape of Chicago, providing services ranging from mobile and web app development to branding and virtual reality. They are part of the dynamic growth of digital agencies in the Windy City, keeping businesses on the map and in the know.
Codal
Codal is another digital marketing agency that has made its mark in Chicago's ad and marketing industry. They focus on UX / UI, digital media, and growth marketing, providing a unique blend of services that have helped businesses thrive in the digital landscape.
Cubicle Ninjas
Cubicle Ninjas is a creative agency that has carved a niche in Chicago's marketing scene. They offer innovative solutions to businesses of all sizes, extending their services to industries like education, finance, e-commerce, nonprofits, and funded startups.
Eight Bit Studios
Eight Bit Studios is a custom mobile web and app studio that provides leading solutions to the unique challenges of businesses. Based in River North, they have grown into one of Chicago's most respected and reliable digital agencies.
Kin + Carta
Kin + Carta is a digital consulting firm located in West Loop. They build digital experiences for businesses that educate and engage with employees and consumers. Their innovative approach has attracted clients like Sprint, Rockwell Automation, Northern Trust, Discover, and Kraft Heinz.
One North Interactive
One North Interactive is another notable name in Chicago's marketing scene. Their focus on digital consulting has made them a preferred choice for businesses looking to leverage emerging technologies.
Rightpoint
Rightpoint is a digital agency that specializes in mobile and web app development. Their unique blend of services and commitment to delivering exceptional results have earned them a place among Chicago's top advertising and marketing companies.
SocialSellinator
Last but not least, SocialSellinator is a full-service digital marketing agency for startups, small and mid-size B2B/B2C businesses. Their data-driven approach to social media marketing, content marketing, paid social media campaigns, and search engine optimization (SEO) has helped increase brand awareness and leads for their clients, positioning them as a leading force in Chicago's digital marketing scene.
In the bustling city of Chicago, these advertising and marketing companies are helping businesses navigate the digital age with unique, innovative, and effective strategies. Whether you're a small startup or a large corporation, these hidden gems of Chicago are ready to help you achieve your marketing goals.
Conclusion
Recap of Chicago's Advertising and Marketing Landscape
In the vibrant heart of the Midwest, Chicago boasts a vast network of top-tier advertising and marketing companies. These firms, including Bounteous, Nerdery, Codal, Cubicle Ninjas, Eight Bit Studios, Kin + Carta, One North Interactive, Rightpoint, and others, have carved out a significant niche in the city's bustling marketing landscape. Each agency brings unique value to the table, utilizing diverse techniques from SEO to social media, to help businesses thrive in today's digital age.
However, amid the dazzling array of marketing firms in Chicago, one hidden gem stands out for its exceptional approach and comprehensive range of digital marketing services - SocialSellinator.
The Unique Value Proposition of SocialSellinator
SocialSellinator brings a distinctive blend of science and creativity to the dynamic field of digital marketing. This agency stands apart in its ability to offer tailored, data-driven strategies that align with your business needs. From crafting engaging social media posts and informative blogs to optimizing SEO and producing eye-catching videos and graphics, SocialSellinator ensures quality work that aligns with your business objectives and delivers measurable results.
What truly sets SocialSellinator apart is their adaptability. In the fast-paced digital landscape, this agency continuously adapts to stay in sync with the latest trends and technologies. This adaptability ensures that your business always has the best resources to connect with your audience.
Final Thoughts and Invitation to Connect with SocialSellinator
Chicago's advertising and marketing scene is a vibrant ecosystem that offers a wealth of opportunities for businesses to grow and thrive. With a multitude of agencies offering a diverse range of services, it's crucial to find a partner that understands your business and can provide tailored solutions to meet your specific needs.
SocialSellinator not only offers a comprehensive suite of digital marketing services, but they also act as a strategic partner committed to your success. Whether you're a head of marketing or digital marketing in a small to midsize business grappling with challenges in online presence, SocialSellinator is more than an option; it's your next strategic move.
In the ever-changing digital landscape, being proactive and adaptive is key. So why wait? Schedule a call with SocialSellinator today, and watch your business thrive. Unleash the power of exceptional social media campaigns and elevate your digital marketing game with Chicago's hidden gem, SocialSellinator.