Introduction: The Importance of Marketing Agencies in Business Growth
In the vibrant cityscape of Los Angeles, the digital realm is no longer a luxury but a necessity for every business. With the right combination of strategy, technology, and creativity, top-notch marketing agencies are paving the way for businesses to thrive in this dynamic digital landscape. The importance of marketing agencies in driving business growth, particularly in the digital sphere, is now more significant than ever before.
According to a detailed analysis published on TOP Agency, marketing is one of the most crucial systems of any company. A deficiency in this system can lead to a significant setback in the entire business venture. This insight underscores the invaluable role of marketing agencies in the business ecosystem. They bring in their experience, expertise, and innovative strategies to ensure that businesses not only have a strong online presence but also stand out among their competition.
In the broader perspective of a business's digital marketing strategy, the role of a marketing agency extends well beyond creating compelling brand stories. These agencies also play a crucial part in disseminating these stories through the right channels to the right people at the right time, aligning with the well-known funnel stages of Awareness, Interest, Engagement, Action, and Advocacy.
In this comprehensive guide, part of our extensive Los Angeles Digital Marketing Handbook, we will delve deeper into how top marketing agencies in Los Angeles are helping businesses navigate the complexities of the digital world. We will also explore how they are leveraging the potential of ever-evolving digital technologies to shape a company's image, engage with target audiences, and ultimately drive sales.
If you are a head of marketing or digital marketing in a small to midsize business, grappling with the challenge of boosting your brand's online presence and driving sustainable growth, this guide will provide you with valuable insights and strategies to elevate your digital marketing game. So let's get started!
The Role of Marketing Agencies in the Funnel Stages
Marketing agencies play a critical role across all stages of the marketing funnel, from building brand awareness to driving sales and turning customers into advocates. As a head of marketing or digital marketing, understanding how a marketing agency can boost your brand's visibility and drive growth at each stage of the funnel is essential. Let's explore how top marketing agencies in Los Angeles leverage the funnel stages to deliver successful marketing outcomes.
Awareness: How Marketing Agencies Boost Brand Visibility
The first stage of the marketing funnel is all about making potential customers aware of your brand. Top marketing agencies in Los Angeles use a variety of strategies to boost brand visibility, such as social media marketing, search engine optimization (SEO), and pay-per-click (PPC) advertising. These strategies help ensure your brand is seen by the right people at the right time, whether they're browsing social media, searching for products or services like yours on Google, or visiting relevant websites.
Interest: Engaging Potential Customers with Innovative Strategies
Once potential customers are aware of your brand, the next step is to pique their interest. Marketing agencies do this by creating engaging content that educates potential customers about your products or services. This could include blog posts, infographics, videos, or even interactive content like quizzes or surveys. By providing valuable, relevant content, marketing agencies can help spark interest in your brand and move potential customers further down the funnel.
Engagement: Building Relationships through Social Media and Other Platforms
Engagement is a key stage in the marketing funnel, where potential customers interact with your brand. This could be through social media likes, shares, or comments, or more direct engagement like website visits or email sign-ups. Marketing agencies use platforms like Twitter, LinkedIn, and Instagram to foster these interactions and build relationships with potential customers. They also leverage chatbots and direct messaging to provide personalized, real-time responses to customer inquiries.
Action: Converting Interest into Sales
The action stage of the marketing funnel is all about turning interest into sales. Marketing agencies use a variety of techniques to drive conversions, such as offering discounts for first-time customers, creating persuasive product descriptions, or using retargeting ads to remind potential customers of products they've shown interest in. By leveraging these strategies, marketing agencies can help drive sales and deliver measurable results for your business.
Advocacy: Turning Customers into Brand Advocates
The final stage of the marketing funnel involves turning customers into brand advocates. This is achieved by providing excellent customer service, asking for reviews or testimonials, and encouraging customers to refer friends or share about their positive experiences on social media. By turning customers into advocates, marketing agencies can help boost your brand's reputation and attract new customers through word-of-mouth marketing.
In essence, marketing agencies play a critical role in driving business success at each stage of the marketing funnel. Whether you're looking to boost brand awareness, engage potential customers, drive sales, or turn customers into advocates, a top marketing agency in Los Angeles can provide the expert strategies and support you need. For more insights into the role of marketing agencies in digital marketing in Los Angeles, be sure to visit our guide.
Top Marketing Agencies in Los Angeles: A Closer Look
Having understood the importance of marketing agencies in promoting business growth, let's dive deeper into the vibrant marketing scene in Los Angeles. Here are some of the city's top-rated marketing agencies that have made their mark by delivering measurable results and innovative strategies.
The GCMG Agency: Leading the Pack in Customer Reviews and Expert Inputs
GCMG is a top-rated social media agency based in Agoura Hills, Los Angeles. Known for its B2B and B2C focus, GCMG excels in handling public relations and social marketing. GCMG's team, praised for their research-driven approach and personal perspectives, deliver strategies that align with your brand's message and goals. Their dynamic campaigns, such as "GLOBAL WARNING," are a testament to their expertise in navigating politically sensitive topics with finesse.
Miller/Datri Entertainment: A Powerhouse in Video Production and Digital Strategy
Specializing in video production, Miller/Datri Entertainment is an agency that brings a unique blend of creativity and business acumen. Their ability to communicate brand narratives through compelling storytelling sets them apart in the industry. Clients commend them for their clear communication, thoughtful strategies, and their knack for cross-promotion.
Creative Deviants: Pioneers in Branding and Advertising
Creative Deviants is a digital strategy firm located in Los Angeles. Known for their innovative approach to marketing, Creative Deviants focuses on creating campaigns that are not only engaging but also strike a chord with the audience. Their work, such as "The Cost of a Dropout" and "Zero Emissions Trucking," showcases their commitment to social causes and industry advancement.
Wanted for Nothing: A One-Stop Shop for All Your Marketing Needs
Wanted for Nothing is a Los Angeles-based agency that offers a comprehensive suite of marketing services. Whether you need help with web development, branding, digital strategy, or e-commerce, Wanted for Nothing has got you covered. Their client-centric approach ensures that their strategies align with your business objectives, making them a trustworthy partner for your marketing needs.
Kobe Digital: Leveraging Technology for Business Success
Kobe Digital is a programmatic marketing agency that bridges the gap between companies and their audience. By leveraging technology, they offer solutions tailored to meet the unique needs of businesses. Their services range from creating responsive websites to launching targeted marketing campaigns, making Kobe Digital a versatile player in the digital marketing landscape.
MOB Media, Inc.: A Trusted Partner in Digital Marketing
MOB Media, Inc. is an award-winning agency that offers a plethora of services including designing, branding, SEO, and more. Their client-first approach and dedication to delivering results have earned them a spot among the top marketing agencies in Los Angeles.
Choosing the right marketing agency can be the secret sauce that propels your business to new heights. By aligning with an agency that understands your needs, you can leverage their expertise to drive success and growth. For more information about marketing agencies in Los Angeles, check out our comprehensive guide.
How to Choose the Right Marketing Agency for Your Business
Navigating the labyrinth of marketing agencies in Los Angeles can be daunting. But with a clear roadmap, you can identify the right agency that will work as a strategic partner in your business growth. Here's a step-by-step guide to finding your perfect match.
Understanding Your Company's Needs: The First Step in Finding the Right Agency
An understanding of your company's needs is the cornerstone of your search for a marketing agency. Are you looking to boost your brand's visibility, generate qualified leads, or increase your conversion rates? Perhaps it's a blend of these goals or other specific marketing objectives. Once you have a clear picture of what you want to achieve, you can narrow down your search to agencies with the right skills and expertise to meet these objectives.
Finding a Proven Strategy: Why It Matters in Choosing a Marketing Agency
In the sea of marketing agencies, a proven track record and demonstrated expertise are vital indicators of a reliable partner. Look for an agency with a consistent record of delivering results for businesses similar to yours. Review their case studies, client testimonials, and industry recognition. An agency that excels in SEO should be able to demonstrate how their strategies have led to increased organic traffic and higher search engine rankings. Likewise, if you're interested in social media management, the agency should exhibit a history of growing social media followings and boosting customer engagement.
Implementing Plans Effectively: The Role of a Marketing Agency
A good marketing agency isn't just a service provider; it's a partner in your business's growth. It's crucial to find an agency that not only develops strategies in line with your goals but also implements them effectively. Look for an agency that is transparent about their approach, provides regular updates, and is open to feedback. A great agency will employ account managers dedicated to ensuring the success of your campaigns daily.
Working Within Your Budget: How to Maximize Your Investment in a Marketing Agency
Budget is a key consideration in choosing a marketing agency. It's not just about finding an affordable agency, but about maximizing your investment. A good agency will provide a clear breakdown of costs, showing where each dollar is going and how it contributes to your business objectives. They should also be able to demonstrate a solid return on investment, focusing not just on vanity metrics, but on KPIs that directly correlate with business growth.
Remember, selecting the right marketing agency can be the game-changer your business needs. By understanding your business needs, evaluating an agency's track record, assessing their approach to client collaboration, and considering your budget, you can find a partner who can help you unlock your business potential in the digital world.
For more insights on choosing the right marketing agency in Los Angeles and maximizing your digital marketing efforts, visit our comprehensive guide.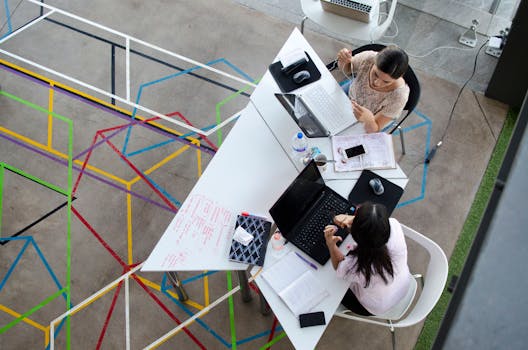 SocialSellinator: A Top Digital Marketing Agency in Los Angeles
In the bustling scene of digital marketing in Los Angeles, where every agency is vying for attention, one name stands out: SocialSellinator. This agency has carved a niche for itself, offering a unique blend of expertise, commitment, and proven strategies that pave the path to digital business success.
Our Services: From SEO to Social Media and Everything in Between
At SocialSellinator, we understand that every business has unique needs. Our service suite encompasses a wide range of digital marketing solutions, from SEO to social media marketing, content creation, PPC campaigns, and SEO optimization. By providing a comprehensive array of services, we ensure our clients have all they need to thrive in the digital realm. Our customized strategies, tailored to align with each client's business objectives, set us apart from other top marketing agencies in Los Angeles.
Our Clients: Why They Choose SocialSellinator
The companies that choose SocialSellinator as their digital marketing partner do so for various reasons. Key among them is our focus on creating genuine interactions that lead to customer loyalty and sales. We back this approach with solid data and analytics that can be tracked, measured, and optimized, ensuring every dollar spent on marketing shows a return. Clients such as Microsoft, Budweiser, Jif, and Del Monte, among others, have benefited from our data-driven marketing strategies.
Our Approach: A Comprehensive Strategy Tailored to Your Business Goals
The marketing funnel stages—awareness, interest, engagement, action, and advocacy—serve as our guiding framework. We devise bespoke marketing strategies that align with these stages and our clients' business objectives. Whether it's boosting brand visibility during the awareness stage, engaging potential customers with innovative strategies, or converting interest into sales, we've got it covered. Our goal is to turn customers into brand advocates, and we have the tools and expertise to make it happen.
Our Team: Experienced Professionals Committed to Your Success
The team at SocialSellinator is a collection of experienced professionals committed to driving business growth for our clients. Our experts bring to the table years of experience, innovative strategies, and a wealth of industry knowledge. We are not just a service provider; we are a strategic partner, dedicated to helping businesses reach new heights in the digital space.
In the competitive landscape of digital marketing in Los Angeles, SocialSellinator stands head and shoulders above the rest. Whether you're a small business looking to make your mark, or an established company aiming to bolster your digital presence, we are ready to help.
For more insights into our methods and how we can help your business thrive in the digital age, we invite you to visit our comprehensive guide. SocialSellinator isn't just an option; it's your next strategic move.
Conclusion: The Secret Sauce to Business Success in Los Angeles
Unlocking the secret sauce to business success in Los Angeles begins with understanding the importance of strategic digital marketing. As we've explored throughout this article, the city's top marketing agencies bring a wealth of expertise and innovative solutions to the table. By leveraging their services, you can significantly boost brand visibility, engage potential customers more effectively, and ultimately drive business growth.
The key to harnessing the power of these agencies lies in choosing the right partner for your business. This process involves understanding your company's unique needs, identifying agencies with proven strategies for your industry, and ensuring they can deliver high-quality results within your budget.
Yet, the real secret sauce lies in the transformative power of digital marketing. Each stage of the marketing funnel, from awareness to advocacy, presents unique opportunities for growth. With the right marketing agency, you can seize these opportunities and turn them into tangible business results.
Among the elite marketing agencies in Los Angeles, SocialSellinator stands out with a comprehensive suite of services tailored to meet your specific needs. We are committed to authentic engagement, data-driven strategies, and a strong focus on ROI. Our team of experienced professionals is committed to your success, providing solutions that align with your business objectives and deliver measurable results.
In sum, the secret sauce to business success in Los Angeles is no longer a secret. It's all about finding the right marketing agency that understands your needs, excels in their expertise, and commits to your success. If you're a head of marketing or digital marketing in a small to midsize business, grappling with these challenges, SocialSellinator isn't just an option; it's your next strategic move.
For more insights into how we can help your business thrive in the digital age, we invite you to explore our comprehensive Los Angeles Digital Marketing Handbook. Let's unlock success together in the City of Angels!