Instagram, Twitter and Facebook. You probably spend a lot of time on these platforms uploading vacation photos, catching up with old friends or looking into the lives of your favorite celebrities.
Given that most people are connected to social media sites in some way, businesses have learned how to use this web traffic to their advantage. Social selling has allowed businesses to stray away from cold calling and spamming potential customers. Instead, sellers are able to form connections with contacts that could lead to making their lives easier. About 78% of salespeople engaging in social selling are outselling their peers. Here's where we come in.
Based out of San Jose, Calif., the team at SocialSellinator is dedicated to managing social media accounts in order to maximize social selling potential. We've been able to do some pretty great work. In fact, our success has caught the attention the of D.C.-based ratings and review platform, Clutch. We have been awarded a spot in its 2019 report among the top social media marketing companies.
Since 2013, Clutch has used its unique methodology to rank and rate top companies across a wide variety of industries. After conducting in-depth client interviews and analyzing industry data, the Clutch team is able to award every firm with a rating. We are excited to announce we have been given a 5.0!
One of our happy customers is Rainemakers, a communications consultancy firm. We were proud to be able to provide them with social media sales enablement services. As a result of our work, they saw a major increase in sales!
We love to see our clients increase their client network and selling capacity!
"It's very rare that you have a company, in this social space, that truly understands social engagement, business components, and can deliver results. You very rarely get all three and these guys have all three," said the CEO of Rainemaker.
Another project we loved working on was maintaining the social media presence for Virtual Support Systems, a marketing and advertising firm.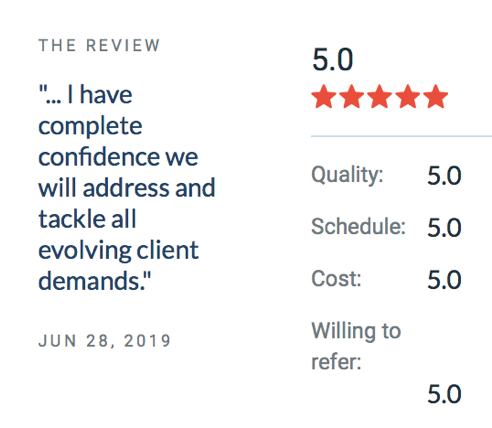 We were able to help this firm evaluate, strategize and execute a social media plan for one of its largest clients.
"Communication and commitment by SocialSellinator is exactly what I demand as a general manager and service provider. I foresee a long term relationship precisely because of this achievement" said the COO of Virtual Support Systems.
We are very thankful to have clients who are willing to take their valuable time to participate in our review process. Client feedback is very valuable to our company as we try to improve and expand our client network.
In addition to our feature on the main Clutch platform, we have earned a spot on The Manifest and Visual Objects, sister sites of Clutch. Each site is capable of offering buyers a unique market research experience.
The Manifest, a business news outlet, has named us a leader among San Jose social media marketing agencies. Likewise, Visual Objects is designed to feature the creative work of firmsby listing a portfolio of past work along with a rating. Here, buyers can find us among top social media firms.
If you're aiming to increase your selling power, consider starting a social selling campaign. Contact us today, and let's discuss what SocialSellinator can offer your company.