Introduction
Washington, D.C., known as the political epicenter of the United States, is also a thriving hub for tech startups and established businesses alike. This competitive landscape calls for a robust advertising and marketing strategy to keep up with industry leaders and to stand out in the crowd. With the rise of digital communication and social media platforms, advertising and marketing companies in Washington DC have evolved to offer multi-channel digital marketing strategies, using innovative mediums like video and influencer marketing to reach mobile-first consumers.
In this fiercely competitive environment, businesses can't just rely on traditional marketing methods anymore. They need to engage with their audience on a deeper level, utilizing data-driven insights to create engaging, personalized content. And that's where digital marketing agencies like us at SocialSellinator come into play. We understand the unique challenges businesses face in this dynamic landscape and offer comprehensive solutions tailored to your specific needs.
Snapshot of Top Advertising and Marketing Firms in Washington DC
The market is brimming with several top-notch advertising and marketing firms. Here are a few that have carved out a name for themselves:
agencyQ: Known for its data-driven approach, agencyQ specializes in customer engagement strategies and offers services like SEO, social media management, and content marketing.
Model B: Founded by Dan Bender and Abtin Buergari, Model B has a focus on helping businesses grow with services like custom WordPress development, cross-platform advertising campaigns, and SEO.
RINGLET: Launched by Elise Crawford, RINGLET offers integrated marketing services catered specifically for women-owned small businesses.
REQ: A digital advertising agency that caters to corporations, nonprofits, and government organizations with solutions encompassing brand strategy, data and analytics, and mobile advertising.
Bluetext: A digital agency that helps clients connect with key audiences and enhance their brands, focusing on branding, content marketing, and product design and development.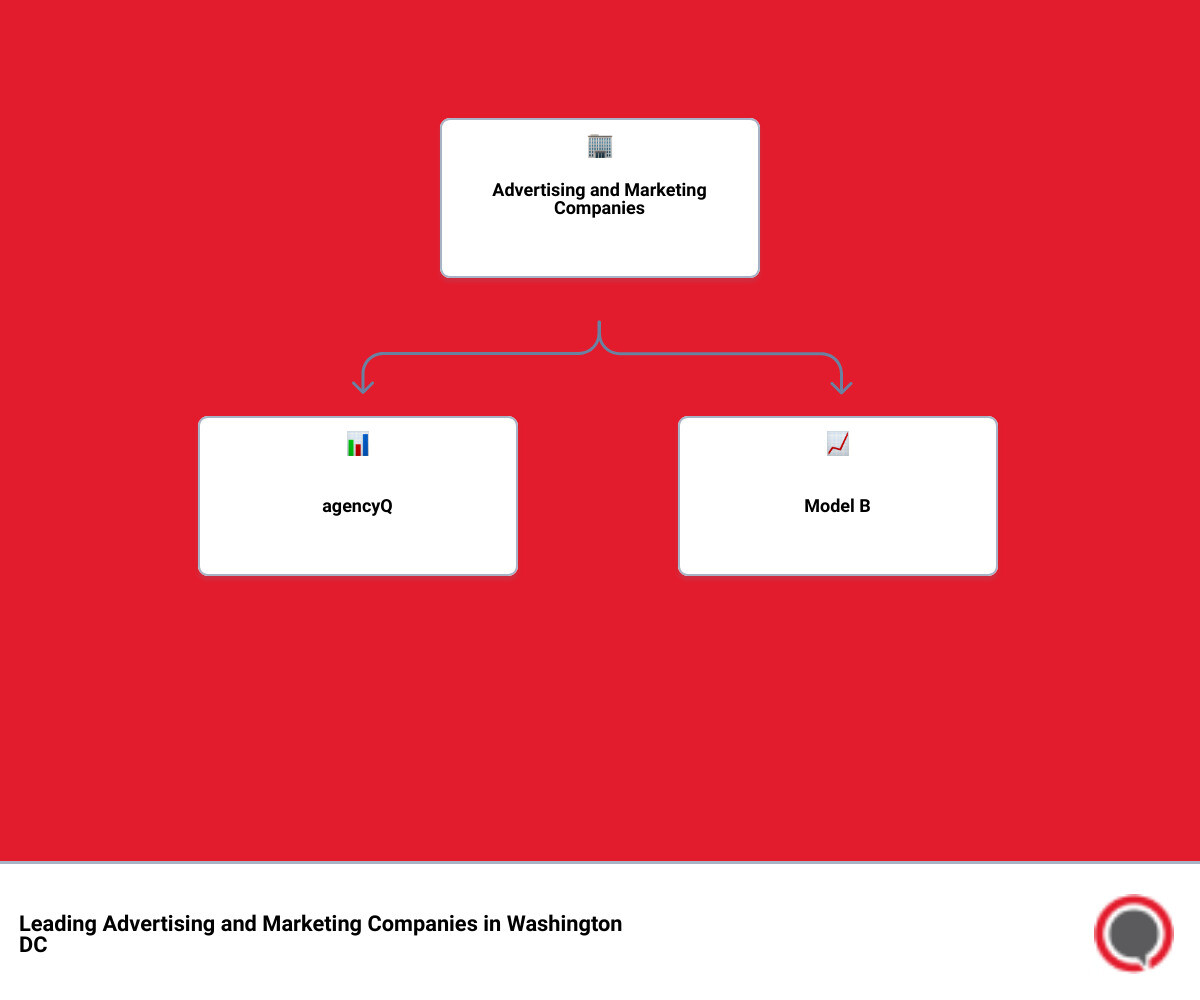 Stay tuned as we delve deeper into the role, impact, and services of these advertising and marketing companies in Washington DC.
Understanding Different Types of Advertising and Marketing Agencies
Navigating the world of advertising and marketing can be a daunting task, particularly with the wide array of agencies out there, each offering unique services and expertise. Let's demystify this landscape by understanding the different types of advertising and marketing agencies you may encounter in Washington DC.
Traditional Ad Agencies
Traditional advertising agencies are the old-timers of the advertising world. They focus on conventional methods of marketing such as print advertisements, television and radio commercials, billboards, and direct mail. Despite the growing dominance of digital marketing, these traditional methods continue to hold their own, particularly in reaching local audiences or older demographics. However, they often lack the detailed analytics or targeted reach that digital marketing can provide.
Brand Agencies
Brand agencies, as the name suggests, focus on building and managing a company's brand image. This involves developing a clear understanding of a company's values, goals, and target audience, and creating a consistent, resonant message across all marketing channels. Brand agencies can be particularly valuable to businesses undergoing a rebrand or those looking to define their brand for the first time.
Public Relations (PR) Agencies
Public Relations (PR) agencies specialize in managing the public image and reputation of a company. They handle communication with the media, organize events, and manage crises. PR agencies play a crucial role in shaping public perception of a company and its offerings, making them an essential partner for businesses looking to build trust and credibility in their market.
Web Design Agencies
In today's digital age, a company's website often serves as its storefront. Web design agencies specialize in creating and maintaining attractive, user-friendly websites that reflect a company's brand and effectively communicate its offerings. They are equipped with expertise in areas such as user experience (UX) design, user interface (UI) design, coding, and website optimization.
Digital Marketing Agencies
Digital marketing agencies represent the new wave of advertising, leveraging online platforms and technologies to market a company's products or services. They offer a broad spectrum of services, including social media marketing, search engine optimization (SEO), content marketing, email marketing, and more. Their primary aim is to increase a company's online visibility, generate leads, and drive conversions.
At SocialSellinator, we fall into this last category, offering a comprehensive range of digital marketing services tailored to our clients' unique needs. Whether it's social media management, content creation, or SEO, our team of experts is dedicated to driving your online growth.
In the next section, we'll provide an overview of the top advertising and marketing firms in Washington DC, offering a mix of the services mentioned above. Stay tuned!
Top Advertising and Marketing Firms in Washington DC
When it comes to sourcing the right advertising and marketing support, Washington DC offers a dynamic landscape teeming with creative agencies. From traditional ad agencies to digital marketing firms, these entities have the potential to skyrocket your business's online presence and customer engagement. Here, we take a closer look at some of the top contenders in the field.
Elevation: Web Design and Professional Services
Elevation is renowned for its focus on web design and professional services. Their goal is to elevate your brand's image and credibility online through impactful web design and user experience. Their team of experts understands the importance of having a well-designed and fully functional website as the foundation of your digital marketing strategy.
ImageWorks Creative: Branding and Marketing Services
ImageWorks Creative takes a comprehensive approach to branding and marketing. Their services range from brand development to integrated marketing strategies, all aimed at positioning your business for success. With a track record of creating memorable brands and driving marketing results, ImageWorks Creative could be a strong contender for your marketing needs.
Tech House Media and Consulting: Custom Web and App Development
Tech House Media and Consulting is a tech-forward agency offering custom web and app development services. They understand the growing need for businesses to have a robust online presence that extends beyond just a website. If you're looking to create a mobile app or custom software to enhance your business operations and customer engagement, Tech House Media and Consulting might be the right fit.
All Marketing Services: Digital Marketing Services
Situated in the heart of Washington DC, All Marketing Services is a boutique digital marketing company offering a variety of services aimed at getting more leads and sales for their clients. Their focus areas include digital strategy, PPC campaign management, SEO, and social media. Their tailored approach to digital marketing ensures that each client's specific needs are met.
Alliance Interactive: Web Design and Website Maintenance Services
Alliance Interactive specializes in web design and website maintenance services. They understand that maintaining a website goes beyond just updating its content. From improving site performance to ensuring its security, Alliance Interactive could be your go-to agency for comprehensive website maintenance services.
IRL Agency: Creative Marketing and Storytelling
In Real Life (IRL) Agency takes storytelling to the next level. They believe in the power of authentic connections and narratives in driving customer engagement and loyalty. Their creative marketing and storytelling services are aimed at helping brands forge meaningful relationships with their audience.
Yearby Digital Web Services: Website Design and Marketing Services for Startups
Yearby Digital Web Services caters specifically to startups, helping them establish a strong online presence from the onset. They offer website design and marketing services tailored to the unique needs and budget constraints of startup businesses.
The Branded Company: Comprehensive Marketing Services
The Branded Company offers a comprehensive suite of marketing services to help businesses build a strong brand identity and market presence. Their services range from branding and advertising to digital marketing, providing businesses with a one-stop-shop for all their marketing needs.
Minuteman Press - McLean: Printing and Copying Services
While primarily known for their printing and copying services, Minuteman Press also offers marketing services to help businesses reach their target audience. Their services include direct mail marketing, promotional product advertising, and online marketing.
While all these agencies have their unique strengths, we at SocialSellinator pride ourselves on our comprehensive suite of digital marketing services, from social media marketing and content creation to PPC campaigns and SEO optimization. Our focus on "Empowerment through Engagement," "Authentic Engagement," and "Transformative Connectivity" resonates with the core values of our clients and addresses their key pain points. Take a look at our services to see how we can help you elevate your digital marketing game.
How to Choose the Right Advertising and Marketing Agency
Transitioning from a tour of top advertising and marketing agencies in Washington, DC, you might now find yourself asking: "How do I choose the right agency for my business?" This is a critical decision that can significantly impact your business's success. Here at SocialSellinator, we believe in empowering our clients through valuable insights. So, let's delve into the key factors you should consider when selecting an advertising and marketing agency for your business.
Understanding Your Business Needs and Goals
The first step in choosing the right agency is understanding your business needs. Are you aiming to increase brand awareness, drive more traffic to your website, generate qualified leads, or boost your conversion rates? Perhaps you need a combination of these or other specific marketing goals. Identifying these goals can help you find an agency that has the right skills and expertise to help you meet these objectives. It's like finding the perfect pair of shoes: it needs to be a comfortable fit, match your style, and take you in the direction you want to go.
Evaluating the Agency's Expertise and Track Record
Once you've identified your business's advertising and marketing needs, the next step is to evaluate the agency's expertise and track record. This requires a bit of research. Look for agencies that have a consistent record of delivering results for businesses similar to yours. If possible, review their case studies, customer testimonials, and any industry recognition they've received. This will give you an indication of their ability to deliver on their promises.
Assessing the Agency's Approach to Client Service
The relationship between you and your chosen agency is a partnership. Therefore, it's essential to find an agency that values collaboration and takes the time to understand your business. Look out for agencies that are transparent about their strategies, provide regular updates, and are open to feedback. At SocialSellinator, for example, our account managers ensure the business success of your campaigns on a day-to-day basis.
Considering the Agency's Pricing and Value for Money
Finally, cost is a significant factor. While it's tempting to opt for the cheapest option, remember that you often get what you pay for. Look for transparency in pricing and a clear explanation of what each package includes. Be wary of agencies that promise unrealistic results for a low price. It's also worth noting that some agencies, like SocialSellinator, customize their pricing based on your business's needs. This ensures that you only pay for the services that will add value to your business.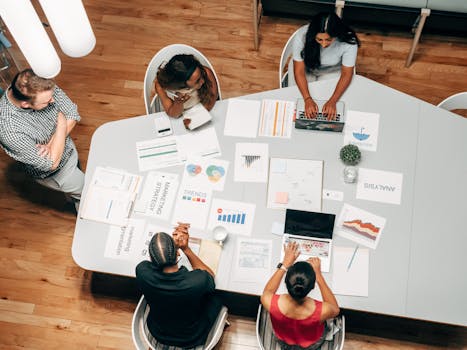 Selecting the right advertising and marketing agency is a crucial step in your business's growth journey. By understanding your business needs, evaluating the agency's track record, and assessing their approach to client collaboration, you can find a partner who can help you achieve your business goals. In the next section, we'll take a closer look at how SocialSellinator fits into this picture, and why we might be the right choice for your business.
The Role of SocialSellinator in Transforming Your Business
As an expert in the advertising and marketing industry in Washington DC, we at SocialSellinator understand the unique challenges businesses face. With a crowded digital marketplace, it's crucial to partner with an agency that offers comprehensive solutions and a proven track record. Here's what sets SocialSellinator apart from other advertising and marketing firms in Washington DC.
Comprehensive Digital Marketing Solutions
We understand that visibility is the key to success in the digital landscape. That's why we offer a wide array of services aimed at maximizing your online potential. From search engine optimization to social media marketing, website design, and content creation, we have you covered. Our services also extend to automation and analytics, ensuring your marketing efforts are efficiently streamlined and performance-centric.
As stated on our company's blog, "Efficiency is critical in digital marketing. Our Automation services help streamline your marketing processes, saving you time and resources." This comprehensive approach ensures your business thrives in the digital age.
Customizable Services Tailored to Your Business Needs
We at SocialSellinator believe in the power of personalized marketing. We understand that each business is unique and requires a distinctive approach to digital marketing. We offer a free consultation where we analyze your target audience, business goals, and industry trends to develop a comprehensive strategy. This tailor-made approach maximizes your online potential, driving results that align perfectly with your brand strategy and objectives.
Experienced Team of Professionals
Our team comprises seasoned professionals who are well-versed in the intricacies of digital marketing. We take pride in our ability to create engaging, smart, and unique content that helps businesses stand out in their field. With our focus on growing your network, connecting you with key buyers and decision-makers, we ensure that your brand message is amplified while delivering insightful and actionable content.
Proven Track Record of Success
Our success is not just a claim; it's backed up by numerous client testimonials. Chris Cole, CMO of Spicely Organics, highly recommended SocialSellinator after we successfully improved his company's social following. Meanwhile, Naveen Joshi, CMO of Taazaa, praised SocialSellinator for our flexibility and ability to translate business needs into effective marketing tactics. These testimonials and more showcase the tangible impact that SocialSellinator can have on a small business's digital marketing efforts.
In conclusion, SocialSellinator isn't just an ordinary digital marketing agency. We are a partner that understands your business needs, challenges, and goals. With our comprehensive digital marketing solutions and proven track record, we help transform your business, increase visibility, and drive conversions. Choose SocialSellinator, your premier digital marketing agency in Washington DC, to unlock your online potential.
Conclusion
Recap of Top Advertising and Marketing Firms in Washington DC
Throughout this article, we have unmasked some of the top advertising and marketing firms in Washington DC. These companies offer a range of services, from traditional advertising, branding, and public relations to web design and digital marketing. Each of these companies brings to the table unique strengths and specializations, and they have proven track records serving diverse industries. Companies like Elevation, ImageWorks Creative, Tech House Media and Consulting, All Marketing Services, Alliance Interactive, IRL Agency, Yearby Digital Web Services, The Branded Company, and Minuteman Press - McLean have all demonstrated their ability to deliver impactful marketing solutions.
Final Thoughts on the Importance of Choosing the Right Agency
As we've highlighted, selecting the right advertising and marketing agency is pivotal to your business's success. It's not just about finding a company that offers the services you need, but about partnering with a team that truly understands your business's unique needs and goals. The right agency will not only deliver creative and strategic marketing solutions, but also help you navigate the ever-evolving digital landscape, driving your business growth and competitiveness.
Invitation to Explore SocialSellinator's Services
As you explore your options for advertising and marketing companies in Washington DC, we invite you to consider SocialSellinator. As an expert in the field, we offer a comprehensive suite of digital marketing services, from social media management and content creation to Google advertising and SEO optimization. We understand that each business is unique, and we tailor our services to meet your specific needs and goals.
At SocialSellinator, we're not just another agency. We are a partner that is committed to your success. Our experienced team of professionals works tirelessly to deliver results that make a real impact on your bottom line. We pride ourselves on our data-driven strategies, authentic engagement, and focus on ROI. We are passionate about helping our clients build their online brand voice, reach more potential customers, and ultimately, grow their business.
Whether you're a head of marketing or digital marketing in a small to midsize business, grappling with challenges like low brand awareness, lead and revenue deficiency, or inconsistent results, SocialSellinator isn't just an option; it's your next strategic move. We invite you to book a free marketing consultation with us and discover how we can help you elevate your digital marketing game.