In today's highly competitive marketplace, businesses face an array of challenges. A significant hurdle involves the strategic and efficient use of marketing resources to foster brand awareness, engage potential customers, and ultimately boost revenue. This is especially true in a thriving business environment like Charlotte, North Carolina, where a company's marketing strategy can make or break its success. Through effective advertising and marketing strategies, businesses can effectively highlight their unique propositions and appeal to target audiences. However, implementing these marketing strategies is easier said than done, prompting an overwhelming number of business owners to seek professional guidance from reputable advertising and marketing firms in Charlotte, NC.
In the realm of marketing, myriad methods exist, ranging from print advertising to digital marketing, and influencer marketing. All these require expert planning, precise execution, and adaptable budgets to ensure a tangible impact on ROI. This often leaves individual business owners and even small teams grappling to stay afloat in the complex landscape of marketing campaigns. Thankfully, Charlotte, NC, is home to an impressive selection of specialized marketing agencies that offer invaluable expertise in all things marketing.
Snapshot of Notable Advertising and Marketing Agencies in Charlotte, NC:
Townsquare Interactive: Specializes in website design, social media marketing, customer targeting, and more.
Alliance Sales & Marketing: Offers consumer marketing, business intelligence, retail services, and more.
Luquire George Andrews: Skilled in TV advertising, website development, social media strategy, and more.
Tattoo Projects: Known for bold advertising campaigns featuring branding, packaging, consumer research, and more.
The aforementioned agencies are merely the tip of the iceberg when it comes to the rich pool of marketing agencies in Charlotte. Each boasts unique strengths and delivers strategic solutions tailored to the unique needs and objectives of their clients. In this article, we delve deeper into Charlotte's vibrant marketing scene and uncover the ribbon on the top-notch advertising and marketing companies that the city has to offer.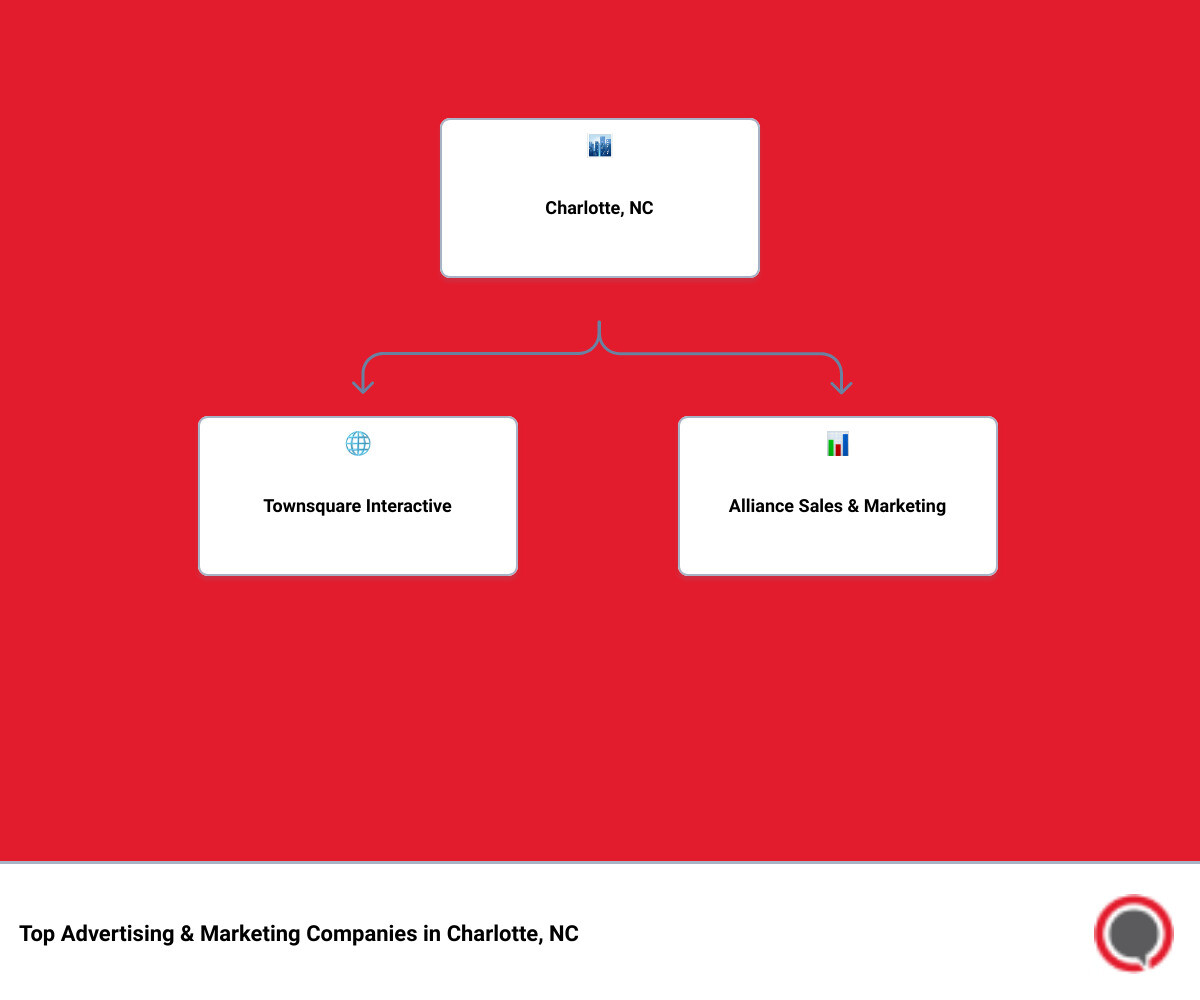 The Big 4 of Advertising and Their Influence
As we begin to explore the top advertising and marketing firms in Charlotte, NC, it's important to understand the broader landscape of the advertising industry. This is a landscape that is largely shaped by what are often referred to as the Big 4 of advertising. These are WPP Plc, Omnicom Group, Publicis Groupe, and Dentsu Inc., global giants that have left an indelible mark on the advertising and marketing industry.
Overview of WPP Plc, Omnicom Group, Publicis Groupe, and Dentsu Inc.
WPP Plc, headquartered in London, UK, is a multinational advertising and public relations firm known for its creative transformation, technology, and commerce expertise. It has a significant global imprint, with more than 100,000 employees in over 100 countries.
Omnicom Group, based in New York City, is a global leader in marketing communications. The group offers a broad spectrum of services to its clients, including advertising, strategic media planning and buying, digital and interactive marketing, direct and promotional marketing, and public relations.
Paris-based Publicis Groupe is renowned for its large-scale digital and media services. It offers a wide array of services from digital and traditional advertising, public relations and events, media buying and specialized marketing services.
Dentsu Inc., headquartered in Tokyo, Japan, is one of the largest advertising and public relations firms globally. Dentsu offers a comprehensive range of client-centric business solutions including digital marketing, creative sphere, customer experience, CRM, and content partners.
Their Specializations and Contributions to the Industry
Each of these Big 4 agencies brings their unique specializations to the table. WPP Plc excels at providing creative production and brand strategy services, while Omnicom Group shines in media buying and strategic planning. Publicis Groupe is particularly strong in digital and interactive marketing, and Dentsu Inc. specializes in social media advertising and digital display.
Through their varied specializations, these agencies have contributed significantly to shaping the global advertising and marketing industry. They have pioneered innovative strategies, pushed creative boundaries, and set industry standards. Their influence extends beyond their client portfolios, as they've played a pivotal role in shaping industry trends and best practices.
Their impact on the industry cannot be overstated, and their strategies and success stories provide valuable insights and lessons for both emerging and established advertising and marketing firms - including those in Charlotte, NC. In the next section, we'll shift our focus to the local scene and introduce some of Charlotte's top advertising and marketing firms, which are offering their unique flavor to this dynamic industry.
The Rise of Advertising and Marketing Firms in Charlotte, NC
Charlotte, North Carolina, fondly known as the Queen City, has been steadily making a name for itself in the advertising and marketing industry. With a vibrant business environment and a flourishing economy, the city has become a fertile ground for the growth of advertising and marketing firms.
The Growth of Charlotte as a Hub for Advertising and Marketing
Historically known for its strong banking sector, Charlotte has diversified its economy over the past decade. One of the most notable areas of growth has been in the realm of advertising and marketing. A slew of dynamic firms such as Townsquare Interactive, Alliance Sales & Marketing, and Luquire George Andrews have set up shop in the city, bolstering its reputation as a hub for creative and innovative marketing solutions.
This growth can be attributed to several factors. Firstly, Charlotte's strategic location, robust infrastructure, and vibrant business community make it an attractive location for advertising and marketing firms. Moreover, the city's growing tech scene has served as a catalyst, encouraging the development of digital marketing expertise in the area. Finally, the presence of several Fortune 500 companies in Charlotte has created a demand for high-quality advertising and marketing services.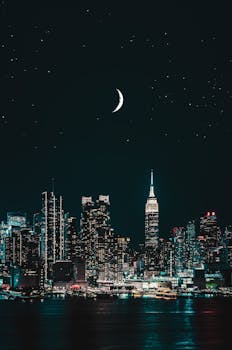 The Impact of this Growth on Local Businesses
The rise of advertising and marketing firms in Charlotte, NC has had a significant impact on local businesses. With access to top-tier marketing expertise within their locale, these businesses can now tap into the power of effective marketing to grow their brands, attract new customers, and increase their bottom line.
These agencies offer a wide range of services, from traditional print advertising and public relations to digital marketing and social media management. This means businesses can find a one-stop solution for all their advertising and marketing needs.
Moreover, having local agencies handle their marketing efforts has another key advantage for businesses: these agencies understand the local market. They know the trends, the competition, and the consumer behavior in Charlotte. This knowledge allows them to create marketing campaigns that resonate with the local audience, thereby increasing their effectiveness.
In conclusion, the rise of advertising and marketing firms in Charlotte, NC has not only placed the city on the national map as a marketing hub but also fuelled the growth of local businesses. As these firms continue to innovate and expand their services, we can only expect this positive trend to continue. In the next section, we will delve deeper into some of these top-notch firms and the unique services they offer.
Top Advertising and Marketing Firms in Charlotte, NC
In the vibrant business landscape of Charlotte, NC, several firms have risen to the top of the advertising and marketing industry. Each offers unique services and strategies that cater to various business needs, helping to drive growth and success in the marketplace. Here's a closer look at some of these standout firms.
Overview of Townsquare Interactive
Townsquare Interactive, founded in 2012, offers comprehensive marketing strategies that fuel traffic growth and lead generation for businesses across various industries. Their services range from website design and search engine optimization to social media marketing and customer targeting. With a focus on aiding small businesses, they provide impactful avenues to success.
Overview of Alliance Sales & Marketing
Established in 2004, Alliance Sales & Marketing collaborates with disruptive brands, driving their growth and setting them apart from competitors. They offer tailored consumer marketing, client solutions, business intelligence, retail services, and headquarter sales capabilities, creating winning strategies for businesses at any growth stage.
Overview of Luquire George Andrews
Luquire George Andrews (LGA), founded in 1984, excels in creating content and media strategies that transform business challenges into opportunities for creative solutions. Their team of experts in TV, website development and design, public relations, social media brand strategy, crisis management, and experiential marketing, has delivered exceptional work for prominent brands like Bojangles, Rodgers, and Coca-Cola Bottling Co.
Overview of Tattoo Projects
Tattoo Projects, founded in 2006, is known for their bold, dynamic marketing and advertising campaigns designed to attract maximum consumer attention. They offer a wide range of services, including branding, packaging, consumer research, social analysis, and 2D/3D animation, resulting in impactful, immersive campaigns for brands like Sheetz, Dodge, CBS, and Victory Motorcycles.
Overview of Wray Ward
Wray Ward is a renowned Charlotte-based firm that excels in delivering creative marketing solutions. Their innovative approach and commitment to delivering results have made them a preferred choice for many businesses.
Overview of UNION
UNION is a digital-first agency that specializes in creating experiences that connect brands with their consumers. Their work combines creativity, strategy, and technology to deliver high-impact campaigns that drive engagement and growth.
Overview of BLVD
BLVD is a full-service agency that delivers powerful marketing strategies and creative solutions. Their work spans across various digital and traditional channels, ensuring that their clients' messages reach the right audience at the right time.
Overview of FLYNAUT
FLYNAUT is a fast-growing digital agency that focuses on branding, digital marketing, and product development. They are known for their innovative approach and ability to deliver results that drive business growth.
Overview of Eventys Partners
Eventys Partners is a dynamic marketing firm that focuses on providing integrated marketing solutions. They work closely with their clients to create strategies that align with their business goals, driving measurable results.
Overview of Dynamic Marketing Acquisitions
Dynamic Marketing Acquisitions is a direct sales and marketing firm that specializes in personalized marketing strategies. They have a team of experienced professionals who work closely with clients to understand their needs and deliver solutions that exceed expectations.
Overview of Thumbvista
Thumbvista is a mobile marketing firm that provides geofencing, mobile banner advertising, and SMS marketing services. They use advanced technology to deliver personalized marketing messages to the right audience at the right time.
Overview of QC Marketing
QC Marketing is an internet marketing agency that offers SEO, website design, and digital marketing services. They have a team of experts who work closely with clients to create strategies that drive traffic, leads, and sales.
Overview of Lambos Digital
Lambos Digital is a digital advertising agency that specializes in pay-per-click (PPC) advertising, social media advertising, and SEO. They use data-driven strategies to help their clients reach their target audience and achieve their business goals.
Overview of Commerzilla
Commerzilla is known for their expertise in eCommerce. They offer a wide range of services, including SEO, PPC, email marketing, and social media marketing. They focus on driving traffic, increasing conversion rates, and improving their clients' online presence.
As these overviews show, the advertising and marketing firms in Charlotte, NC, like us at SocialSellinator, offer a plethora of services tailored to the unique needs of businesses. They stand at the forefront of innovation, helping to shape the marketing landscape and drive business success in the region.
The Role of Digital Marketing in Today's Business Landscape
In today's digital-centric world, the role of digital marketing in shaping the business landscape cannot be overstated. The rapid growth of technology, social media, and the internet has revolutionized how businesses reach and engage with their customers. This profound change has made digital marketing an essential part of any successful business strategy.
The Importance of Digital Marketing
Digital marketing allows businesses to reach a much larger audience than traditional marketing methods, often at a fraction of the cost. It provides a unique channel to establish direct communication with the target audience, facilitating personalized interaction and driving customer engagement. With digital marketing, businesses can target specific demographics, track and analyze their marketing efforts, and adjust their strategies in real time based on the results.
The rise of digital marketing has also led to the development of specialized strategies such as search engine optimization (SEO), social media marketing, and content marketing. These strategies aim to increase brand visibility, generate high-quality leads, and ultimately, drive sales and revenue growth. As per the research, businesses with strong keywords rank 1 and half times higher than businesses without them. Moreover, SEO leads have a higher close rate, almost 15%, signifying the effectiveness of digital marketing in driving business growth.
How Digital Marketing Agencies like SocialSellinator are Changing the Game
Digital marketing agencies have emerged as pivotal players in the modern business landscape. They provide expert guidance, helping businesses navigate the complex world of digital marketing and achieve their marketing objectives. Here at SocialSellinator, we are proud to be part of this digital revolution.
As a full-service digital marketing agency, we offer a comprehensive suite of services, including social media management, content marketing, paid social media campaigns, and search engine optimization (SEO). Our data-driven approach ensures that our clients benefit from increased brand awareness and leads.
We understand the challenges faced by decision-makers in marketing departments, particularly in small to midsize businesses. The lack of time to manage complex digital marketing campaigns, the need for consistent and reliable results, and the desire for authentic, impactful engagement are all pain points we address.
At SocialSellinator, we're all about "Empowerment through Engagement," "Authentic Engagement," and "Transformative Connectivity." By addressing these key pain points and aligning with the core values of our clients, we provide digital marketing solutions that deliver measurable results.
In today's digital age, businesses need to constantly adapt and evolve to stay competitive. With the right digital marketing strategies and a reliable partner like SocialSellinator, businesses in Charlotte, NC, can not only keep pace with the rapidly evolving digital landscape but also set the pace for others to follow.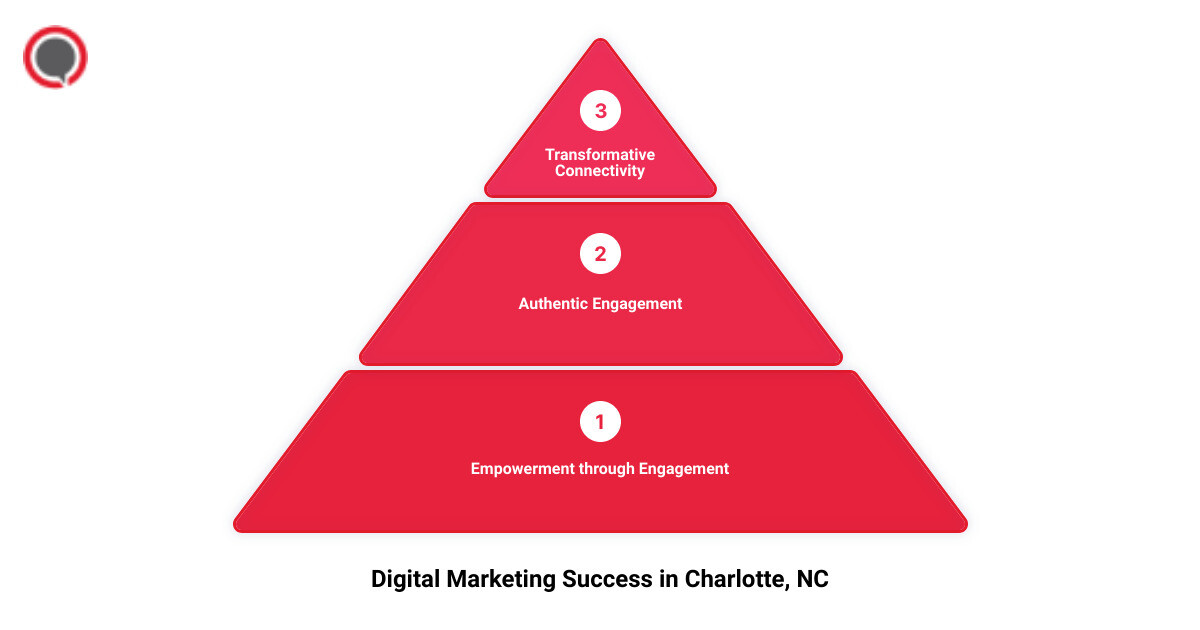 Infographic description: A detailed visual representation of various digital marketing strategies and tactics, demonstrating the comprehensive approach of agencies like SocialSellinator.
Conclusion
As we look forward to the future of advertising and marketing in Charlotte, NC, it's clear that the city is carving a niche for itself as a significant hub in this industry. The city's strategic location, vibrant business ecosystem, and growing pool of talent are all contributing factors to this development. The rise of numerous full-service marketing agencies in the city points to a future that is not only promising but also filled with immense opportunities for businesses of all sizes.
The Future of Advertising and Marketing in Charlotte, NC
In the age of digital, the landscape of advertising and marketing is ever-evolving. With the rapid advancements in technology and consumer behavior, businesses are finding it increasingly important to stay ahead of the curve. Notably, the integration of AI-powered tools and predictive analytics, the dominance of video marketing, and the growth of influencer marketing are all trends that will shape the future of this industry. However, Charlotte-based agencies are well-positioned to navigate these trends and innovate in response to the changing demands of the marketplace.
These agencies, backed by their diverse expertise and innovative solutions, are set to redefine the way businesses approach advertising and marketing. From harnessing data for more personalized and targeted campaigns to leveraging video and influencer marketing for greater customer engagement, the future holds a host of possibilities.
How Businesses Can Leverage the Services of These Agencies for Success
In this rapidly changing landscape, businesses can greatly benefit from partnering with these advertising and marketing firms. These agencies bring a wealth of expertise and a suite of comprehensive services to the table — from traditional advertising to digital marketing, and everything in between.
Whether it's enhancing brand visibility, driving customer engagement, or boosting sales, these agencies can help businesses achieve their goals. They offer tailored strategies and solutions that not only align with a business's unique needs but also resonate with their target audiences.
For businesses looking to establish a strong digital presence, partnering with a digital marketing agency like SocialSellinator can be a game-changing move. As experts in the field, we provide a holistic approach to digital marketing, from social media and content marketing to SEO optimization and PPC campaigns.
We understand the challenges that businesses face and offer data-driven strategies that deliver measurable results. Our focus on authentic engagement and ROI aligns with the core values of our clients, effectively addressing their pain points.
In conclusion, the growth of advertising and marketing firms in Charlotte, NC, presents a significant opportunity for businesses. By leveraging the services of these agencies, businesses can not only navigate the complexities of the marketing landscape but also gain a competitive edge. After all, in the fast-paced world of business, staying ahead of the curve is key to success.