Los Angeles, a city renowned for its festive atmosphere and iconic entertainment industry, is also a bustling hub of cutting-edge advertising. Here in the City of Angels, the advertising industry is as vibrant and diverse as the city itself, teeming with top-notch ad agencies that leverage their creativity and expertise to make businesses shine. For businesses operating in this competitive landscape, choosing the right ad agency can mean the difference between standing out and getting lost in the crowd.
As experts in digital marketing, we at SocialSellinator understand the value of partnering with an agency that aligns with your vision, delivers measurable results, and truly understands your business goals.
Top-Rated Ad Agencies in Los Angeles: A Snapshot
As part of our mission to empower businesses through authentic engagement and data-driven strategies, we've taken it upon ourselves to unveil some of the top-notch ad agencies in Los Angeles, CA. These agencies have earned their stripes through a combination of innovation, expertise, and a steadfast commitment to client success. Here's a brief snapshot:
Real Dimension Media: Known for their mastery of digital advertising and branding solutions.
BuzzoBiz: A digital marketing powerhouse with a robust portfolio across various industries.
Everett Andrew Marketing: Experts in crafting compelling narratives to boost brand visibility.
Branding Los Angeles: A branding specialist that combines strategic thinking with creative execution.
Mad Mind Studios: A full-service agency that excels in branding, marketing, and design.
Battery Agency: Renowned for their expertise in crafting unique, engaging advertising campaigns.
Deutsch Advertising Agency: A global advertising agency known for its bold, disruptive ideas.
Trailer Park: An entertainment marketing agency that fuses storytelling with technology.
Rank & File: A creative agency that thrives on driving brand growth through strategic design and advertising.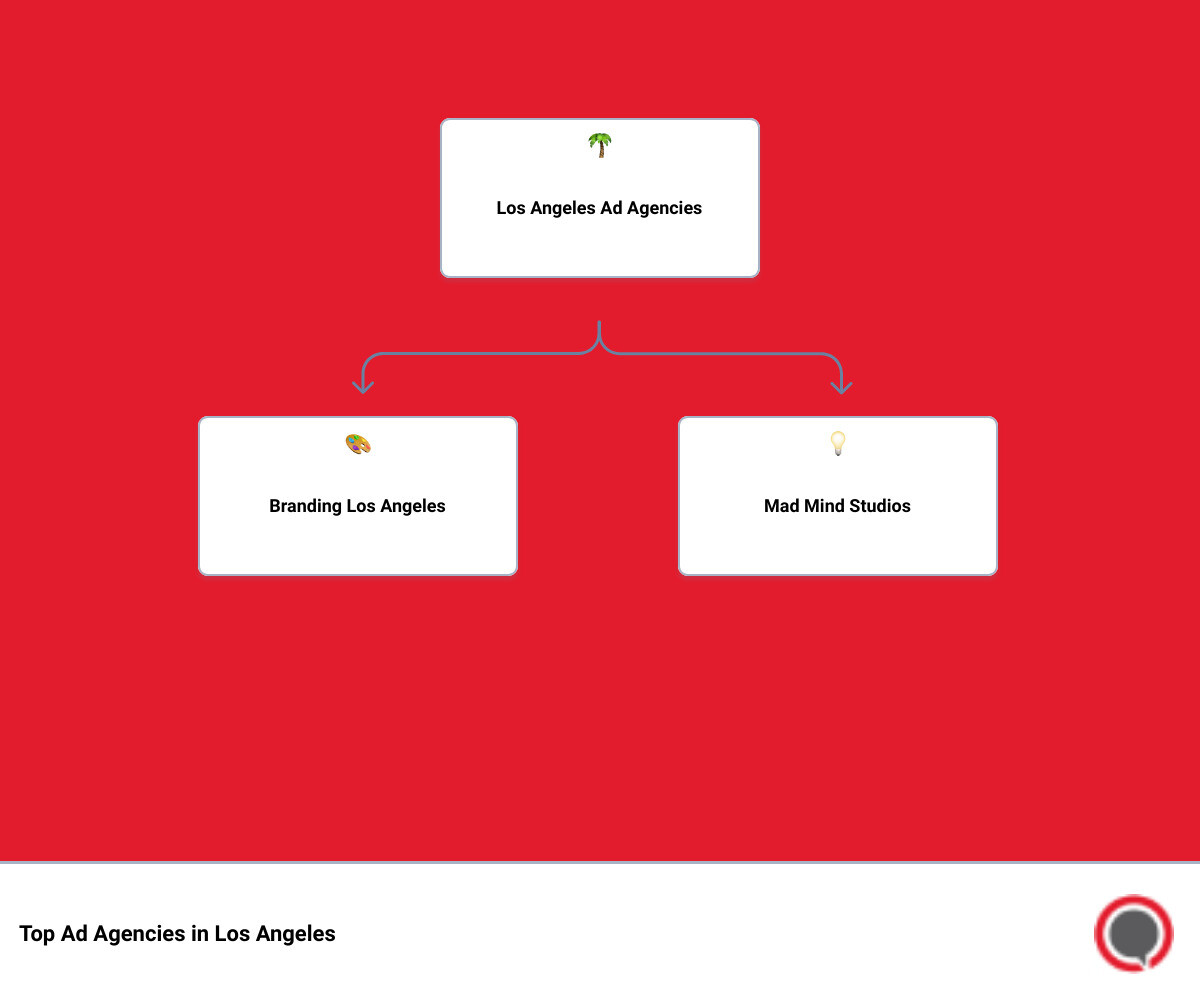 In the following sections, we'll delve deeper into what makes these agencies stand out and how they've helped businesses make a lasting impact in the competitive Los Angeles market. We'll also highlight how SocialSellinator's holistic approach to digital marketing aligns with the needs of businesses looking to make their mark in the digital age.
Understanding What Makes a Top-Notch Ad Agency
If you're looking to maximize your brand's visibility and impact, choosing the right advertising agency is crucial. But what makes an ad agency top-notch? There are several factors that elevate an agency from being merely good to becoming truly great.
Expertise and Specialization
The first factor is the agency's expertise and specialization. A top-tier ad agency is a master of its craft, having accumulated a wealth of knowledge and experience in various digital marketing strategies. This includes SEO, content marketing, social media, mobile and web, analytics, and programmatic media, among others.
For example, AMP Agency, one of the prominent ad agencies in Los Angeles, CA, is a full-service digital marketing agency that helps its clients grow by connecting their brands with their customers. They have established their expertise in diverse focus areas like retail, gaming, consumer electronics, travel, beauty, and media.
A great agency also specializes in nuanced niches that many companies overlook. By focusing on a specific industry, they can establish themselves as industry leaders and offer innovative solutions to their clients.
Creativity and Innovation
The second key factor is the agency's ability to blend creativity with a keen understanding of the target audience and objectives. A creative and innovative approach is vital in developing campaigns that will stand out and resonate with your target audience. This is where agencies like BOND and Deutsch excel. BOND, an entertainment advertising agency, exhibits its creativity in establishing advertising partnerships for print, digital, audio, and visual mediums. Similarly, Deutsch, a full-service marketing agency, demonstrates its creative prowess in brand development and creative strategy.
Proven Track Record
A track record of success is another vital characteristic of a top-notch ad agency. An agency's past performance can provide tangible proof of its ability to deliver effective and innovative solutions. For instance, Single Grain has a proven track record of driving growth for its clients. It has worked with big names like Intuit, Amazon, Salesforce, Uber, Airbnb, Crunchbase, and Khan Academy, showcasing its ability to cater to a diverse range of industries.
Client Satisfaction and Reviews
Lastly, client satisfaction and positive reviews play a vital role in shaping an agency's reputation. A top-notch ad agency goes the extra mile to ensure its clients are satisfied, providing a high level of service and expertise. Positive reviews not only establish trust and credibility but also indicate the agency's commitment to delivering excellent results.
In conclusion, expertise and specialization, creativity and innovation, a proven track record, and client satisfaction are all hallmarks of a top-notch advertising agency. As you explore the ad agencies in Los Angeles, CA, keep these factors in mind to ensure you partner with an agency that can help your business reach new heights. At SocialSellinator, we embody these characteristics, offering comprehensive digital marketing solutions tailored to meet your specific needs. Our commitment to authentic engagement, data-driven strategies, and ROI focus make us a top choice for businesses looking to make their mark in the digital age.
Spotlight on Top Ad Agencies in Los Angeles
Now that we've established what it takes to be a top-tier agency in the vibrant ad scene of Los Angeles, let's dive into some of the city's finest.
Real Dimension Media
Services and Specialties
Real Dimension Media specializes in immersive digital experiences. Their expertise stretches across web design, PPC marketing, and organic SEO. Their creative ways to build, plan, and promote a website have set them apart from their competitors.
Client Reviews and Success Stories
Customers rave about Real Dimension Media's scheduling, quality of work, and cost, with an NPS score of 4.9. The agency's ability to seamlessly blend creativity and strategic planning has helped numerous businesses successfully increase their visibility.
BuzzoBiz
Services and Specialties
BuzzoBiz is an agency known for its digital strategy services, including social media marketing, PPC advertising, and SEO. What sets them apart is their commitment to tailoring strategies to the unique needs of each client.
Client Reviews and Success Stories
With a perfect score of 5.0 across all metrics, customer feedback for BuzzoBiz is nothing short of glowing. The agency's dedication to producing high-quality work within set schedules has earned them rave reviews.
Everett Andrew Marketing
Services and Specialties
Everett Andrew Marketing offers a variety of services, including advertising, branding, social media marketing, and web design. Their holistic approach to marketing has made them a favorite among companies looking for a one-stop-shop solution for their marketing needs.
Client Reviews and Success Stories
They've garnered a solid reputation, and their reviews reflect this. Customers appreciate their quality of work, scheduling, and cost, resulting in an NPS score of 5.0.
Branding Los Angeles
Services and Specialties
Branding Los Angeles offers comprehensive branding and digital communications services. They excel in corporate identity development and positioning, planning and strategy, SEO, social media, and UI/UX design.
Client Reviews and Success Stories
Their clients include big names such as AT&T, Novartis, and Discovery Channel. They have successfully helped a BioTech company with their overall awareness strategy, which included SEO, content development, brand strategy, lead generation, and web design.
Mad Mind Studios
Services and Specialties
Mad Mind Studios is a full-service advertising agency with a distinctly social and agile approach. They specialize in social media, content creation, influencer marketing, and paid media.
Client Reviews and Success Stories
Their clientele includes notable businesses like Microsoft, Budweiser, Jif, and Del Monte. Their data-driven approach to branding, communications, content marketing, creative, digital, and influencer marketing has proven effective in increasing visibility and driving growth.
Battery Agency
Services and Specialties
Battery Agency is known for creating meaningful connections through experiences that inspire. Their work spans across different media channels and they cater to a broad spectrum of industries.
Client Reviews and Success Stories
Battery Agency's clients appreciate their integrated suite of pre-click and post-click online marketing services, including SEO, PPC, display media, and landing page optimization.
Deutsch Advertising Agency
Services and Specialties
Deutsch Advertising Agency is a full-service creative agency that has been connecting people with brands for over 50 years. They offer comprehensive solutions that include SEO, social media marketing, and website design.
Client Reviews and Success Stories
Their reputation for delivering analytics-driven campaigns for brands around the globe has earned them rave reviews. Clients appreciate their commitment to innovation and their relentless focus on transforming the future.
Trailer Park
Services and Specialties
Trailer Park excels in the entertainment industry, providing integrated marketing services including digital, print, outdoor, radio, and more.
Client Reviews and Success Stories
Their work with high-profile clients in the entertainment sector has earned them a reputation for delivering results. They've been commended for their ability to unlevel the playing field for their clients.
Rank & File
Services and Specialties
Rank & File is a cross-cultural marketing agency that combines strategy, creativity, and technology to create engaging and memorable campaigns.
Client Reviews and Success Stories
Their unique approach to marketing has earned them positive reviews. They've been praised for their ability to deliver results that not only meet but exceed clients' expectations.
These agencies embody the spirit of innovation and creativity that has made Los Angeles a hub for top-tier advertising. Their commitment to delivering measurable results and their focus on customer satisfaction have set them apart in a competitive landscape. At SocialSellinator, we're proud to be a part of this vibrant community. We offer a comprehensive suite of digital marketing services tailored to meet the specific needs of each client. Our commitment to authentic engagement, data-driven strategies, and a focus on ROI make us a top choice for businesses looking to make their mark in the digital age. Visit SocialSellinator to elevate your digital marketing game.
How SocialSellinator Stands Out Among These Top Ad Agencies
While Los Angeles houses a plethora of ad agencies, each bringing unique strengths to the table, SocialSellinator has carved out a niche for itself with its distinct approach to digital marketing. Our commitment to providing comprehensive digital solutions, customizable marketing strategies, and a proven track record of client satisfaction sets us apart in a competitive industry.
Comprehensive Digital Marketing Solutions
We at SocialSellinator understand that effective marketing requires a multifaceted approach. Hence, we offer a comprehensive suite of digital marketing services that cater to all aspects of a brand's online presence. From social media management and content creation to data analysis and SEO, we ensure that every digital marketing requirement is covered.
Our services are designed to grow your brand's online community and engage with the right audience. We handle everything from content curation to comment management, ensuring your social media presence is both active and impactful. Furthermore, our blog writing and content marketing services help create a robust foundation for all your marketing campaigns.
To further enhance your online visibility, we also provide SEO services that boost your Google ranking, alongside Facebook and Google Ads management services optimized to drive sales. We understand the importance of LinkedIn for B2B businesses, and our lead generation strategies are designed to attract potential customers on this platform.
Customizable Strategies
We believe that a one-size-fits-all approach does not work in digital marketing. Just as every business is unique, so should be its digital marketing strategy. At SocialSellinator, we take the time to understand your business, its needs, and goals. Using this understanding, we craft a tailored digital marketing strategy that aligns with your business objectives and resonates with your target audience.
Our clients appreciate this personalized approach. As Jake Johnson shared, "Instead of merely selling you a marketing plan, the Kobe Digital team takes the time to learn about your company and offer a specially designed strategy."
Proven Results and Client Satisfaction
Our commitment to client satisfaction is not just a claim; it's backed by tangible results. We have a proven track record of helping businesses achieve their digital marketing goals. For instance, we have successfully improved the social following for Spicely Organics and supported Allied Pain & Spine Institute in gaining traction and increasing visibility.
These success stories stand as testament to our ability to deliver results, making us a reliable partner for any business seeking to grow digitally. Chris Cole, CMO of Spicely Organics, highly recommended SocialSellinator after we successfully improved his company's social following. Meanwhile, Naveen Joshi, CMO of Taazaa, praised our flexibility and ability to translate business needs into effective marketing tactics.
In conclusion, while there are numerous top-notch ad agencies in Los Angeles, CA, SocialSellinator stands out for its comprehensive services, tailored strategies, and proven success. If you're looking to elevate your digital marketing game, look no further than SocialSellinator.
Conclusion
As we've journeyed through the thriving landscape of advertising agencies in Los Angeles, we've highlighted some of the industry's top performers. From Real Dimension Media's commitment to creating engaging visual content to Everett Andrew Marketing's focus on social media optimization, each agency brings its unique flair to the table. BuzzoBiz's knack for SEO, Branding Los Angeles' expertise in branding, and Mad Mind Studios' passion for design all contribute to the vibrant advertising scene in LA. Battery Agency's creative prowess, Deutsch Advertising Agency's comprehensive strategies, and Trailer Park's innovative approach are just a few examples of the diverse capabilities of these agencies. Lastly, Rank & File's dedication to driving client success through effective marketing solutions is truly commendable.
However, the process of choosing an ad agency extends beyond a mere checklist of services. The ideal agency should understand your business vision, align with your goals, and be committed to delivering measurable results. A partnership with a top-rated marketing agency should be about more than just outsourcing tasks—it should be a strategic collaboration with experts who can help your business stand out in the crowded digital landscape.
That's exactly where we, at SocialSellinator, come in. We are more than just a digital marketing agency—we are your strategic partners in accelerating your business growth. We understand the challenges faced by heads of marketing departments in small to midsize businesses, and we offer a comprehensive suite of digital marketing services tailored to meet these specific needs. Our focus on creating genuine interactions backed by data-driven strategies ensures that every dollar spent on marketing shows a return.
Our extensive services range from SEO optimization and content creation to social media marketing and PPC campaigns. We believe in delivering results that are not just visible but also quantifiable. Our success is measured by your success, and we take pride in helping our clients achieve their business objectives.
In a city like Los Angeles, teeming with creativity and innovation, the choice of an advertising agency can make a significant difference in your business's digital journey. While there are numerous remarkable agencies to choose from, partnering with SocialSellinator guarantees an approach that is tailored to your specific business needs and goals.
We invite you to explore our diverse services and discover how SocialSellinator can help elevate your business to new heights in the digital landscape. You're not just investing in our services; you're investing in your business's future. So, visit SocialSellinator today and take your first step towards a successful digital marketing journey.
Remember, your success is our success, and we're committed to making that happen. We look forward to becoming a part of your digital journey, helping you navigate through the complexities of the digital world, and achieving remarkable results together.