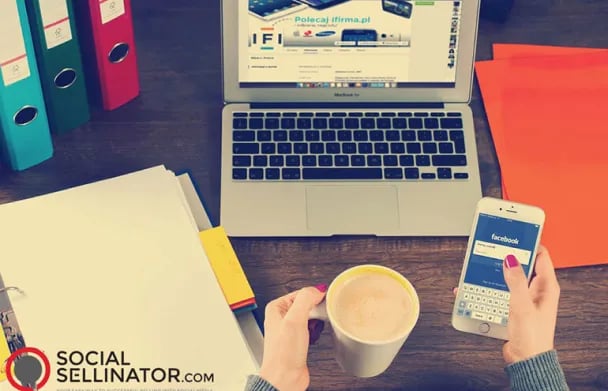 In our last article, we showed you some good ways to identify and find prospects through LinkedIn, and we touched on engaging with them. Today, we want to focus on the engagement part and expand on processes and strategies you can put in place for engaging with your targets on LinkedIn. We'll tackle some tips that you can use to improve your LinkedIn Marketing engagement strategies and develop more relationships with ideal prospects.
#1) Study Your Prospects' Profile

This should go without saying, but you'd be surprised how many sales professionals out there could be doing a better job if they would only just take the time to dive into some research before reaching out to prospects.

Take some time to read their profile. What do your potential customers have to say about themselves? Where did they go to school? What did they do before their current job? How have they grown as a professional throughout their career?

The more you know about them as people, the better you can specify your message to them. In the beginning, having a baseline of knowledge about your prospects is so critical for developing that initial connection and setting the stage for further collaboration. A terrific complementary tool for that is Accompany, which provides quick profiles and gives you great conversation starters. The tool even syncs with your calendar and tells more about the people in your next meeting. Through the calendar connection, it even automatically extracts dial-in information from all your appointments. It turns tedious typing of dial-in and passcode combinations for conference calls into a one-click thing. Magical.
#2) Look for Common Connections or Interests

Does either of you work in the same industry or with the same people? Do you know someone at a company that they may potentially have a relationship with? LinkedIn's shared connections are a great starting place for finding this information.

When you search for a profile using LinkedIn's standard search form, their system lets you know how many connections you have in common with a given person.

Leverage any unique connections or interests that you might have in common. These are great conversation starters, and the information here will give you a common ground to build on with other relevant questions, content, and information that you decide to send their way. Social Selling on LinkedIn for Financial Service Providers
#3) Personalize All Messages, Be Specific

Automation is changing the way that we do business, and smart salespeople can find innovative ways to integrate automation into social selling on LinkedIn. However, you should not automate your conversations that way.

From your first connection request through every interaction you have — your goal should always be to personalize your messaging and tailor your topics and viewpoints to match your prospect's way of thinking. Reference things that are specific to their work history, company, products, business, or industry. Find any way to show them that you aren't sending them automated messages and demonstrate that you are genuinely engaging with them. Often, that's the main hurdle for developing relationships through LinkedIn.
#4) Keep Your Messages Short

People are busy and respect people that show them that they value their time. You don't want to send a 1,000-word opening introduction to a new prospect. Instead, keep things short and sweet. If you send them a message, keep the focus of the message on one thing. Ask one question. Share one piece of content. Mention one connection that you have with them. In doing this, you'll increase the likelihood of receiving a response and put yourself in a position to play off of that response with your next reply.
#5) Ask Questions

Everyone likes talking about themselves, including your prospects. Asking questions about their work, company, product, or industry can be a great way to start a conversation with a new prospect and begin gathering more information that you can use to fuel future discussions. Too often, social sellers will use gimmicks meant to persuade without taking the time to get to know a prospect first. So start thereby getting to know and understand your prospects.
Bonus Tip - Get Away From LinkedIn

You've nailed the art of engagement on LinkedIn, and people are reading your messages and replying to them. But one of the critical obstacles folks run into is that the conversation will always stay on LinkedIn. Try to get away from the LinkedIn messenger platform and transfer the conversation directly over to email as quickly as you can, ideally even with the first message.

The reason you want their email is easy: you can send them more detailed information, it's better formatted, attachments look better, and you have their email address. That's key because most people check their email multiple times per day - but folks may not be so diligent with their LinkedIn messages. And it happens quickly that a LinkedIn message falls through the cracks and is lost. If you have a CRM or lead generation tool, the prospect's email address also lets you reach out in a targeted and scheduled way. In a nutshell: ask them to send them their email address so that you can send them more information.
Social Selling on LinkedIn — A Powerful Platform

LinkedIn is, without a doubt, the most powerful platform for B2B social sellers. It gives you unprecedented access to prospects and data about them that would be hard to come by through other means. However, this access doesn't make you successful on its own. You have to know how to identify prospects on the platform and then successfully engage with them. The tips outlined in this article should give you a good starting point for improving your social selling on LinkedIn and engaging with more prospects, more meaningfully.

Had any success with B2B selling on LinkedIn? Let us know your tips and tricks in the comments below!