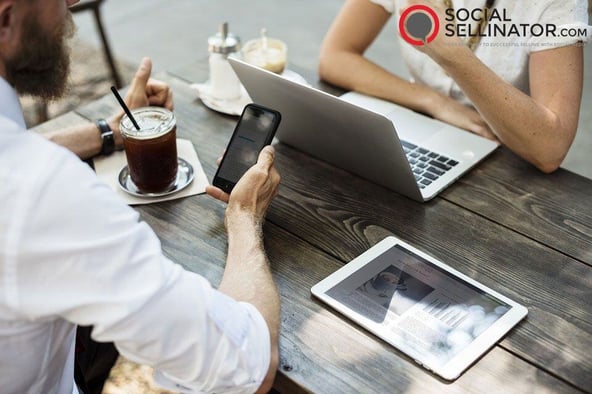 Social selling. You've probably heard of it. It's a trending topic in sales and marketing circles. But do you know what it means? I mean, really know what it means. The name itself provides some insight, but the strategy as a whole is deeper, with core tenants that drive the underlying tactics that social sellers use to connect with prospects.

Many confuse social selling with social media marketing. They are not the same, despite the fact that the two strategies do share some similarities. Social selling isn't social media advertising, either. Social selling isn't another hot trend that will be forgotten about in a year's time. It is a foundational pillar of modern marketing and sales, and B2B companies would be making a mistake to overlook it.

Let's dive into the nuts and bolts of what social selling is to give you a better idea.


What Is Social Selling?
In short, social selling is the process of using social networks to find, meet, understand, and nurture sales prospects. It's a modern way to connect with prospects, replacing cold calling, cold emailing, and other more traditional sales tactics.

Social selling places the focus on building lasting relationships with prospects, eschewing traditional practices that focus on bombarding prospects and securing short-term sales. It's a long-term approach. The strategy also makes use of the wide array of social media tools available today to help prospects manage and monitor their interactions with a wide range of prospects and build their following.

Social selling can take place on any social media platform — Facebook, Twitter, LinkedIn, YouTube, industry forums, or even the comments section of a blog post.


Social Selling Builds Lasting Relationships
Nobody is happy to send or receive a cold call. Sales reps feel bad interrupting people and prospects don't enjoy the distraction. Social selling moves away from strategies of interruption and bombardment and instead focuses on welcome conversations that to mutually beneficial, lasting relationships with prospects.

Prospects prefer the approach as well. 87% of B2B buyers say that they have a favorable impression of someone that is introduced to them through their professional network.

The relationships that you build through social selling will not just benefit you in the near as you look to secure sales but serve you throughout your career. Since the relationships that you build will be genuine and connections made with a real desire to help, those relationships will be ones that you can turn to at a later date. That isn't seen in most traditional sales interactions.


Your Customers Are Already Buying Socially
Social selling works because customers prefer social buying. They want to source opinions from their network, explore options that experts and thought leaders recommend, and connect with genuine sales reps that can help them to better understand the solutions in front of them.

According to IDC, 75% of B2B buyers use contacts and information from their social networks in their buying process. CEB found that customers are typically about 57% of the way through the purchasing process before they engage with their first sales rep in B2B deals. When they do engage, they come into the conversation well-informed and ready to fully understand the available options.

To ignore social selling is to ignore what your customers actually want, particularly if you sell B2B products or services.

It's not just your customers, either. It's also your competition.

90% of top sales professionals (and 71 percent of all sales reps) are using social selling tools. A recent survey by CSO Insights shows that one in three B2B professionals states that social selling tools have increased the number of leads that they work with.They use it throughout the sales process for tasks like lead development, account research, call preparation, stakeholder research, awareness building, and even content curation.

But it's important to understand what social selling is not, too. It's not automation. It isn't a one-time campaign, and the results aren't immediate. Social selling isn't some sales tactic. It's a change in mindset that leads to long-term results.